The handmade trend continues to stay strong in the world of cake decorating. Handcrafted cake toppers are a seemingly ever-popular trend, whether it's gorgeously intricate and hyper-realistic classic gum paste sugar roses or artful stems of barely-there sugar blossoms a la Maggie Austin.
I've also been noticing a beautiful new trend cropping up in cake decorating — not a new technique, but a rediscovered one: edible rice paper flowers!
I love the barely-there fragile delicacy of rice paper, perfect for petal making.
So what is edible rice paper made of? Rice paper, also known as wafer paper, is a very fragile, starch-based confection, made of potato starch, water and vegetable oil. It's edible but has no flavor.
Of course we've all seen edible rice paper in the form of "edible images" — a cake trend that continues to hold steam as cake artists print out images onto edible paper and apply to cakes.
Get inspired with this roundup of beautiful uses of rice paper: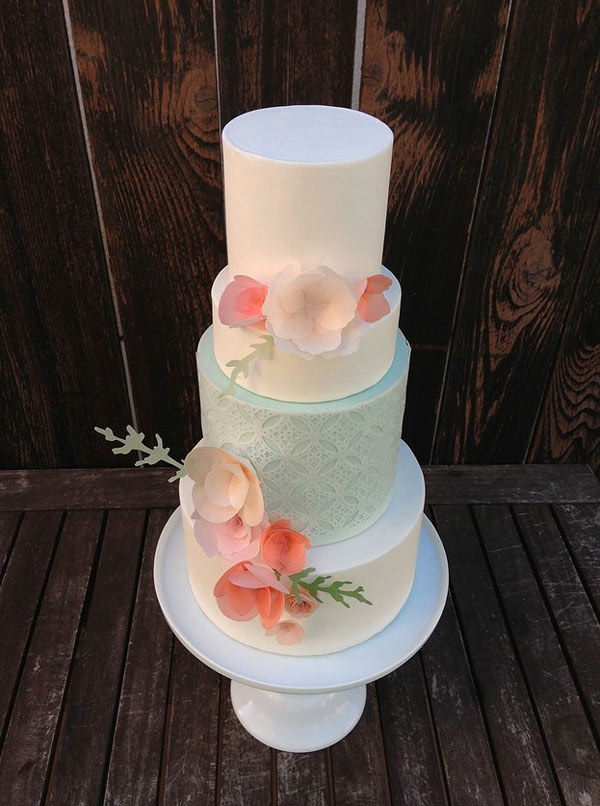 Photo via Hey There, Cupcake! San Diego
Wafer paper flower adorned wedding cake:
At first I thought the flowers on this cake were made of real craft paper, but then I was delighted to learn the flowers are made from rice paper/wafer paper and are entirely edible. I love the simple, minimalist look of these flowers, as they have a style all their own. You can buy edible rice paper in different colors, too. Score!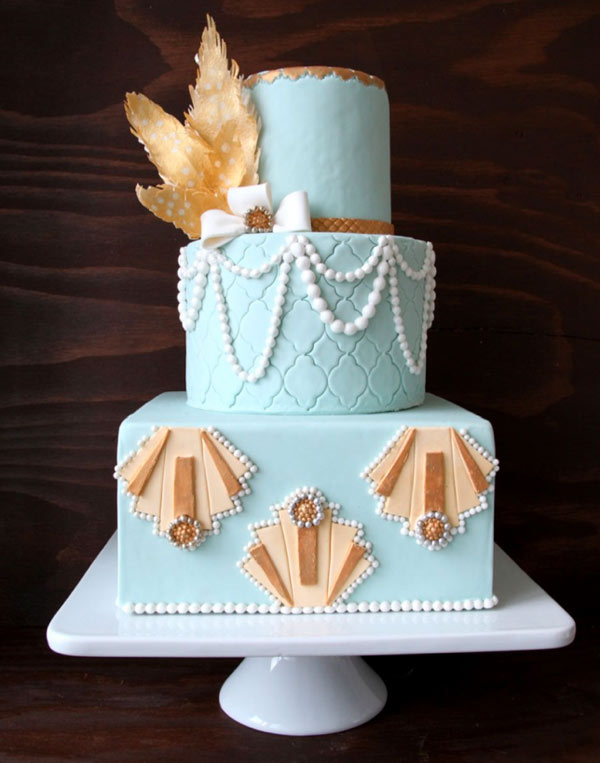 Photo via Style Sweet CA
Gold with painted polka dots wafer paper feathers:
These ultra light and airy edible rice paper feathers, created by Tessa at Style Sweet CA, are perfect for a cake such as this Great Gatsby-inspired confection. I love the addition of the hand-painted white polka dots, too. You can use edible markers to decorate and draw on edible rice paper, too. Good to know!
If you love the art deco design seen above, be sure to check out the Craftsy class Cake Design Made Simple: Art Deco with Lindy Smith. You may also enjoy our roundup of Great Gatsby-themed cakes.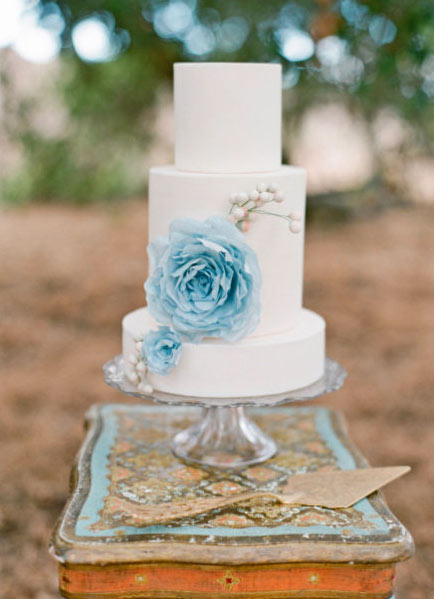 Photo via Hey There, Cupcake! San Diego
Ultra delicate blue rose-adorned wedding cake:
This sweet and puffy blue rose looks like a perfect bloom. Accompanied by a twig of gum paste berries, this cake would be lovely for a winter wedding. Are you a fan of the vintage table in which the cake sits? I think vintage display items can add so much to the look and feel of a dessert spread.
Love those gum paste berries? Learn how to make them in the Craftsy class Sugar Berries, Leaves & Blossoms, taught by Maggie Austin.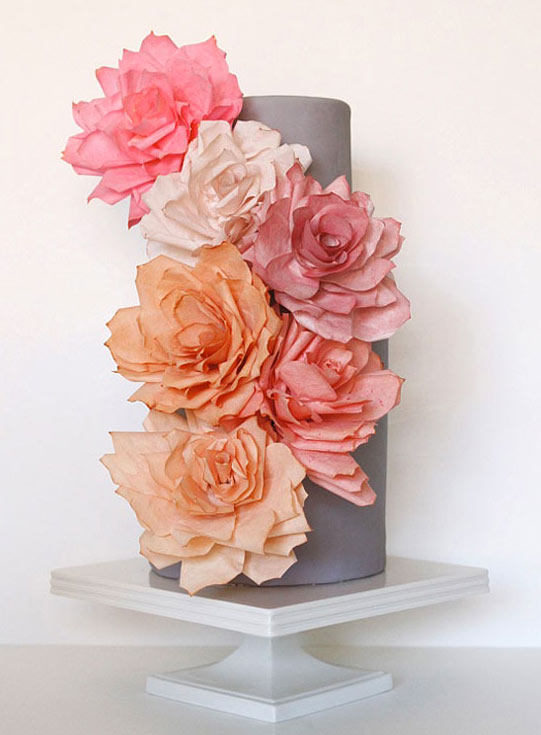 Photo via Miso Bakes
Gigantic tea-dyed non-edible coffee filter flowers:
Loving the paper trend but not sure about sourcing edible wafer paper? Why not get ultra creative and use coffee filters to create big, beautiful blooms?
This is a show-stopping cake! I love the contrast of the dark lavender-gray fondant cake with the food coloring and tea-dyed coffee filter roses.
Want to try it for yourself? See Miso's tutorial on how to create these coffee filter flowers on The Cake Blog. I think you could do a similar "giant blooms" cake using edible rice paper, too.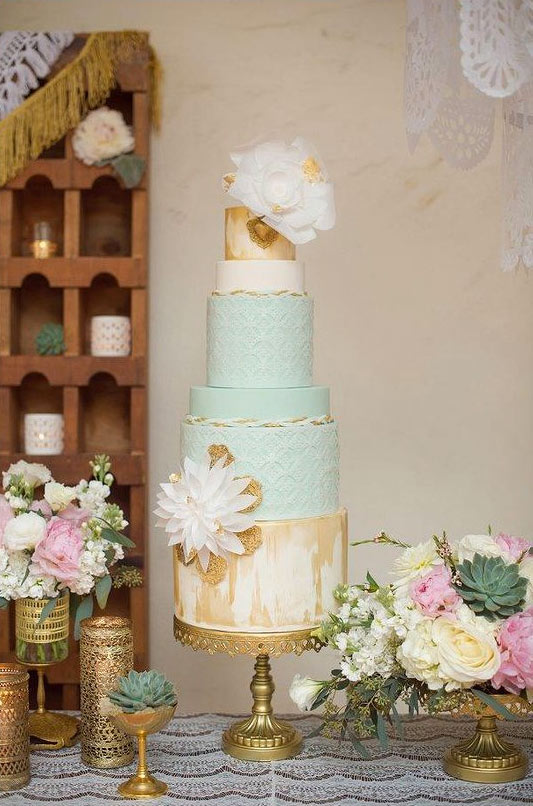 Photo via Hey There, Cupcake! San Diego
Stunning white, gold and pale green tiered cake:
This cake has it all without being overbearing: painterly slashes of gold, gold appliqué, ultra delicate rice paper flowers, pale green lace application and different shapes and sizes of round tiers. It takes a true artist to put together so many elements so flawlessly and without stuffiness.
I love the styling of the cake table, too, with succulents and lush blooms on gold cake stands and tucked into gold goblets.
Enroll in Fashion-Inspired Fondant to learn how to dress up your cakes with lace appliqués.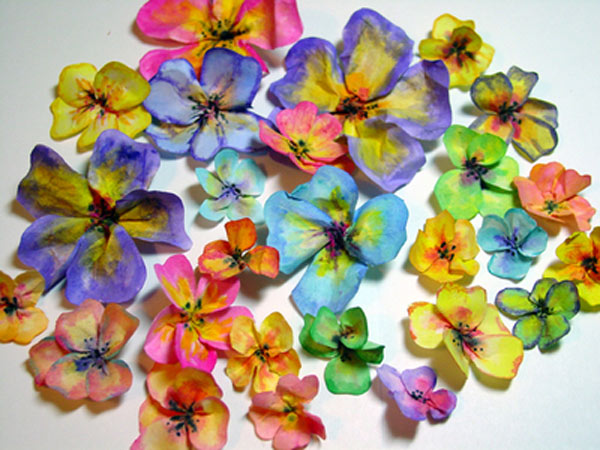 Photo via Folding Trees
Non-edible hand-painted Japanese rice paper flowers:
Isn't this the most gorgeous collection of colorful rice paper flowers? These particular ones were made using non-edible rice paper, but I feel like you could achieve a similar technique using edible rice paper. Cut out petal shapes in colored rice paper, adhere them together with edible glue, and add some extra hand-painted touches. The watercolor look of these flowers is so lovely. You could also create these flowers and glue them onto toothpicks for sweet cupcake toppers.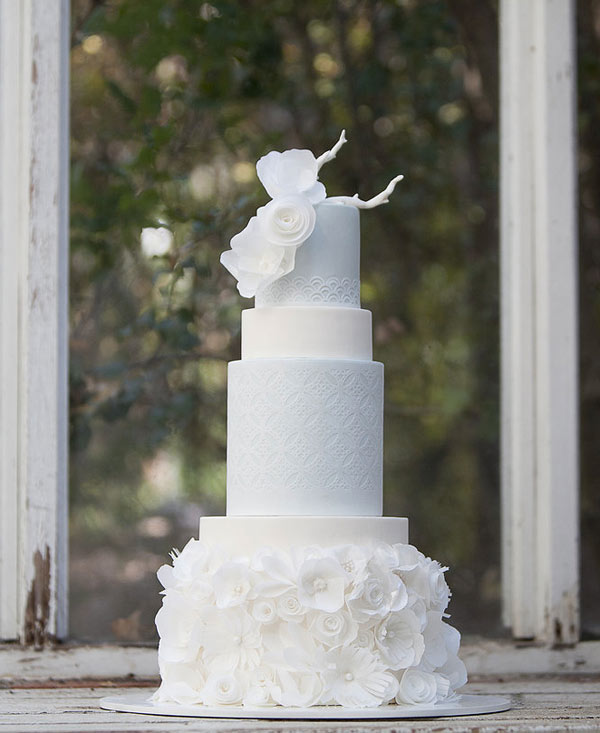 Photo via Hey There, Cupcake! San Diego
Ethereal edible rice paper tiered wedding cake:
A wisp of palest gray-blue with ivory, a bottom tier ruffled together in edible rice paper flowers, some lovely lace embellishment, and some simple gum paste "branches" are another example of an artfully put-together cake that has texture, body and visual interest. Love it!
Are there any cake designers out there who aren't on board with the edible flowers trend? I'm so curious. It seems like there is a universal love for these with designers and clients alike.
I like how flowers can be extremely romantic and delicate looking but they can also be modern and simple — different strokes for different folks — there really is a sugar flower for everyone!
Check out Craftsy's awesome selection of sugar flower creation classes taught by the very best in the cake design world — you'll be adorning your cakes with spectacular sugar blooms in no time flat.
What are your thoughts on the edible paper flower trend?