Is there anything more classic and timeless at a wedding than lace? Well, maybe roses. But lately edible lace for cakes has become a highly sought-after design and style. This is one technique all cake makers should have in their repertoire.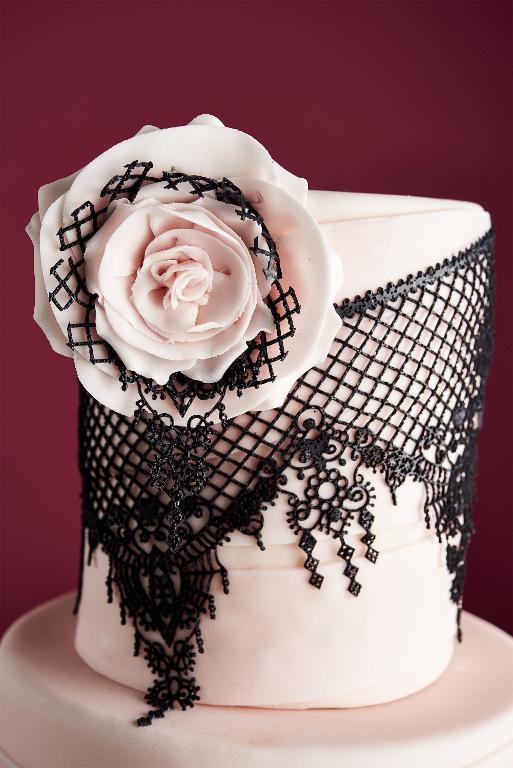 Photo via Sonja McLean, instructor of Dramatic Cake Design: Luscious Lace
Learn how to bake edible lace for cakes!
Join this online class to master an array of stunning fashion-inspired cake effects, from sugar lace to beautiful bows and beyond. Enroll Now »
There are many ways to achieve that elegant lace look on cakes, and when it comes down to it, it's really only a matter of preference.
Here we'll cover three popular cake lace techniques, plus helpful tips and tricks for trying the methods out on your own.
1. Brush embroidery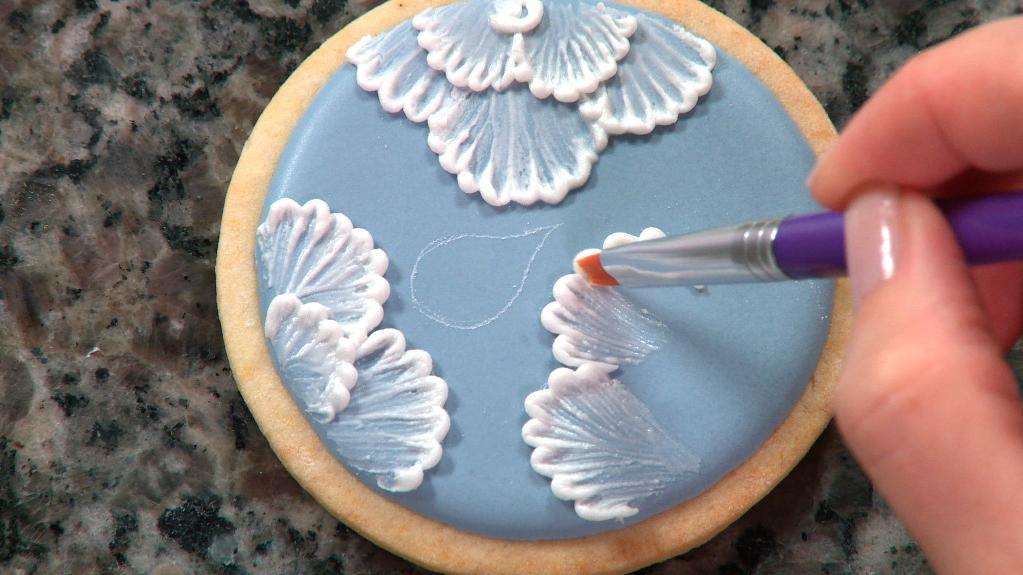 Photo via Amber Spiegel, instructor of Sweet Elegance: 16 Cookie-Decorating Techniques
Using a bit of royal icing, a piping bag and a paintbrush found in your local craft store, you can replicate nearly any lace pattern, or create your own. This technique is easily done on your upright cake surface and produces a simply elegant texture and feel. You may have to shoo some hands away from the cake because it looks so real!
Brush embroidery tips:
Use a flat, angled brush to pull your royal icing. It will create some beautiful texture as it cuts through and drags the icing, without flattening and spreading it out.
If you don't have a specific pattern you need to use, browse the lace fabric section at your local craft store. There are TONS of different designs; some are more classic with traditional flowers and blossoms, and some are more modern with scrolls and designs incorporated.
Don't be afraid to create your own mesh-style netting with royal icing. It couldn't be easier to lay down lines of piped royal to fill in a bit of open space.
Practice on a little square of dried fondant if you're unsure or just want a bit of practice. 
For more in-depth instruction on how to achieve this beautiful brush embroidery effect, join the online Craftsy class Sweet Elegance: 16 Cookie-Decorating Techniques.
2. Appliqué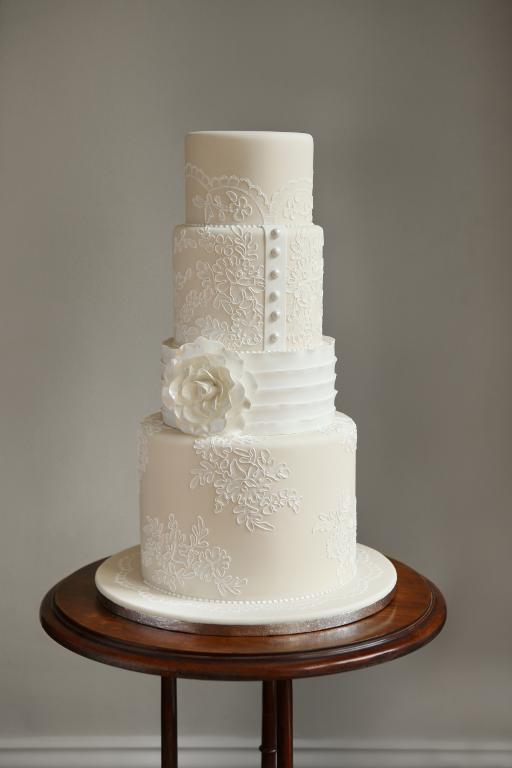 Photo via Zoe Clark, instructor of Elegant Lace Cakes

The most common method of adding lace designs to a cake is likely the trusty mold technique. The amount of fine detail in a mold cannot be matched — seeing fine threads and embellishing them with a bit of luster dust to truly bring out their glory. There are some tricks to making this lace technique delicate and to trick the viewer's eye into believing they're looking at real lace. The key to much of the molding technique is achieving the proper thickness (or thinness) of sugar paste before molding.

h4>Appliqué tips:
Use a pasta roller (dedicated to sugar work only) and roll your paste evenly to the third-to-thinnest setting. This can be different depending on the brand of roller. My roller's largest setting is 9 so I roll my sugar paste down to 3.
To fit the paste into the mold easier, use a similarly shaped petal or shape cutter before placing it into the mold. It reduces the amount of "cleaning up" of the edges of the piece you'll have to do later. Also, you won't have excess sugar paste exposed to air and drying out.
Use some of your standard modeling tools to tuck the edges into the mold to avoid scraggly edges and help impress the detail from the mold.
Luster dust brings out the fine details like no other. I prefer a plain pearl luster.
3. Edible lace material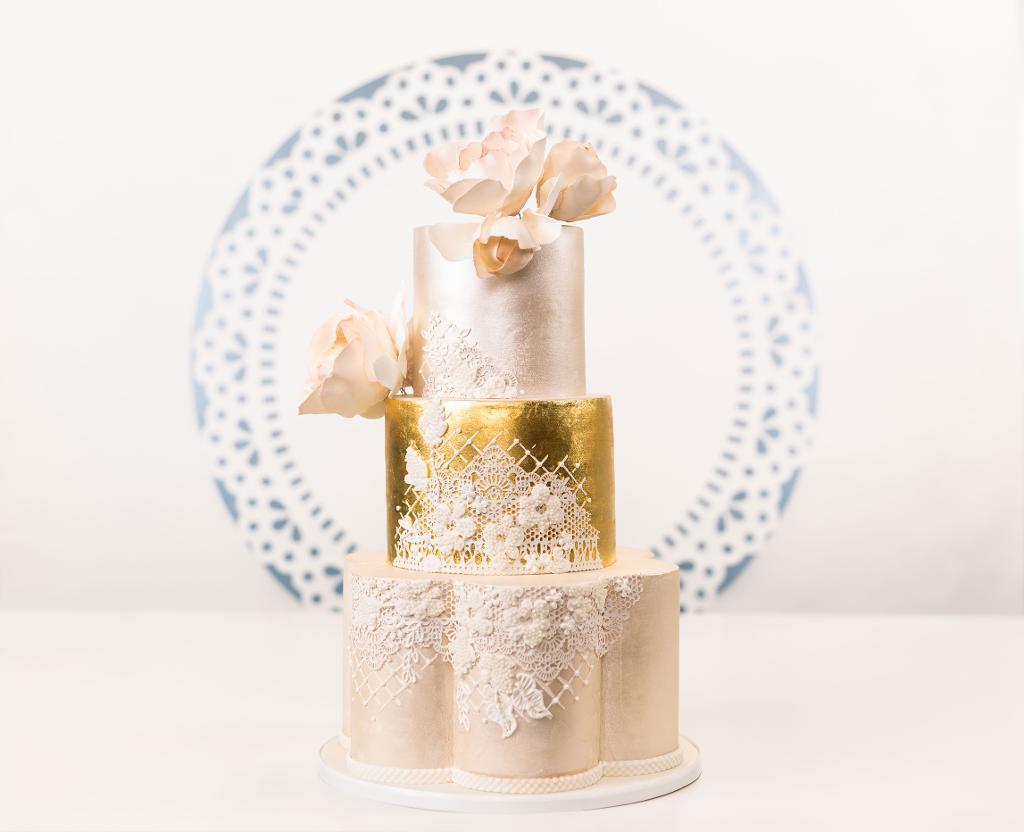 Photo via Faye Cahill, instructor of Layered Embellishments
Easily the most popular and sought-after method currently by cake decorators is edible lace material. The liquid is poured into a very shallow lace mold and is allowed to dry, creating a flexible and impossible lace look. Beautiful patterns, long strips of stunning mesh and a lasting workability makes this technique one of the most friendly to create. I've worked with cake lace material and even after storing it in an airtight container for 6 months, it's still perfectly pliable and ready for a cake. Talk about easy! To be able to work that far ahead as a caker? HEAVEN!
Tips for working with edible lace materials:
Be patient! Allow it to dry fully in the mold before removing. This requires patience, but the frustration of a torn piece of edible lace is worth the extra few minutes away reading a book with a cup of tea.
Add some gel color during the mixing process to accent your cake. Keep in mind that gel colors are highly concentrated and your batch of lace material is small, so add a bit with the tip of a toothpick until you get the desired color. Also, keep in mind that it will look a shade darker once dry than it appeared when wet.
Learn how to make cake lace. You may find that making your own is tastier and more cost-efficient that the sometimes expensive mixes, and it's always fun to experiment!
Cake lace doesn't always have to be done in an elegant fashion, it's truly versatile.
Learn how to bake edible lace for cakes!
Join this online class to master an array of stunning fashion-inspired cake effects, from sugar lace to beautiful bows and beyond. Enroll Now »