Have a last minute event or celebration? Don't worry! These easy to make cupcakes are a way for you to whip up a homemade treat and still have time to party. From fresh and fruity to gooey and chocolaty, this cupcake recipe plus three quick and simple designs go beyond just a shake of sprinkles. Our helpful tricks and decorating tips will have you feeling like a culinary mastermind in just minutes!

One Bowl Chocolate Cupcake Recipe
This recipe is super moist, chocolatey and comes together quickly in just one bowl!
Ingredients:
Makes about 24 cupcakes
2 1/2 cups all-purpose flour
1 cup unsweetened cocoa powder
2 1/2 teaspoons baking soda
1 teaspoon salt
3 large eggs
2 cups granulated sugar
1/2 cup grapeseed oil (or canola or coconut oil)
1  1/4 cup milk
1 1/4 cup brewed hot coffee
1 teaspoon vanilla extract
1 1/2 teaspoon almond extract
Instructions:
Preheat oven to 350 F. Line cupcake pan with cupcake liners and set aside.
Sift together all of the dry ingredients into a large mixing bowl.
Add in the sugar.
Add in the eggs, oil, vanilla, and almond. Stir to combine.
While string with a large whisk, gently stream in the milk and hot coffee. Stir until batter is smooth.
Fill cupcake lines 2/3 full with batter and bake about 20-22 minutes or until done.
Cool on a wire rack before decorating.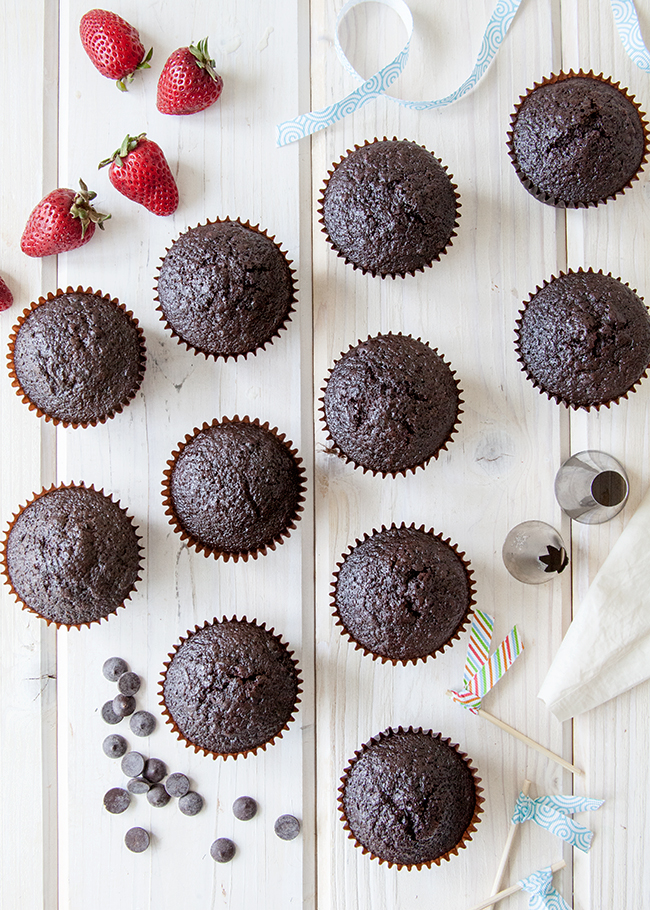 Recipe notes: Know you have an event coming up, throw frequent dinner parties or need an emergency cupcake every now and then? These chocolate cupcakes are moist and freeze well. Wrap no more than six cupcakes at a time in plastic wrap very well and place in a plastic container or safe spot in your freezer. Defrost just hours before your event, decorate with one of these quick and simple frostings and you're ready to go with homemade cupcakes that taste as fresh as the day they were made!
Quick whipped cream and fresh berries
These cupcakes literally take only minutes to prepare. Feel free to use whatever fresh berries you have on hand.
Ingredients:
2 cups heavy cream
1/4 cup granulated sugar
1/2 teaspoon vanilla extract
Whip all of the ingredients together with an electric stand or hand-held mixer until medium-soft peaks form.
Assembly:
24 small strawberries or fruit of your choice
24 cupcakes
whipped cream
confectioner's sugar for dusting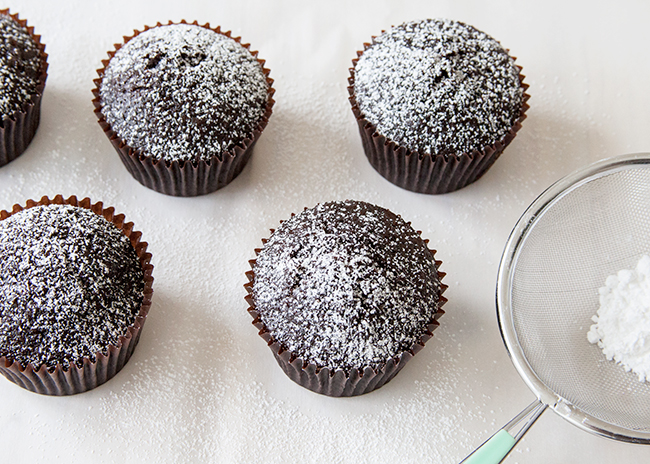 Decorating Tips: For quick decorating, think assembly line. Instead of completing one cupcake at a time, try dusting the tops of all of the cupcakes all at once. Place whipped cream in a piping bag fitted with a round tip and pipe a dollop of cream on each cupcake. Top with fresh berries.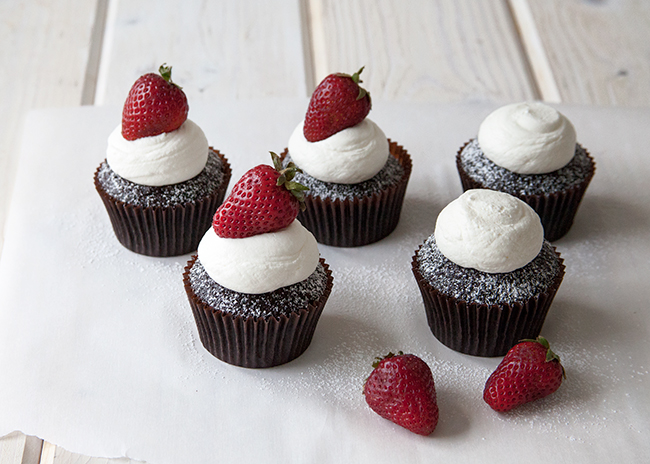 Easy chocolate ganache
Ganache might sound fancy, but with only two ingredients, it will transform any cupcake into a gourmet treat in a snap.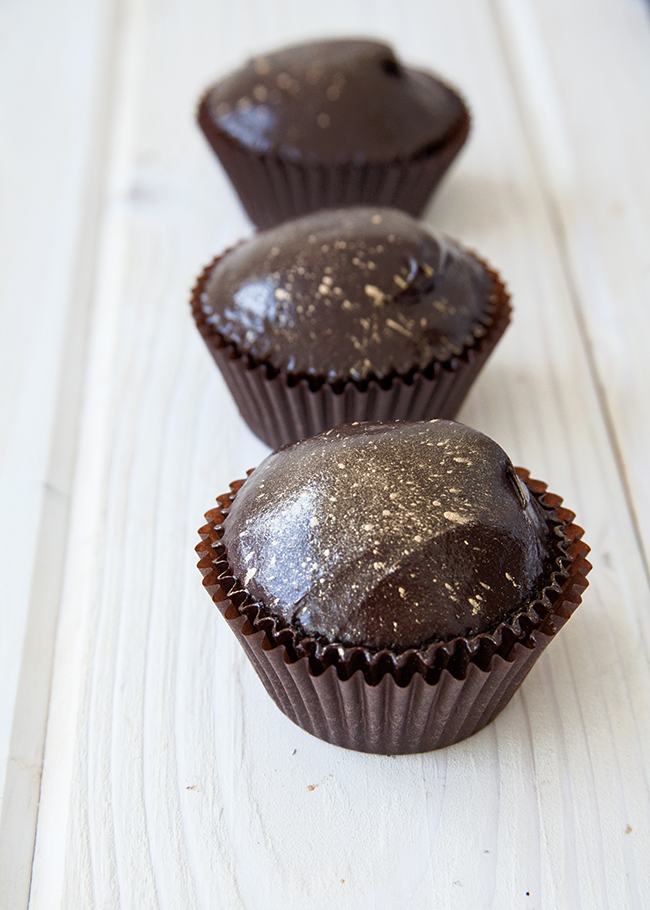 Ingredients:
1/2 cup heavy cream
1 cup dark chocolate, chopped
Instructions:
Place chocolate in a heat-safe bowl and set aside.
Heat cream in a small saucepan over medium-low heat until it starts to simmer.
Pour simmering cream over the chocolate and let rest for about 30 seconds.
Whisk until smooth.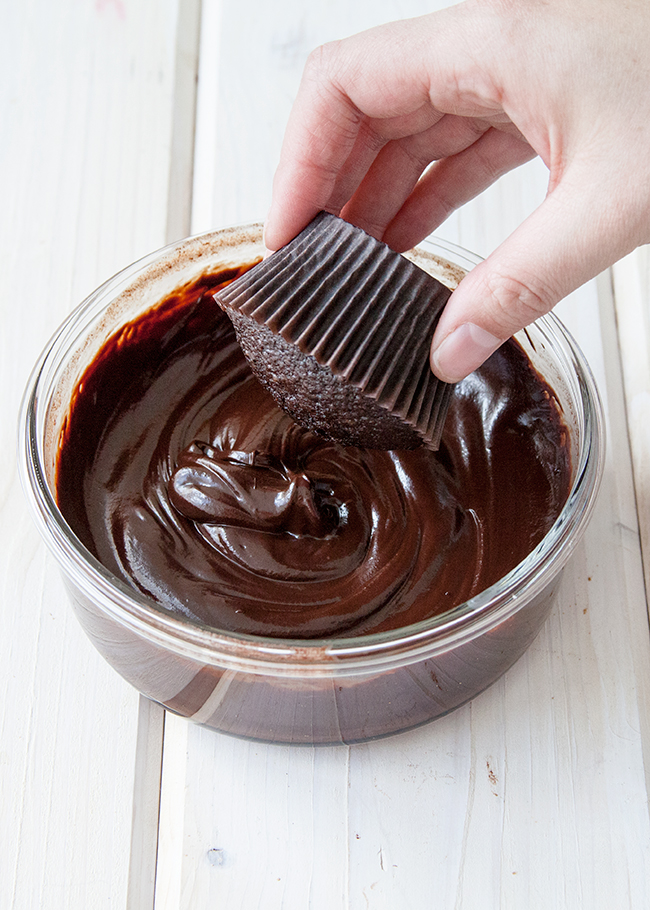 Decorating Tip: While it is still warm, dunk the tops of cooled cupcakes into the ganache. Completely submerge the tops and swirl around until coated. Don't worry about drips or excess chocolate on the wrappers. Instead, pop the frosted cupcakes into clean cupcake liners to avoid messy, chocolatey fingers.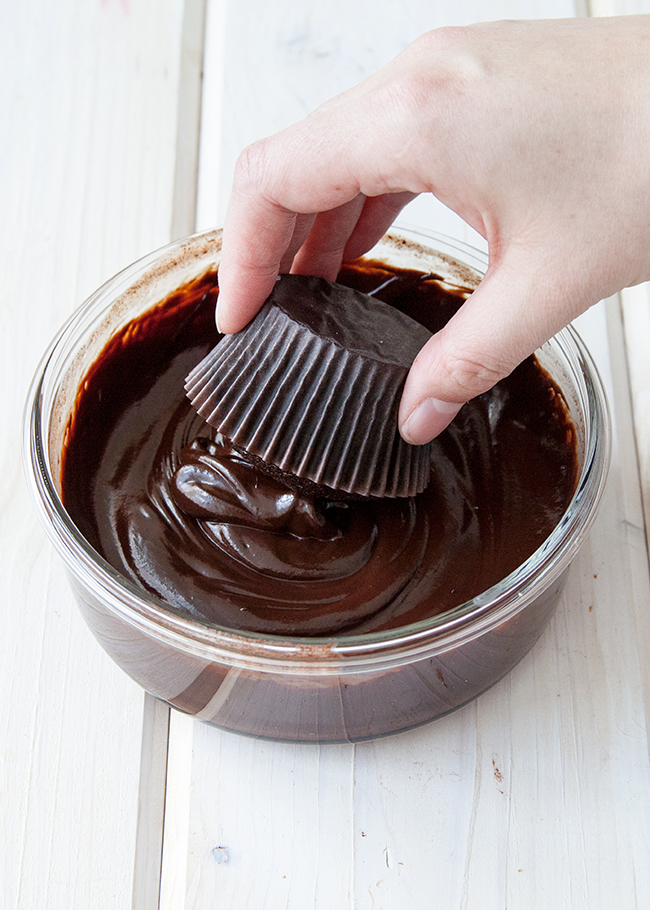 Jazz these ganache cupcakes up by giving them a quick sprinkle of gold luster dust. Using a clean paint brush, load up a fair amount of dust onto the bristles and flick gold onto the tops of the cupcakes.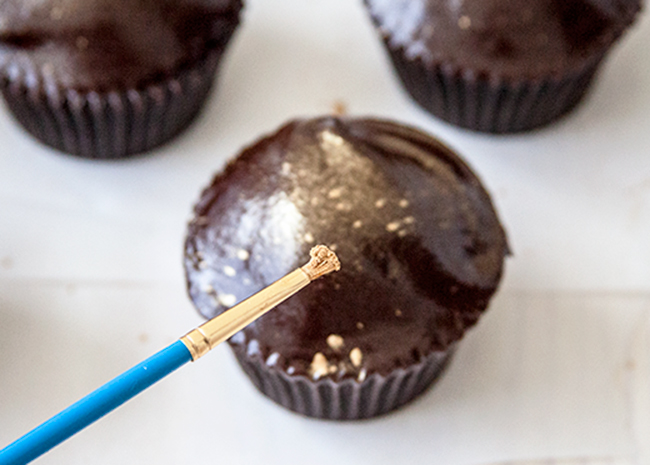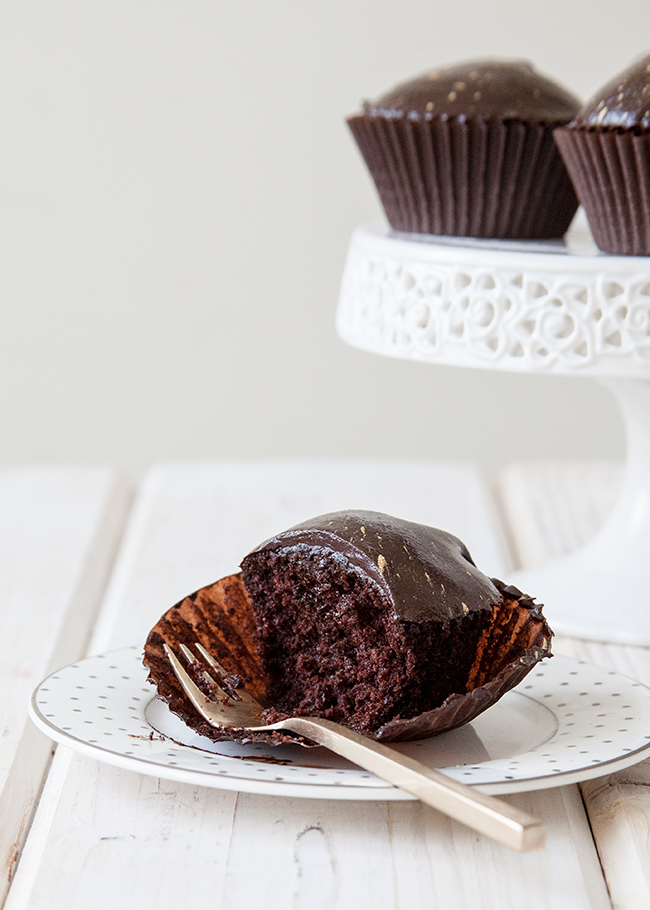 Simple buttercream frosting
Dress up simple buttercream frosting with sugar peals, fun flags and decorative cupcake wrappers.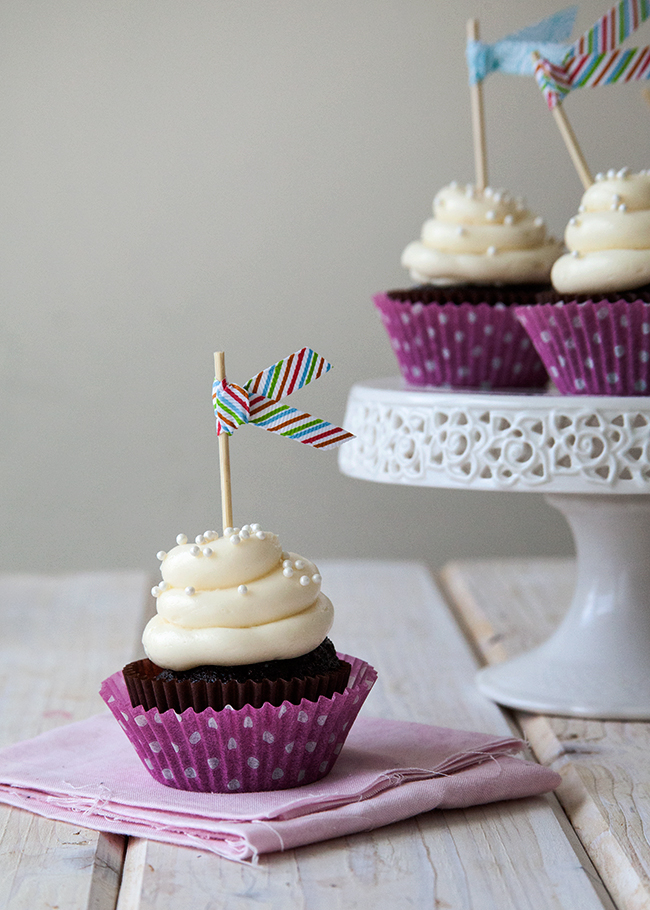 Ingredients:
1 cup unsalted butter, softened
4 cups confectioner's sugar, sifted
1 teaspoon vanilla extract
2-4 tablespoons milk (to desired consistency)
Instructions:
In the bowl of an electric mixer, beat butter until soft and fluffy
With the mixer on low speed, gradually add in the remaining ingredients.
Return mixer to medium-high and mix until smooth.
Baking tip: Make your frosting while the cupcakes cool to save time!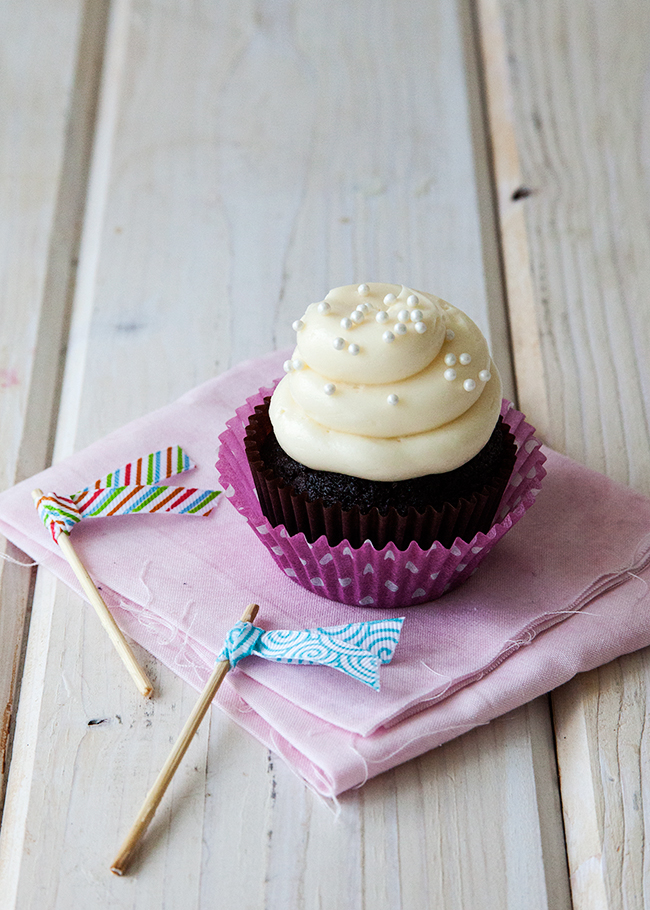 Decorating tip: Pre-bake and freeze cupcakes in plain (white or brown) cupcake liners. Defrost for a last minute gathering and slip the cupcakes into a coordinating, party-ready cupcake wrapper. Use scraps of ribbon tied to toothpicks to make quick, whimsical cupcake flags!
Wasn't that easy? Your guests will think you've been in the kitchen for hours. We won't tell if you don't!
[box type="shadow"]
For more cupcake decorating ideas, check out the Tiny Cupcake Toppers class or the Global Cupcake Design class!
[/box]
What other quick and simple party tricks do you practice?