If an Italian restaurant has only one dessert on the menu, it is going to be tiramisu. This creamy, layered dessert is always a favorite indulgence after a dinner out, but you can easily make it at home using this easy tiramisu recipe.
Unlike most tiramisu recipes, this one involves no cooking and can be prepared in just a few minutes, which means that you don't have to wait until your next visit to an Italian restaurant to treat yourself!
About this easy tiramisu recipe
Tiramisu consists of layers of coffee- or espresso-soaked ladyfingers that are sandwiched together with a rich cream. In traditional recipes, that cream is made with zabaglione — a cooked, egg-based whipped custard — and mascarpone cheese. The traditional version is what you're likely to get at a restaurant, but it isn't the only way to make a fantastic tiramisu.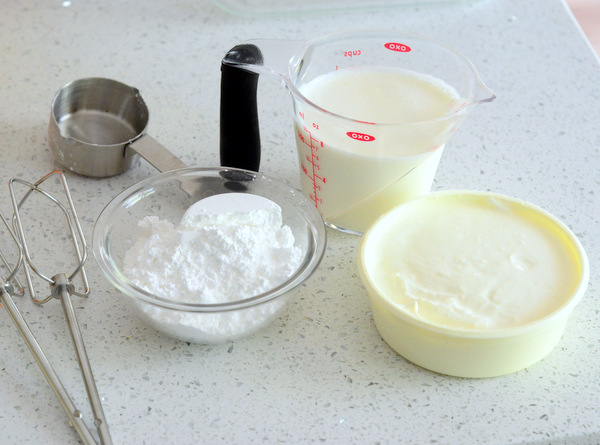 The cream
The cream for this recipe is made by beating together lightly sweetened mascarpone cheese and heavy cream until the mixture is airy and mousse-like. The texture is not all that different from the traditional cream, as the zabaglione base is often lightened with whipped cream, and you still get a hint of the sweet flavor of the mascarpone cheese. 
Once you have the cream ready to go, you can start working on the other layers.
The ladyfingers
Ladyfingers can vary tremendously in size and shape. Some are wide and short, while others are long and narrow. You'll need fewer if your ladyfingers are the wide variety, like mine were, but more if they're narrower. I've given an estimate of how many ladyfingers you'll need to make this dish, but I recommend picking up some extra if you're unsure. Ladyfingers tend to have a long shelf life and freeze well, so you can always save the extra for another batch.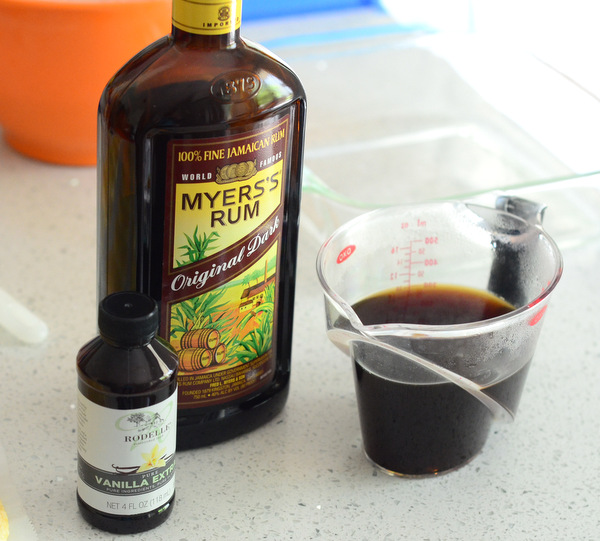 The coffee
The ladyfingers are dipped in a mixture of coffee or espresso, which is spiked with rum and vanilla extract. Espresso is traditionally used in tiramisu, but strong coffee is an excellent substitute if you don't have an espresso machine. I added rum and vanilla extract to give the coffee a little more dimension. The rum is optional and can be omitted if you prefer a dessert without any alcohol, though very little will make it into each slice of the tiramisu.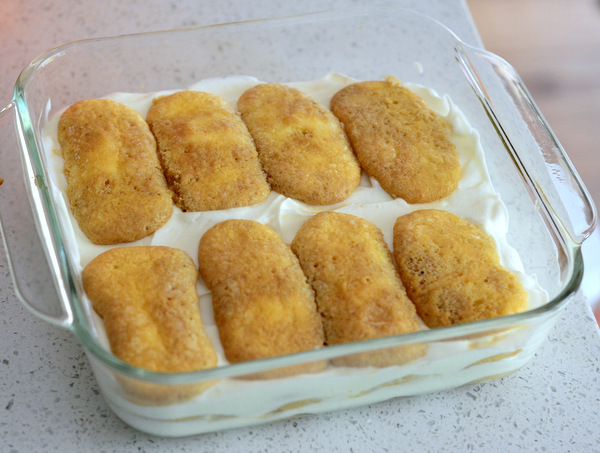 Assembling the tiramisu
Once you have all your ingredients ready to go, it is time to start assembling your tiramisu. The process only takes a few minutes and you can make yours with two or three layers. I opted for a three-layer look here, which gives me a nice balance of coffee-soaked ladyfingers and fluffy cream.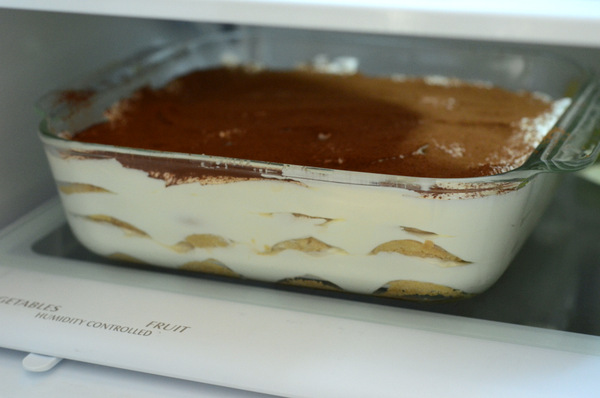 The dessert is assembled in a square baking dish and needs to be refrigerated after assembly. Refrigerating the tiramisu allows the flavors to mellow and blend together. It also allows the cream to set so that the tiramisu can be sliced easily for serving.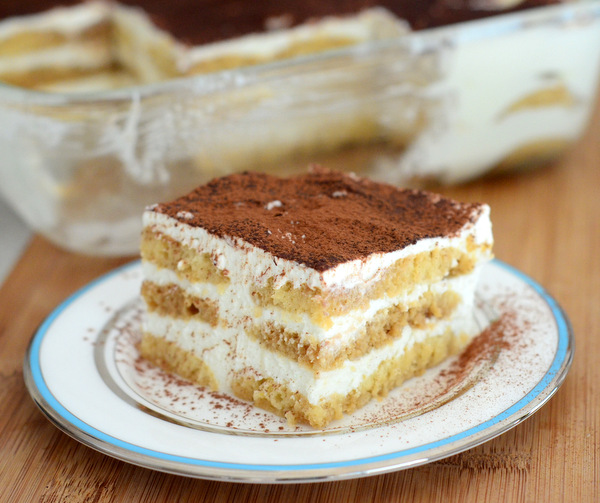 Easy, No-Cook Tiramisu
Serves nine.
Ingredients:
8 ounces mascarpone cheese, room temperature
1/2 cup powdered sugar
1 1/2 cups heavy cream
1 cup strong coffee or espresso, room temperature
1 teaspoon vanilla extract
2 tablespoons dark rum (optional)
Approximately 24-36 ladyfingers
2 tablespoons cocoa powder, for topping
Step 1:
In a large bowl, beat together mascarpone and powdered sugar until smooth. Add heavy cream and beat on medium-high speed until mixture has doubled in volume and holds stiff peaks, about 3-4 minutes. Set cream aside.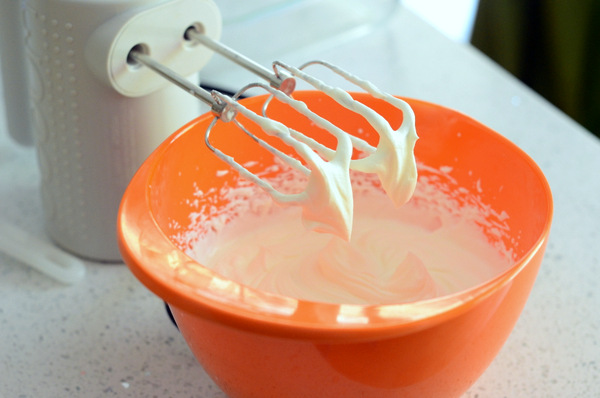 Step 2:
In a measuring cup, combine coffee, vanilla and rum. Stir to combine. If your measuring cup has a wide mouth, you can leave the mixture in the measuring cup. Otherwise, pour it into a shallow bowl.
Step 3: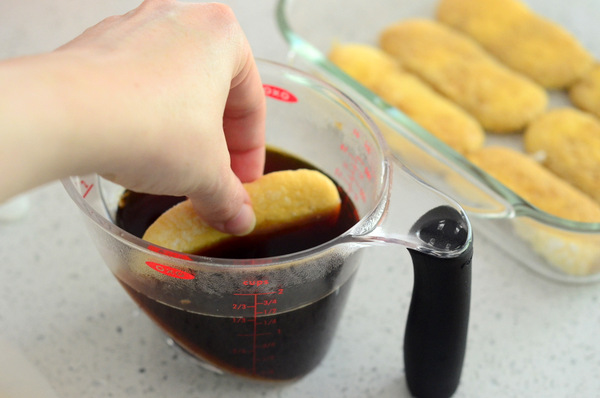 Working one at a time, dip each ladyfinger in the coffee mixture and hold it there for one to three seconds, until it is saturated with the liquid but not falling apart. Arrange ladyfingers in a single layer on the bottom of an 8-by-8 or 9-by-9-inch square baking dish. You will likely need 8 to 12 ladyfingers for the layer.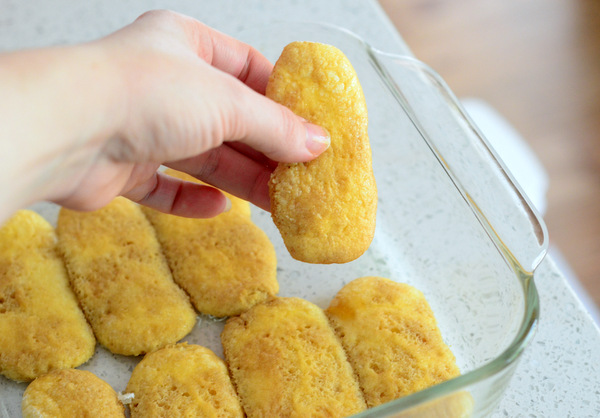 Step 4:
Spread one third of the cream mixture over the layer of ladyfingers.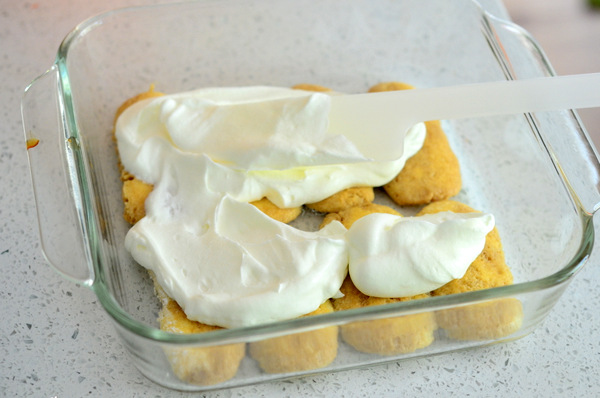 Repeat soaking process with another group of ladyfingers to make a second layer. Spread another one third of the cream mixture over the second layer of ladyfingers. Repeat with remaining ladyfingers and remaining cream.
Step 5: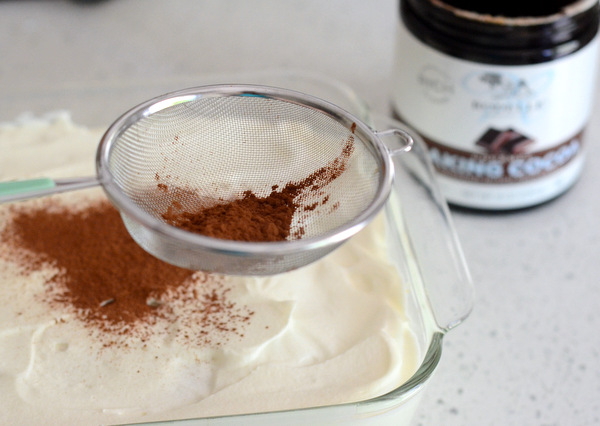 Dust the top of the tiramisu with cocoa powder. Refrigerate for at least 3 hours, or until the cream is very well chilled, before serving.