I love how a simple and easy-to-make pretty fondant sugar rose can add just the right feminine touch and finish to a cake. All you need to make this rose is a small amount of pink colored fondant, a rolling pin and a small circle cutter– I just used a regular sized piping tip (which I often use for making circles!). Once you have this rose made, simply place it in the center of a buttercream iced or simple fondant covered cake, or on top of your favorite cupcake. You'll be pleasantly surprised at how simple and pretty it will be!
How to Make a Simple Sugar Rose
Materials
A rolling pin
A 2 inch round ball of pink colored fondant (also known as sugar paste)
A regular sized piping tip such as a 1M tip
A piece of parchment paper or nonstick surface
A small amount of cornstarch
A small bowl of water and a toothpick (for adhering petals together)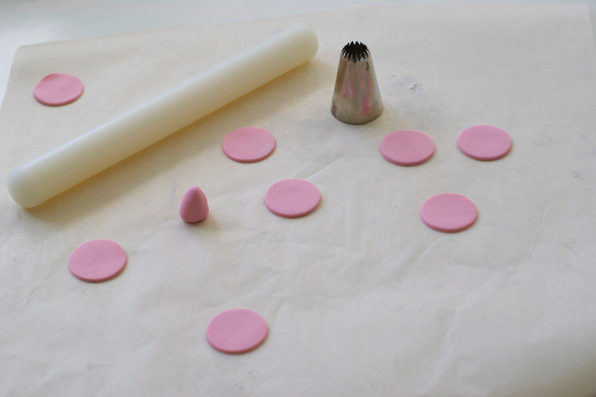 Instructions
1. Using clean fingers, create a small cone shape out of your pink colored fondant. This will be the center of the rose and what the "petals" will adhere to.
2. Using your rolling pin, roll out fondant thinly on parchment paper or nonstick surface.
3. Using your piping tip as a circle cutter, cut out eight fondant circles.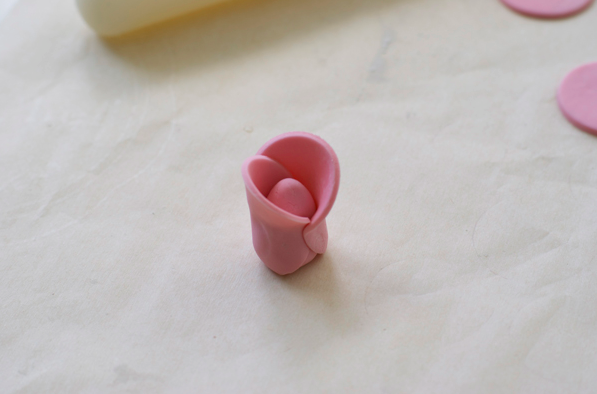 4. Apply a very small amount of water to the bottom half of your pink fondant cone. Now, take the first circle and wrap it around the cone. Do the same with the second circle.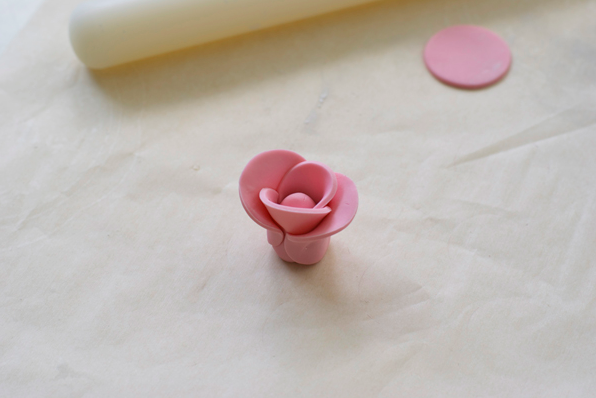 5. Continue this process with two more fondant circles to create a second layer. Make sure the second layer sits between the gap of the first two circles to stagger the petals.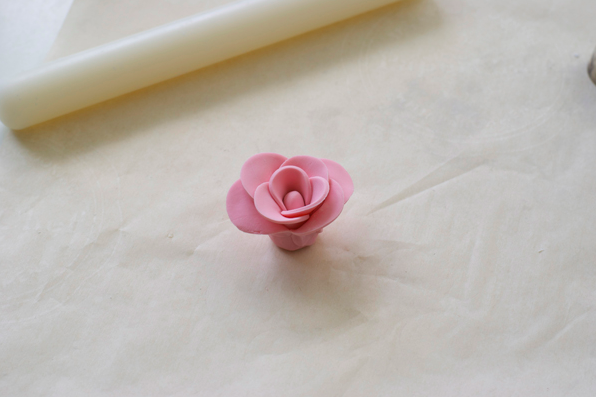 6. With the remaining two petals, do the same adhering technique to create a third layer of petals.
7. Using your fingers, gently pull back some of the "petals" to create an open flower look.
8. Add this simple pink sugar rose to the top of any cake for a modest, pretty and finished cake!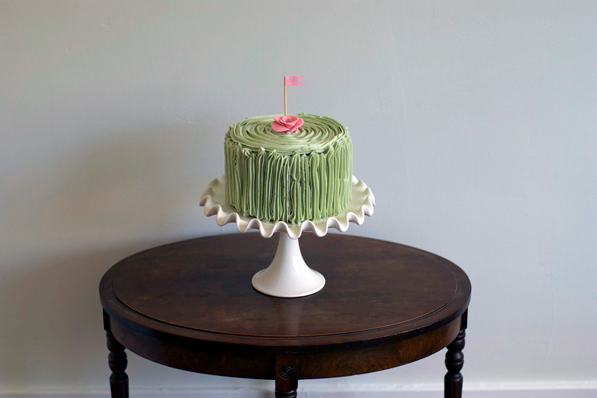 Cake by Coco Cake Land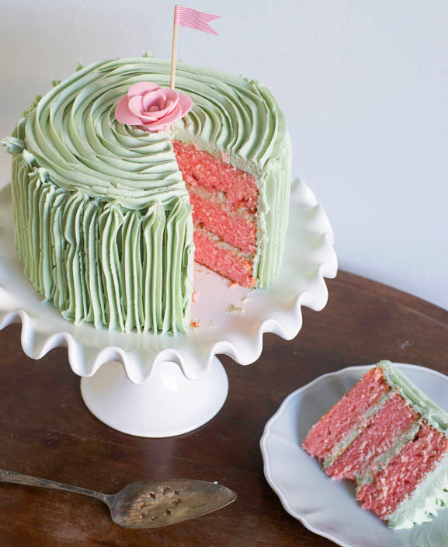 Slice in and enjoy!
Ah, roses. I simply cannot get enough of rose0themed cakes. I've collected a lovely bunch to show you, from buttercream beauties to gum paste crafted blooms: these cakes certainly "rose" to the occasion!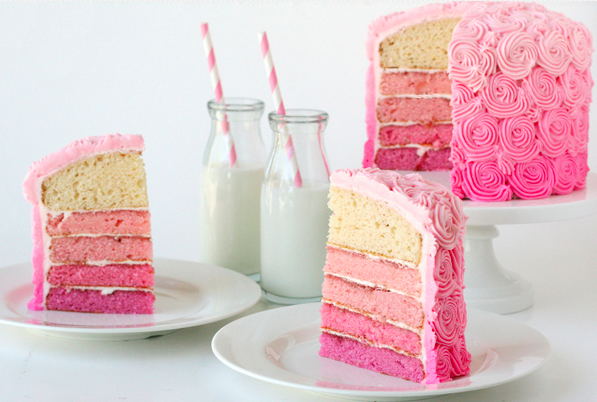 Photo via Glorious Treats
Pink Rosette Buttercream Double Ombré Cake: I find pink cake layers so gorgeously appealing, especially when they incorporate an ombré effect such as this awesome cake by Glory over at Glorious Treats! This one hits the double ombré whammy bar with the pink-fading-to-white interior layers matching the ever so gentle ombré effect of the buttercream piped rosettes. I'm also enjoy how the top cake layer has retained it's puffiness: no cake leveling here, which gives it a nice rounded, playful appearance when iced! I think this cake would be perfect for a feminine birthday, a bridal shower, or a baby shower.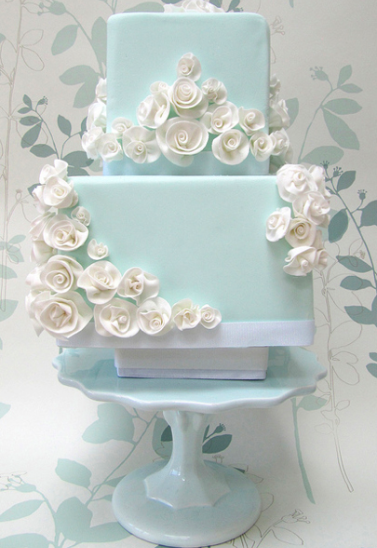 Photo via Rosalind Miller Cakes
Robin's Egg Blue Romantic Rose Cake: Rosalind Miller's pretty two tiered robin's egg blue square fondant cake is teeming with an array of simple and romantic white fondant roses, created by rolling a thin piece of fondant into a swirl shape. This is a simple and beautiful way to add roses to your cake, or on top of a collection of shabby chic cupcakes.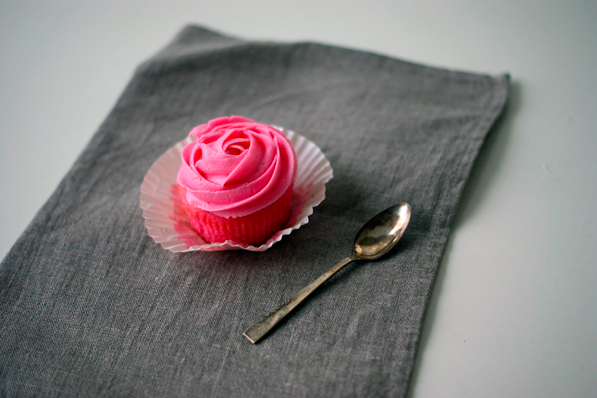 Photo via Coco Cake Land
Pretty In Pink Rosette Buttercream Cupcake: A pink vanilla cupcake, with bright pink vanilla buttercream iced in a rosette, is another example of how roses make everything prettier. Instead of the typical cupcake swirl, try the rosette technique. Using a classic open star 1M tip, start piping your cupcake in the middle and pipe outward for two circular rotations to create this darling little cupcake style. No sprinkles required!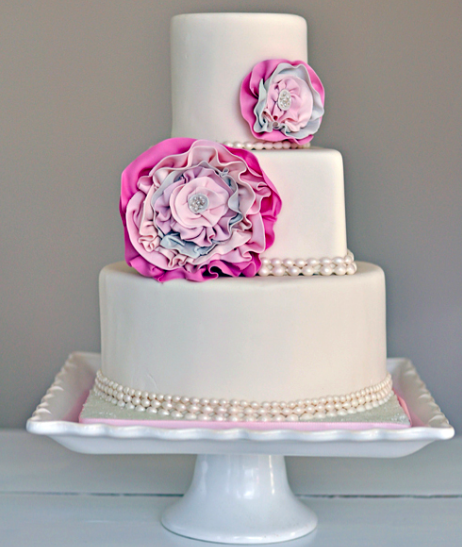 Photo via Sweetapolita
Ruffly Multi-colored Rosettes: A simple tiered ivory fondant covered cake takes on gorgeous life with the addition of these fantastic, whimsical, multi-colored ruffle-edged rosettes! Fuchsia, pale pink, silvery grey and lavender are all beautiful colors of the moment. I love how they have a vintage fabric feel, too – this cake will appeal to cake lovers and seamstresses, alike! Beautiful pearlescent border, too.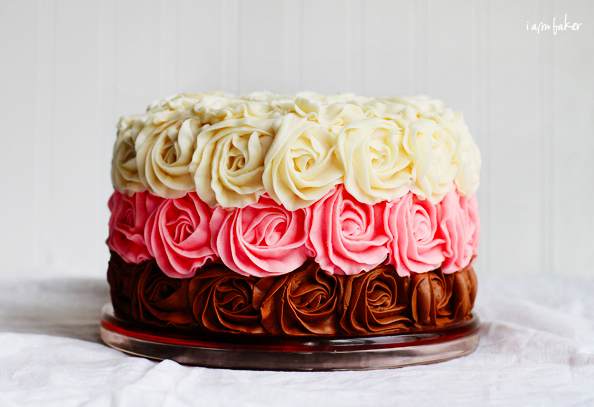 Photo via I Am Baker
Neopolitan Rose Cake: I Am Baker started this whole rosette cake craze, and she has since posted many variations on the original, including this beauty piped in neapolitan colors. I love this classic trio of brown, pink and white; it reminds me of digging into a giant bucket of neapolitan ice cream. I Am Baker has a great tutorial on how to pipe a rosette covered cake here!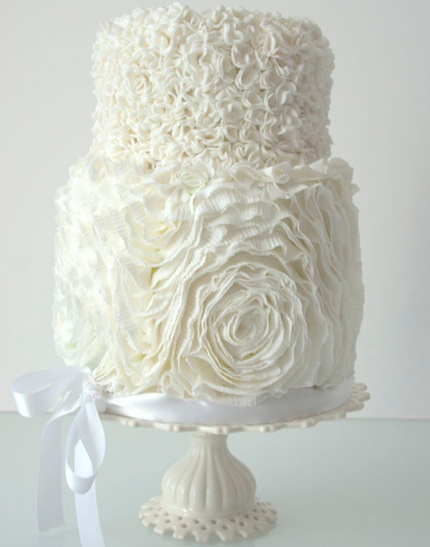 Photo via Rooney Girl Bakeshop
White Ruffled Rose Cake: This heavenly cloud-like couture confection was created by Maria at Rooney Girl Bakeshop. Doesn't it look like a stunning, high fashion wedding gown? Extra gorgeous points go to this cake for the rose tier. I love how the wavy, thin-as-air ruffles look like dainty crepe paper.
From ruffles to roses, I would say that romantic cakes are here to stay! Bluprint has some very romantic cake classes indeed. Dying to make sugar flowers? Try Nicholas Lodge's online class Classic Sugar Flowers, only on Bluprint! You will learn how to make the perfect gum paste peony, anemone and tulip to add beautiful blooms to your cakes.