The phrase "easy still life drawing" might sound like an artistic oxymoron. After all, you have to be an extremely accomplished artist who can draw with realistic precision to draw a still life, right?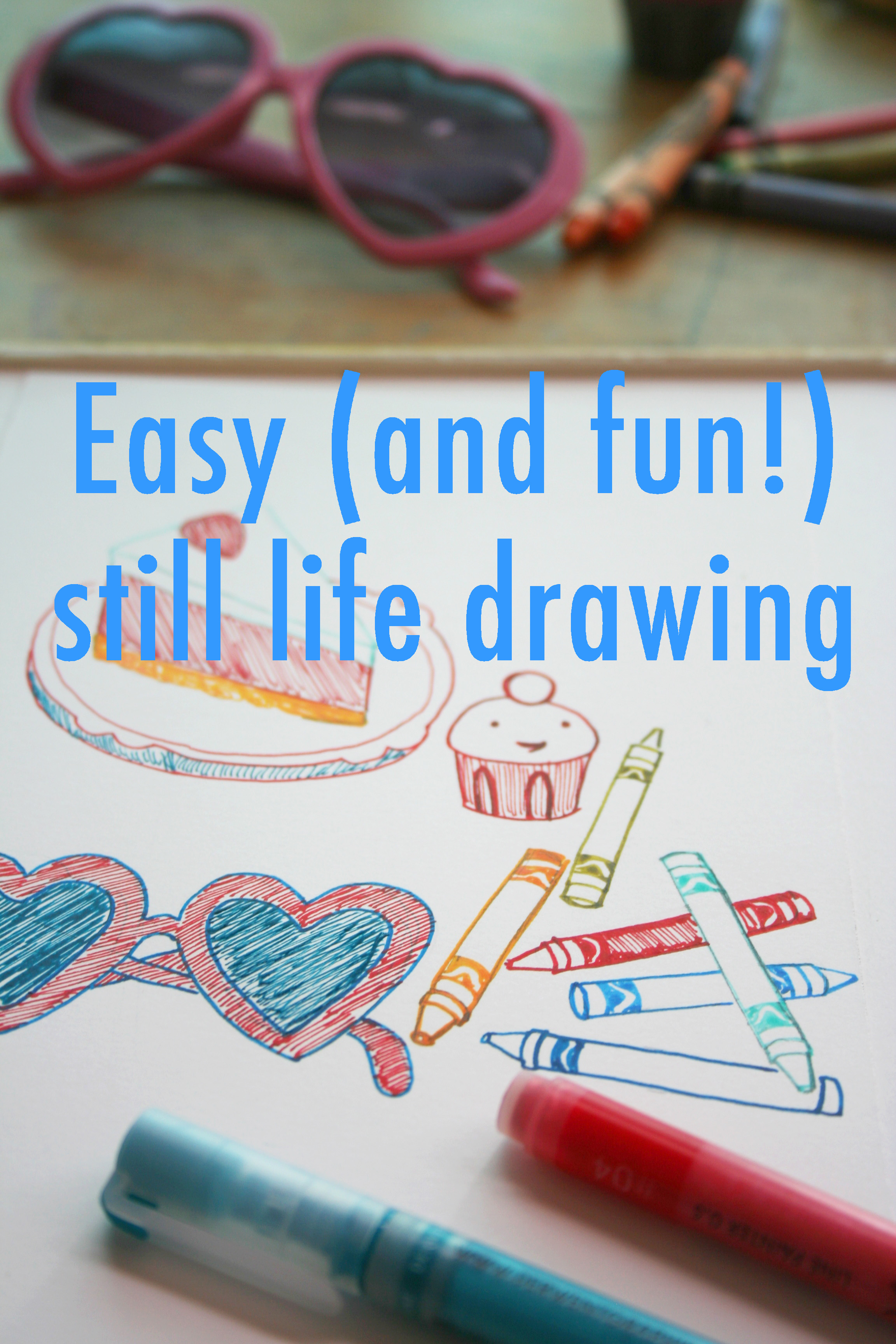 Photos and art via CakeSpy
Wrong. Still life compositions are accessible for every level of artist, and they don't require any special materials. All you need to create a still life is some desk space, a few objects, and your desired drawing medium. From there, it's easy. Really!
This tutorial details a low-key approach to creating easy still life drawings that are perfect for beginners. 
This easy approach to still life drawing is accessible to all artistic levels and styles. By breaking down the steps that go into making a still life drawing, you'll find that it doesn't have to be fearsome, but can actually be a whole lot of fun. 
Step 1: Set the scene
Before you start drawing, you'll have to assemble the scene that you will draw. Ideally, you can set it up in a space in direct view from your drawing surface. 
What should you draw? 
In spite of what the old masters thought, there are plenty of things to draw other than fruit and meat. In this scene, a quirky setup with a slice of cheesecake, crayons, and a pair of heart-shaped sunglasses might not make sense, but it has personality. 
Need ideas for what to draw? This guide has 140 suggestions.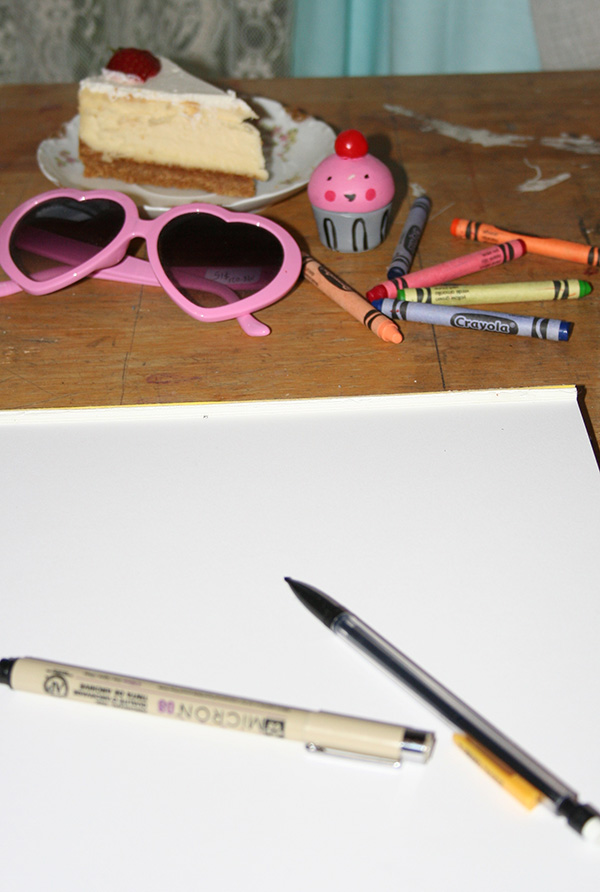 Tips for choosing objects to draw
While the above objects are quirky and fun, they're also carefully chosen for drawing success. Each item in the scene features simple shapes, which won't require a highly realistic representation to be recognizable in drawn form.
Choose recognizable items with simple shapes for the easiest entry into still life drawing. 
Also, be sure that the scene can be preserved for at least a few hours while you explore still life drawing. While the cheesecake slice in the scene above is perishable, it will last at room temperature long enough to draw a still life. An ice cream cone, on the other hand, might not fare as well. 
Step 2: Get sketching
How to start drawing a still life? Especially if you haven't worked on many still lifes before, you'll probably want to start by sketching. You may not want to use your best paper to start, as this is more like the "discovery" phase. Sketch the scene, and make adjustments as needed to shift objects to situate them in a more visually compelling way. 
Step 3: Commit to your scene and medium
Once you settle on the scene and begin working on your final drawing, you'll want to decide what medium you'd like to use to create your final drawing. 
If you are working in pencil, you can use your favorite sketch and transfer the image to your final work surface using tracing or transfer paper. Or, if you feel confident, you can draw a light freehand pencil sketch. 
When I am working, I like to divide my drawing surface into quadrants, so that I can work with a sort of mini-grid to create a light pencil sketch on my final work surface. Since these lines can easily be erased once the ink is dry, they won't be distracting in the finished piece.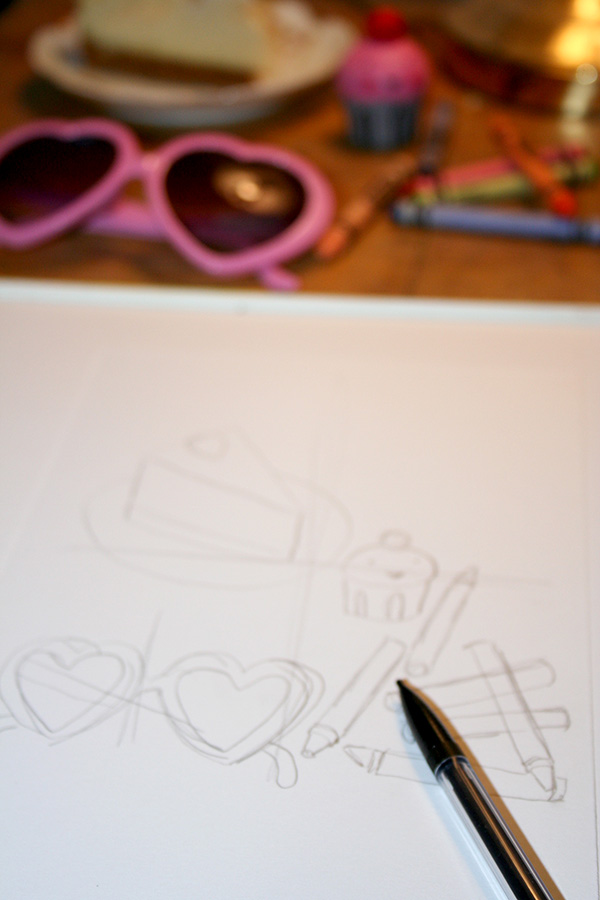 Step 4: Begin working in your final media
If you've been sketching with pencil, you can swap it out for your final media. In this case, I decided to use paint pens for a colorful, bright effect that suited the scene. I began by drawing outlines of the items in the still life in varying colors. It's not necessary to adhere to the actual colors from your scene in your drawing. Be creative!
At a certain point, if working in pen, you won't need the pencil lines anymore and can erase them.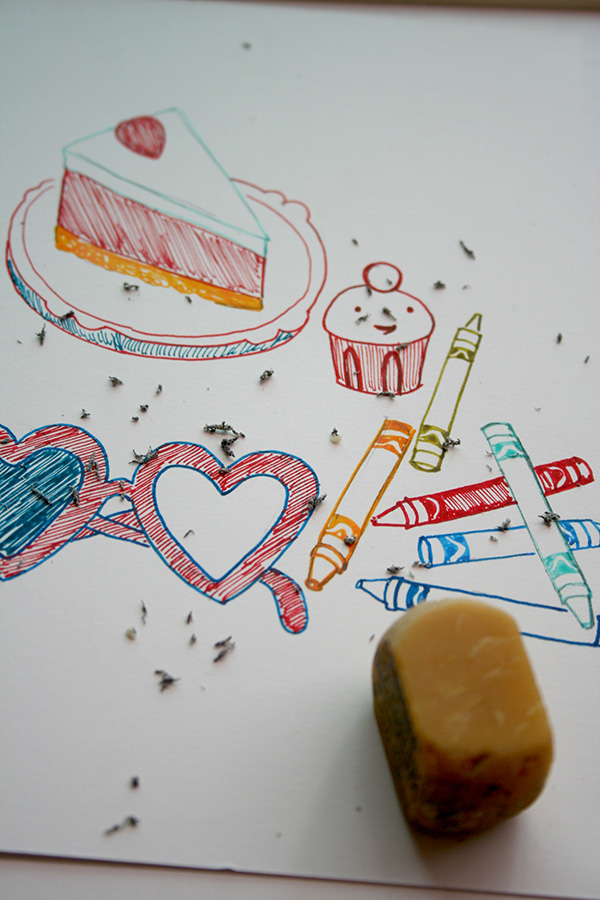 Step 5: Continue to refine
From here, you can continue to refine as much as you'd like. Perhaps you prefer to keep it as a simple line drawing, or maybe you'll enjoy adding details such as cross-hatching or different pen strokes to show added texture, or shading with pencil to add dimension.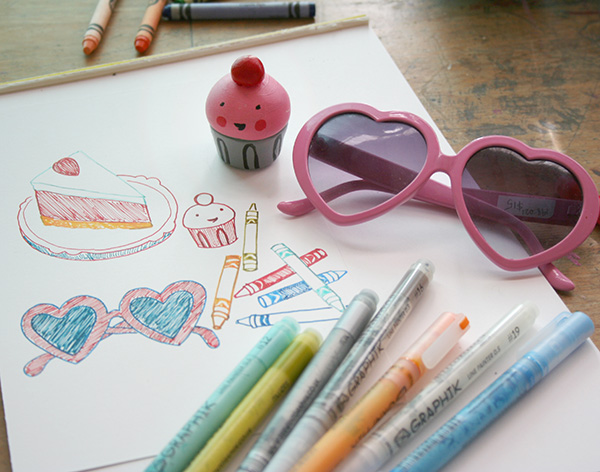 If there was, in fact, a slice of cheesecake in your scene, feel free to enjoy it once you're satisfied with your drawing piece as a reward!
Have you ever drawn a still life?
Make Every Drawing As Easy As This One!
Learn illustration basics to help you grow in your artistic journey.Get My FREE Guide »