I am a big breakfast pastry fan, and that means that I always have a treat like muffins, coffee cake or scones out on the table when I'm hosting brunch. But breakfast baking projects don't have to be saved for the weekend! Scones in particular can be easy when you employ a food processor, as I do with this easy scones recipe.
The ones at your favorite coffee shop might be good, but you can make some that are even better using this easy recipe. And scones taste best when they are fresh from the oven.
Scone baking basics
Scones start with a mixture of flour, leavening and sugar. Most of the time, scones are made using a labor intensive (or mess, at least) process where butter is cut into the flour mixture by hand to create a a dough that's very tender and slightly flaky.
The easiest way to make scones at home: use your food processor!
For this recipe, I opted to use the food processor instead of going for the traditional handmade method.
Simply combine all your ingredients in the food processor and pulse to blend in the butter. Drizzle in the milk while pulsing the machine to help the dough come together. It takes about 60 seconds (maybe less) to mix up the dough!
I still recommend adding the mix-ins by hand, just so they don't get chopped up more finely than you had hoped.
Flavoring your scones
No matter what flavor scones you are making, the initial dough-making process is always the same. Once the dough comes together, you can add in a variety of mix-ins and customize the scones to suit your mood. 
Here, I'm making cranberry orange scones using fresh orange zest and dried cranberries. It's a popular flavor combination in my kitchen and I always get requests for it.
You can easily substitute in any dried fruit or nuts for the cranberries, and you can use a variety of extracts and citrus zests for flavor.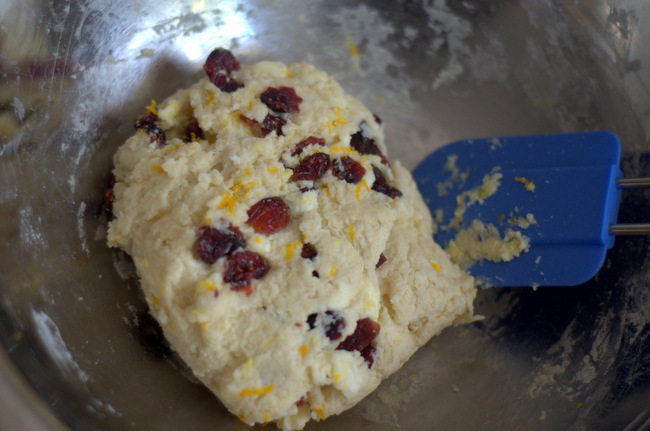 You can also use fresh or frozen fruit instead of dried fruit in your scones. Both fresh and frozen fruit can give off a lot of moisture when they are baking, so your baking time will likely be a few minutes longer
If you use frozen fruit, don't defrost it beforehand. Fresh fruit should be handled with care — especially if you are working with berries — so that it's not crushed when shaping your scones. 
Shaping the dough
You can cut scones into any shape or size, but triangles are the most classic — and very easy. To shape your scones into triangles, divide your dough in half and knead it gently to smooth it out, if necessary. Shape the piece of dough into a square or rectangle that's about 1″ thick.
Using a sharp knife, cut the square from corner to corner to divide it into four triangles. Repeat this process with the rest of the dough, then transfer the scones to a parchment-lined baking sheet. Be sure to leave some room between the individual scones because they will rise and spread as they bake.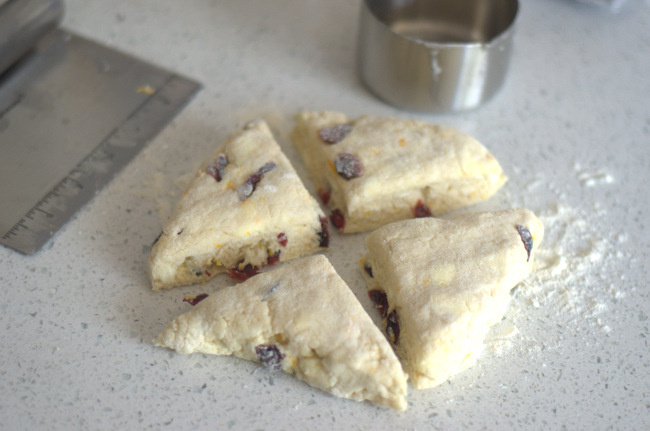 Serving your scones
The scones should be served when they are still slightly warm from the oven for best results. They'll be tender and flaky in the center, with edges that are buttery and crisp.
The scone dough is not too sweet, so while you can enjoy these plain, you can also serve them with butter, jam or even a bit of whipped or clotted cream.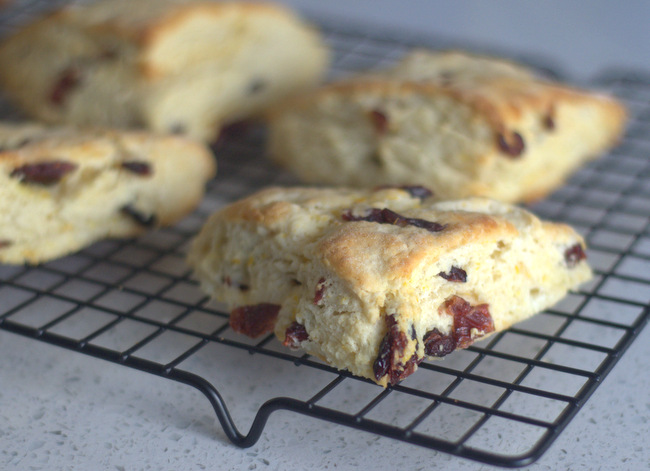 Easy scones recipe
Makes 8
Ingredients
2 cups all-purpose flour
1/3 cup sugar
2 teaspoons baking powder
¼ teaspoon salt
½ cup butter, cold and cut into pieces
2/3 cup milk (preferably whole milk)
Mix-ins of your choice (I used 1 tablespoon orange zest and 2/3 cup dried cranberries)
Step 1:
Preheat the oven to 400 F. Line a baking sheet with parchment paper. 
In the bowl of a food processor, combine flour, sugar, baking powder and salt, then pulse a few times to combine. Add pieces of butter and pulse 5 to 8 times, until no pieces larger than a big pea remain visible.
Step 2:
Add in milk (and citrus zest or extracts, if using), then pulse until a shaggy dough forms. Fold in other mix-ins by hand, mixing until they are evenly distributed in the thick dough.
Step 3:
Turn the dough out onto a lightly floured surface and knead gently 3 to4 times to smooth the dough. Divide dough in half. Shape each piece into a 1″-thick square or rectangle. Using a sharp knife or a bench scraper, cut each square into quarters by cutting from corner to corner.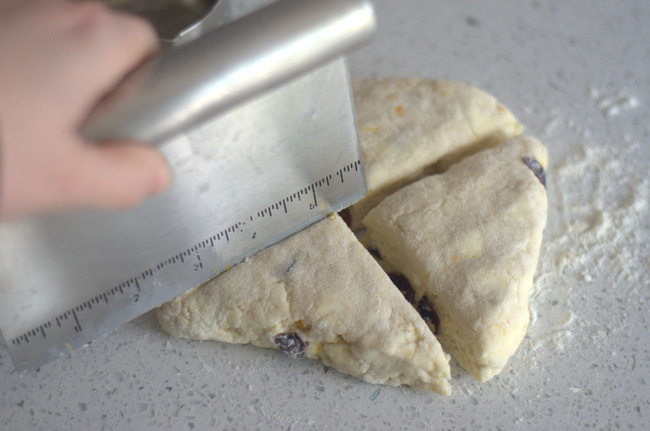 Arrange scones on prepared baking sheet, allowing 3″ to 4″ for the scones to spread. 
Step 4:
Bake for 16-18 minutes, until the scones are golden brown on the edges. Transfer to a wire rack to cool before serving.