Stacked in the pastry case at a bakery or cafe, palmiers never fail to catch your eye. The heart-shaped, golden pastries are covered in a layer of sugar that gives them a beautiful sparkle and an addictive sweetness. They look impressive, but they're actually very easy to make as long as you learn the technique to shape them.
These step-by-step instructions will teach you how to make professional-looking palmiers easily at home!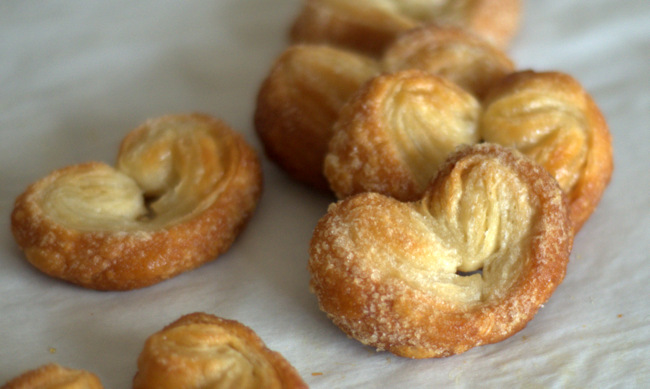 You only need two ingredients to make palmiers at home: puff pastry and sugar.
Puff pastry
Homemade puff pastry is delicious, but it is also time consuming to make, so store-bought puff pastry is the best way to go to streamline this recipe. It will take the prep time down from hours (for homemade pastry) to just minutes.
Most store-bought pastry comes frozen and will need to be completely defrosted before you start to shape your palmiers. Place the pastry in your refrigerator the night before you plan to bake so it's ready to go when you are. 
The best puff pastry for palmiers is the kind that's made with all butter, not with other fats. While all brands of puff pastry rise up attractively in the oven, these pastries are so simple that you want to ensure they have as much flavor as possible, so butter is best. Check the ingredients of  your puff pastry before you buy it, then be sure to buy an extra package (or two) because you never know when you might need extra for a fresh batch!
Sugar 
The sugar is just as important as the pastry because it adds both texture and flavor. The sugar caramelizes in the oven, making the flaky pastry even crisper than it would be on its own. Be very generous with the sugar to get the best results with your pastries.
Instead of using flour to create a nonstick work surface, I always use a layer of sugar.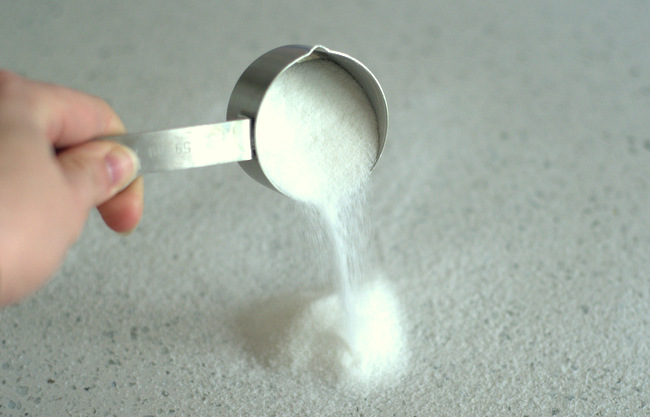 The sugar coats the pastry as you work with it, adding flavor to every fold of the dough — and making the whole process quick and easy! 
Shaping the palmiers
To get the proper shape on your palmiers, it's all in how you fold it. Fortunately, the folds are easy to make. First, place the pastry in front of you on a sugared surface. The sugar keeps the pastry from sticking and it adds the sweetness we need in these pastries.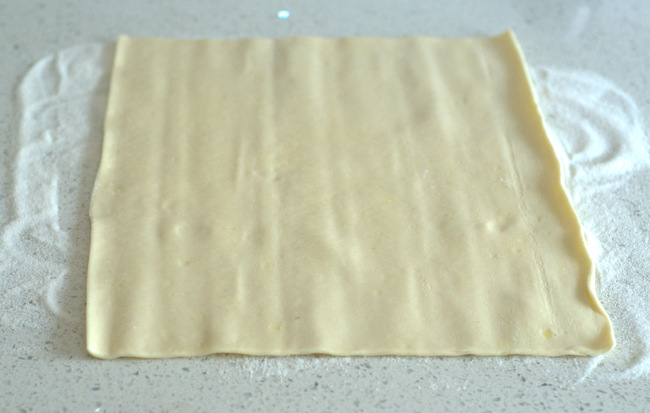 Take both outside edges and fold them towards the center.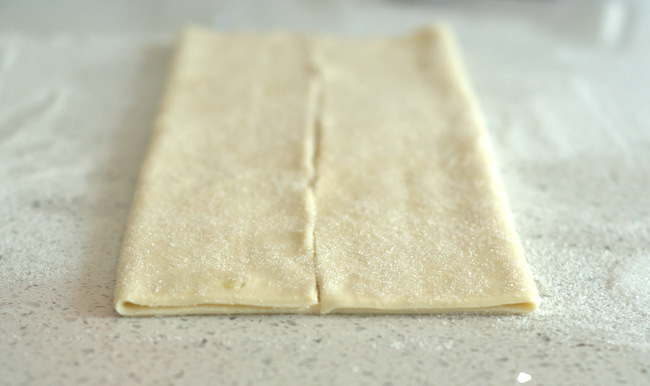 Take the new outside edges and again fold them toward the center. 
Fold the dough half, creating a heart-shaped roll with 8 layers.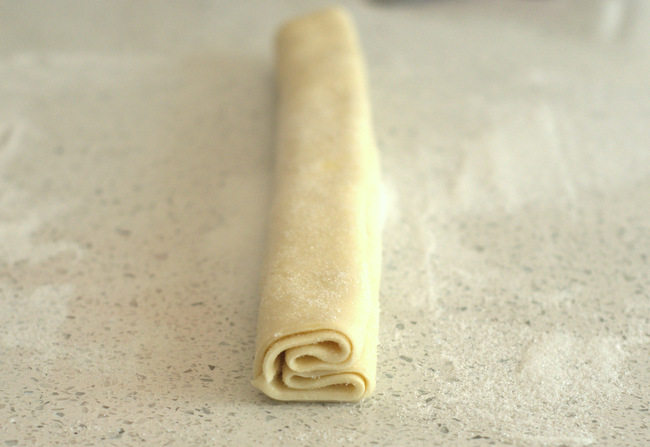 Cut the dough into approximately 1/2-inch thick slices.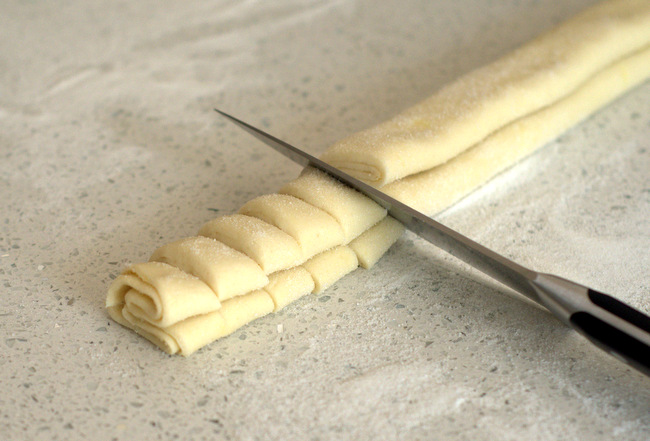 Place each piece cut-side up onto the sugared surface, then press it firmly down with your palm to flatten.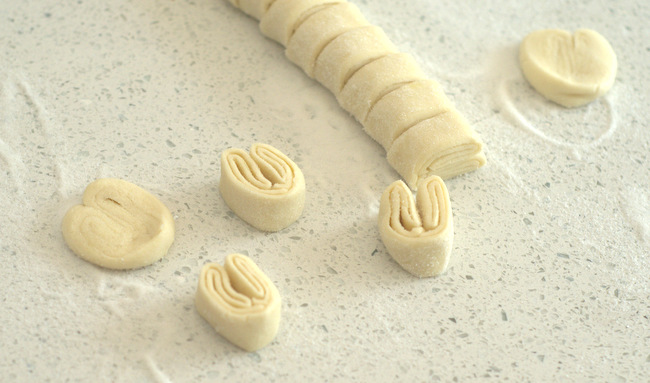 Once flattened, your palmiers are ready to bake up into crisp, delicious pastries, ready to be paired with coffee, tea, ice cream and anything else you can think up!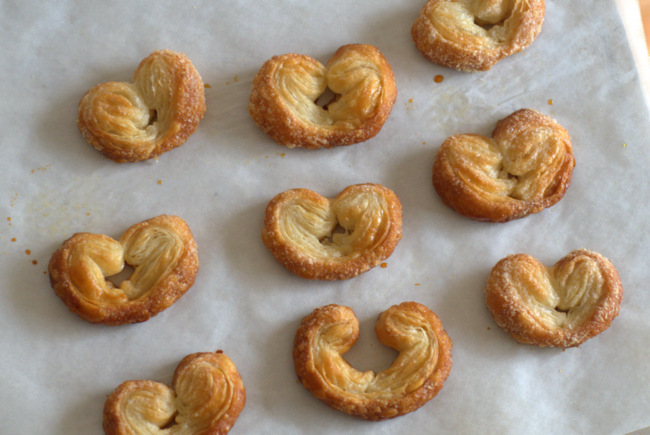 Palmiers recipe
Makes 32
Ingredients:
2 sheets puff pastry, defrosted
½ cup sugar
Step 1:
Preheat oven to 400 F. Line a baking sheet with parchment paper. 
Cover a flat work surface with ¼ cup of sugar. Unfold one sheet of puff pastry onto the sugar. Roll gently with a rolling pin to eliminate any wrinkles. 
Step 2:
Turn the puff pastry over so both sides are covered with sugar. Press to help the sugar adhere. Fold the outside of the pastry toward the center. Repeat the fold a second time so that both sides have four layers of pastry. Fold the pastry in half to form a heart shape with eight layers. 
Step 3
Using a sharp knife, cut the folded pastry into ½"–thick slices. Place each slice cut-side up (either side) on the sugared work surface and press firmly with the heel of your hand to flatten. Transfer to baking sheet. Repeat with all pieces of dough. 
Repeat the process with the second sheet of pastry and the remaining sugar. 
Step 4
Bake for 16-20 minutes, until palmiers are deep golden brown. Allow pastries to cool on the pan for about 8 minutes, then transfer to a wire rack to cool completely.