Making homemade sauces of any sort seems like a daunting, time consuming task. But, today I'm here to kick that misconception to the curb, starting by cooking up some easy homemade pizza sauce. With minimal prep and a just a handful of ingredients your new favorite pizza sauce will be ready in about 30 minutes.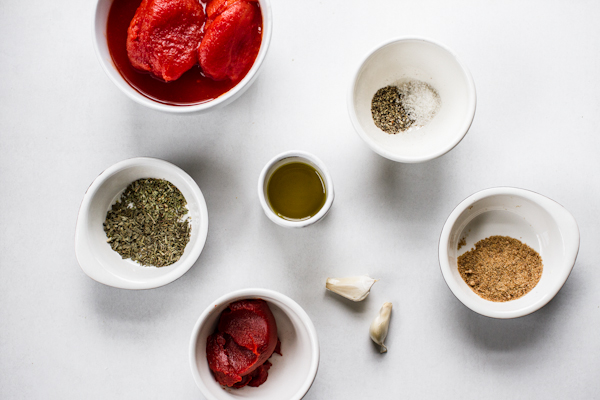 Photos via Edible Perspective
Learn to make your own homemade pizza sauce with this simple recipe!
I can almost guarantee that you have all of the ingredients on hand to whip this up whenever you're in the mood for pizza. And I can't recommend this next tip enough: Make a double batch! Always!
This sauce will store in the fridge for about a week, but it also freezes beautifully. An overnight thaw in the fridge or a few hours on the counter, and you'll be in business.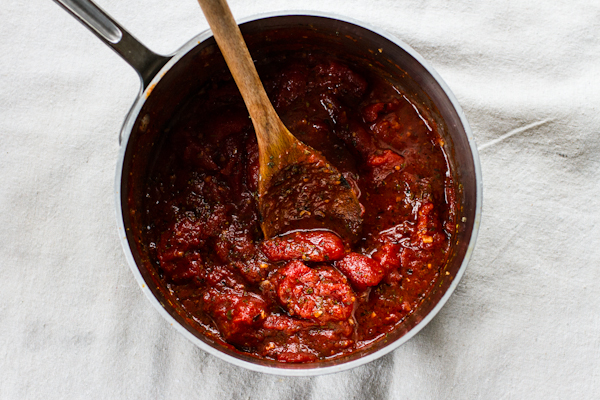 I also recommend eating at least one giant spoonful straight from the pot. If you can stop at one — I'll be impressed. I never thought pizza sauce could be quite so addicting or this simple to make, but I promise both are true!
If you're interested in learning more about creating everything you need for homemade pizza, check out the FREE class Perfect Pizza at Home. You'll how to craft each delicious element, including a recipe for gluten-free crust!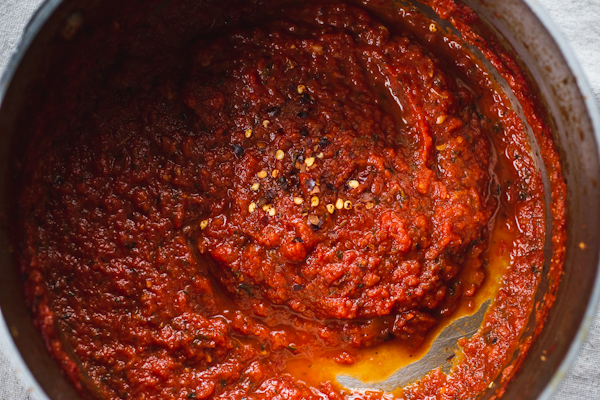 Recipe for easy homemade pizza sauce
Yields approximately 2 cups of sauce
Ingredients:
2 tablespoons extra virgin olive oil
2-3 teaspoons minced garlic
1, 28 oz can whole peeled tomatoes (drained and liquid reserved)
1/4 cup reserved tomato juice
3 tablespoons tomato paste
2-3 teaspoons muscovado sugar (or brown sugar/sucanat/pure cane sugar)
2 teaspoons dried oregano
1 1/2 teaspoons dried basil
1 teaspoon dried thyme
1/2 – 1 teaspoon fine grain sea salt
1/4 – 1/2 teaspoon black pepper
Pinch of red pepper flakes (optional)
Step 1
In a medium/large pot heat the olive oil over medium-low heat. Once hot, add the garlic and stir constantly for about 1-2 minutes until just starting to brown. Slowly pour in the tomatoes (they will spatter) and mash them with the back of a wooden spoon to release their juices.
Step 2
Increase the heat to medium and stir in the tomato juice, tomato paste, 2 teaspoons sugar, herbs, 1/2 teaspoon salt and 1/4 teaspoon pepper. Bring to a low boil, then reduce heat to simmer for about 15 minutes, with a lid cracked on top of the pot to avoid spattering. Stir occasionally.
Step 3
Blend the sauce with an immersion blender in the pot or pulse in a blender until it reaches a consistency you like. I like mine without large tomato pieces but not pureed.
Step 4
Continue to simmer the sauce for another 10-15 minutes with the lid cracked, stirring occasionally. Taste and add more sugar, salt, and/or pepper if needed. (The amounts you need to add will a bit with every can.)
Optional: Stir in a pinch or so of red pepper flakes for a kick of heat. For a thicker sauce simmer for another 5-10 minutes. For a thinner sauce stir in more tomato juice from the can.
Step 5
Use immediately, or slowly pour into a jar and let come to room temperature. Close with a tight fitting lid and store in the fridge for 5-7 days. Reheat in a pot over medium-low heat.
Recipe notes:
To freeze: Let come to room temperature in the pot. Pour into a quart-sized freezer bag, squeeze the air out, seal, and lay flat in your freezer — I like to freeze 1-cup of sauce per bag. Best used within 3 months of freezing. To defrost, place in your fridge 24 hours before using or set on the counter for a few hours to thaw, then reheat in a pot over medium-low.
Options: Feel free to use canned Whole Roma Tomatoes or Fire Roasted Tomatoes if desired. For a different flavor spin try adding 1 roasted red pepper to your sauce in step 2.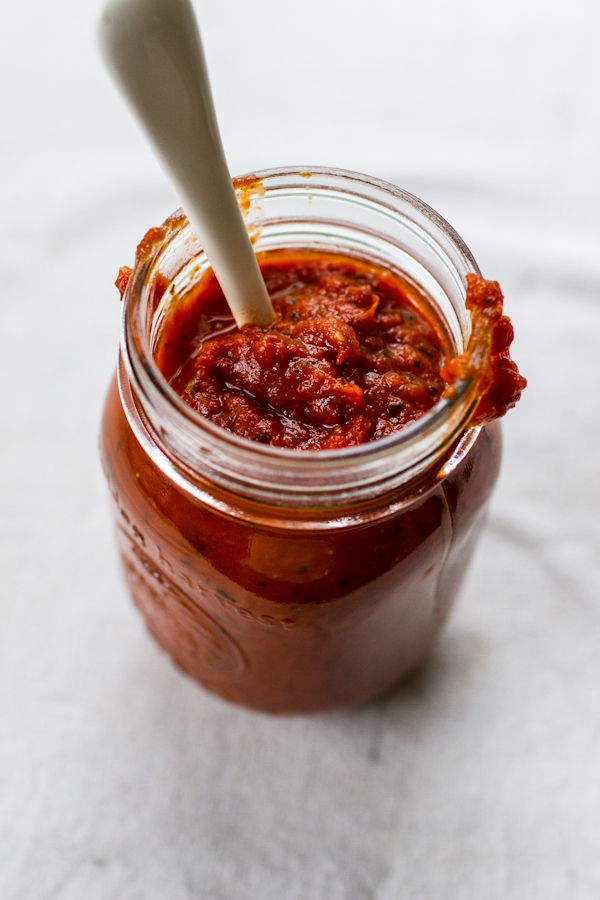 Pizza night just got a face-lift.
Now that you've made one delicious sauce, why not learn how to make seven more? In the award-winning Craftsy class A Modern Take on the Mother Sauces, you'll learn how to master five classic French sauces along with two other delicious essential sauce recipes to awaken your everyday dishes!
Have you ever tried making homemade sauces?