German chocolate cake is a classic layer cake that has been popular with bakers since the 1950s. This streamlined version of the original recipe brings the cake down to a single layer, cutting down preparation time so that you can enjoy this favorite any day of the week.
Typical German chocolate cakes stand three or four layers high with filling generously spread between each tier. These cakes are impressive to look at, but preparing all those cake pans is time consuming and, as a result, German chocolate cakes don't get made as often as they should. This is a shame because the cake is both delicious and unique. This single-layer recipe can be made for any occasion and packs in at least as much flavor as its taller friends. 
What is German chocolate?
German chocolate is actually German's chocolate. The chocolate was developed as a dark baking chocolate for the Baker's Chocolate Company by a man named Samuel German, for whom the chocolate was named. The recipe for German chocolate cake was first printed in the 1950s and is said to be the result of a typo in the paper, as the cake was supposed to be called "German's Chocolate Cake."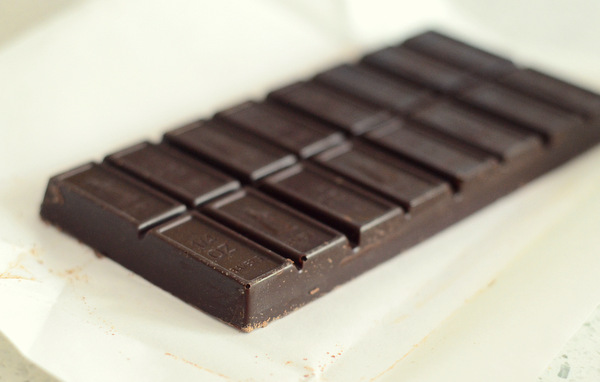 The chocolate is a dark chocolate — meaning that it doesn't include any dairy. But it is a littler sweeter than some other dark chocolates, with a higher sugar content and 48 percent cacao. If you can't find it in the baking aisle at your local store, you can substitute semisweet chocolate into this recipe and get very similar results. 
The frosting
This cake has an unusual coconut and pecan frosting that really sets it apart from other cakes. The frosting is cooked on the stovetop and is thickened with eggs, which gives it a sticky, custardy base. Toasted pecans and shredded coconut are folded into the base, giving the frosting a delicious flavor and texture.
The frosting is sweet on its own, and it can be so addictive that you'll want to eat it with a spoon. That said, the frosting pairs perfectly with the rich chocolate cake, which is very tender and rich with chocolate flavor.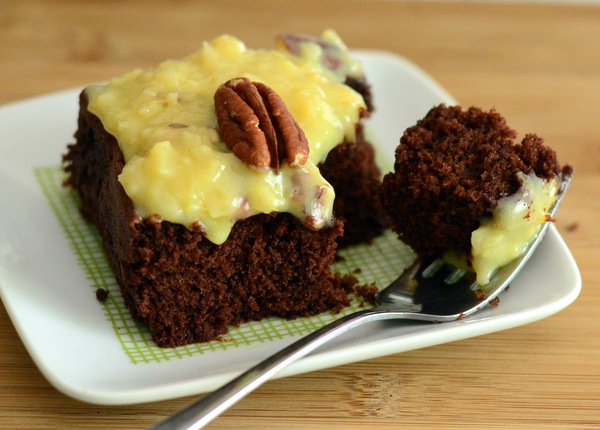 Easy German Chocolate Cake
Serves 9-12
Cake ingredients:
2 ounces German's Sweet Chocolate, finely chopped
1/2 cup butter, room temperature
1 cup all-purpose flour
1/2 teaspoon baking soda
1/4 teaspoon salt
1 cup sugar
1/3 cup unsweetened cocoa powder
2 large eggs
1 teaspoon vanilla extract
1/2 cup buttermilk
Frosting ingredients:
1 cup sweetened condensed milk
2 large eggs
1/4 cup butter, room temperature
1 teaspoon vanilla extract
1/4 teaspoon salt
1/2 cup shredded coconut
1/2 cup chopped, toasted pecans
Whole pecan halves, for garnish
Step 1:
Preheat oven to 350 F. Line a 9-inch square baking pan with parchment paper and lightly grease it.
In a small microwave-safe bowl or saucepan, melt together the butter and chocolate. Set aside to cool slightly. 
In another small bowl, whisk together flour, baking soda and salt. Set aside.
Step 2:
In a large bowl, sift together sugar and unsweetened cocoa powder. Whisk in eggs and vanilla extract until mixture is smooth. Whisk in melted chocolate mixture. Stir in half of the buttermilk, followed by the flour mixture, followed by the rest of the buttermilk. Whisk until smooth. Batter will be fairly thick.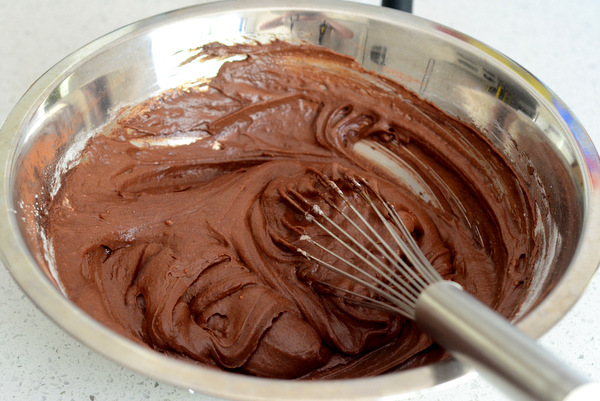 Pour batter into prepared pan and spread it evenly into the corners.
Step 3:
Bake for 35 to 40 minutes, or until a toothpick inserted into the center of the cake comes out dry or with only a few moist crumbs attached. Allow cake to cool completely, then carefully turn the cake out onto a cake plate. 
Step 4: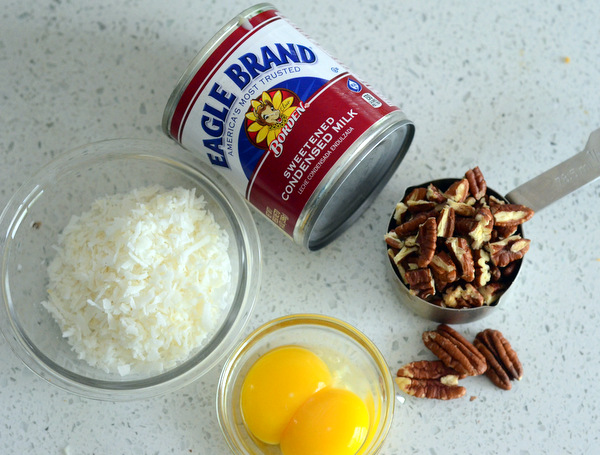 When the cake has completely cooled, prepare the frosting. In a medium saucepan, whisk together sweetened condensed milk and egg yolks. Add in butter and cook, whisking regularly, over medium heat until butter is melted.
After a minute or two (smaller pans may require a longer cooking time), the mixture will begin to bubble and thicken. When thickened, remove from heat and whisk in vanilla extract, coconut and pecans. Allow to cool, stirring occasionally, until frosting reaches a spreadable consistency. Frosting will thicken as it cools.
Step 5:
Spread frosting generously over the top of the cooled cake and serve.