Couscous: a food so nice they named it twice! Not only is couscous fun to say, but it's incredibly enjoyable to eat, too. And as this easy couscous recipe proves, cooking it is accessible to any level of chef, from newbie to seasoned professional.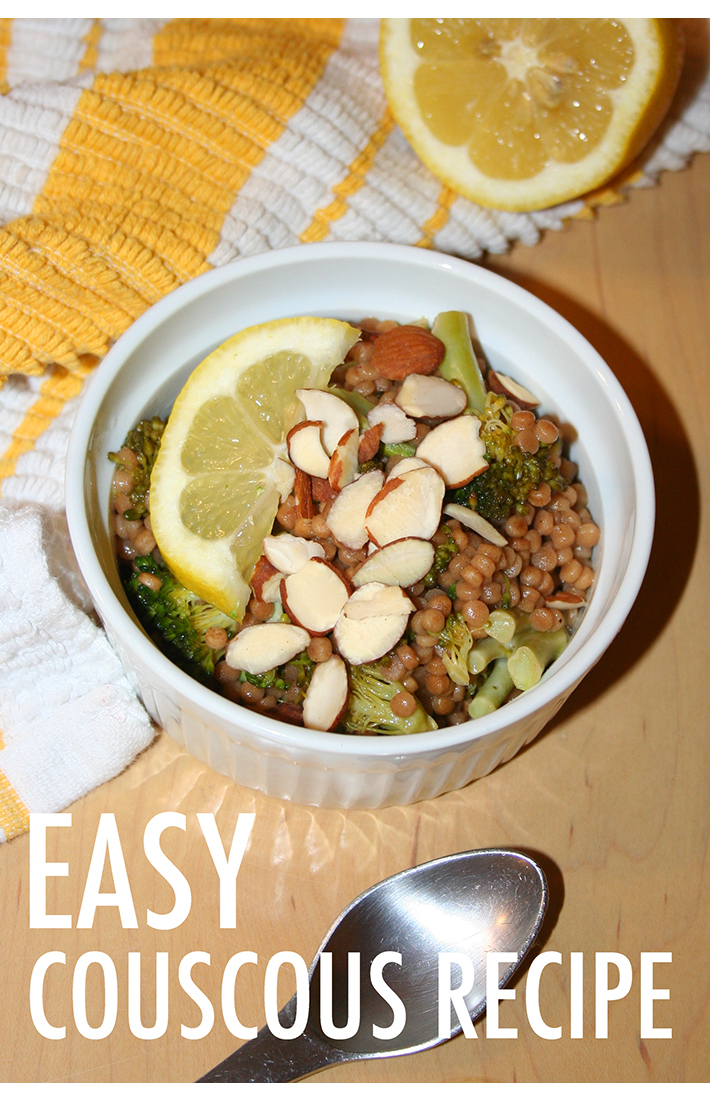 Photos via CakeSpy
What is couscous?
Couscous, a staple of Middle Eastern cookery, is comprised of granules of crushed durum wheat. It's available in several different varieties, from fine, pastina-like granules to larger, pearl- or pellet-shaped varieties.
In terms of texture, couscous falls somewhere between rice and pasta. In terms of application, it can be used like both of the aforementioned carbohydrates, either as a side dish or as an element of a main dish. 
Couscous is a key ingredient in tagine-style cooking, which you can explore in great depth in the Craftsy course The Flavors of Morocco: Tagines, Couscous, and More. But to get your feet wet, let's start with an easy couscous recipe that comes together in less than 20 minutes (including prep!).
This recipe yields a perfectly fluffy, flavorful, veggie-enhanced variety of couscous that can be used as a side or as part of a main dish.
Easy couscous recipe 
Makes 4 servings 
1 tablespoon olive oil 
3 cups chopped vegetables (I used fresh broccoli florets, from about 1 large crown of broccoli)
1/2 teaspoon chili powder (optional)
1 cup couscous (I used whole wheat Israeli couscous)
1 1/2 cups chicken broth
1 teaspoon lemon juice
1 teaspoon salt
1 teaspoon pepper
Lemon wedges and slivered almonds, to top (optional) 
Note: International readers may enjoy our handy metric conversion guide.
Step 1: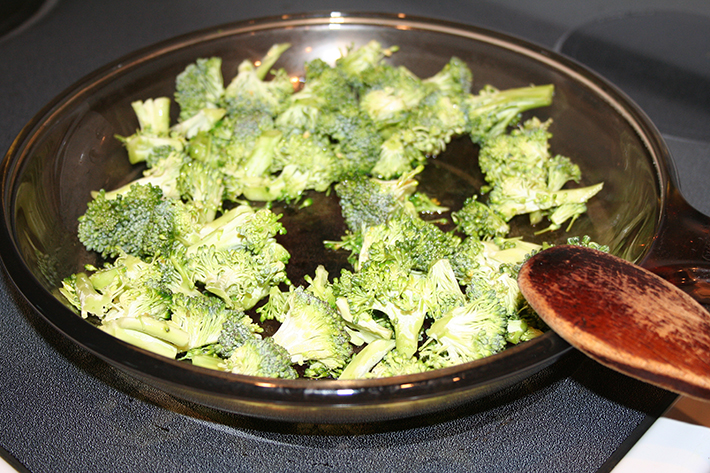 Pour the oil in a large skillet or sauté pan. Heat on medium until it begins to shimmer, then add the vegetables. Cook for about 2 minutes, or until the vegetables have become tender.
Step 2: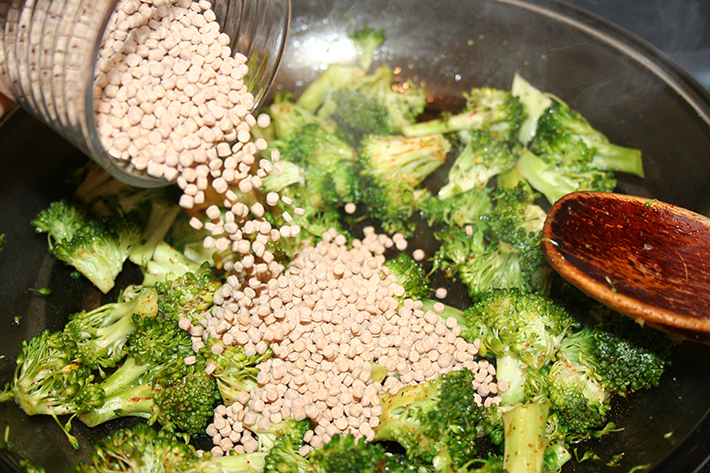 Add the chili powder and couscous, and cook for about 1 more minute, just to coat the couscous with oil and distribute the chili into the mixture.
Step 3: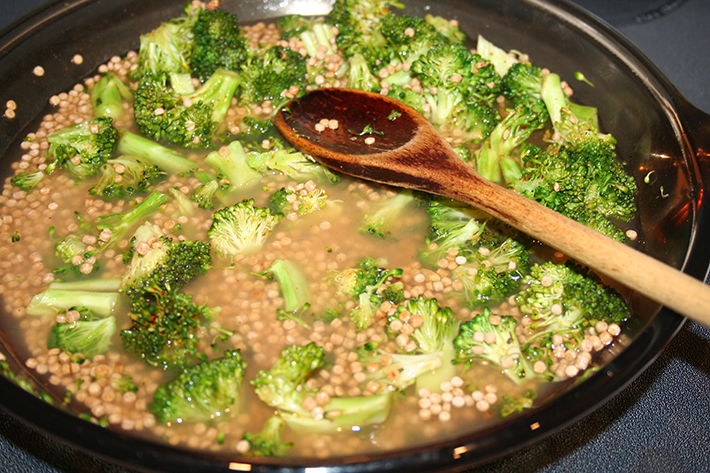 Stir in the broth, lemon juice, salt, pepper, and any other seasonings of your choice. Bring the mixture to a boil, and cook for about 1 minute.
Step 4:
Remove the mixture from heat, and let it sit until all of the liquid has been absorbed (5-10 minutes). Give it a stir with a fork or spoon to fluff, and then divide between serving dishes. Garnish with slivered almonds and lemon wedges.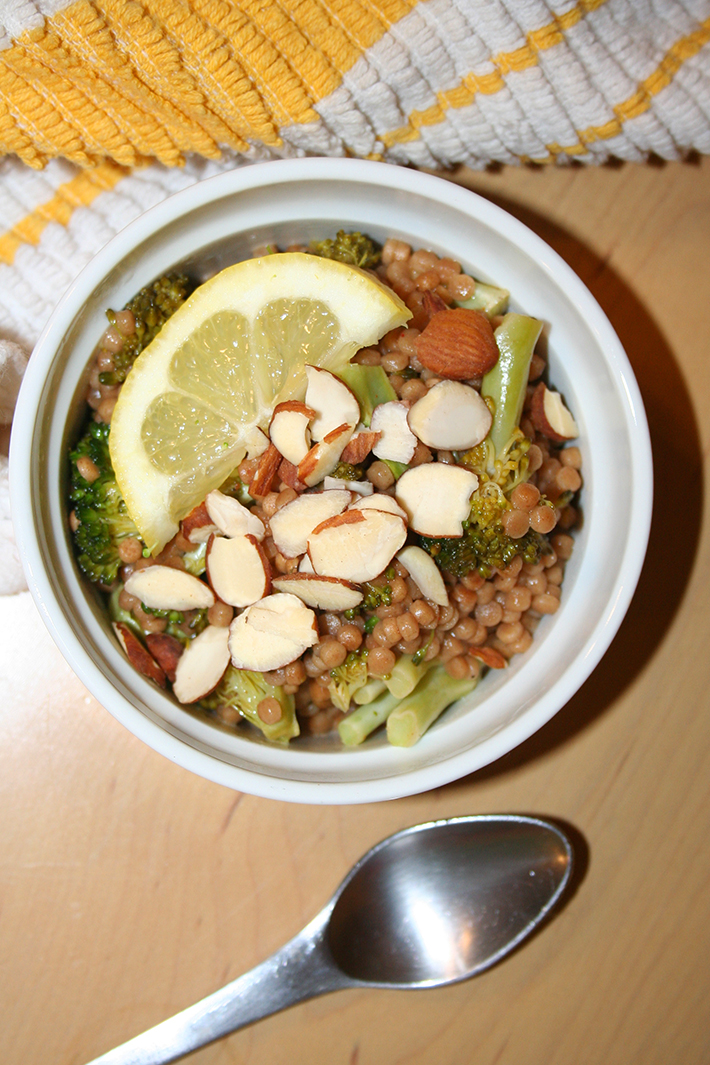 Make it your own: substitutions and variations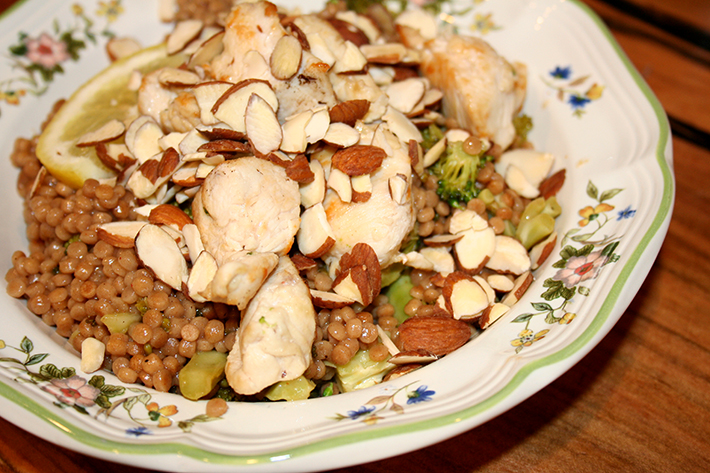 Make it meal-worthy
Top your couscous with pan-fried chicken, tofu or any protein of your choosing to upgrade this couscous from a light meal or side dish to satisfying main dish.
Swap out the veggies
Don't have (or don't like) the broccoli shown in the recipe? Feel free to use any vegetable or mixture of vegetables of your choosing; simply make sure that they are cut to a uniform size to ensure even cooking.
Vegan-ize it
It's easy to make this dish vegan or vegetarian by substituting vegetable broth for the chicken broth called for in the recipe. 
Mix up your fat
Instead of olive oil, you can try this recipe with butter, coconut oil or any cooking oil that you like. Since the temperature never gets terribly high during the cooking, the smoke point of oil is not a concern in this recipe.