Vanilla or chocolate? This easy chocolate buttercream recipe makes a firm argument for the latter.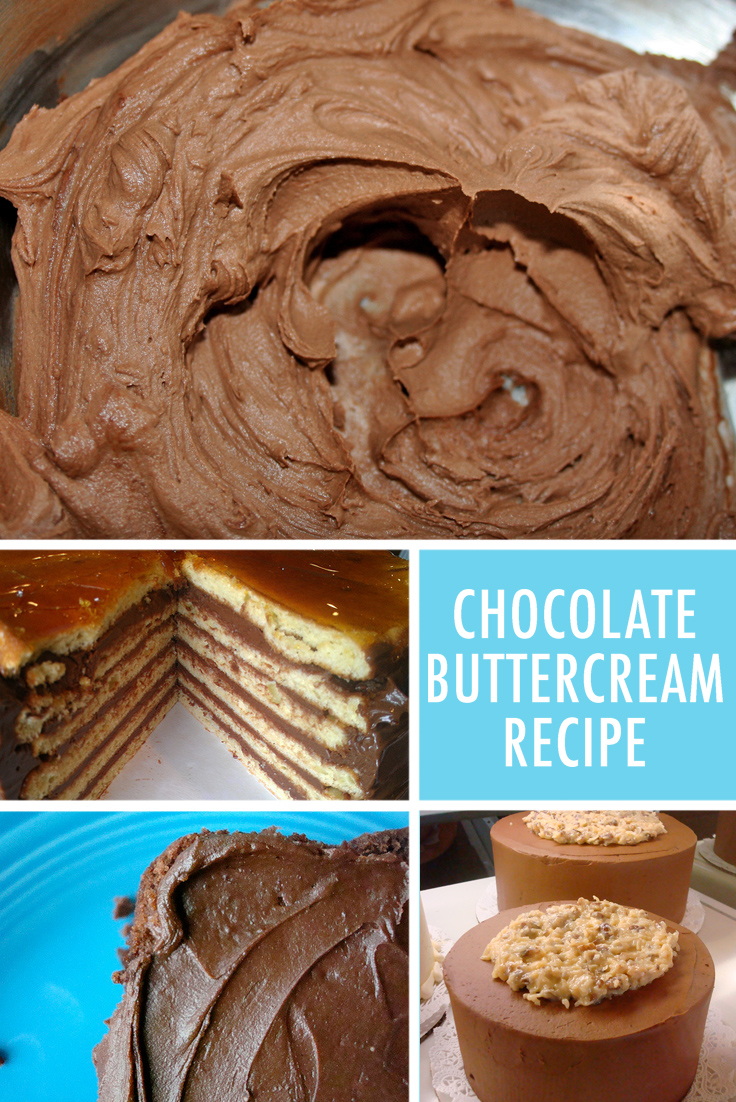 Make irresistible chocolate cakes!
Enroll in these HD video lessons to learn how to bake, fill and frost cakes that will make chocolate-lovers swoon and bring clients back for more. Enroll Now »
This American-style buttercream is infused with rich dark chocolate, making for a unique sweet topping with a crowd-pleasing flavor. It has a smooth, silky texture that can be spread with ease, making it ideal for cake decorating projects, whether you are topping a cake or piping designs. But it's the flavor that makes it memorable: a rich, buttery buttery-sweet base is complemented by dark chocolate for a robustly flavored buttercream that pairs well with a variety of different cake flavors, but would also work well as a sandwich cookie or doughnut filling, as well.
Easy chocolate buttercream recipe
Yield: about 3 cups
1/2 cup (1 stick, 4 ounces) unsalted butter, softened
4 cups confectioners' sugar, divided
2 teaspoons vanilla
1/4 teaspoon salt
3.5 ounces chocolate, melted and slightly cooled (see recipe note)
Milk or cream, to thin (optional)
Step 1:
In the bowl of a stand mixer fitted with the paddle attachment, cream the butter and 2 cups of the confectioners' sugar until smooth and slightly fluffy, about 3 to 5 minutes on medium speed.
Step 2:
Pause mixing; add the vanilla, salt and melted chocolate. Resume mixing on low speed to combine, mixing until the chocolate leaves no streaks.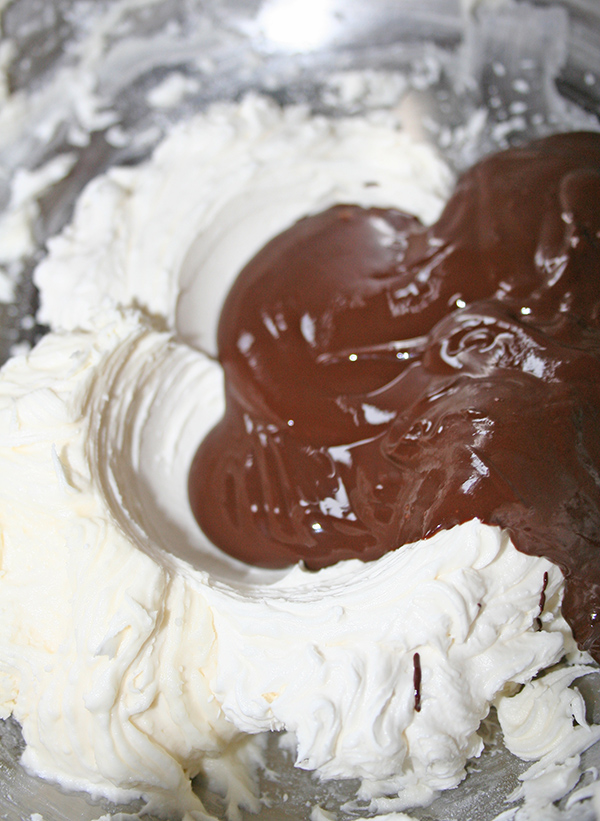 Step 3:
Add the remaining confectioners' sugar, half a cup at a time, until your mixture has reached your desired spreading consistency. You may not use all of the sugar. Your final consistency can vary: it may be thicker if you are using the buttercream as a filling or for piping, or thinner if you want to spread the buttercream smoothly on top of a cake.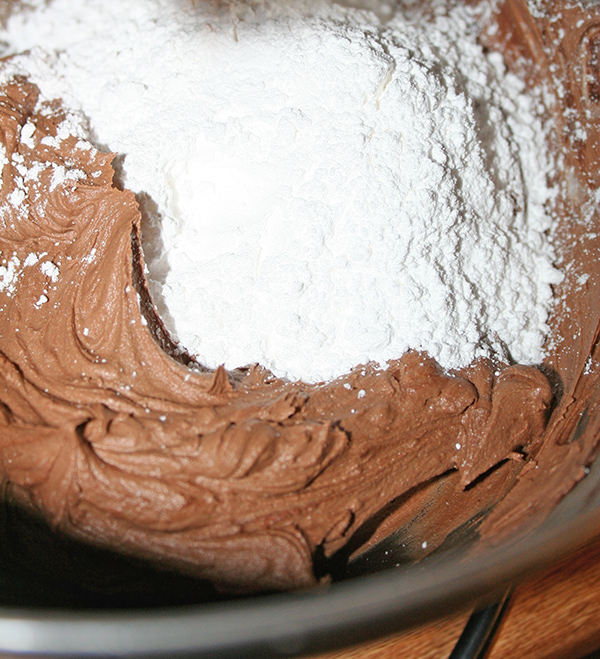 Note: If the mixture becomes too thick, you can add a little milk or cream, one teaspoon at a time, until it is just right. If the mixture is too thin, you can add a little more confectioners' sugar.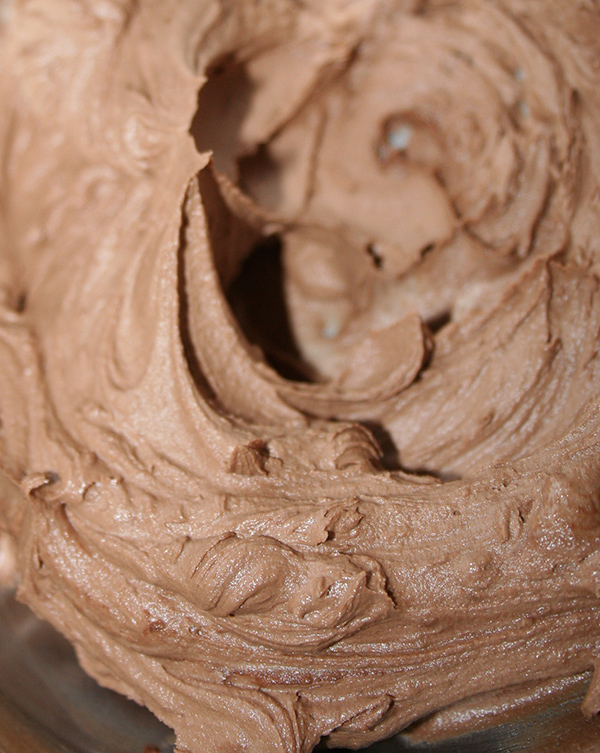 Your buttercream is ready! Any cake, cookies or treats should consider themselves lucky to be topped or filled with this sweet stuff.
Recipe notes
Butter
Unsalted butter is suggested for this recipe, as the amount of salt can vary depending on the brand of butter. It is much more reliable to use unsalted butter and add salt. If you do use unsalted butter, omit the added salt in the recipe.
Chocolate
Regarding the chocolate, 3.5 ounces is a standard size for gourmet chocolate bars. If you are using baker's chocolate, which is portioned out in ounce increments, you can use 3 ounces instead. 
Regarding the type of chocolate used for the recipe, you can use dark, bittersweet or milk chocolate; whichever one suits your mood and preference. 
The chocolate should be melted and slightly cooled before adding it to the butter in this recipe. This means that it should still be liquid, but slightly thickened and not very hot to the touch.
This recipe can also be made made using cocoa powder instead of melted chocolate. Substitute 4 tablespoons (or more, if desired) of sifted unsweetened cocoa powder for the melted chocolate in this recipe.
Using your buttercream
What types of cakes would taste good with this buttercream? Great question. A classic chocolate or yellow cake are always great picks, but this buttercream would also pair very well with more unexpected cake flavors, such as chocolate wolfberry cupcakes or red velvet cake.