Weeknight dinners: I want them quick and I don't want to be reaching for a lot of ingredients. So then I'll grab a box of pasta or stir together the last wrinkly looking vegetables in the draw along with some stock and call it soup. Both of which are fine choices, but it's always good to have another option on hand.
This quick and easy chicken teriyaki recipe wins in all the weeknight dinner criteria: First, it's fast. Like less-than-30 minutes fast. Second, most of the ingredients you probably already have in your pantry. And third, if your kids are anything like mine they will be asking for this one again. Which is a HUGE win for me.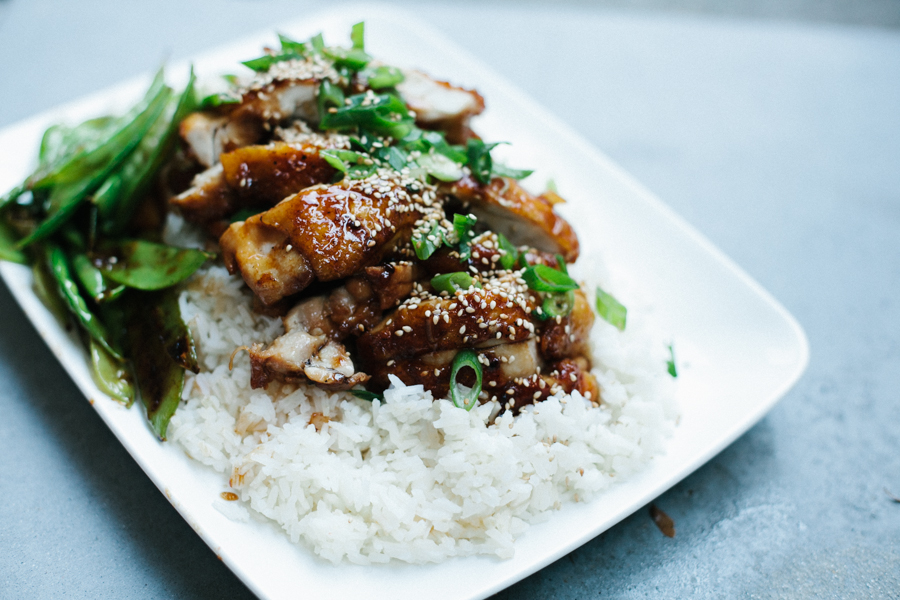 How to make chicken teriyaki with blistered snow peas
Serves 4 to 6
Ingredients:
1 tablespoon oil

8 ounces snow peas

8 chicken thighs

3 garlic cloves

1/2 cup soy sauce

1/4 cup sugar

2 tablespoons mirin

3 scallions, finely sliced

1 tablespoon sesame seeds
Note: Technically traditional teriyaki is meant to be grilled but here we are searing it in a skillet. If you want to grill or cook this on a grill pan, that works too, just simply make the sauce in a sauce pan and not in the skillet as I instruct below. I'm always one for less dishes so the method below reflects the least amount of clean-up necessary.


Step 1:
Add the oil to a large skillet set over high heat. Add the snow peas to the pan and throw in a splash of soy sauce or a pinch of salt. Don't bother the peas, as you want them to caramelize. After a couple of minutes give the pan a hefty shake. Cook for a minute more then carefully transfer them to a plate and let them be while you cook the chicken.

Step 2:
Add the chicken to the hot skillet, skin side down. Do not poke, prod or move them for at least 3 minutes. Give one a quick flip and if the skin is crisp and deeply golden, they are ready for flip. If not, leave them be for a minute or 2 more.
Step 3:
Once all the chicken has been flipped, turn down the heat then carefully add the garlic, soy sauce, sugar and mirin. Let the chicken simmer in the sauce for an additional 5 to 7 minutes or until it is cooked through.
Step 4:
Remove the chicken from the pan and continue to let the sauce simmer until it is thick and syrupy.
Slice the chicken then serve on a platter with rice, the snow peas, the remaining teriyaki sauce poured over top and then finally the scallions and toasted sesame seeds. 
Recipe tips
Feel free to spice up this simple sauce with a few additions. Fresh ginger would be lovely as well as some thinly sliced red chili for a bit of heat.
Double or triple the sauce recipe and save for another night for an even quicker dinner.
Have a vegetarian in the house? Simply make the sauce and serve over roasted vegetables or tofu.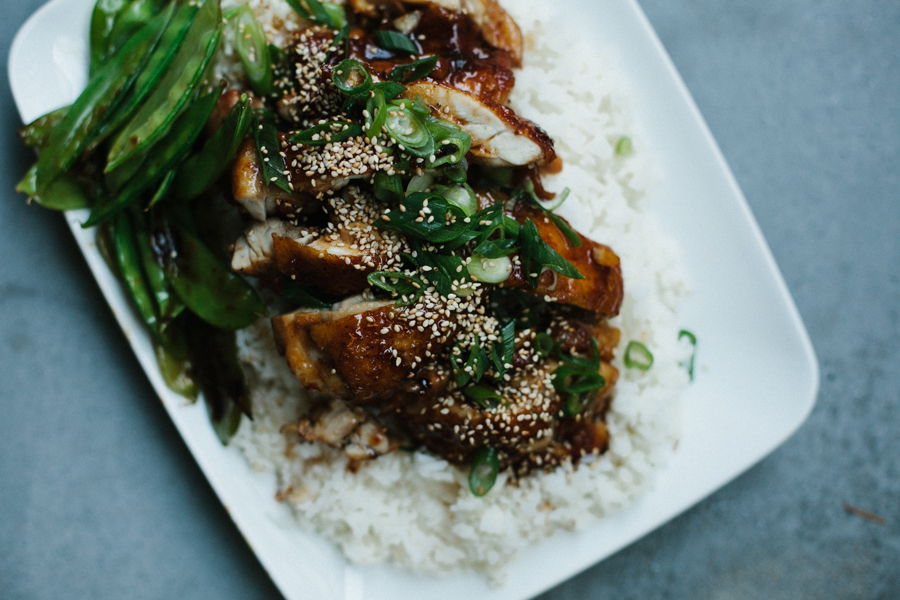 What makes online Craftsy classes great?
Learn for life! With lifetime access to your classes, you can watch lessons at your preferred pace and easily revisit your favorite concepts with just a click.
Kick up your feet! Enjoy classes anytime from the convenience of your home or even on-the-go with our mobile apps.
Get personalized guidance! Ask your instructor questions to receive all the answers and feedback you need to succeed.
Love it! There's no risk in trying with our 100% money back guarantee.