You might be tempted to splurge on takeout the next time you hit a busy weeknight dinner rush, but this simple Indian chicken curry recipe is an unbelievably quick option
This is the dinner recipe for those nights when you really don't want to cook. Nothing beats a quick and healthy dinner you can have on the table in less than 30 minutes, not even takeout! 
About the spices
A few years ago, I had the pleasure of getting to know the owner of a local Ayurvedic Indian restaurant. She was from India and brought her passion for Indian food and spices to the United States, excited to share her training and knowledge in her own restaurant.
One of the most interesting things she ever told me was that where she grew up in India, there was no such thing as "curry." What Americans often think of as curry, a distinctive spice blend that normally contains coriander, cumin and turmeric with varying levels of spiciness, wasn't something she became familiar with until she left India. In India, she explained, they just made fresh blends of spices every time they cooked and they chose the combinations of spices to fit the specific dish they were preparing. There was nothing that they called "curry."
In her restaurant here in New Mexico, she frequently used a combination of spices that some call "curry" and some call "garam masala." After eating her delicious food often while I lived near her restaurant, I quickly developed a taste for her garam masala blend of spices. For me, it became what I think of when I hear the word "curry."
These days, as a busy, working mother of four, I don't spend a lot of time making special spice blends and grinding my own spices. More often than not, I'm picking up a bottle of curry powder or a bottle of garam masala at the grocery store. It may not be as authentic, but it can still taste really good.
For this easy chicken curry, I prefer to use garam masala. Unlike the most common store-bought curry powders, which often have 20 or more spices, garam masala is a more simple blend, though still flavorful. It normally consists of a blend of peppercorns, cloves, cinnamon, nutmeg, cardamom, bay leaf and cumin. It's a bit sweeter and more mild than common curry powders and I find that when I use it, I can even win over the people that claim they don't like "curry."
It's great if you want to toast your own spices and grind them, but if you don't, that's fine too. You can easily find garam masala in the spice section of most major grocery stores. I just buy a small bottle, because like curry powder, it can lose its potency quickly.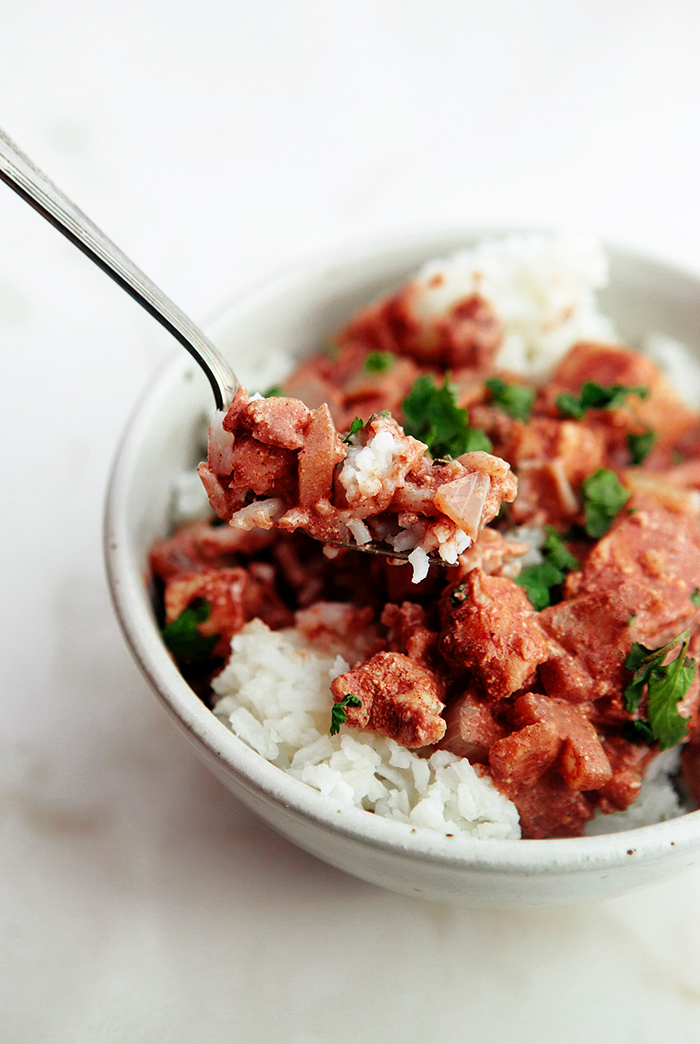 With such a flavorful blend of spices, this simple dinner is so much more than just chicken over rice. I love that I can pull it together quickly and if I have cooked the rice ahead of time, the sauce only takes 15 minutes from start to finish. This is my kind of dinner!
Easy chicken curry recipe
Yield: 4 servings
Ingredients:
1 lb cooked chicken breast, cut into bite size pieces
1 tablespoon olive oil
1 small yellow onion, chopped
1 clove garlic, minced
1 tablespoon, plus 1 teaspoon garam masala
½ cup plain yogurt
1 cup coconut milk
2 tablespoons tomato paste
1 teaspoon honey, or to taste
Salt and pepper to taste
¼ cup chopped, fresh cilantro
4 cups cooked basmati rice for serving
Directions:
1. Heat oil in a large, deep skillet over medium heat. Add the onion and sauté for about 7 minutes, or until onion is soft and translucent. Stir in garlic and garam masala and cook for 1 more minute. If you like it a bit spicier, add in a few red pepper flakes (⅛ teaspoon to ½ teaspoon) when you add the garam masala.
2. Add the yogurt, coconut milk, honey and tomato paste to the onion mixture and stir until well combined. Continue cooking over medium heat for another 5 or 6 minutes, or until mixture is warmed through. Taste and adjust seasonings as needed.
3. Stir in the cooked chicken and remove from heat. Serve with flat bread, cooked rice, or on its own. Garnish with fresh cilantro.