As much as we'd like to do so, there isn't always time to pour heart and soul into our handmade cards. When pressed for time, don't reach for store-bought. Instead, grab a few supplies and create something quick with these easy card making ideas.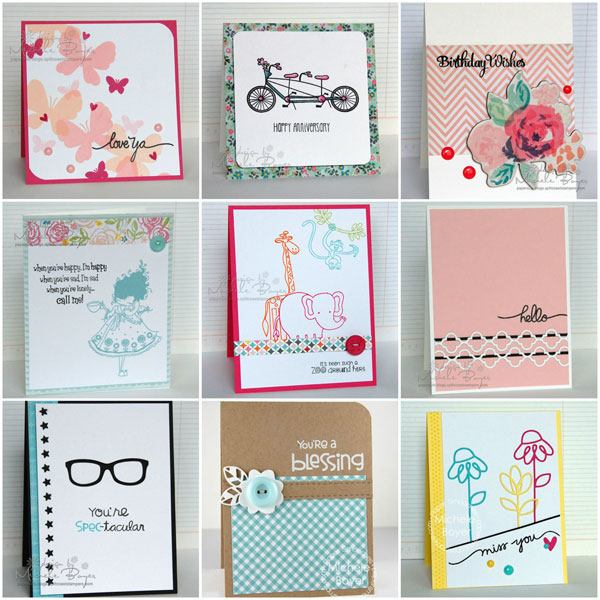 Below you'll find nine easy card making ideas that can come together in 15 minutes or less. While reading through, think about stamps, sentiments, stickers, rub-ons, embellishments you may have on hand to use in place of those I've used here. 
FREE Guide: Innovative Ideas for Creative Paper Crafts
Try these four trendy techniques for stunning projects that shine.Download your FREE guide »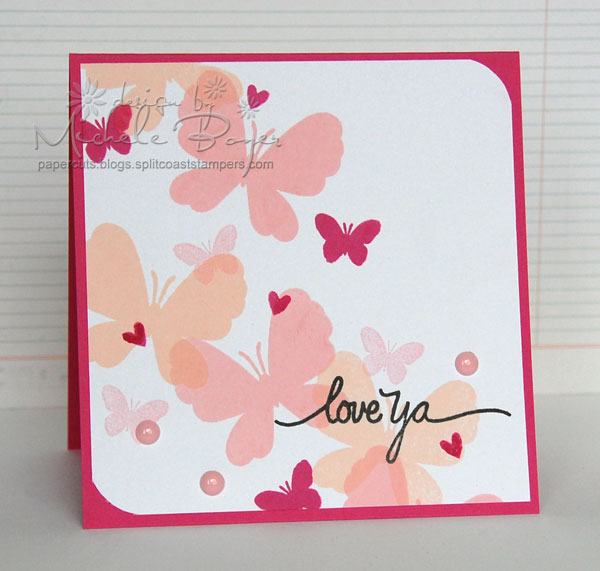 1. Solid variation
Use three or four shades of one color of ink with various sizes of solid images. I stamped the larger butterfly in two light shades of pink then added accents of darker pink with smaller butterflies and tiny hearts. The sentiment stands out boldly against the silhouettes and the rounded corners add interest while softening the overall appearance.
(I used Scripty Sayings and Graceful Butterflies by Paper Smooches.)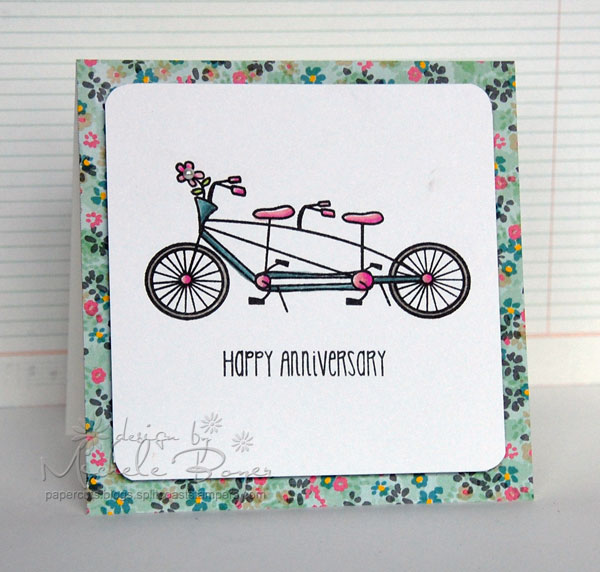 2. Simply centered
Choose an image that requires little coloring and stamp onto the center of a white cardstock block. Cover a white card base with patterned paper then add coordinating bits of color to the stamped image. I stamped a sentiment beneath, rounded the corners and raised the panel on foam tape. For added interest, I added a tiny pearl to the center of the flower on the handlebars.
(I used Bikes & Trikes by Taylored Expressions.)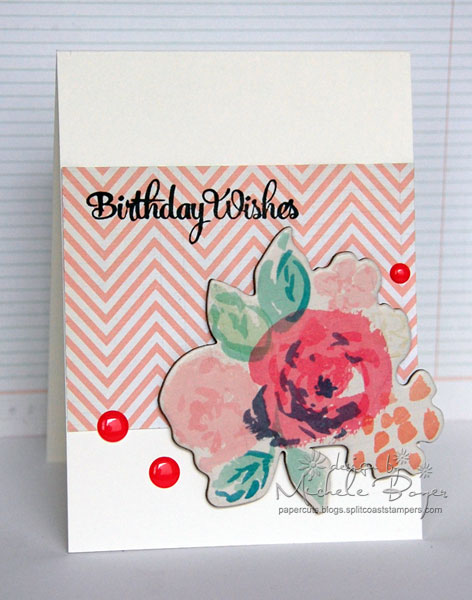 3. Chipboard stickers
To create a card in minutes, adhere a chipboard sticker over patterned paper and card base. I cut the card base a little thinner than usual (4″ width), allowing the sticker to extend a bit past the edge. To "deactivate" the sticky back hanging off the side of the card, apply powder or stick repeatedly to a light colored fabric until no longer sticky.
(I used Happy Birthday by Paper Smooches, Confetti chipboard by Crate Paper.)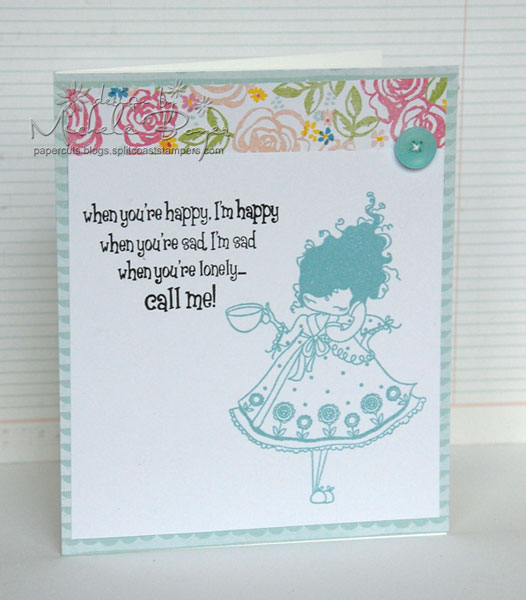 4. A simple silhouette
Use colored ink to stamp a silhouette of an image, black ink for the sentiment and patterned paper as accents. Add a simple button for an additional "handmade" touch.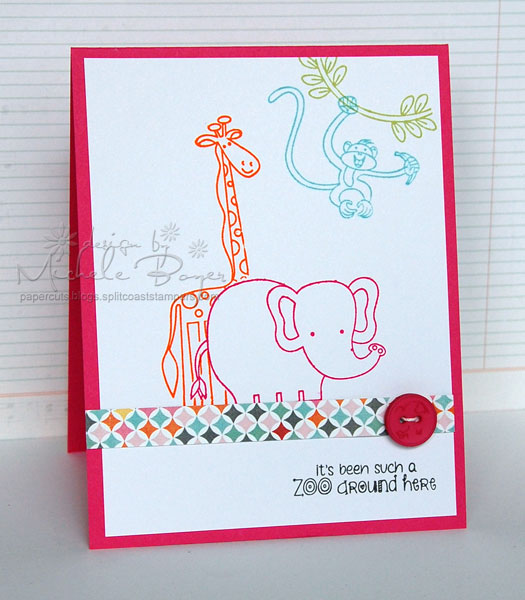 5. Line art, uncolored
Instead of coloring in images, stamp each in a different color for quick and easy results. After stamping the elephant, I stamped again (without re-inking) onto a Post-it note to create a quick mask for stamping the giraffe.
(I used Wild About You by Taylored Expressions.)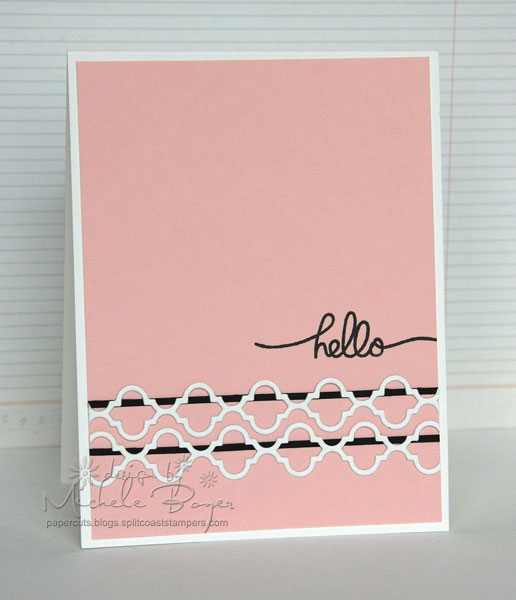 6. Border die-cuts
Use border dies to create simple designs. I nested the two white border strips together then added thin strips of black card tock to tie in the simple black greeting.
(I used Moroccan Tile Border Trio by My Favorite Things, Scripty Sayings by Paper Smooches.)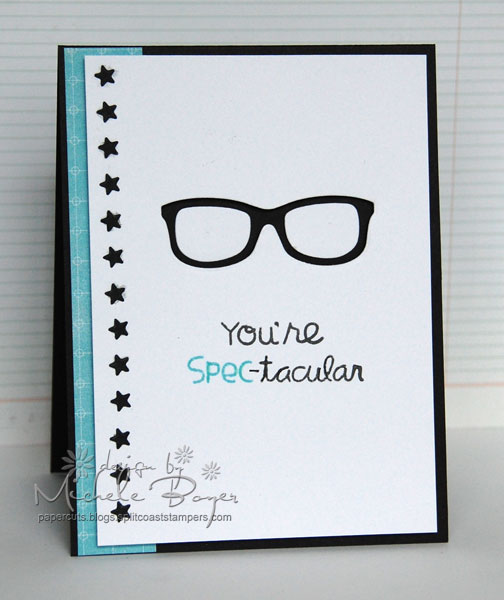 7. Elevate and recess dies
Die-cut a shape from white cardstock and adhere inside pieces to the card base. Here, I've die-cut the eyeglasses and adhered the negative (lens pieces) inside. The outer panel is raised on foam tape creating depth and dimensiopatternn. A more basic shape can be die-cut, such as a heart or circle, with a smaller image inserted and peeking out from the opening. Stamp a sentiment and add a quick border along one side.
(I used Incognito stamps and dies by Paper Smooches.)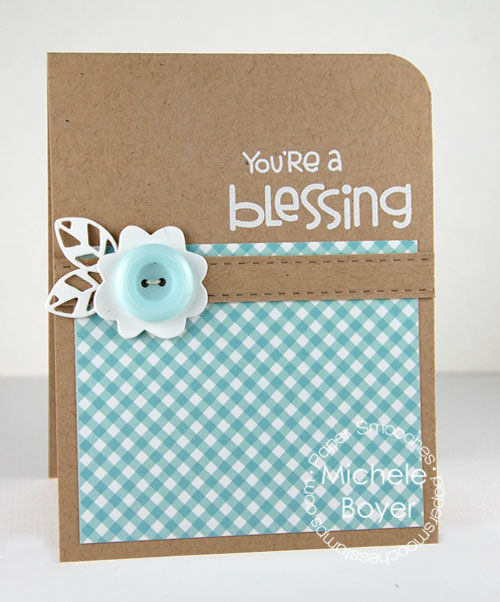 8. Put patterned paper to work
Use a block of patterned paper to draw the eye to a simple embellishment and sentiment. I die-cut a flower and leaves, added a coordinating button to the center then white embossed the sentiment. A pre-fab flower and rub-on sentiment could be used to create this card in minutes.
(I used Have Faith and Flowers dies by Paper Smooches.)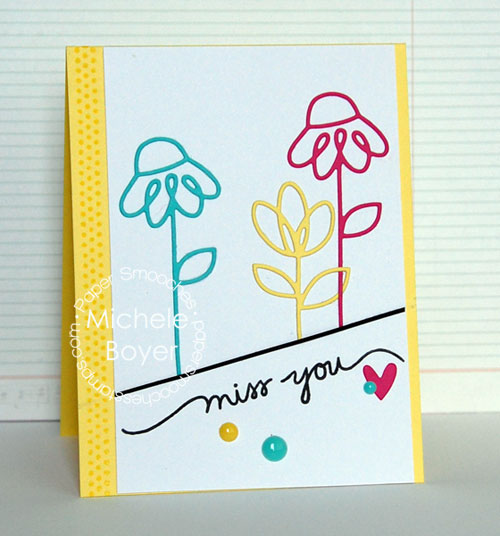 9. Die-cuts front and center
Use die-cuts as focal points. Simply die-cut shapes, adhere, stamp sentiment and add a few enamel dots or sequins as accents. To add an easy border, I stamped a row of dots along one side using the same color ink as card base.
(I used Dainty Flowers dies, Scripty Sayings and Borderlicious by Paper Smooches.)
FREE Guide: Innovative Ideas for Creative Paper Crafts
Try these four trendy techniques for stunning projects that shine.Download your FREE guide »