File this ball of yarn cake pop tutorial under the "easy" category because, well, it really is super easy! I have to admit, I know very little about knitting, crocheting or any other yarn-related crafts. But, what I do know is how to make a pretty and sweet ball of yarn! And whether your a cake decorator or a knitting enthusiasts, you can easily make these adorable (and delicious) balls of yarn!
What to do with it — now that's a question I'll leave for you to answer. Personally, I like to wear it, if you know what I mean…
Let's get all tangled up with yarn ball cake pops!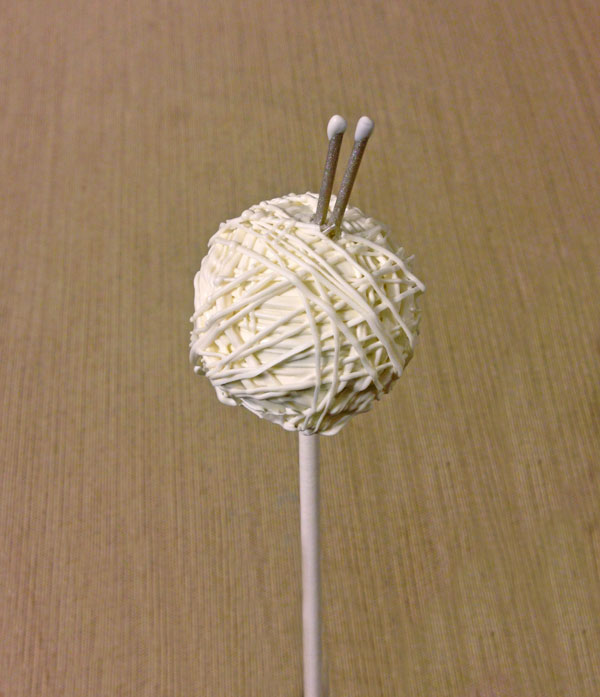 Get Pro Tips for Making Perfect Cake Pops!
Learn how to decorate cake pops that can't be topped with lifetime access to this FREE online class from Wilton decorator Valerie Pradhan.Enroll FREE Now »
What good is this sweet yarn?
A basket of these balls of yarn cake pops would be a great gift for someone who loves to make with yarn. It would also fair as part of a kitten or cat-themed party as well! The inspiration for this cake pop design is from a book called The Mitten, and a party that was themed after this book.
You'll need:
Wax paper
Cake Pop Dough
White candy wafers or color of your choice
Lollipop sticks
Styrofoam block or cake pop stand
Optional:
Spaghetti pasta noodles
Corn syrup
Silver luster dust
Small paintbrush
Remember, always line your work surface with wax paper before getting started!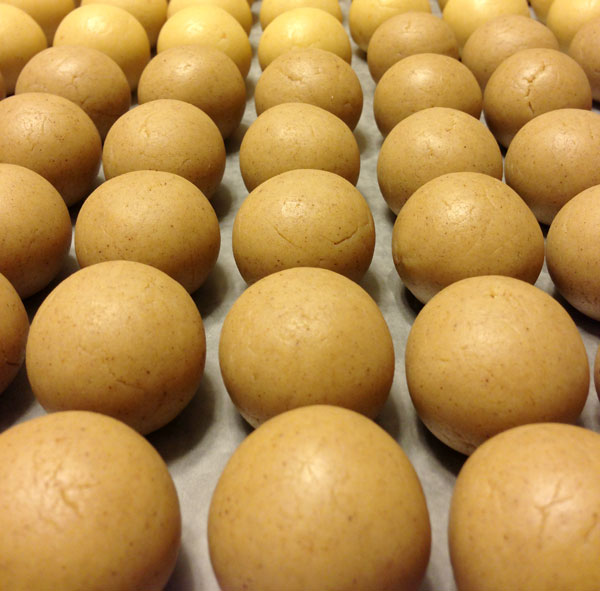 Step 1:
Portion cake pop dough using a cookie scoop. Then roll each portion into a ball and refrigerate for 10 minutes.
Refer to this dough-making and shaping tutorial to review this process.
Step 2:
While the cake balls are chilling in the fridge, melt white (or any color of choice) candy coating in a microwave-safe bowl. Do this by microwaving the wafers for 1 minute at 50% power. Stir. Then microwave at 30-second (50% power) intervals, stirring after every interval, until melted. Set aside and let rest for a few minutes.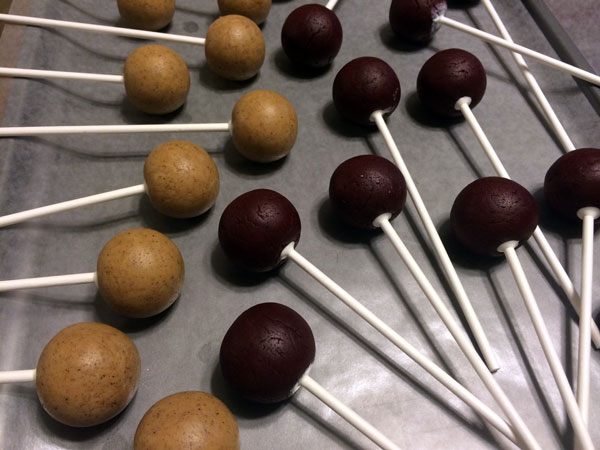 Step 3:
Remove cake balls from the fridge. Let rest in room temperature for a few minutes. In the meantime, gather your sticks and make sure your cake pop stand or styrofoam block is nearby.
Dip ⅓ inch of a cake pop stick into candy coating and push into the cake ball until it's about halfway through the ball. Do this for the remaining cake balls.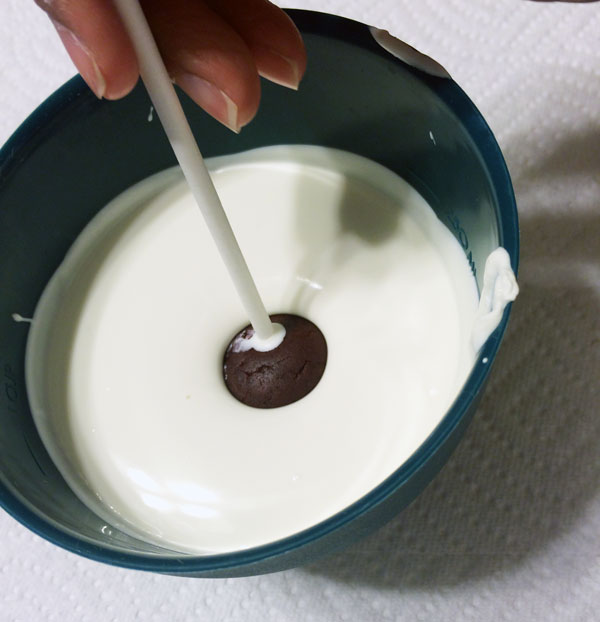 Step 4:
Dip each cake ball into the candy coating by submerging it completely until the coating meets the stick and pulling it out in one motion. While still upside down, gently shake the cake pop side to side to allow the excess to drip off.
If you notice any air bubbles, gently pierce them using a toothpick. Place on cake pop stand and let dry completely. Repeat for all cake pops.
Step 5
Pour remaining candy coating into a ziplock bag. You'll be piping the stringy yarn texture all over the cake pops by snipping the tip of the corner of the bag. The trick to this is to wait until the candy coating is starting to harden, so it's not as runny, but not yet solidified. Go crazy! Drizzle all over in back and forth motions.
Microwave the bag for 10 seconds at 50% power to soften if needed and kneed with your fingers before piping again. Place on cake pop stand and let dry completely.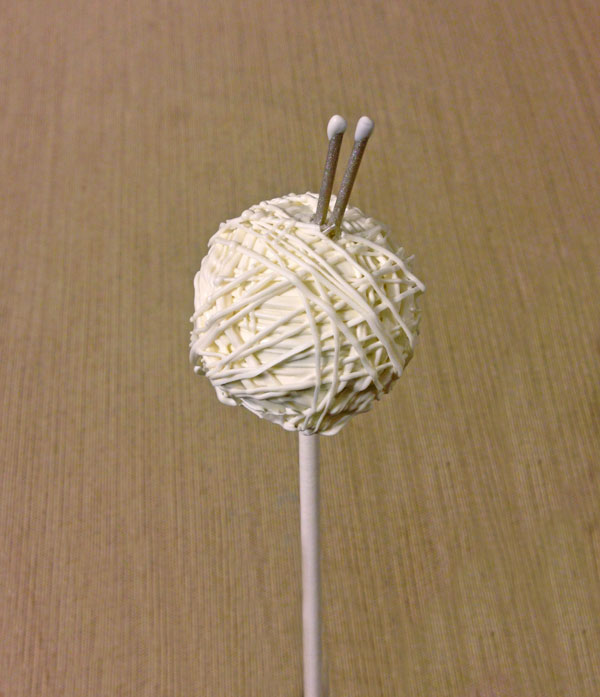 Step 6:
This step is completely optional, but I think it definitely adds a key detail to these cake pops. However, they are for decoration only.
Note: Please ask your guests to remove these spaghetti pieces before eating the cake pop!
Break spaghetti noodles into pieces. Mix a couple of drops of corn syrup with a little bit of silver luster dust, a little goes a long way. mix with your paintbrush and paint the spaghetti pieces to look like knitting needles and let dry.
Dab candy coating on the bottom ends and carefully insert into the cake pop. Dab candy coating on the top of the 'knitting needles' and let dry completely.
Get Pro Tips for Making Perfect Cake Pops!
Learn how to decorate cake pops that can't be topped with lifetime access to this FREE online class from Wilton decorator Valerie Pradhan.Enroll FREE Now »