These really are the easiest banana nut muffins — probably ever. With just a handful of ingredients, you can mix these muffins up in just one bowl and in less than 30 minutes! Grab those ripe bananas and let's put them to good use.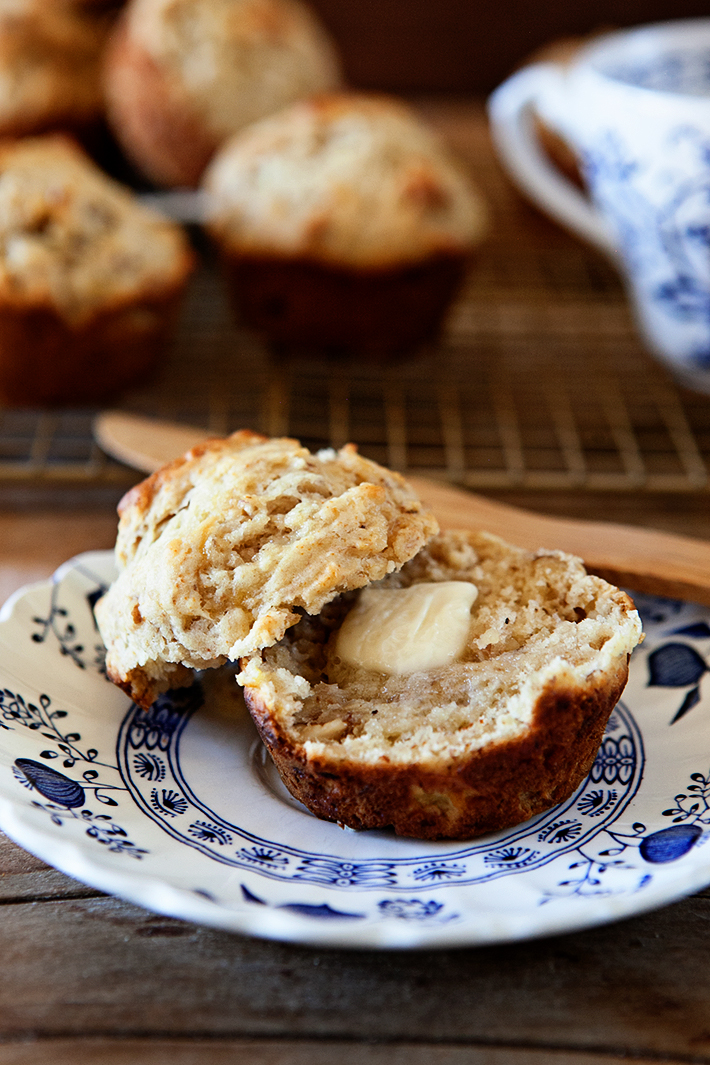 Muffins are easily my most favorite thing to bake. Unlike so many baked goods, muffins really aren't finicky, and they're so versatile. When time is short, muffins can stand in for sandwich bread, dinner rolls, hearty snacks and even dessert. There's nothing I love more than a good cinnamon roll, but the next best thing when I'm in a hurry is a Cinnamon Roll Muffin.
Favorite Coffee Shop Treats, at Home!
Learn to bake tasty coffee cakes, Bundt cakes, pound cakes and more coffee-shop favorite, right in your own kitchen. Enroll today!
The muffins that get the most play time in my kitchen, though, are these easy banana nut muffins.
I've made them so many times now that I don't even look at a recipe anymore. I feed them to the kids for breakfast, stick them in everyone's lunch boxes, take them to every bake sale and friendly gathering, and always keep a bag in the freezer for snacking emergencies.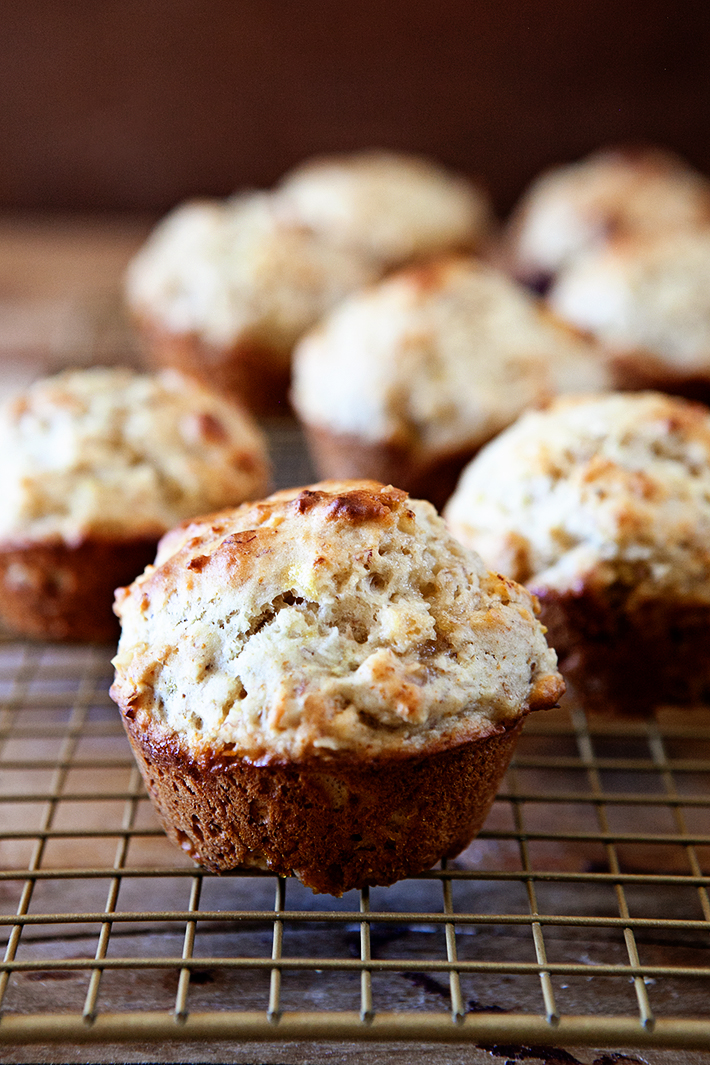 Simplifying muffins 
I'd been making these banana nut muffins for a long time before I realized I could make them even easier! Most muffin recipes are already pretty simple and don't require a lot of prep time. If you're not careful though, you can end up with a lot to clean up.
To simplify these easy banana nut muffins, I've pared the recipe down to just one bowl and a short list of ingredients. 
Another way to simplify your clean up when making muffins is to use muffin tin liners. I'm not a big fan of liners because I want to enjoy every last crumb of my muffins, and I hate when they stick to the paper.
If you don't want to use liners, you can still simplify by greasing each individual muffin tin cup. If you're using a cooking spray, just spray each individual cup thoroughly. If you're using butter or oil, use a paper towel or brush to coat each cup. Your muffins will slide right out of the pan!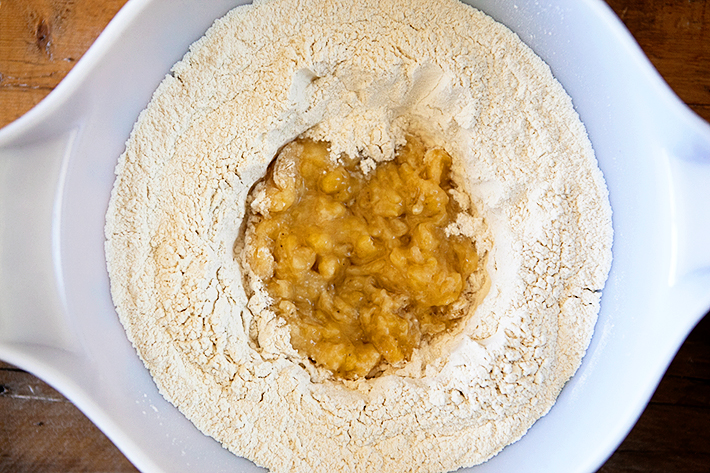 To make these muffins work in just one bowl I used a few simple tricks. 
1. First, whisk together all of your dry ingredients in a large mixing bowl. Then, make a well in the center of the mixture so you can see the bottom of the bowl. 
2. Mush up your ripe bananas a little before you peel them. When you squeeze them out of their peels after smashing them just a bit, you'll only need to do a little more mashing with a fork in the center of the bowl.
3. Pour the milk, egg and honey right into the mashed banana in the middle of the bowl and just gently mix it with a fork until it's well combined. At this point you're ready to toss in the nuts and mix it all together with the flour.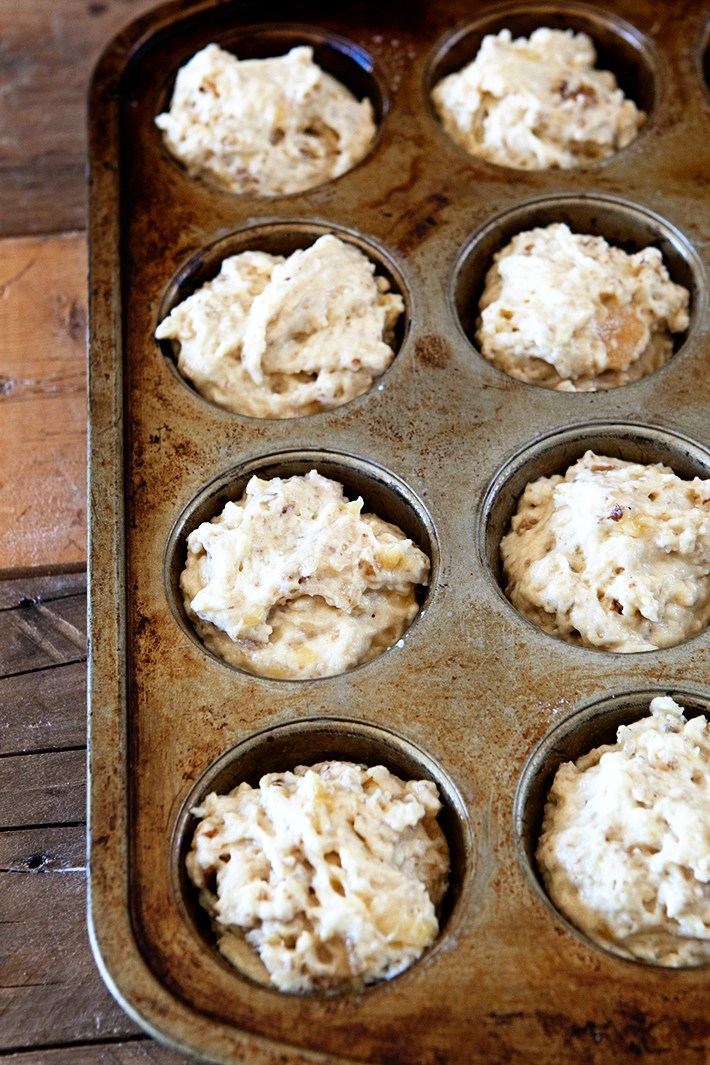 Adapting your muffins
These easy banana nut muffins are easily adaptable. You can substitute half or all of the flour with a whole-grain flour like spelt or whole wheat. You can use sugar instead of honey, plain yogurt instead of milk, and coconut oil instead of butter.
Use your favorite nuts or ditch them altogether. You can even toss in a few chocolate chips for your sweet tooth if you like.
This recipe is great as is, and it's also fun to play around with. It won't take more than one batch of these to fall in love!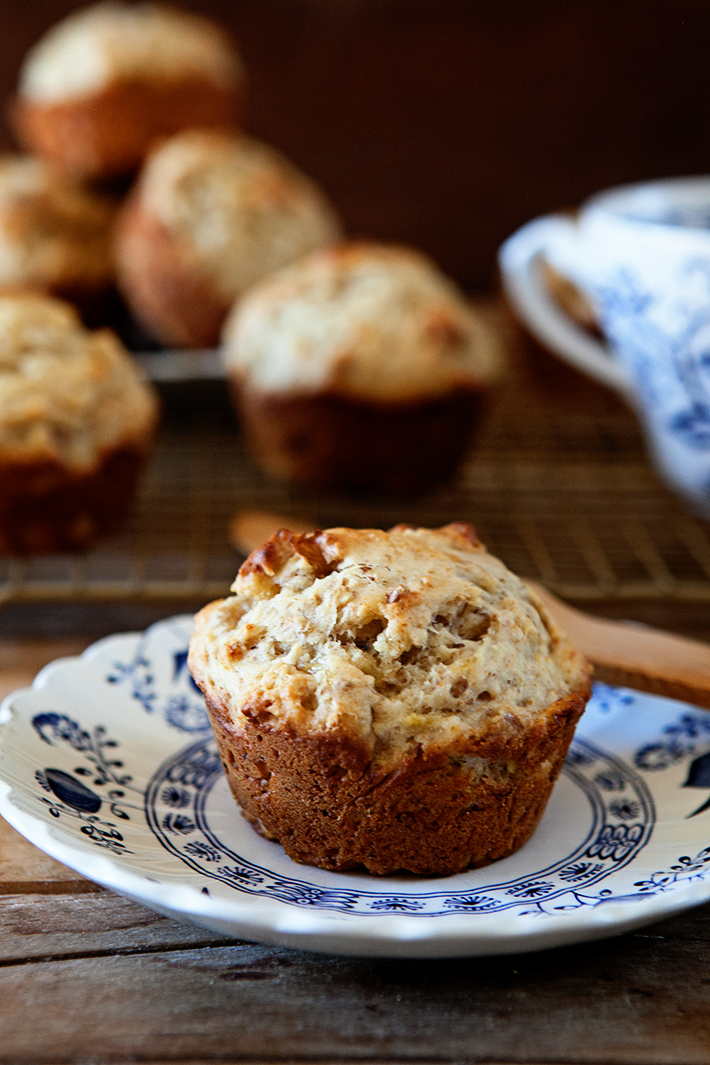 Easy banana nut muffins recipe
Makes 1 dozen muffins in a standard muffin tin
Ingredients:
2 cups flour 
3 teaspoons baking powder
½ teaspoon salt 
2 medium ripe bananas (about 1 cup mashed)
1/3 cup honey
3 tablespoons melted butter, or other oil (like vegetable oil)
1 egg
¼ cup milk (plus more as needed) 
1 cup chopped walnuts or pecans
Step 1:
Preheat oven to 400 F. Line a standard 12-cup muffin tin, or grease each individual tin well. Set aside.
Step 2:
In a large mixing bowl, whisk together all of the dry ingredients. Make a well in the center.
Step 3:
Gently mash the bananas just a little before peeling them. Squeeze them out into the well created in the flour mixture. Use a fork to mash them until they are mostly smooth with just a few lumps. 
Step 4: 
Add the honey, butter, egg and milk to the banana mixture in the center well of the mixing bowl. Gently stir all of the wet ingredients together. 
Step 5: 
Add the nuts to the bowl and stir all of the ingredients together until just combined. Stop when all of the flour has been incorporated. Be careful not to over mix. The mixture will be thick and lumpy, not smooth. If it's too dry, add a little more milk — just a tablespoon at a time until you achieve a thick, wet consistency. 
Step 6: 
Spoon the batter into the prepared muffin tin, about ¼ cup in each cup of the tin. Bake at 400 F for approximately 15 minutes, or until muffins are beginning to turn golden and spring back when touched. Let cool in pan for 5 minutes before removing to a wire rack.
Favorite Coffee Shop Treats, at Home!
Learn to bake tasty coffee cakes, Bundt cakes, pound cakes and more coffee-shop favorite, right in your own kitchen. Enroll today!