In the world of quilting techniques, appliqué quilting can be intricate and relaxing, or fast and fun! If you are looking to make a quick handmade gift, these easy appliqué projects and patterns from the Craftsy community fit the bill.
If you think appliqué is too time-consuming, perhaps these easy appliqué ideas will help change your mind!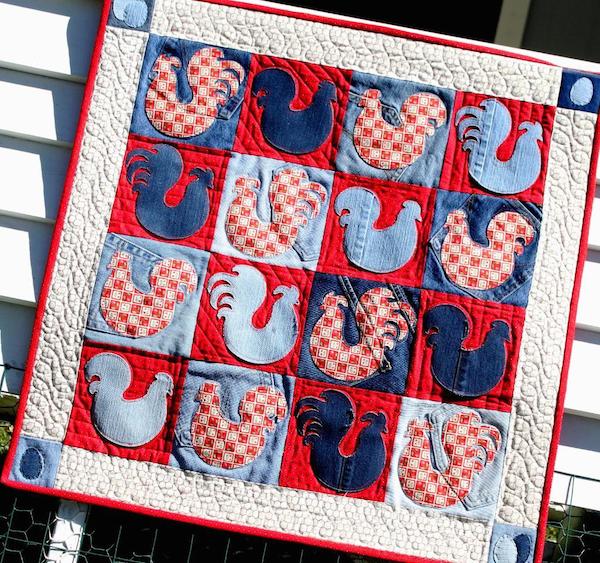 Photo via Craftsy member Inventive Denim
The Chicken Patch
Live the simple, country life when you turn old clothing into a quilt. The Chicken Patch, a recycled denim jeans quilt, will teach you to make a wall hanging or table runner with rooster appliqué. This pattern is even compatible with Accuquilt dies, so you can use your GO! fabric cutter and the Folk Art Fowl die to make super-fast appliqué blocks. Pick your favorite fabrics and cut up some old jeans for an upcycled appliqué design that will liven up your living space.
<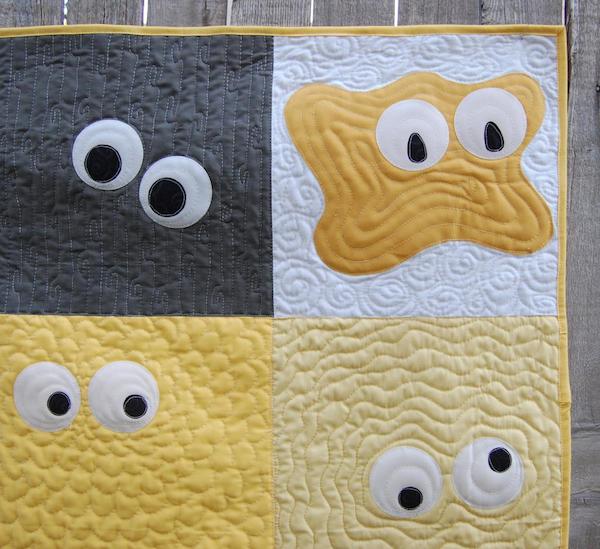 Photo via Craftsy member ReannaLily Design
Monster Madness!
If you prefer to spend less time designing a quilt top and more time free-motion quilting, the Monster Madness quilt pattern is a fun design that comes in three different sizes: baby, crib and twin. This makes a great first appliqué project, because the circles do not have to line up. This fusible appliqué project is great for teaching kids to quilt, because they'll have fun designing the monster faces! Read more about these fusible appliqué patterns that come together quickly and easily.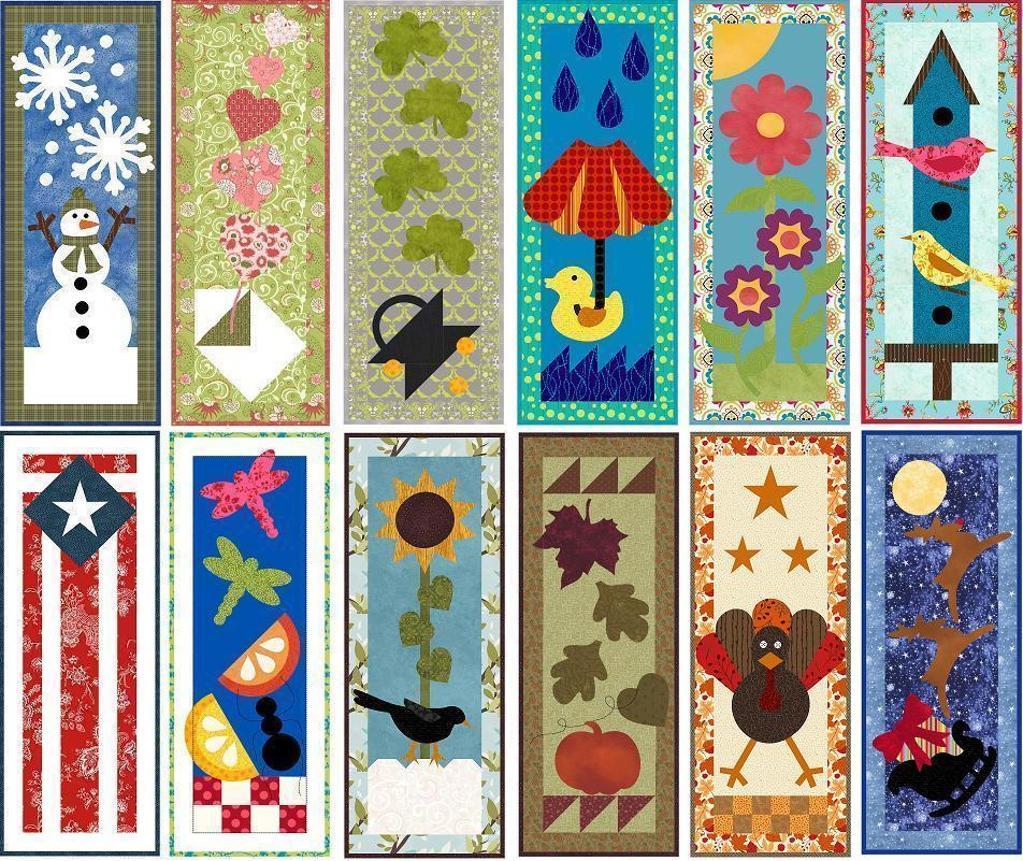 Photo via Craftsy member Country Junk'tion
A Year of Mini Quilts
Practice your appliqué all year long when you participate in A Year of Mini Quilts, a collection of Block of the Month projects. In addition to intermediate piecing skills, you'll learn to cut and appliqué shapes for every season onto your table runners or wall hangings. Each of the 12 patterns is compatible with Accuquilt GO! and GO! Baby fabric cutters and dies, but if you don't have a machine, cutting templates instructions are included.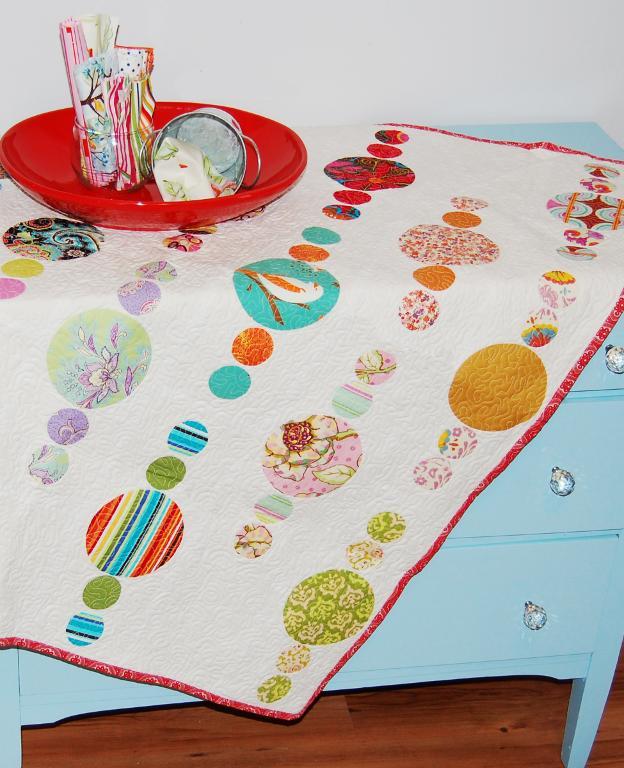 Photo via Craftsy member Jen Eskridge  
Quarter and Dime
Show off your favorite fabric prints with this fun Quarter and Dime pattern by Jen Eskridge! Use fusible or traditional appliqué on this beginner-friendly pattern. You'll create either a baby- or queen-size quilt. Templates are included with the pattern, or you can cut out circles with an Accuquilt cutter and Circles die to make accurate and fast circles.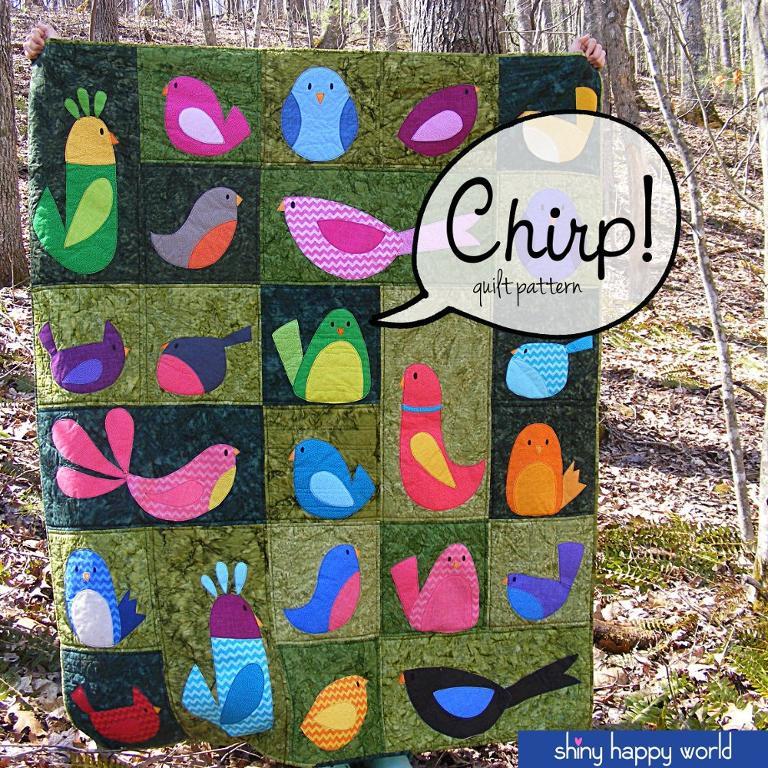 Photo via Craftsy member Wendi Gratz
Chirp Quilt
Bird's the word! The Chirp Quilt pattern includes instructions to make a flock of 13 fusible appliqué birds. If you know how to use your sewing machine, you can use the included techniques to make a whimsical, colorful bird quilt. This pattern includes instructions for needle turn, machine appliqué and appliqué with fusible adhesive, so you can choose your favorite technique and quilt at your preferred pace.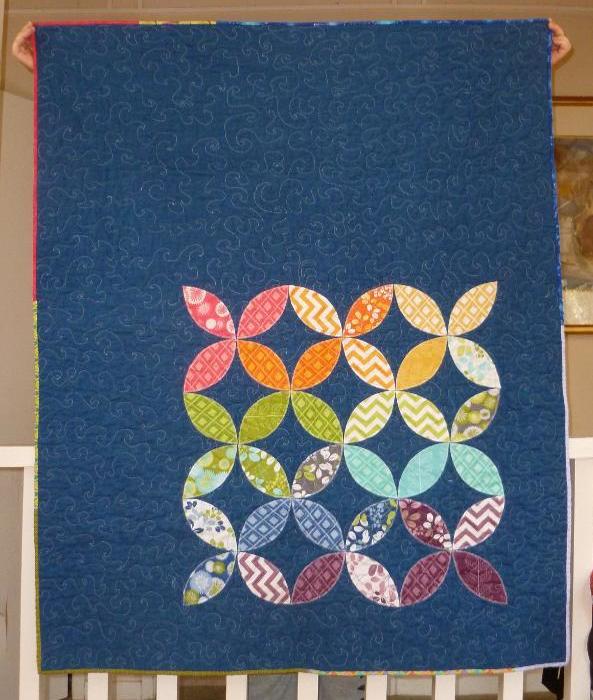 Photo via Craftsy member amhale
Clementine Appliqué
The Clementine Appliqué quilt uses leaf-shaped cutouts to simulate a cathedral windows pattern. This easy quilt design is suitable for beginners and was created as part of Elizabeth Hartman's course Inspired Modern Quilts: 7 Small Projects With Big Style. You could easily use a fabric collection or mix and match fabric scraps to make this design your own.
Come back to the Craftsy blog on Thursday to discover some fun reverse appliqué quilting projects!
New Craftsy quilting class!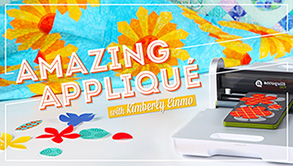 Boost your appliqué aptitude! Enroll in award-winning quilter Kimberly Einmo's brand new online Craftsy class Amazing Appliqué to uncover her secrets for eye-catching decorative stitching and speedy die cutting. Plus, get helpful tips for using the AccuQuilt GO! Fabric Cutter!
Sign me up!
What makes online Craftsy classes great?
Learn for life! With lifetime access to your classes, you can watch lessons at your preferred pace and easily revisit your favorite concepts with just a click.
Kick up your feet! Enjoy classes anytime from the convenience of your home or even on-the-go with our mobile apps.
Get personalized guidance! Ask your instructor questions to receive all the answers and feedback you need to succeed.
Love it! There's no risk in trying with our 100% money back guarantee.