If you love apple pie, you will definitely love this easy apple turnover recipe! The hand-held pies have the flavors that you find in a traditional pie, but in a smaller package that's easier to make and easier to eat. They're perfect for sharing, which makes them a wonderful treat to bake up when you're entertaining.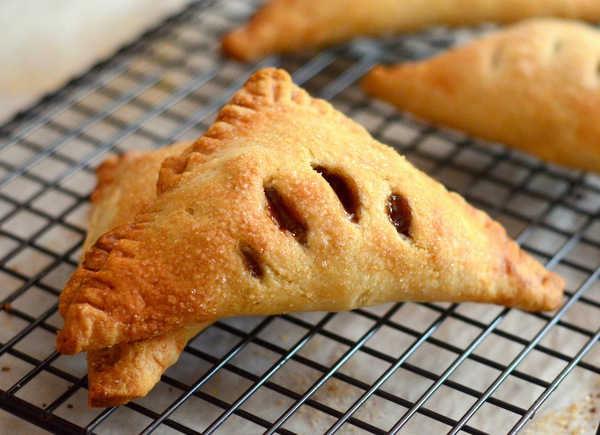 About the apple pie turnover crust
These turnovers start with a buttery pie crust. While some turnover recipes call for puff pastry, I find that pie dough is easier to work with and gives the finished turnovers a better shape.
You can make your own pie dough from scratch (or buy a pre-made one), but you'll need enough for two 9″ pies (or one double-crust pie) to make a full batch of turnovers.
About the apple pie filling
The filling is cooked on the stovetop and uses apples, brown sugar, cinnamon and nutmeg. While it may be tempting to leave the apples in large pie-sized chunks, you really need to dice them for these treats. A small dice will fill up the turnovers much more evenly than large chunks of fruit.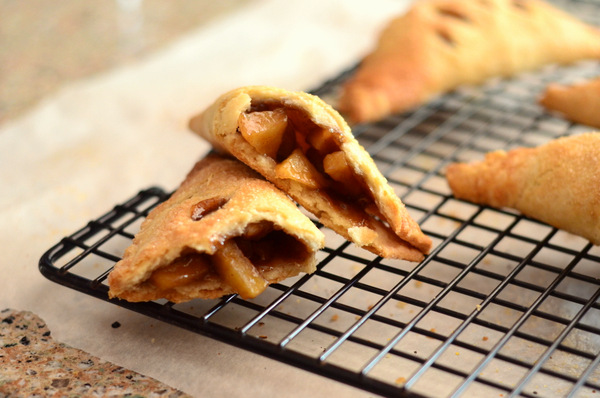 Choosing your apples
Some people swear by Granny Smith apples when it comes to making pies and other apple-based desserts. The tart apples are a good choice for baking because they are relatively firm and bake up to be tender without becoming mushy. You can definitely use them for this recipe!
That said, Granny Smiths aren't the only apples you can use. I also recommend using apples like Pippin, Braeburn, Fuji and Pink Lady, all of which have a great texture and flavor. I used a mix of Fuji and Pink Lady apples for this batch, with delicious results.
How to enjoy your apple pie turnovers
The turnovers are best on the day they are baked, when the pastry is crisp and tender. The crust of the turnovers will soften after a day or so (just like the crust on a traditional pie). If you have leftovers, you can reheat them in the oven for a few minutes to crisp them up.
You can pick up the turnovers and eat them with your hands, which makes them a much more convenient party food than a traditional pie. If you want to serve them with ice cream or whipped cream, simply serve your turnovers in a bowl and top them with a generous scoop.
Easy apple turnover recipe
Makes eight servings
Ingredients:
4 medium apples
1/2 cup brown sugar
1/2 teaspoon ground cinnamon
1/4 teaspoon ground nutmeg
1/4 teaspoon salt
1 1/2 teaspoon cornstarch
1 1/2 tablespoon water
Dough for two 9-inch pie crusts
Milk or cream, for topping
Coarse sugar, for topping
Step 1:
Peel and core your apples. Dice them into pieces, no bigger than 1/2″ squares. Place apples in a large skillet with cinnamon, spices and salt. Cook over medium heat, stirring occasionally, until apples are tender and the sauce around the fruit is bubbling, about 4-5 minutes.
Step 2:
In a small bowl, whisk together cornstarch and water. Add the mixture to the pan with the apples and, stirring constantly, cook until the sauce has thickened, about 1-2 minutes. Set aside to cool to room temperature.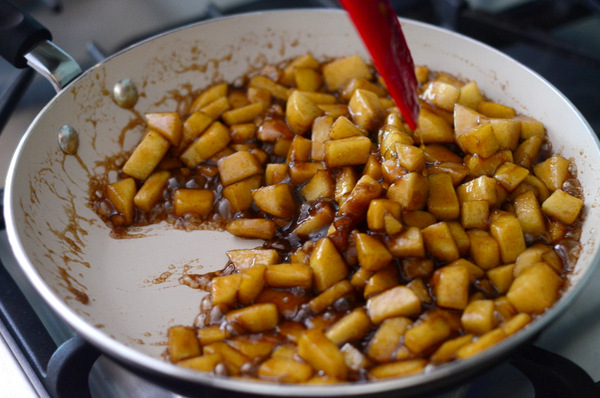 Step 3:
Preheat your oven to 400 F. Line a baking sheet with parchment paper. 
On a lightly floured surface, roll out half of your pie dough into a long rectangle (approximately 18″ x 4.5″) or a 9″ square.
Cut the dough into four even squares (approximately 4.5″ x 4.5″). Transfer squares of dough to prepared baking sheet.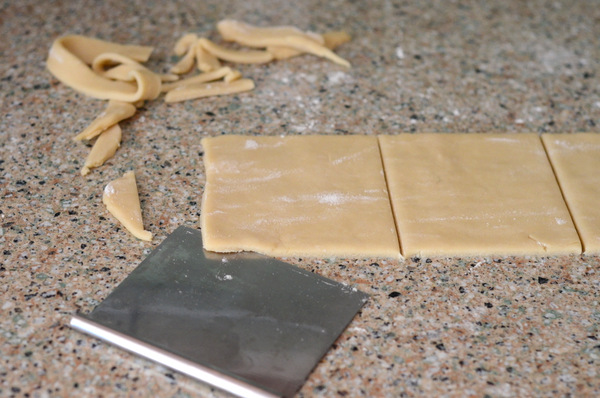 Step 4:
Pinch the edges of the dough squares slightly to thin them out. Place about 2 tablespoons of filling in each square, then turn the dough over to enclose the filling, forming a triangle.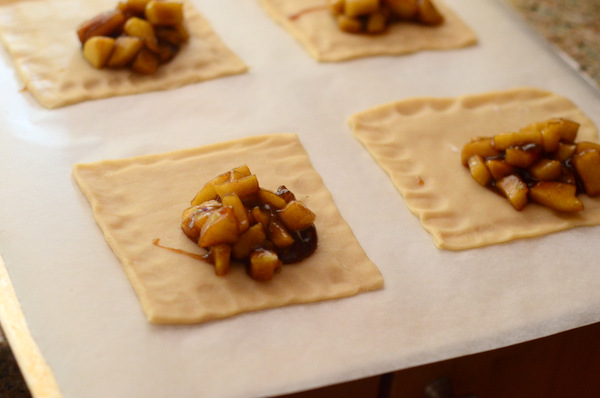 Step 5:
Pinch the edges of the pastry firmly together, then use a fork to crimp the edges. Cut 2-3 small vents in the top of the pastry with a sharp knife.
Using a pastry brush, brush the top of the pastry with milk or cream and sprinkle the turnovers generously with coarse sugar.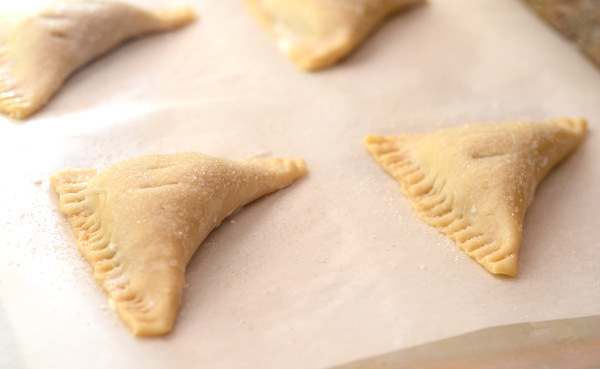 Step 6:
Bake for 20-23 minutes, until pastries are golden brown. Allow to cool slightly on a wire rack before serving.