Making your own compost tea is not as difficult as you might think. Simply follow this easy compost tea recipe and before you know it, you'll be brewing your own liquid fertilizer for your vegetable garden, ornamental garden and even for your houseplants.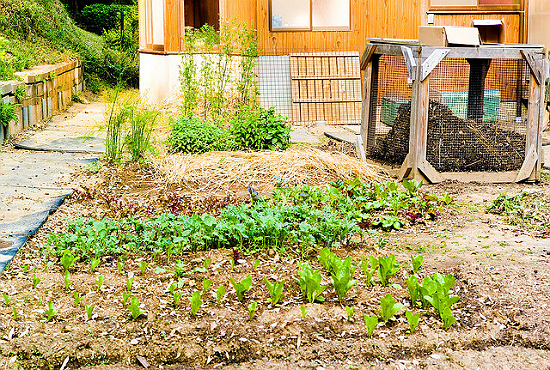 Compost bin by Joi Ito via CC BY 2.0

Compost tea recipe
Adapted from the Pennsylvania Department of Environmental Protection
What do you need to brew your own compost tea? As it turns out, not a whole lot of equipment. And all of the equipment and ingredients are likely already be in your home.
Equipment needed:
Two 5 gallon buckets

1 gallon of compost

4 gallons of water

1 aquarium pump

3+ feet of aquarium hose

Unsulfured molasses

A yard or two of cheesecloth

1 gang valve to split your aquarium hose into multiple lines.
Step 1:
Attach three pieces of aquarium hose (at least 12″ long) to the gang valve. Attach the gang valve to the bucket and make sure the hoses reach the bottom of the bucket.
Step 2:
Add your 1 gallon of compost from either your compost bin or your worm farm. Make sure that the ends of the hoses in the bucket are covered with your finished compost.
Step 3:
Now fill this bucket to within 6 inches from the top. The Pennsylvania DEP suggests bubbling your water for at least 1 hour if your water is from public water source.
Step 4:
To the bucket that you have added compost and water, add one ounce of your unsulfured molasses.
Step 5:
Connect your aquarium pump to an electrical source and let the pump run for 2-3 days. Occasionally stir your brewing mixture to separate the microorganism from the solid compost particles.
Step 6:
After 3 days it is time to harvest your compost tea. Take that extra 5 gallon bucket and secure your cheesecloth over the top, pour out the contents of your brewing bucket and allow it to strain through the cheesecloth. Go ahead and dump any large particles back into your compost pile after straining.
Step 7:
Transfer the strained compost tea brew into a clean watering can. Use the tea to water seedlings, established veggie gardens, houseplants and even your ornamental plants.
This compost tea recipe is pretty easy and there isn't much you could get wrong. Add compost, water, aerate for a few days and strain it. If you compost tea doesn't have a "sweet" aroma to it, dump it out into your compost bin and start over.
Apply your compost tea as soon as you can as the beneficial microbes created by the molasses and compost will begin to die shortly after the air supply is removed. Now that you have a compost tea recipe, you can make and apply your own compost tea every 2 weeks in your garden.