Dyeing paper is a great project for sunny summer days. Paper can be dyed with almost anything, from nail polish to Kool-Aid, but I find great joy in learning how to do something naturally. Because of its unique absorption abilities, paper is such an easy material to work with when learning how to dye with natural elements. Follow along with this easy step-by-step tutorial and try it for yourself!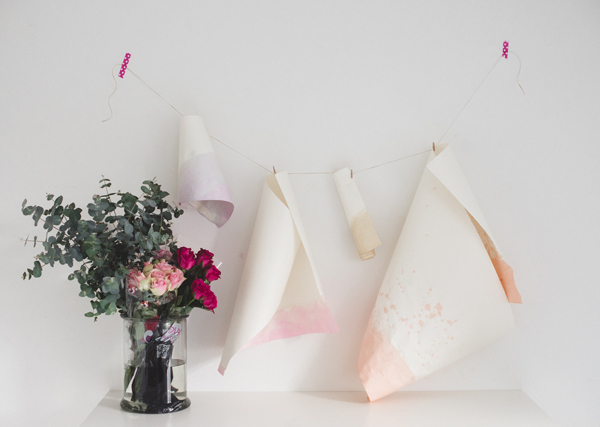 You can use naturally dyed paper for making greeting cards or awesome handmade pages for scrapbooking. I recently made a gorgeous roll of wrapping paper with this relatively easy dip-dye method. The options are endless.
To dye paper naturally the first step is to mix your dyes. Turning natural elements into dye is an easy process, although every element will be a little different.
Here are my four favorite natural products to use for dyeing paper:
1) Berries
To make a natural berry dye, take 2 cups of berries and mash them with a spoon. Add 2 tablespoons of salt to the berries. Place the mashed berry/salt mixture into a pot and fill with 4 cups of water. Bring to a boil and then simmer, covered, for about 45 minutes to create a rich hued dye.
2) Coffee grounds
Coffee grounds are an easy way to dye paper — you can even use them dry! To dye the paper with dry coffee grounds, simply place the grounds atop a piece of paper and set in the sun for 2-3 hours. The paper will get a light tan hue.
To make a wet dye with coffee grounds, start by making strong coffee with boiling hot water — French press is best! For the richest color, your coffee should be too strong to drink.
3) Grass and leaves
Leaves and grass are fun elements to use when dyeing paper. Depending on the type used, they can produce so many beautiful hues. To make dye from grass or leaves, take 2-3 cups of grass or leaves from your favorite plants and chop down coarsely. The point here is to get hard, coarse chops along the blades and through the leaves so they will give off the brightest colors once dyed.
Boil 2-3 cups of water on a stovetop and add in the cups of chopped grass. Once boiling, turn down to a simmer and simmer for about an hour.
4) Flower petals
Flower petals can create such an array of pretty colors on paper. From yellow daises to red rose petals, their ability to transform a white sheet of paper is uncanny. We recently did a batch with bright pink peonies that turned out to be one of my favorites.
To make a dye from your favorite flower, collect about 1 cup of petals and pull off the stems, chop into small pieces and boil with the same ratio of water. One cup petals to one cup water. After boiling on high for 5 minutes, allow the mixture to sit on the turned off but warm stovetop for 2-3 hours.
How to use your custom dyes:
Once your dye is cooked according to one of the above methods, it will need to be strained.
Set out a large bowl covered with cheesecloth. I always use a large rubber band to hold the cheesecloth in place. Pour the water through the cloth to separate the elements from the dye and allow the dye to cool until it is comfortable to touch.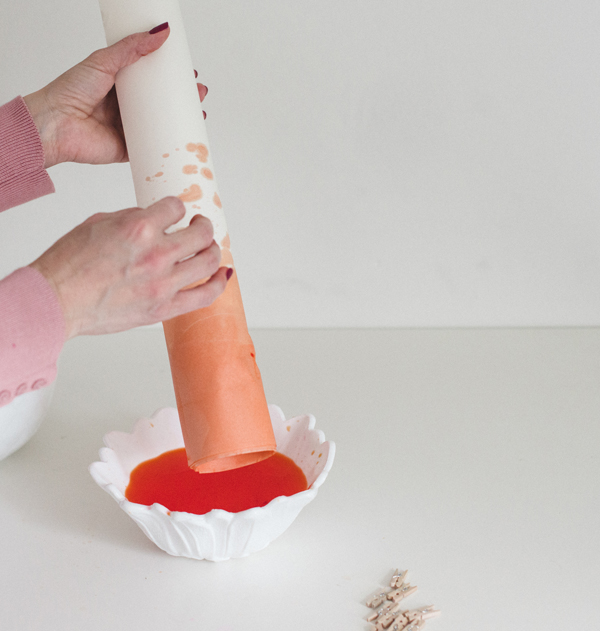 Once the dyes are mixed, strained and cooled, the next step is to dip the paper. This is the fun part! Bring the bowls of dye outside, or lay a tarp down on your floor indoors to prevent the dye from staining the rest of your house.
If you have a laundry line with clothespins, it is perfect for drying newly dyed paper. If you don't have one, make one! Use a length of jute rope tied to two trees. Since the dyes are natural, it is fine to allow them to fall onto grass as the paper is drying. If your drying rope is over a deck or carpeted area, be sure to cover your surface, as natural dyes will adhere to woods and other natural elements as well as your paper.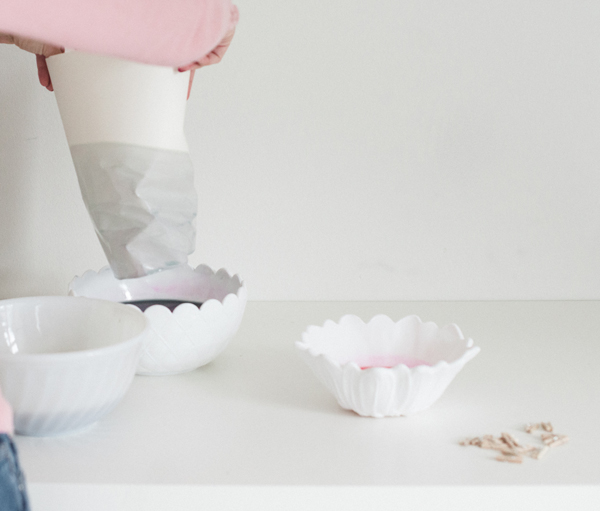 Dip each piece into the dye to create a colorful display. Experiment using rubber bands to hold sections of the paper white during the dye process, and try using adhesive stickers to create negative dyed shapes on the paper during the process. You can also try wrinkling the paper a bit for a textured look.
However you do it, the hues that result from using natural dyes will make your paper look like a custom work of art. Just the thing you need to get motivated for paper crafts this summer.
Now available: Paper crafts classes from Craftsy!
Browse our growing selection of online paper crafts classes today, and be sure to check out our completely FREE mini-classes: Spectacular Stamping with Joy Macdonnell and Create Stunning Birthday Cards with Kimber McGray.
Have you ever dyed paper? How did it go?