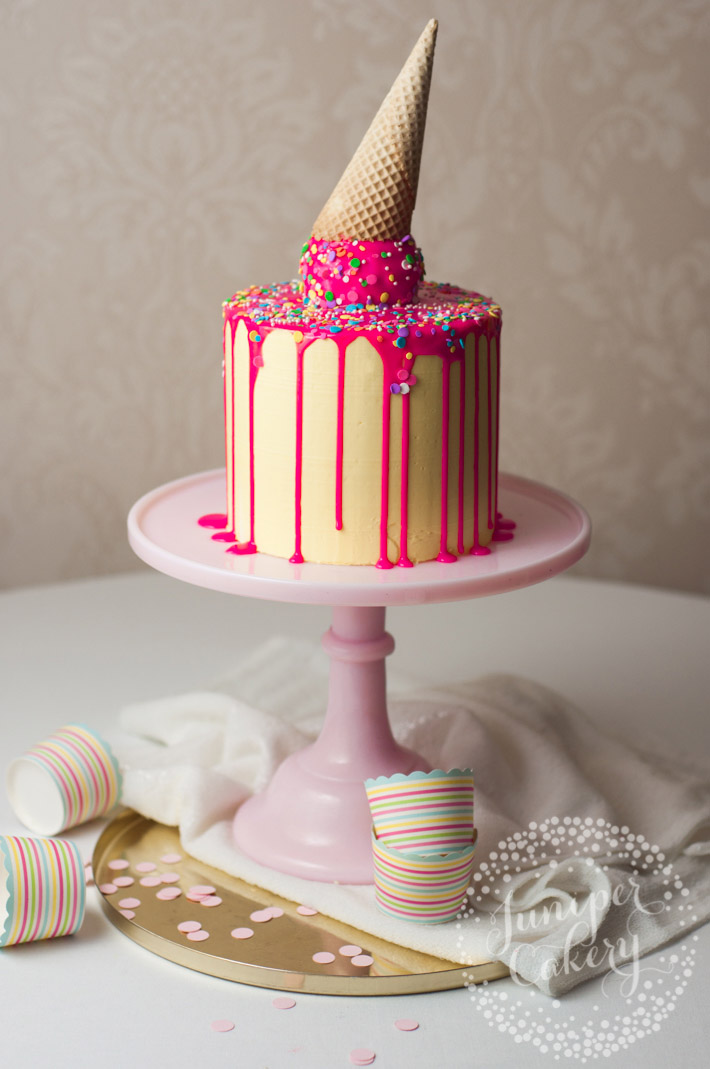 This colorful buttercream cake with chocolate dripping oh-so-luxuriously down the sides looks stunning, and (best of all) it's incredibly easy to make.
You can use melted tempered chocolate, confectionery coating or even powdered sugar and extract to get the effect, but you'll get the best consistency with a ganache glaze.
This drip cake is full-out funfetti, using white chocolate ganache colored bright pink, but you can use this same method using any kind of chocolate you love.
Drip Cake2>
Level: Easy
What You Need
Chilled cake frosted in buttercream or covered in fondant
Heavy cream or whipping cream
White or dark chocolate
Gel or paste food coloring (appropriate for use with white chocolate)
Angled palette knife
Spoon
Microwaveable bowl or measuring cup
Spatula
Pro Tip: It's important that your frosted cake is chilled, so keep it in the fridge until you're ready to glaze.
Instructions
1. Weigh the White Chocolate and Heavy Cream
You want to use equal amounts of chocolate and heavy cream. This 50/50 ratio is important for getting that ideal ganache consistency for drips and drizzles.Combine the chocolate and cream in a microwaveable glass bowl or cup and mix well.
2. Microwave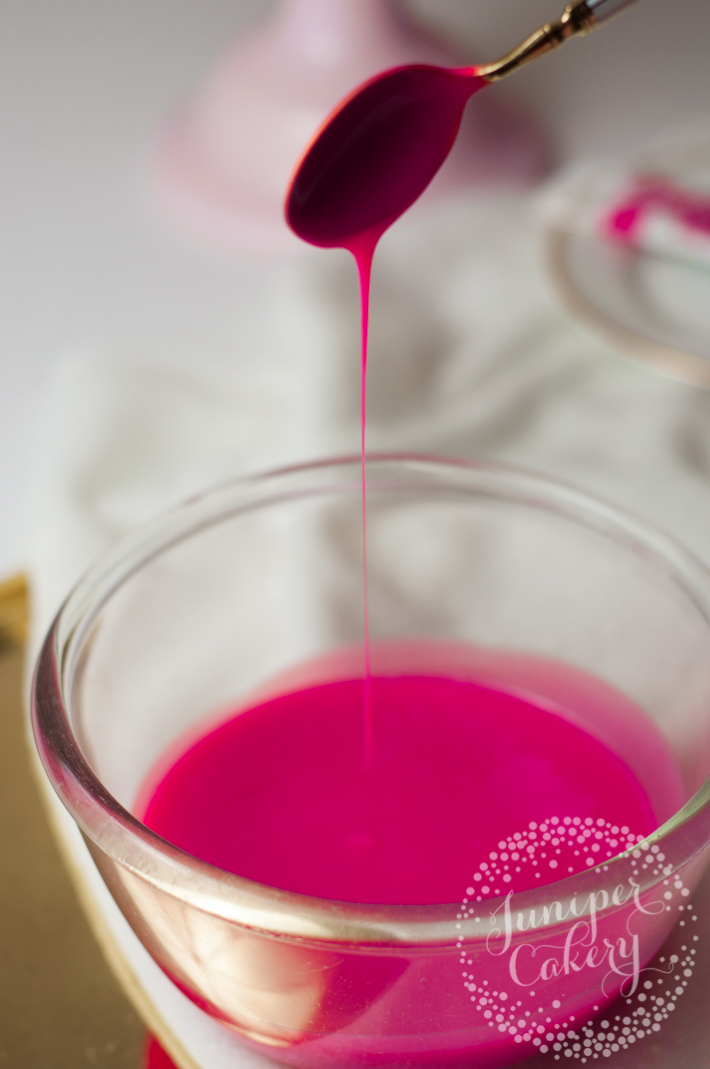 Microwave the mixture in 30-second increments, until the chocolate melts. Take it slow to make sure you don't burn your chocolate.
Pro Tip: Melting white chocolate can be finicky, as it's more delicate than other varieties. Use the microwave's low setting for best results.
Melt and mix until you have a smooth glaze.
3. Color
Get that ganache a bright, vibrant hue by adding gel or paste food coloring.
Pro Tip: You'll need a good gel or paste food color that's compatible with your ingredients, so make sure you check the label. There are a few pigments out there that don't play well with chocolate.
4. Drip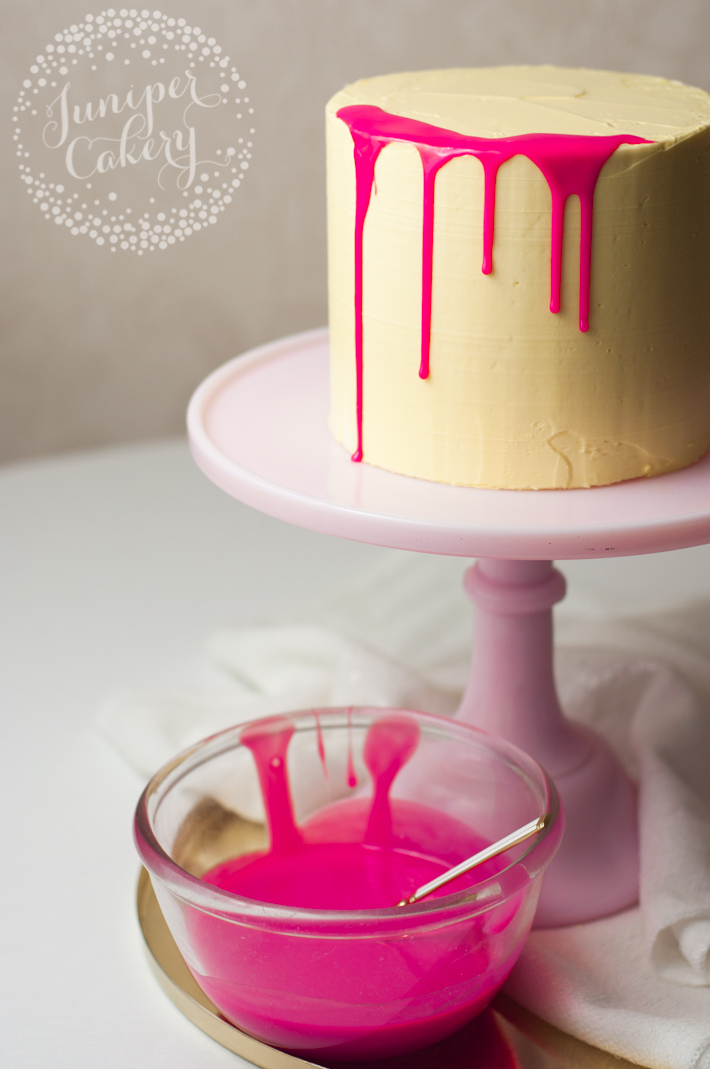 When your cake is cold, remove it from the fridge. Spoon your glaze around the edges, using a small amount at a time for best results. You can also use a piping bag or a squeeze bottle for better control.
5. Fill in the Top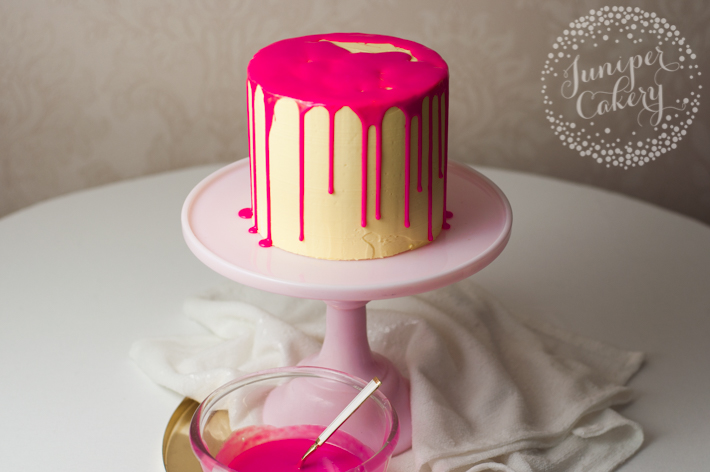 Once the sides are covered, fill the top with the rest of your glaze. Again, spoon it on bit by bit to avoid a big mess.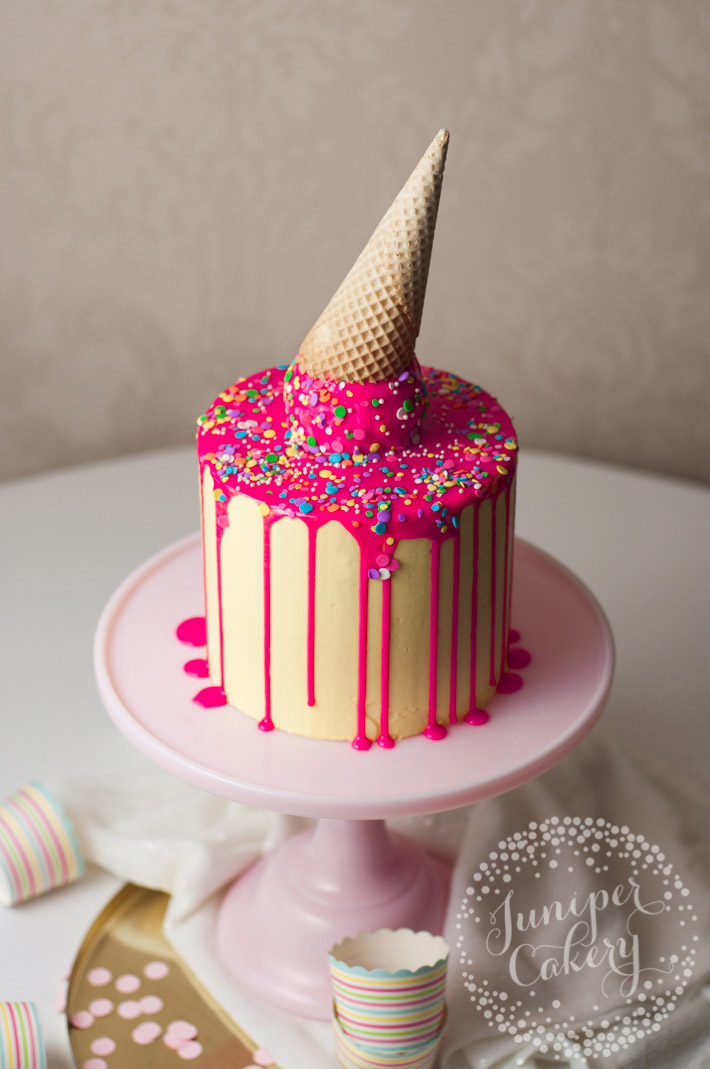 And you're done! Continue decorating as desired, or cut yourself a slice now. You've earned it.