Sewing your own dress gives you a creative freedom that you'll never find in ready-to-wear clothing. Half the fun of sewing at home is getting to be your own personal fashion designer! You get to pick the style of your dress, choose a fabric that inspires you and tailor the fit for a completely customized look. Our favorite dresses are the ones that fit well and make us feel proud of our sewing. Consider these helpful dress techniques to make the next dress you sew your new favorite dress.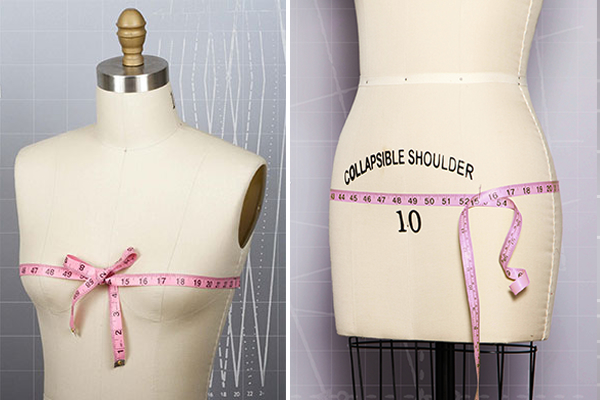 Photos via Bluprint instructor Kathleen Cheetham
Check out these techniques for sewing the perfect dress!
1. Pick the proper size
When choosing your size there are three main measurements to take: bust, waist, and hips. All commercial patterns will have you start with those measurements to get a basic idea of what size you should pick, but there are other measurements to keep in mind depending on your project.
For example, if you're sewing a dress with a full skirt, your hip measurement isn't necessary because the shape will be plenty wide enough to accommodate your size. With a project like that it's more important to select your size based on the bust, or more probably the waist.
It is also helpful to take your upper bust measurement when sewing a dress with a form-fitting bodice. Fitting your upper bust first, and then making a small or full-bust adjustment, will help ensure your bodice fits well across the chest and shoulders. It's often easier to make one bust adjustment then it is to try and fit the shoulders, chest, back and bust all at once.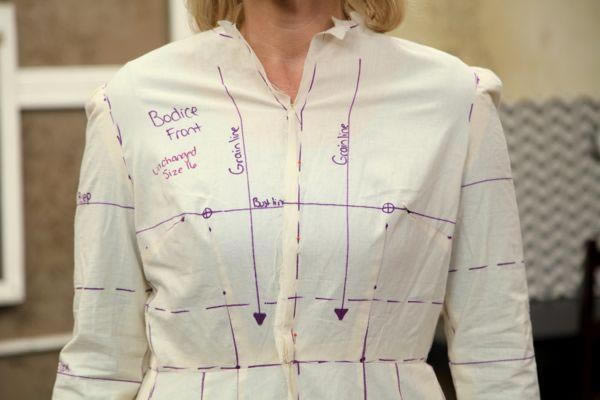 Photo via Bluprint class Fast Track Fitting
2. Make a muslin version
After taking your measurements you can test the size you selected by sewing a practice version in muslin fabric. It is important to do this because you don't want to risk cutting into to your fashion fabric and putting in a ton of hard work, only to find out the dress size doesn't fit you well.
Sewing a muslin first will not only help you identify fitting issues, but it will help you get familiar with sewing a new pattern. Once the muslin is adjusted, you'll be able to breeze through your final version with no problems.

Photos via Bluprint class Sewing Vintage: The Flirty Day Dress
3. Choose the appropriate pattern for the design
It's really important to pick the right fabric for the dress you plan to make. Fabrics have varying degrees of stretch and drape that will affect how your dress takes shape.
Quilting cotton is an excellent choice for a vintage day dress, but it would make a very poor choice for a couture vogue gown that needs a fabric with fluid, dramatic drape.
If you're unsure of what fabric is most suitable for your pattern, check the back of the envelope for recommendations.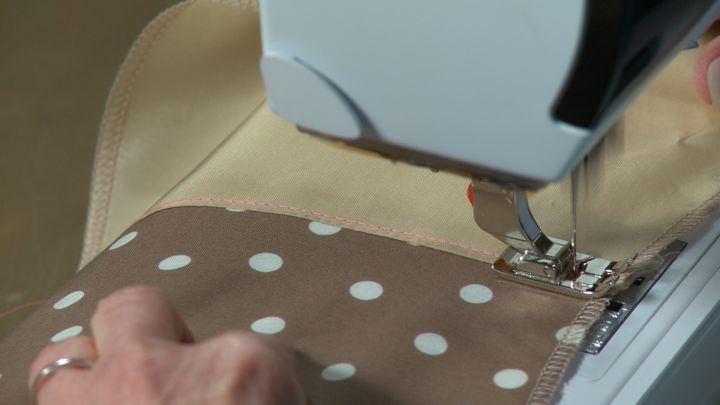 Photo via Bluprint class 40 Techniques Every Sewer Should Know
4. Use proper structure and finishing techniques
The insides of your dress are just as important as the outside and deserve the same attention to detail. Make sure you take the time to clip curves, grade your seams and reduce bulk when your pattern calls for it.
Use the correct type of interfacing and read the instructions when applying it to your fabric. If your pattern suggests hand sewing on a hem or neckline for a neat finish, it will be worth your time to do that.
Also, never underestimate the power of well-pressed seam! The ironing board is your friend and will make all the difference in the appearance of your finished dress. 
[box type="shadow"]
Perfect your custom tailoring skills with expert clothier Kathleen Cheetham's line of Bluprint classes! You'll learn the perfect upper-body fit in Custom Tailoring: Back, Neck and Shoulders, personalized bust fitting in Adjust the Bust: The Complete Guide and flattering waistlines in Custom Fitting: Waist & Hips.
[/box]
Do you have a favorite dress? What tips or techniques did you find helpful when making it?