The dessert table trend kicked off a few years ago with the help of the dessert table genius Amy Atlas. Since then, there has been no stopping the beautiful oodles of painstakingly decorated and designed dessert tables covered in delectable cakes, cupcakes, candies and any type of sweet imaginable. From distinctly color coordinated and hand-placed down to the last detail, to a more rustic feel, to pure romance or whimsy, there's a dessert table style for everyone– perfect for baby showers, bridal showers, and weddings too. It's a dessert trend that's here to stay!
1960s modern pink and brown dessert table: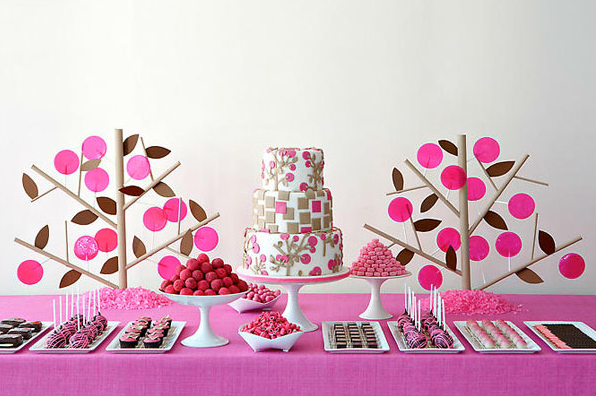 Photo via Amy Atlas Events
The woman who started it all, and still the best in the business, Amy Atlas was the designer who took the dessert buffet to the next level. With her incredible eye for design and detail, her modern dessert tables never look dated. They have a timeless design sense to them, like this one, with the fantastic 1960s mod-feel of the playful trees with the pink circles and brown leaves. That color combo resonates through the whole table but not overpowering or cloyingly so. The central tiered fondant cake has the same retro feel, and each dessert is laid out with precision.
Romantic vintage lilac dessert table: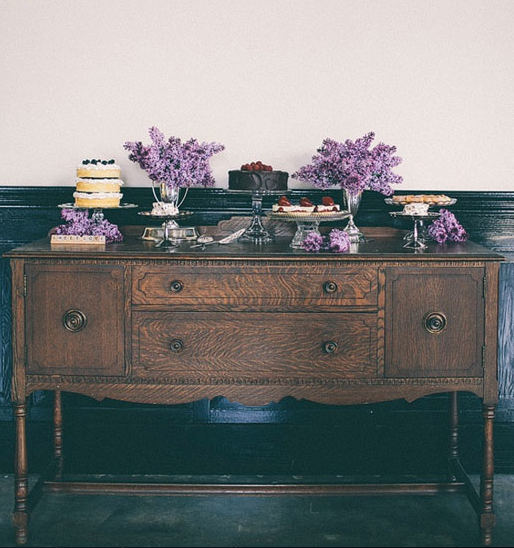 Desserts by Artisan Cake Company. Photo via Emily G Photography.
This pretty vintage themed dessert table comes courtesy of Artisan Cake Company. I love the lush blooms of lilacs and the vintage sideboard. I particularly enjoy the darkly romantic feel of the wood, all anchored by the dark chocolate rustic-iced cake topped with red raspberries.
Ultra modern blue dessert table: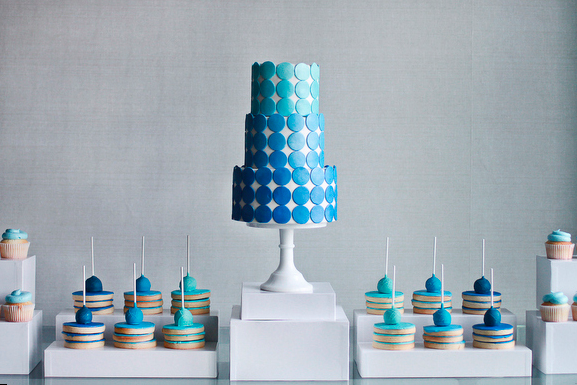 Desserts by Gimme Some Sugar. Photo via Principal Planner.
This ultra modern and ultra clean dessert table was designed by Principal Planner. The white stands make the sweets look like modern art! Cupcakes with simple and plentiful swirls, cake pop topped cookie stacks and the gorgeous triple tiered ombré blue dot centerpiece cake make this a standout table.
Barnyard rustic farm dessert table: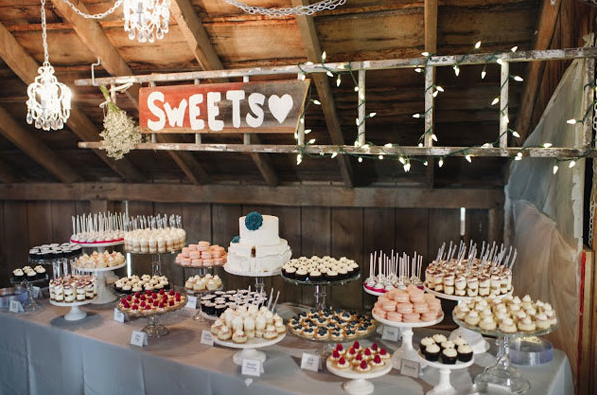 Photo via Cocoa & Fig
This table is packed with goodness! Raspberry topped tarts, mini cupcakes, layered parfaits, pink macarons and a pretty centerpiece cake with teal sugar flowers. Different heights of cake stands are more pleasing to the eye, and staggering plates of the same desserts add balance and continuity.
Artful and simple dessert table: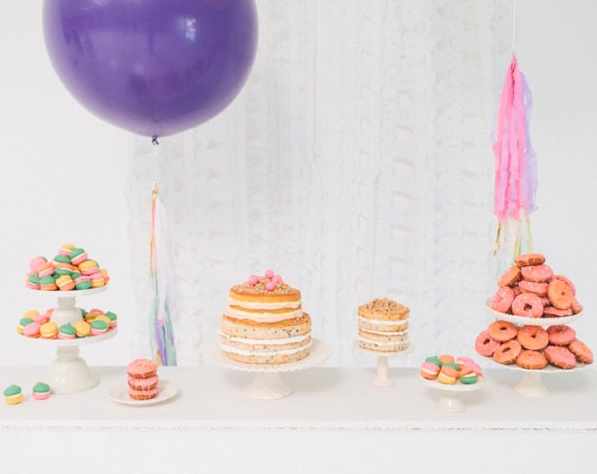 Photo via Cake Walk Bake Shop
I just adore Cake Walk Bake Shop's simple and beautiful dessert style. How cute is this table with its "naked" cakes, stacks of coral and peach colored drippy icing donuts and those pastel mixed color macarons? I love the pop of color with the giant purple balloon and pink tissue paper dangles. A nice and unfussy dessert table with delicious looking treats to boot!
Pink and red dessert table: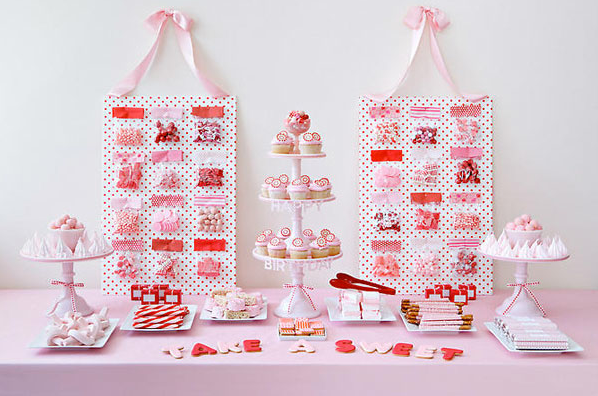 Photo via Amy Atlas Events
This is another beautiful table by Amy Atlas. The polka dot boards hold little loot bags filled with color matching candy for guests to take home, and the central dessert is a triple tier of prettily iced cupcakes. I love the dollops of meringue candies and especially the "Take A Sweet" cookie letters laid out in front – cookies doing double duty!
Are you in love with the dessert table trend? Or are you wishing for the good old days of no pressure birthday cakes, a simple affair topped with sprinkles and a happy candle? I love both ideas – going all out for some occasions and keeping it low key for others. Wouldn't a gorgeous modern tiered cake with a brightly colored sugar flower be an awesome dessert table centerpiece? I think Jessica Harris' class Clean & Simple Cake Design would make a heck of an eye-catching cake!