This guest post is brought to you by Atlanta cake artist and 15-time Food Network challenger Joshua John Russell, instructor of the popular Bluprint classes Modern Buttercream, Modern Piping and Fashion-Inspired Fondant.
When Bluprint first asked me to guest blog, I was super excited! Then, I found out I would be making a birthday cake for myself…still excited…and totally stumped! It's like asking a hair stylist to cut their own hair (which I know some of them do). But I have never made a birthday cake for myself. I am always the one to make the cake for my friends and family.
Over the past few years, my friends have taken turns trying to make me the most ridiculous birthday cake possible. This is one that my friend Heidi made for me a couple years ago…..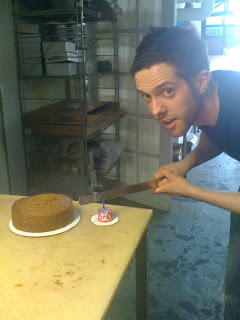 Tiniest birthday cake ever! I put it next to an 8″ round so you can see just how little it is.
So what to make? Well there are no rules here (at least I don't think), so I have decided to go in a different direction. As a blogger myself at The Fashion Caker, when I get inspired by a runway show or magazine shoot, I come up with an idea and make a cake that reflects the inspiration.
Now, I am not a fashion designer (maybe one day!), but I have always dreamed of making a collection. So that is exactly what I am going to do…only in sugar!
Hey, it's my birthday cake, right? If I am going to spend my birthday making a cake, I am going to make something I love, not something that simply says, "Happy Birthday Joshua."
I decided to start with one of my favorite things in the fashion world: windows!
I love seeing windows dressed for the season. Alexander McQueen, of course, is one of my favorites. I'm a bit obsessed! Here are a few: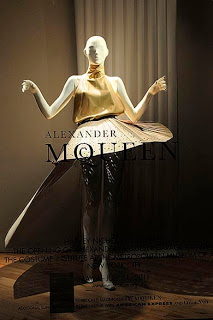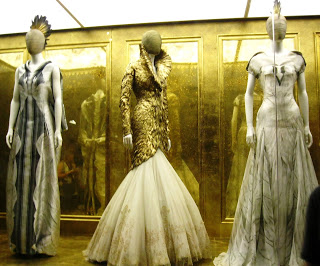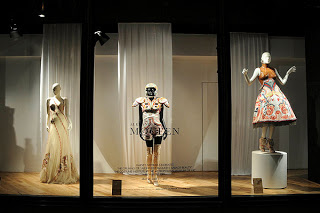 Beautiful and haunting at the same time.
I am going to start by making the forms for the clothes.
I want them to look as realistic as possible, so I need a little help from a well known model: Barbie!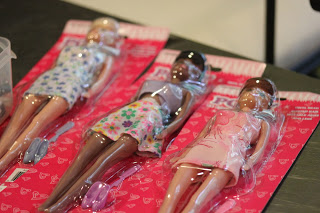 I am going to use the dolls as dress forms and gum paste as my fabric.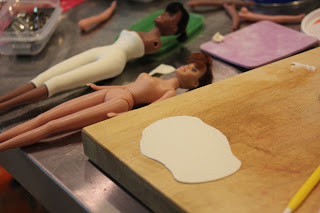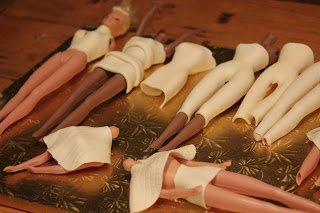 Yes, I had to tear some of them up. Sorry Barbie!
Now that the clothes are started and drying, let's work on the cake.
I am going to cover a 1/4 sheet cake (6″ tall) with a dark gray fondant and then do some texture work.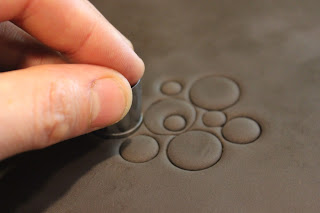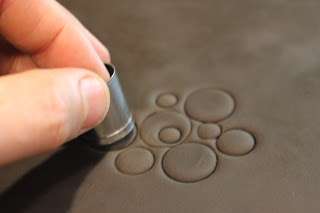 I started by using a few small sizes of round cutters, embossing multiple times.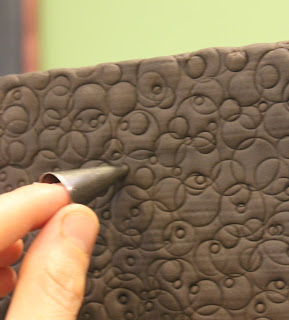 I even used the top of a #5 tip for smaller detail.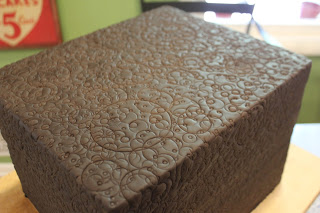 So I ended up with this. I know it looks busy, but this is only the first layer for the background.
Now, for the top tier, I hand-cut with bone pattern.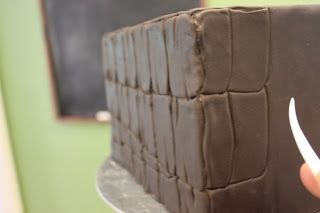 It's like crocodile skin magnified!
Here is the base cake with a small separator: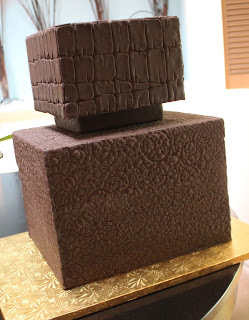 Looking good!
With the clothes off the forms, I am going to add some embellishments.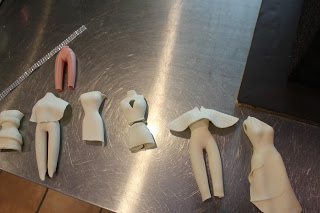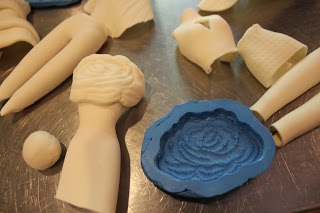 I made this rose mold from lace (a technique you can find in my Bluprint class Fashion Inspired Fondant). It makes the perfect top to this dress!
And of course, we need some sparkle pants. A little piping gel and sprinkles mixed with edible glitter should do the trick.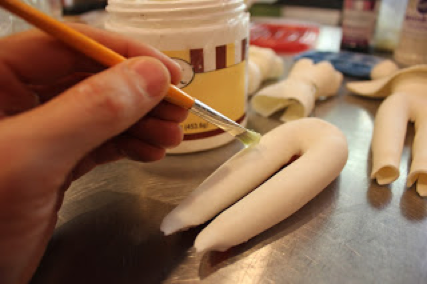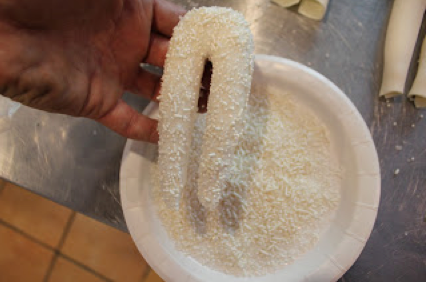 I stood the looks up against the cake to find the right placement and then secured them using melted white chocolate.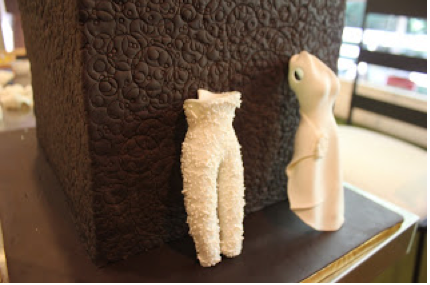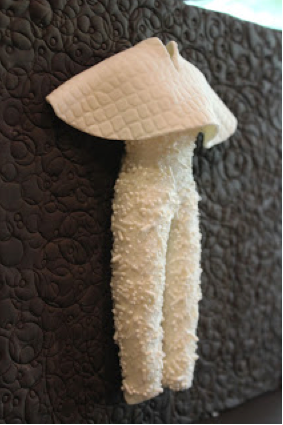 How about that croc skin cape? It's my favorite!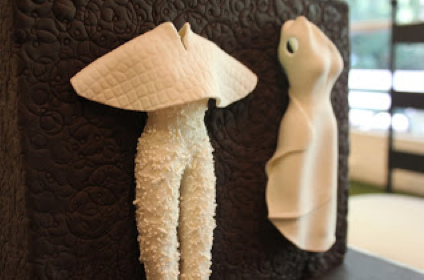 Oh, BTW, chopped coconut totally looks like fur…I mean faux fur…I'm an animal lover!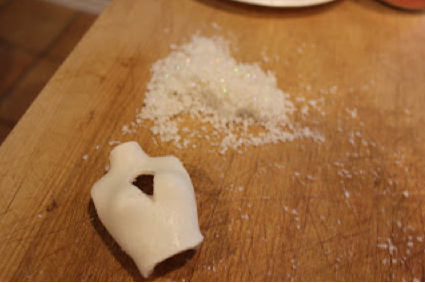 Here they are, all ready for finishing touches. It's got that hauntingly beautiful look I was going for.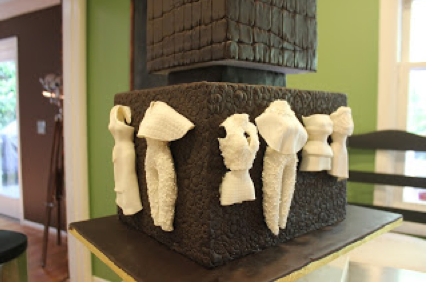 I added a couple extra details, like the bottom to this dress. I rolled the gum paste through the pasta machine to the last number, so it was as thin as possible.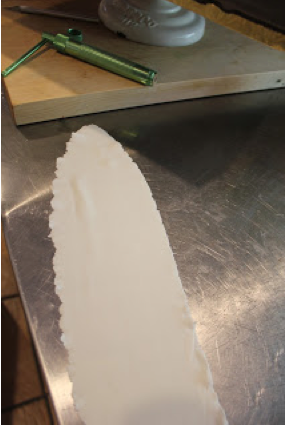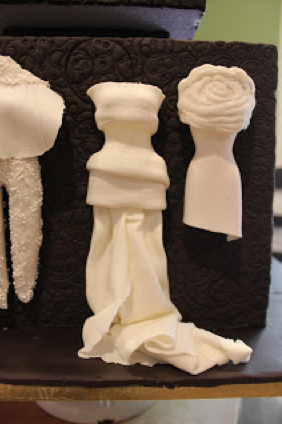 …a little chaos to this dress.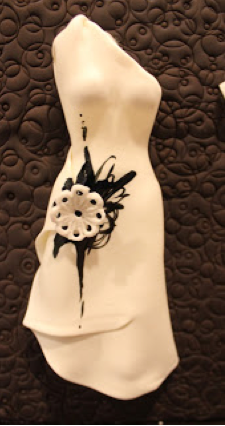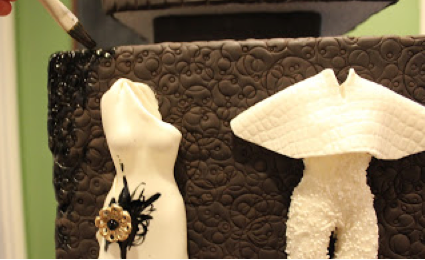 I also roughed up the edges with some black and gold paint for a dramatic effect.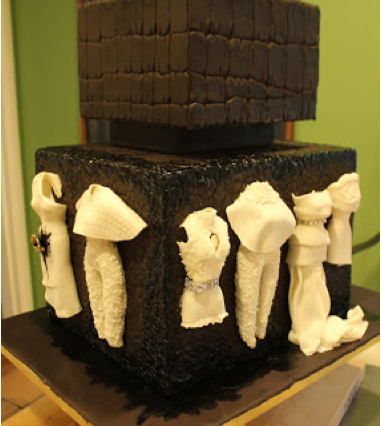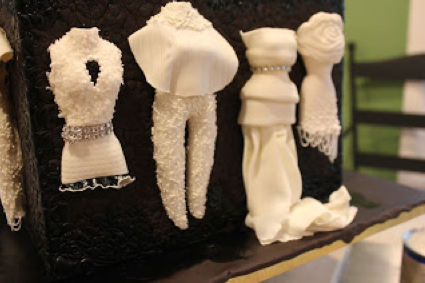 We are looking good!
Now, I need a logo. I figure, in honor of Mercedes-Benz Fashion Week, I should create a logo for my line.
I am going to use the two Js in my name (Joshua John) to draft an insignia by hand.
I started with the size square I needed out of paper and marked the centers.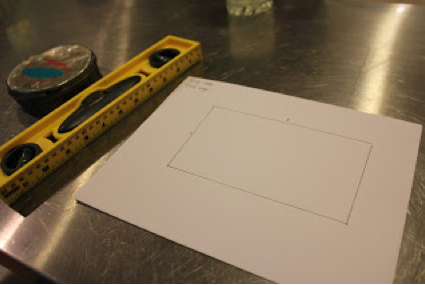 Then, I created the frame and back-to-back Js using circle cutters.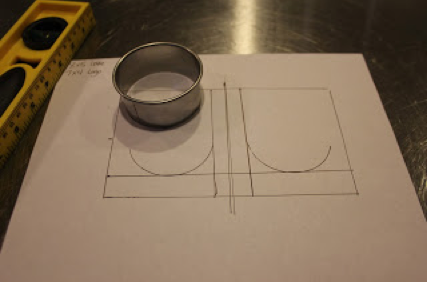 And then I cut it out of gum paste and allowed it to dry for a couple hours.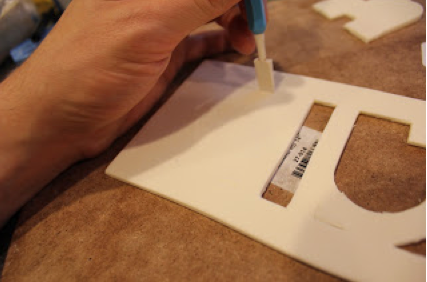 Now, I secured the logo with white chocolate and added gold details.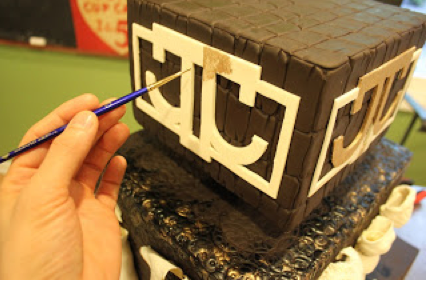 And I think we are all set!
Here is the finished cake. Drumroll please!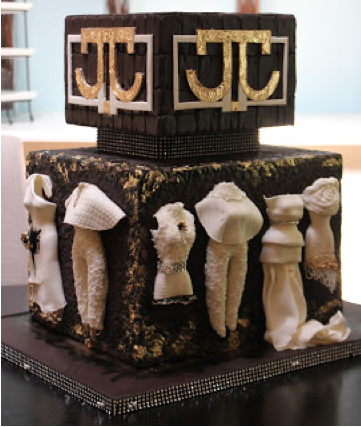 Happy Birthday to me! Seriously this was one of the coolest projects I have ever done. Thanks to Bluprint for letting me be a part of their blog! Bye.
About Joshua John Russell

Joshua John Russell learned baking and pastry arts at Johnson & Wales University, but his elegant and detailed cake designs are all his own. A finalist in Last Cake Standing, he has appeared on the Food Network Challenge 15 times, showing the world cake artistry that is by turns ornate, over-the-top and seriously cool. He continues to live and work in Atlanta, focusing his creative energy on making modern wedding cakes that look as good as they taste. Catch up with Josh at JoshuaJohnRussell.com.
What's your dream birthday cake?