I love drawing so much. Making each dragon scale, getting a certain facial expression right or getting the idea of a tree right, even if I don't draw each twig and leaf — all of these things fascinate me. But they can also distract me from the overall design of the image if I get ahead of myself.
I love to experiment with my art-making process when I can, and while my tendency is toward adding more and more as I create an image, sometimes I pull back and try to find the simplest way to get my idea across.
Follow along to learn how to improve your art by drawing with shapes.
Thumbnail sketching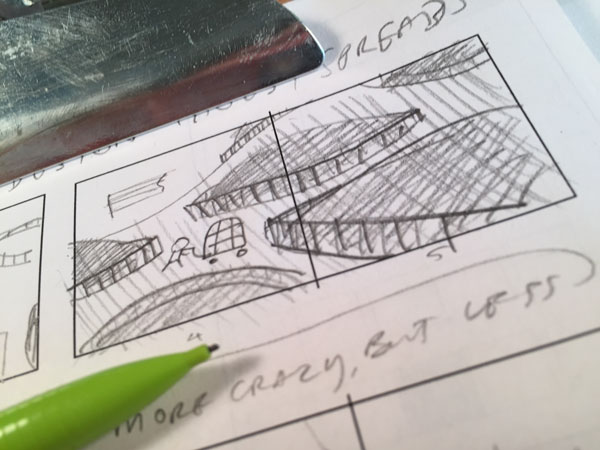 When I am designing a page or a spread for a book illustration, somewhere in the process I make sure to draw a tiny version of the pages, to make sure the overall shape and flow of the image is working the way I want it to. When I am making these thumbnail sketches, I am looking for interesting shapes — both in the positive and negative space — that will draw the reader's eye to the important focal points of the image, and that are simply the best composition I can create for helping to tell the story.
Working with pencil on paper is one of my favorite ways to figure this out, because it is quick and cheap and easy to repeat, so I can try as many compositions as I like before settling on my favorite. However, despite the tiny size of these drawings, it is still tempting to add details beyond what is necessary at this stage.
Cut paper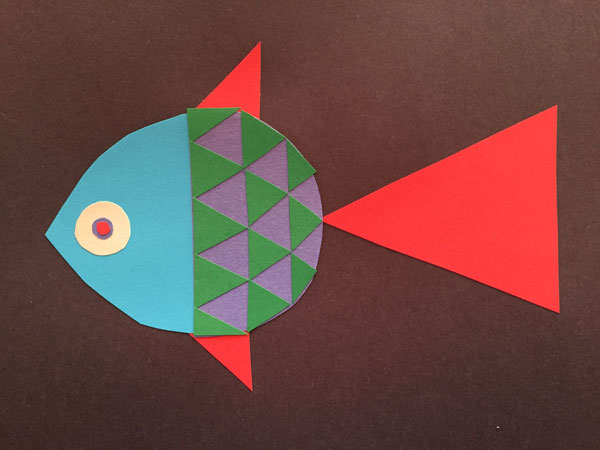 Giving myself crude limitations often helps me to think more clearly. I rediscovered this idea while making drawings and stamps and other art with my young daughter. When we sat down one morning to spend some time with colored paper, scissors and some glue, I found myself lost in the process, cutting out general shapes in various colors, looking at how things could fit together and transform depending on how they are arranged. I soon realized that I was experimenting with composition without having to redraw a thing.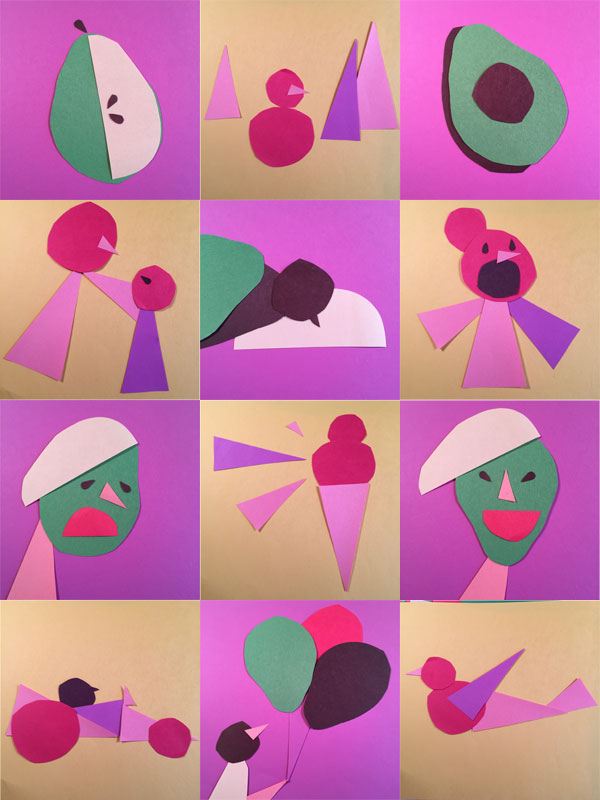 After a bit more experimentation, I saw that the simpler my shapes, the more changeable the image could be. The circles and triangles and simple blobs evoked an enormous range of ideas after just a few quick shufflings.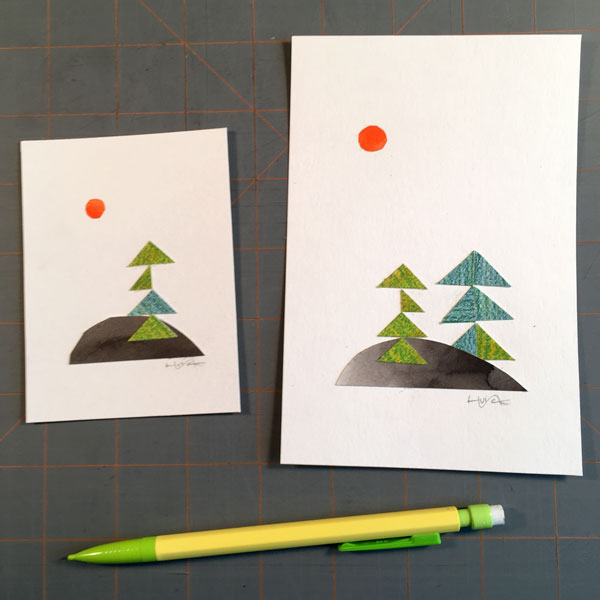 With a bit more deliberate cutting and shaping, I could build on my simple initial ideas. I now see this technique as a useful way to rapidly prototype an image or composition, and also as an interesting way to construct images in their own right. I have even begun to create textured papers to cut and arrange into simple landscapes, much like I imagine Eric Carle or Roger Duvoisin must have worked to create many of their images.
Including digital techniques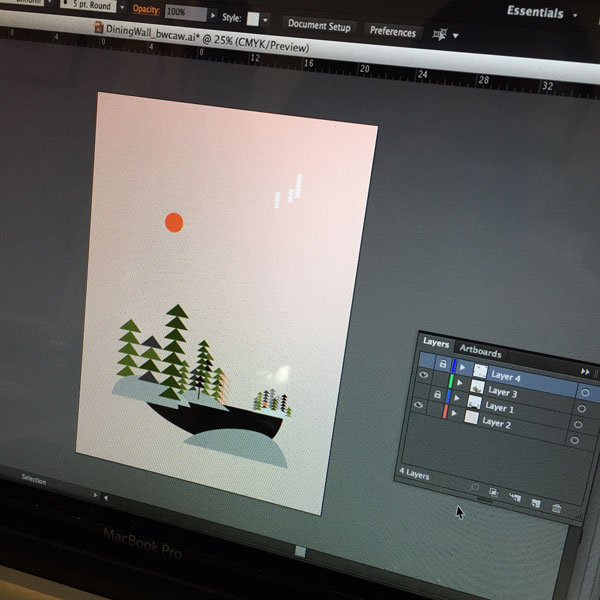 I have a long history of working digitally alongside paper and other physical media. For a long time I made my work almost exclusively in Adobe Illustrator, and this cut paper technique seemed like a good fit for that program as well. After the simple cut-paper landscapes experiments I did, I had an idea for a larger landscape, but rather than snip out more tiny triangles to do a study, I thought I would try a digital sketch before clearing off out dining table to make the full-sized 22"x30" cut-paper drawing.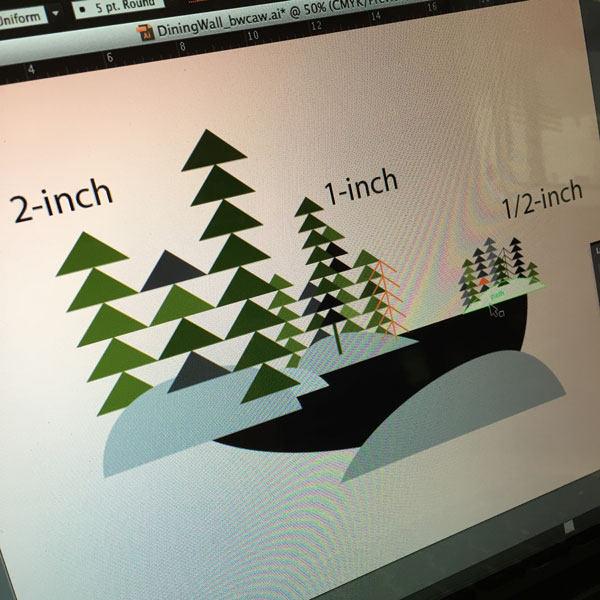 Once I sorted out the overall composition, I figured out how large each of the physical-paper shapes needed to be to match my digital sketch.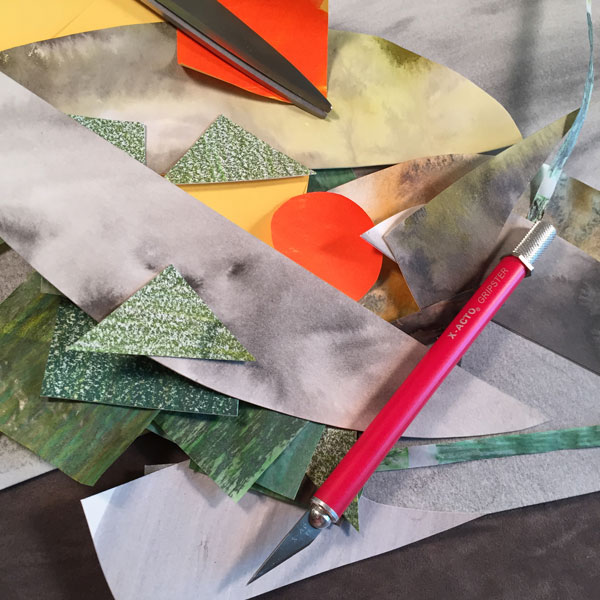 I textured some papers with watercolor, pencils, colored pencil, crayons and ink washes, and cut things up to make the pieces for my image.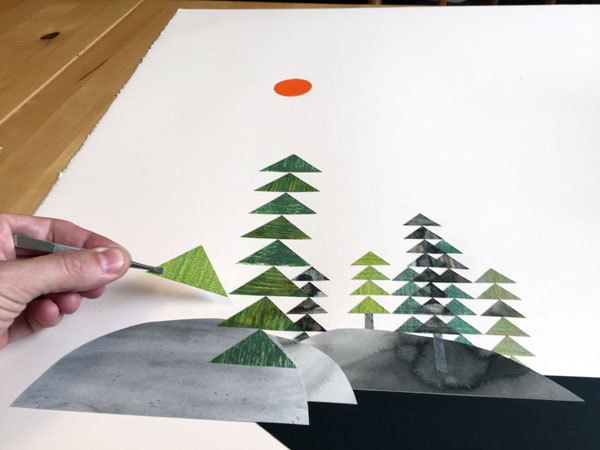 Using my digital sketch as a guide, I put together the final image with archival glue, to make sure the composition would retain its proper colors, and so no acids would deteriorate the paper.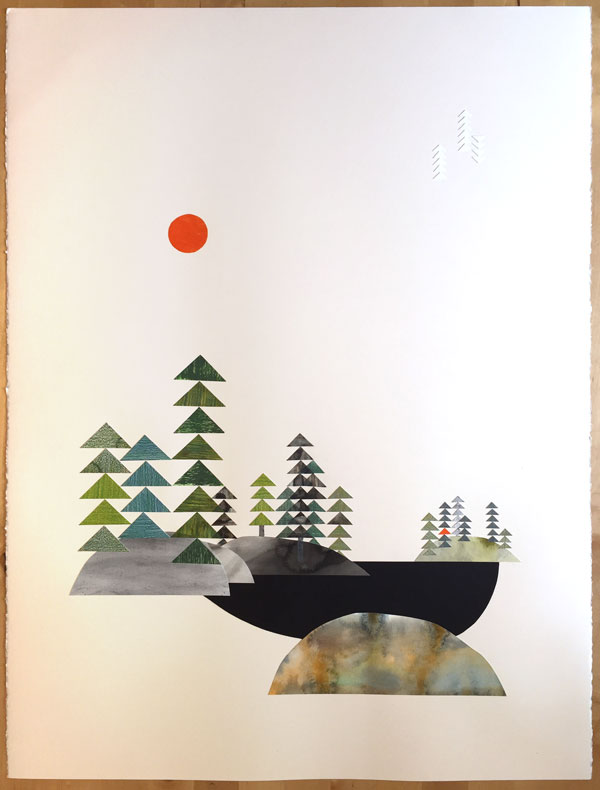 The finished image varies slightly from the digital sketch because of my responses to variations in the specific papers I had made, correcting mistakes, and the other surprises that come from working with physical materials.
Other ideas
I like to think that my mom, a quilter, would have also been drawn to Illustrator for sketching if it had been available when she was starting out. Instead, she uses graph paper and colored pencils to plan a lot of her work – another good idea that I haven't explored yet. I think of my recent cut-paper drawing as a close kin to quilting (I even included a traditional quilt "flying geese" pattern to represent some flying geese), and I'm sure the more I look around, the more ideas from quilting and other media I might be able to borrow for my drawings and illustrations.
Draw in three dimensions!
Use easy-to-learn techniques to depict objects with realistic form.Enroll Now »