Whether you are an art student or a fashion designer, knowing how to draw fabric with pencil in a realistic and convincing way is a very useful skill. With a few fashion illustration tips, soon you'll be drawing fabrics with movement and stunning realism.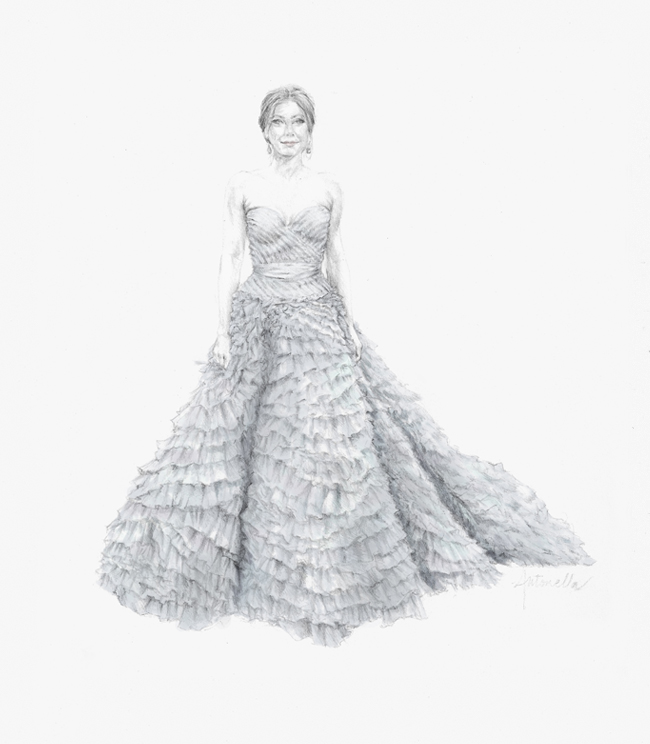 "Amy Adams in Oscar de la Renta" by Antonella
Check out these tips to improve your fabric illustrations or just about anything you draw!
1. Choose the right pencils.
The first thing we'll talk about is pencils. There is a big variety of graphite pencils out there, and the wide variety of numbers and letters can be a bit confusing at times.
You could easily draw fabric with just one graphite pencil. If you choose to go this route, I recommend using a 2B. This type of pencil is perfect for anything from sketching to rendering shadows, and can be used to draw any subject.
Personally, I like using three or four different types of pencils for the same drawing because they provide a wider range of dark values and give drawings more depth. My favorites are:
2B for all the initial sketching and for shading intermediate values
4B pencil for darker areas
2H pencil for the lightest shadows
These are my go-to pencils for drawing just about anything.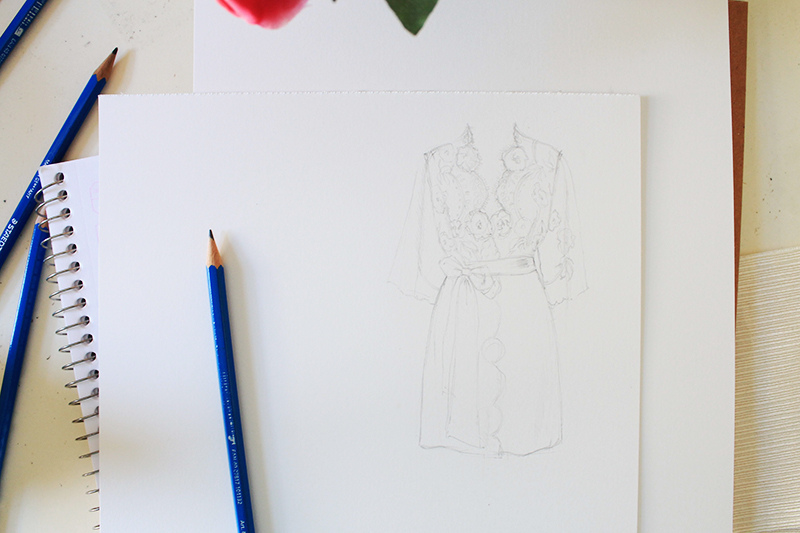 Initial sketch of "Girl With A Serious Dream Lace Robe" by Antonella
2. Focus on the big picture.
Yes, shading is a defining element when trying to draw fabric in a realistic way. However, don't start adding shadows before you have blocked out the right shapes and folds of the fabric in your initial sketch.
Consider this sketch as the foundation for your drawing. Take your time with it and make sure you get accurate placement on all the major components of your subject before you focus on the smaller details. Going about it this way will also save you a lot of time erasing darker pencil strokes later on.
Begin by focusing on things like proportions, shapes and the way in which the fabric drapes. Pay attention to the direction of the folds and think about how the fabric is draped over the shape that lies underneath, be it a surface, object or human figure. Always remember to draw what you see as opposed to what you think you see.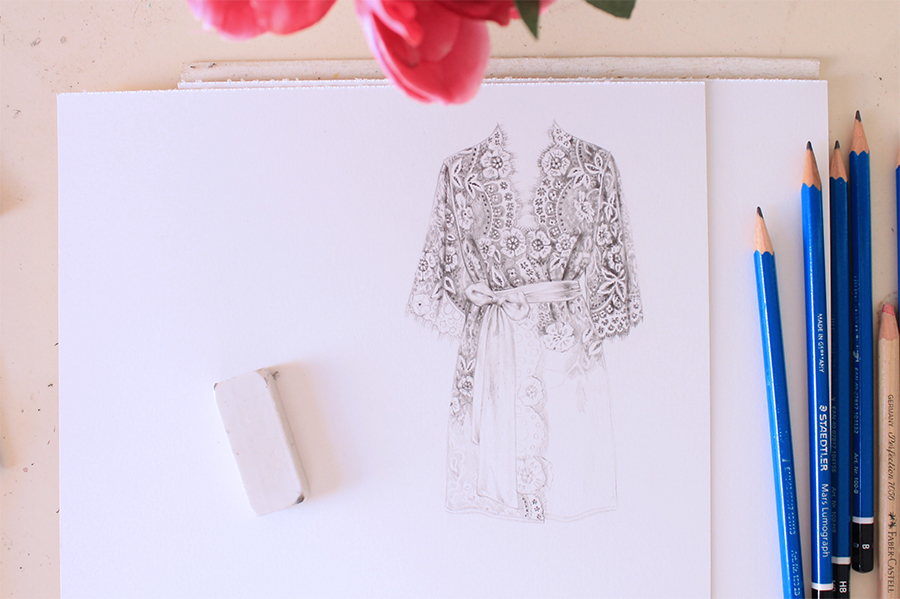 Work in progress of "Girl With A Serious Dream Lace Robe" by Antonella
3. Shade the light areas first.
Once you are happy with your line drawing, you can start shading shadows. Doing so will begin to give your drawing dimension and the appearance of volume. You might be tempted to reach for that dark 4B pencil and start drawing the darkest areas, but it is better to block out general areas with a a 2H (or lightly shading with a 2B) pencil first.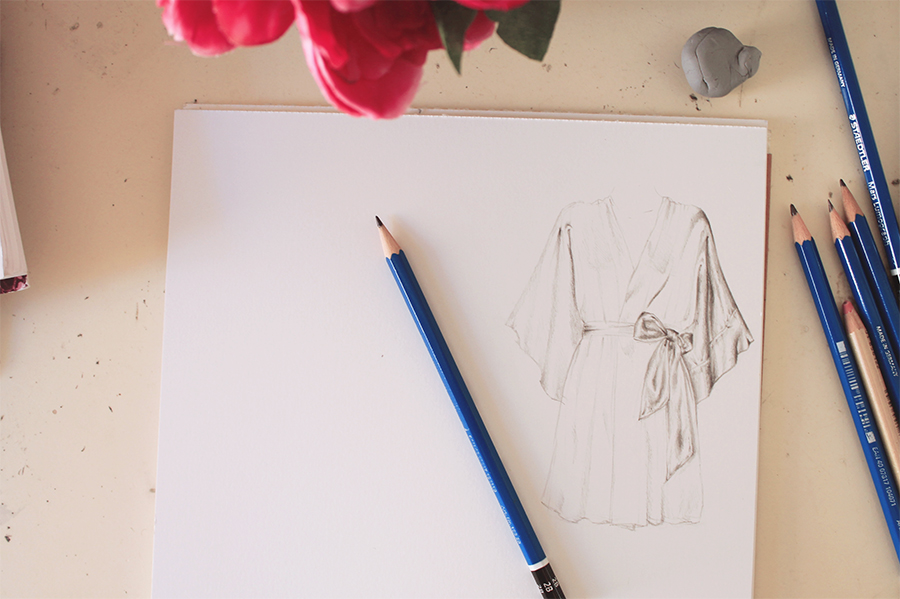 Work in progress of "Girl With A Serious Dream Silk Robe" by Antonella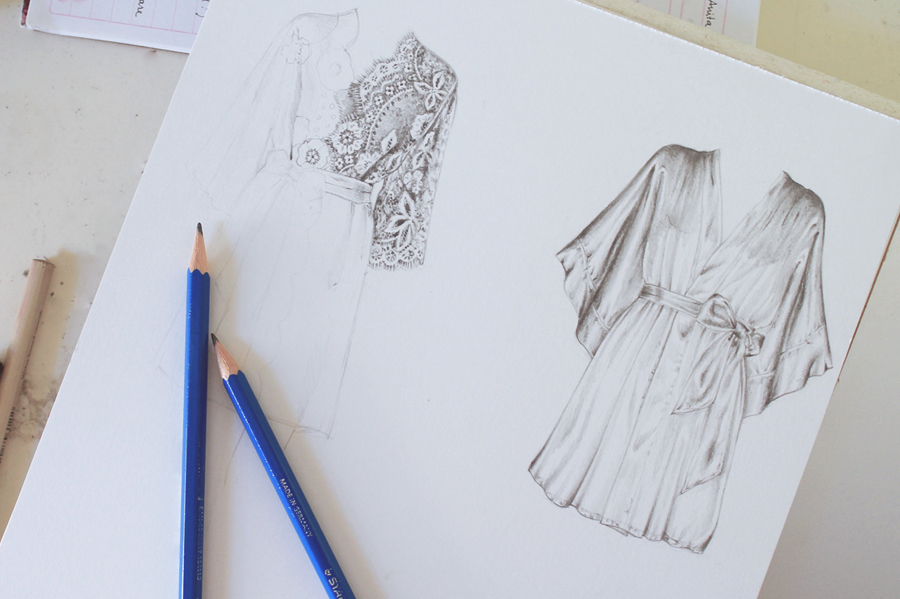 Illustrations of "Girl With A Serious Dream Robe" by Antonella
4. Consider the texture.
Fabrics come in a variety of textures. Think of fabrics like satin, velvet, tweed or lace. They all have their own distinctive look and feel because of their texture. This is an important element to focus on when drawing.
The best way to render textures in a realistic way is through observation. Look at the way that the light hits the fabric. Does it shine like satin? Is there a strong contrast between lights and shadows? Or does it look flat like tweed? Ask yourself questions to decide what shade of pencil to use, where to draw shadows and what to leave blank.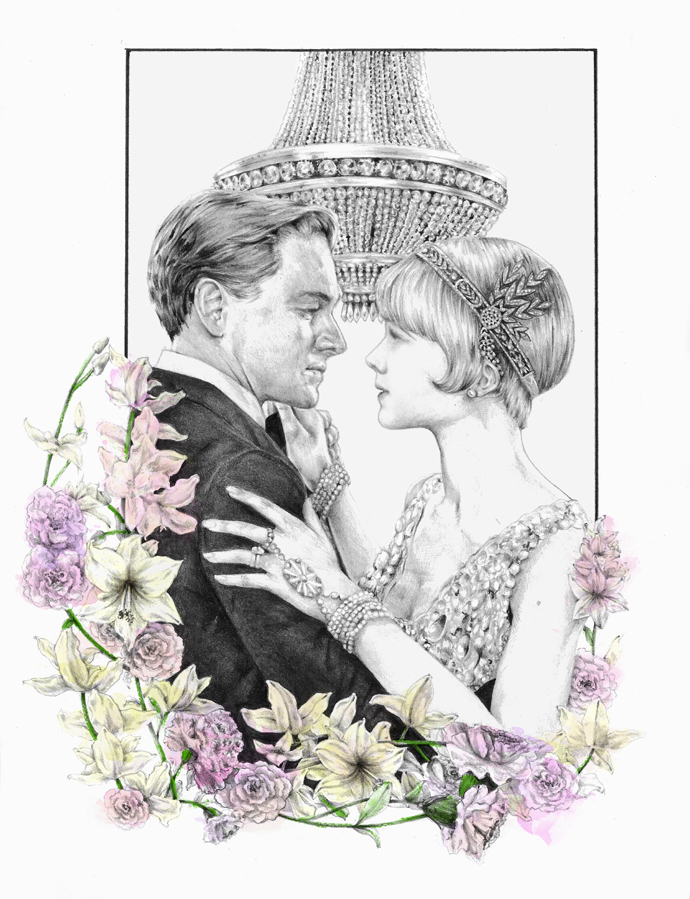 "The Great Gatsby" Print by Antonella
Examples:
Some fabrics, like the suit in the image above, have a matte surface with little to no shine. This means that there are no white areas to leave unshaded in the drawing, requiring you work with darker values. In cases, like this "The Great Gatsby" print, you want to use a 2B pencil for the lightest areas and a 6B or 8B for the darkest shadows.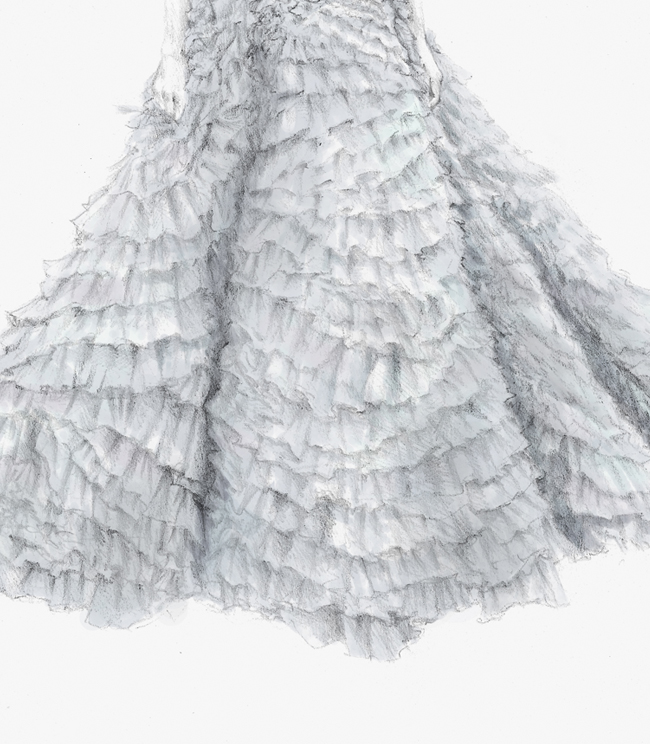 Close up of "Amy Adams in Oscar de la Renta" by Antonella
Here's an close-up example of fabric rendering using just a 2B pencil. There is barely any contrast between the ruffles and folds of this dress, so you can draw it all with the same type of pencil by applying slightly more pressure in the darkest areas.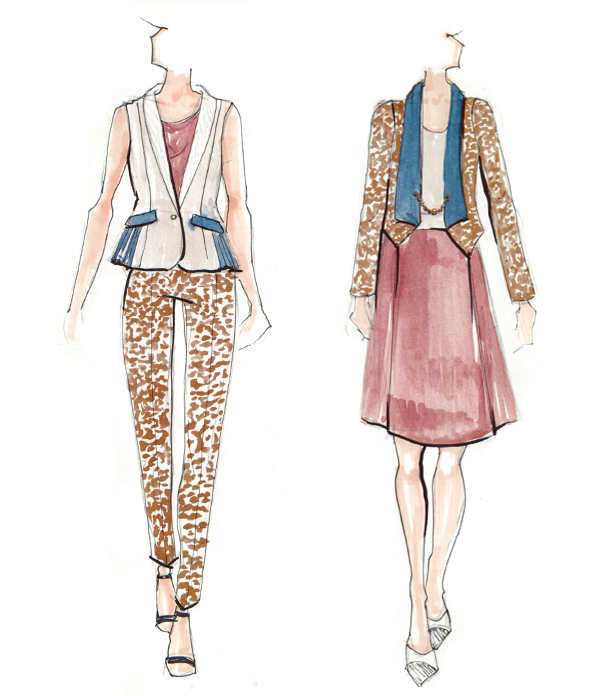 Brocade designs using markers, watercolors and gold paint by Antonella
Using these tips for fashion design and illustration
These tips can also be applied when illustrating fabric for fashion design with other supplies like watercolors, markers and colored pencils.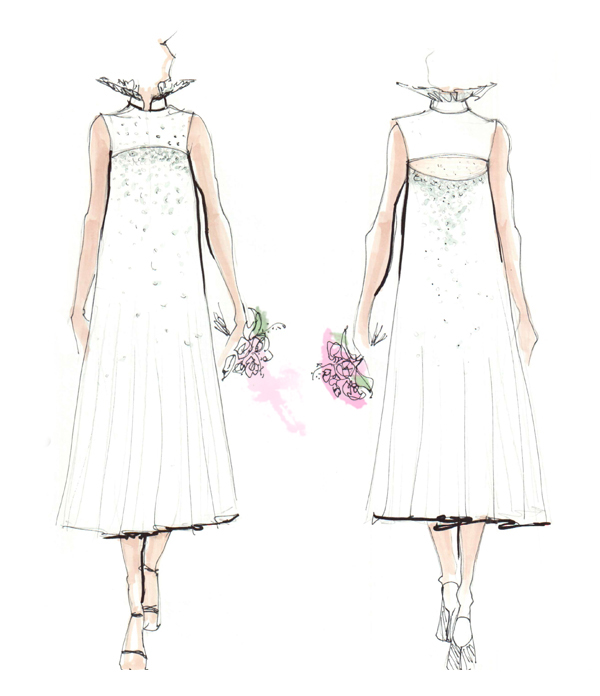 Designs using markers and watercolors by Antonella
When it comes to fashion, designs need to be laid to paper quickly and efficiently before the idea is lost. In these cases, there is less room or need for complete realism, so it is better to create a convincing yet loose and quick representation of the fabric desired without wasting too much time on details.
These illustrations serve the purpose of representing the designer's idea in order to bring the garment to life. Sometimes this means some of the most practical tools to render fabric are watercolors, markers and/or colored pencils.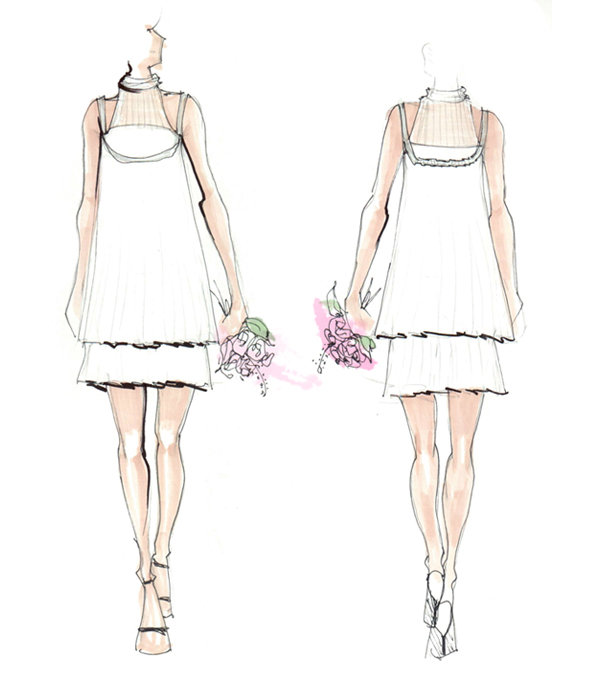 Designs using markers and watercolors by Antonella
When sketching a design idea, the illustration we are creating is based solely on the image in our minds. Therefore, just like with drawing fabric in general, we need to consider factors like the texture of the fabric and its weight. The weight of the fabric is very important and will determine how it would drape over the body. Is it soft and light like chiffon? Or, is it firm and structured like tweed?
Thinking about these factors and imagining how a certain type of fabric would react draped over a body will help you create convincing illustrations to convey your design ideas clearly and accurately.
Pick up further tips for drawing the human figure and using color to create light and texture in your work in the Craftsy class Figure Anatomy for the Artist and Colored Pencil Essentials.
Are you an artist, sewer or fashion designer? Which of these illustrating styles would you like to learn more about?