Get advice directly from our drawing experts in Ask an Expert every Sunday! In this edition of our weekly series, professional artist Matt Weigle, instructor of the Bluprint Drawing the Draped Figure, explains the best way to get a long tip on your pencils for more clarity when drawing, the difference between types of pencils, what terminator edges are and much more.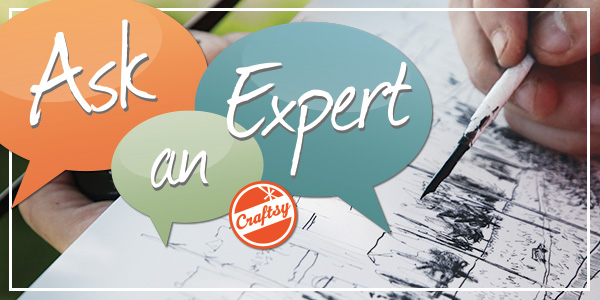 Meet this week's expert: Bluprint instructor of Drawing the Draped Figure, Matt Weigle
Matt Weigle graduated with a master of fine arts degree in painting and drawing from the Pennsylvania Academy of Fine Art, where he was awarded the Charles Crawley Still Life Painting Prize. After studying traditional drawing, painting and sculpture at the Grand Central Academy's Water Street Atelier program in New York, he worked as a studio assistant for acclaimed artists Anthony Visco and Corliss Cavalieri. Now an adjunct instructor at the Pennsylvania College of Art, Matt also teaches private drawing and painting workshops nationally, abroad and here on Bluprint!
Now onto the must-have answers:
A Bluprint member asks:
What do numbers and letters like "4B" mean? Do they refer to the pencil's quality?
Bluprint instructor Matt Weigle answers:
No, it just refers to the pencil's lead being more hard or more soft. HB lead is pretty much your standard everyday pencil. So the lower you go from there such as B, 2B , 4B, 6B the softer the lead. The higher you go from HB such as H, 2H, 4H, 6H the harder the lead. I normally stay in the 4B – 2H range. Thank you for your question.

A Bluprint member asks:
How do you get pencils to have a long tip? Do you use a knife to sharpen them?
Bluprint expert Matt Weigle answers:
I like to shave back the wood of the pencil a bit exposing more of the lead. I use a sharp razor blade. Just be very careful you don't cut yourself or break the lead. Then I use a sandpaper block to gently sharpen the point. Hold the sandpaper block in one hand and the pencil in the other. Glide the exposed lead gentle over the sandpaper block until you achieve a needle-like point. Try to rotate the pencil with your fingers as you sharpen it. You may break a couple pieces of lead leaving you about with about 1/2 a pencil, but it happens from time to time. The pencil holders are great for extending the life of your drawing tools.
The longer point allows your pencil to stay sharper longer. You will be able to achieve fine lines and fill in shadows with this type of point. Also you will need a very sharp point when filling in your shadows and making them smooth. But, be careful with the softer leads, they break easily (2B 4B 6B etc).
When I'm first blocking in, I usually don't like a super sharp point. You'll develop a feel for what works best for you.

A Bluprint student asks:
How do you set up a drapery study in your studio? Do you use a dress form?
Bluprint instructor Matt Weigle answers:
Good question! I do use a dress form and recommend using them when possible. It can be very difficult; I often have a friend come over to give me a hand with drapery set up. I pin the neckline, and put a shoelace around the waist to create more folds below. I also stuffed it in a couple places to make it look more life like. So anything goes really; in my set up I used anything I could get my hands on like old socks, a few rags, an empty paper towel roll, lots of duct tape and even a bag of coffee. The set up is based off the model's pose I set and worked from, so I made it look as close as possible. Two heads are better than one and it's great to have someone to bounce ideas off of.

A Bluprint student asks:
What does the term "terminator edge" mean?
Bluprint professional artist Matt Weigle answers:
It is the edge where light terminates: the line that separates the light from the shade. There is bounce light or reflected light in the shade, but you should treat that differently and not confuse it with your light mass. Generally speaking the shade areas should be kept flat and uneventful, saving the majority of the value range to create a sense of form and volume in the lights.
Any other advice before you go, Matt?
When it comes to making corrections, I like to make a list of things I want to change and stick with it as opposed to randomly jumping around without a plan. So focus on a single area and resolve it before moving on. If possible slowly transition into your next correction area by moving over the forms of the folds with your pencil hovering just over the paper. Pretend the point is an ant crawling over the surface of folds. This mentality and practice will help you stay on the form as you draw creating more volume in your work.

[box type="shadow"]

For more guidance from professional artist Matt Weigle, sign up for his online Bluprint class Drawing the Draped Figure to gain exclusive, lifetime access to his insights and answers to all your questions!

Sign me up!

[/box]