If you believe that quilts are meant to be used — cuddled, snuggled, washed and snuggled some more — then you just might fall in love with double gauze fabric for quilt making. Double gauze quilts can be recognized by their cozy texture, muted colors and softly wrinkled appearance.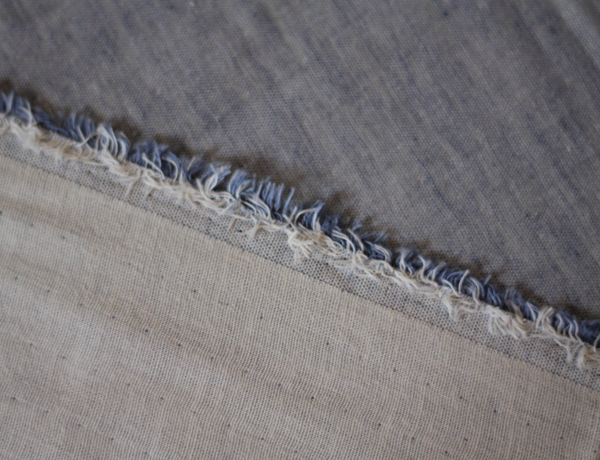 Photo via imagine gnats
Learn about double gauze quilts — these lovely, cozy blankets are all the rage!
Have you ever sewn with double gauze fabric? Constructed of two layers of gauze (a thin textile with an open weave), double gauze fabric feels similar to a linen or shot cotton. Pairing the two sheer layers gives it a heftier weight than regular quilting cotton.
I first learned about this fabric from my friend Rachael, who says it is one of her favorite materials to sew with, "It has an elegant simplicity and a soft hand, all made possible by an ingenious construction method," she says. You can read more about double gauze and find some ideas for double gauze sewing projects at Rachael's blog, imagine gnats.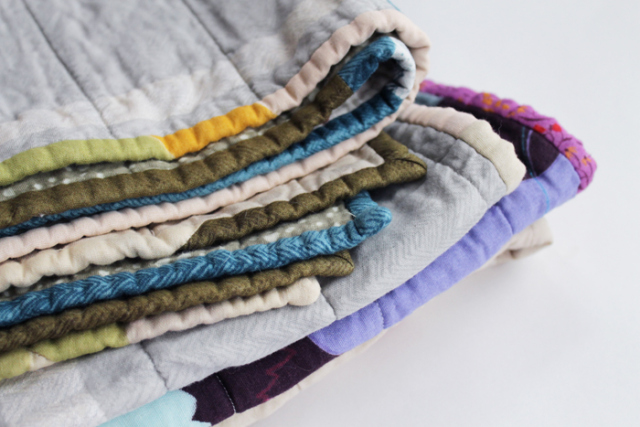 Photo via imagine gnats
Rachael constructed the quilt top, backing and binding of her Double Gauze No Quilt with the same type of fabric. Yes, it's all double gauze! She sewed this quilt as part of a Braille Quilt Along, and it spells out a secret message ("No").
She used straight-line quilting every few inches, though she admits that quilting parallel lines on double gauze can be a bit tricky. Nevertheless, this quilt and its handmade beauty is a reminder that there's something to be said about a simple, utiliarian design.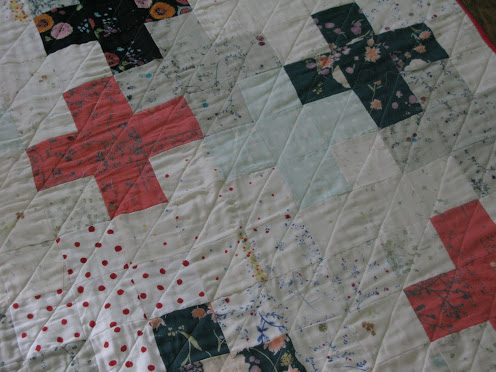 Photo via Sew Nancy
If you enjoy mixing fabric prints, you'll appreciate that double gauze fabric can be pieced together in any patchwork pattern you desire. Nancy's Nani Iro Double Gauze Quilt features a simple plus design. With polka dots, florals, brights and neutrals, this quilt has a nice variety of double gauze. It is quilted with diagonal lines.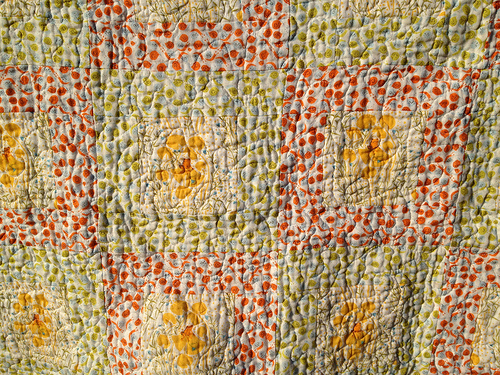 Photo via Tumbling Blocks
Dorie's Double Gauze Baby Quilt features whimsical prints by fabric designer Heather Ross. She chose a frog print and coordinating colors with a taupe background. The soft and drapey quilt was made as a gift for her friend's baby boy. As you can see from the free-motion quilting, this double gauze quilt top has loads of texture.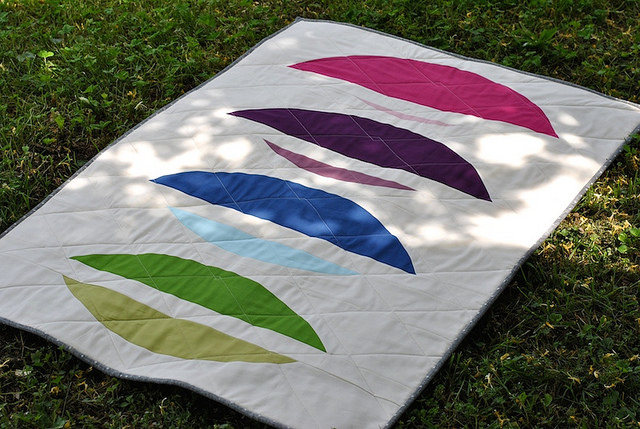 Photo via Lindsay Sews
If you are looking to experiment with double gauze fabric, but aren't ready to commit to an entire quilt, you can try binding your quilt in the cozy fabric. Take a closer look at my Echo Wall Quilt, pieced from quilting cottons with a double gauze binding. I really enjoyed making this quilt, with a sharp contrast between the geometric shapes and bright solids in the quilt top and a soft neutral binding that just begs to be cuddled.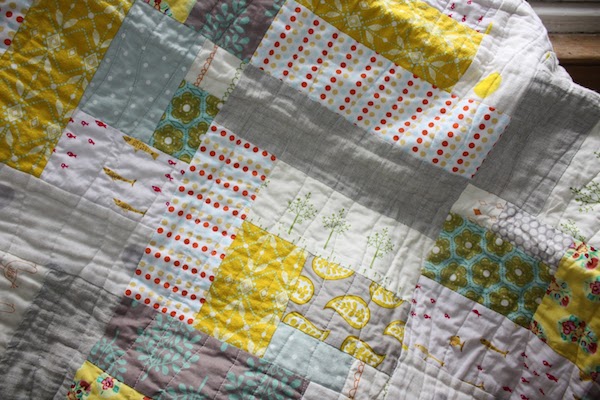 Photo via Forest Poppy
Another way to incorporate double gauze into your quilt is in bite-sized pieces. Julie mixed her double gauze fabric with bits of quilting cotton, voile, linen and flannel. She also used double gauze on the backing for an extra-soft finish to her Sunshine Quilt.
Looking to pick up some double gauze fabric? Check out your local fabric shop that specializes in apparel fabric or peruse online shops like Miss Matabi and imagine gnats.
Find new ways to use comfy cozy quilts to make your house a home with the Craftsy class Garden of Quilted Possibilities, where you'll learn three lovely quilt projects sure to brighten up any room!
What do you think about double gauze quilts?
Do you have any double (or triple) gauze in your stash?