Decorating a last-minute cake can be an absolute nightmare. And working under pressure and on a deadline can dwindle your energy and even your creativity.
Here's an easy, fast solution: Make a crisp white cake and doodle some fun illustrations and heartfelt messages across it! Read on for our ridiculously easy doodle cake tutorial…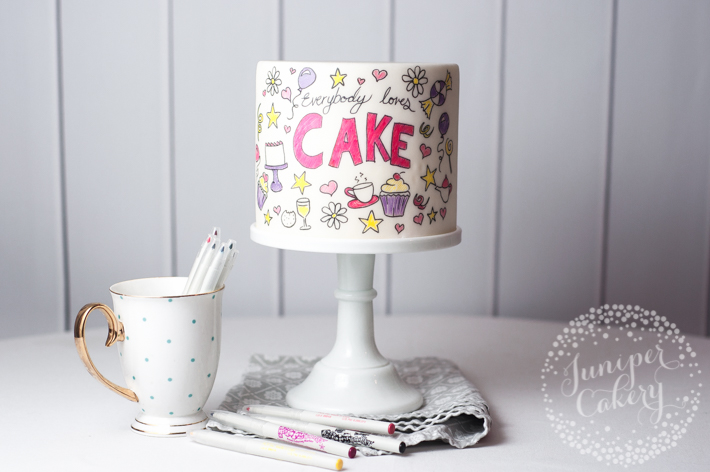 Get ready for a fabulously fun, easy, and crazy-fast doodle cake tutorial
Materials needed:
White fondant – iced cake (find out how to cover a cake in fondant with this class)
Edible ink markers
Seriously… that's all you need!
Step 1: Wait for the fondant to dry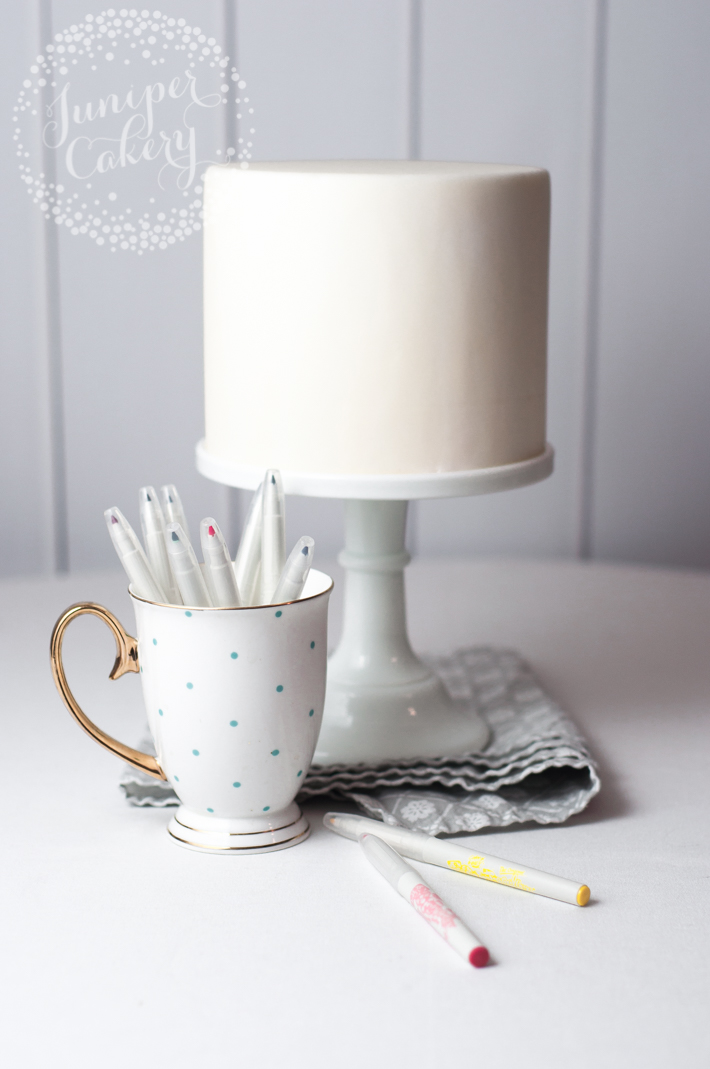 The best fondant surface to begin doodling on is a dry and slightly hardened one, so never start your creative scribbling on a freshly iced cake. Otherwise, the fondant will be way too soft and you'll end up dragging or poking your edible markers into your cake. Not good.
We kept our iced cake out of the fridge (and in a cool, dark room) and waited around 5 hours before even thinking about getting our markers ready!
Note: You don't have to use a white fondant-iced cake. Pale colors work well too, but keep in mind that bolder or darker colors could mean that all your amazing doodles may never been seen.
Step 2: Doodle outlines in black marker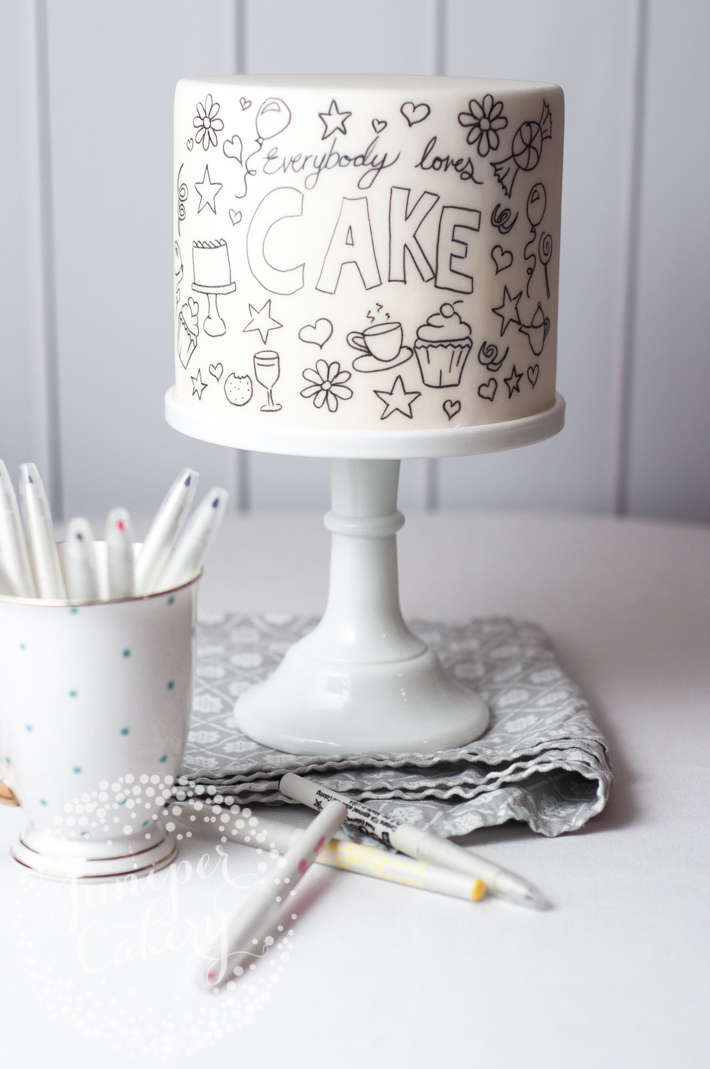 With a black edible ink pen start doodling the outlines of all your illustrations. For our doodle cake we chose a fun party theme and drew balloons, cupcakes, streamers, drinks and cake onto the surface.
Top tip: After drawing all of your outlines in black ink, leave your cake to sit for a little so the black ink can dry properly. Around 30 minutes should be OK, but make sure to test. Leaving your black edible marker to dry lessens the chance of the black bleeding into those awesome bright colors.
Step 3: Fill in the outlines
Now you can fill in your fun shapes and drawings with some vibrant color! Your fondant may be dry, but make sure to be gentle with your markers as they can still dig into your cake.
Top tips for coloring your cake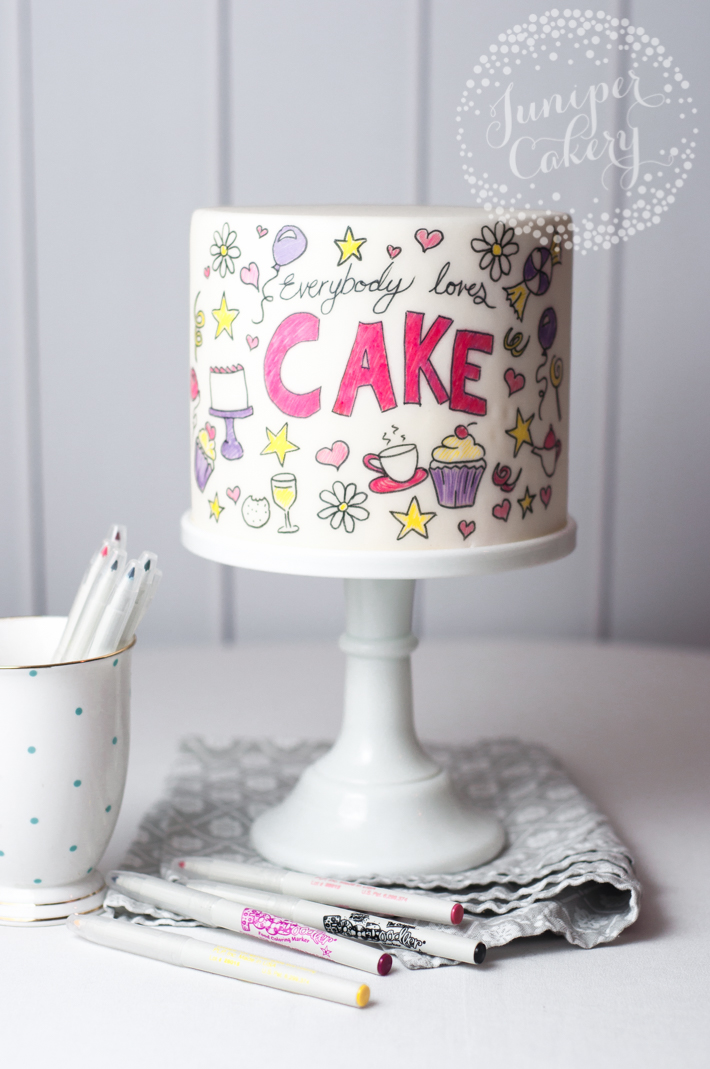 1. You can create the illusion of different tones of color by coloring in shapes or words with lines or even tiny dots. This is pretty handy if you're a little limited on marker colors!
2. If you mess up, don't worry — it's a doodle cake! Get creative: turn a balloon into a lollipop or an accidental line into an exclamation mark or a cupcake. If you've made too big of a mistake, cover up your mishap with a fondant cut-out.
3. Using a small color palette not only makes this cake easier and quicker to finish, but it also helps your illustrations stick to a fun theme.
Gain essential fondant skills!
Make your best cakes yet with 10 online video lessons from acclaimed cake designer Elisa Strauss. Plus, enjoy 3 FREE recipes!
Enroll Now »