As a proud dog owner, it was important to me that my hound dog Maggie could safely enjoy and play in our garden, without damaging my plants or hurting herself. With a little effort, we were able to create an outdoor space that all of us could enjoy. Below I share my best tips for creating a dog-friendly garden for your home.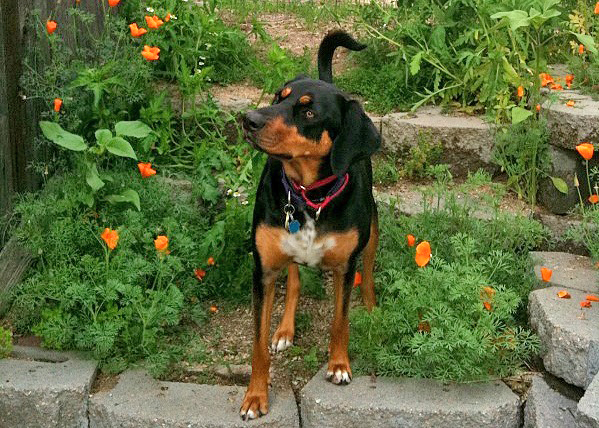 Maggie with California Poppies via Teresa O'Connor
1. See the garden from the dog's point of view
By understanding your dog's behavior, you can create the safest and most enjoyable environment for your pet.
First, look for potential dangers in your garden, and determine ways that your dog could escape or get into trouble. Make sure your pet has a safe and pleasant place to relax and play. Think about how your dog's breed is probably going to affect its behavior outdoors.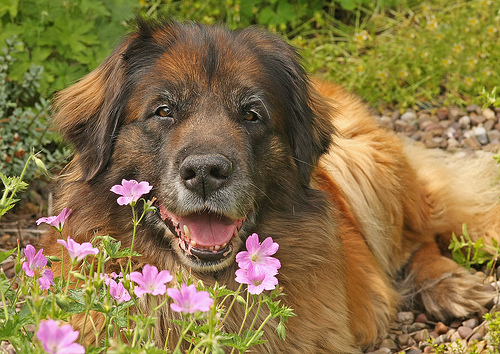 Phoebe by Nutmeg66/Flickr Creative Commons
Does your dog tend to wander into garden beds? Keep your pet out with fences, dense plantings and consistent verbal commands. Motion-activated sprinklers are another way to discourage dogs (and cats) from going where they shouldn't.
Is your dog a digger? Keep in mind that dogs usually prefer to dig in dry soil rather than moist ground. Try laying a screen down in garden beds and planting around it. Or, give your pet a separate fenced-in area away from your garden beds to dig.
Does your dog need plenty of exercise? Build a running path along the fence perimeter, or along an already well-traveled path there. Avoid growing any plants with sharp foliage or thorns near your trail.
2. Easy access
How will your dog access the garden? Is there a doggy door available from your house for those times you are away? Can you lock it at night to keep out unwanted critters?
3. Security
A strong, secure fence will keep your dog safe and sound in the garden. Keep the wall at least 5 to 6 feet tall to deter big dogs from jumping over. Make sure the fence gate locks tightly, so the dog can't escape. Consider a steel fence for dogs that dig, even the small ones.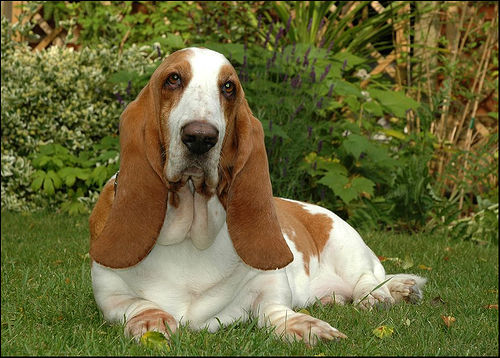 Basset Hound by TrevorLowe/Flickr Creative Commons
4. Safe plants
When we adopted Maggie from the shelter, we were surprised by how many plants are poisonous to dogs. Fortunately, Maggie has never shown any interest in any of these plants. If your dogs are the curious type, however, be sure to study these lists and keep them far away from these plants.
The American Society for the Prevention of Cruelty to Animals also has a list of list of toxic plants for dogs, and operates a 24-hour emergency hotline at 888-426-4435.
5. Chemicals, sprays
To prevent accidents, always store fertilizers, sharp tools and other garden products safely in a closed shed, not easily accessed by your pet. Be especially careful throwing any chemicals in the trash.
It's safest to use only natural herbicides around your animals, but keep in mind that even organic fertilizers can be toxic to dogs if ingested.
Read more about outdoor toxins poisonous to dogs from Pet Poison Helpline.
6. Bathroom Spot
With an early enough start and plenty of encouragement, your dog may be able to be trained to use a special area of the garden for his or her "business."
If possible, try to encourage your pets to relieve themselves in their own private spot away from your prized perennials. Use pea gravel or wood chips to create this "special" area and keep it easy to clean.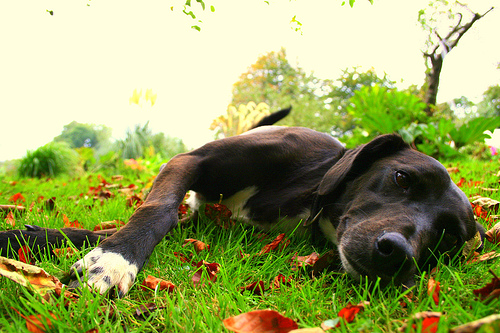 Happy dog photo via Peter Laurent/Flickr Creative Commons
7. Shade and shelter
On hot summer days, your dog needs plenty of shade and cool water to stay well. Be sure to provide adequate shelter for your dog to stay comfortable, dry and warm on rainy and chilly days, too.
With just a little care, your family and pup can have a dog friendly garden where everyone enjoys themselves.
Extra Treat for Good Dogs: Bone Appetit! Pup Cakes for Your Pooch (Recipe)
Does your dog enjoy spending time with you in the garden?