November 23rd marks the 50th anniversary of the world's longest running science-fiction TV series, Doctor Who, and brings with it a special anniversary episode entitled "The Day of the Doctor." Whether you're a fan or not, you probably at least know what a 'TARDIS' and a "Dalek" are. But if you don't, no worries, you've just come to the right place to find out!
Here is a collection of some of some pretty "far out" Doctor Who themed cakes that are bound to inspire you to "do the Who"!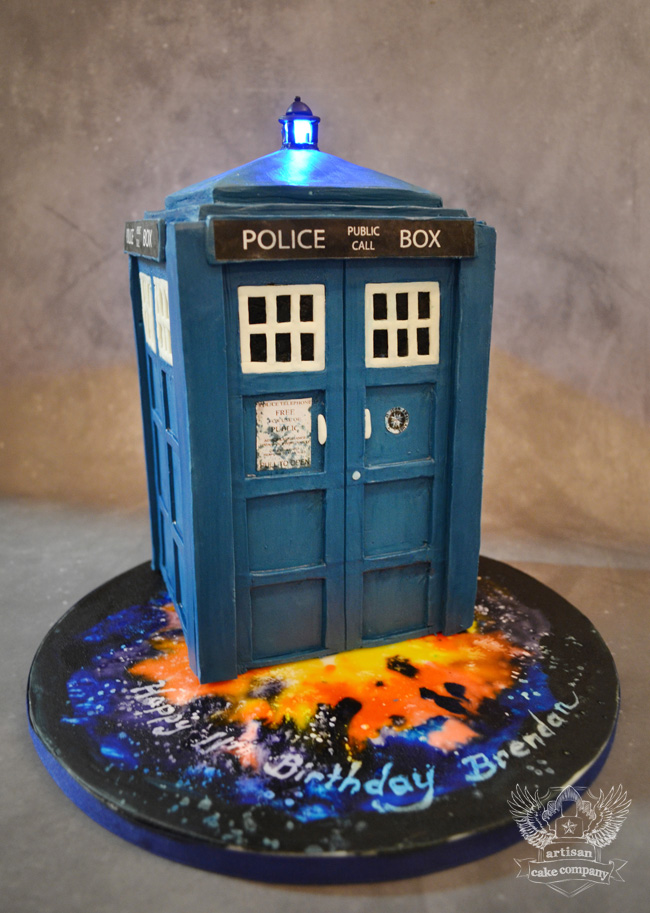 Photo via Artisan Cake Company
Lit up traveling TARDIS cake:
The Doctor explores the universe in a TARDIS (Time and Relative Dimension in Space), his time-traveling spaceship, which has been re-created here in eight layers of stacked chocolate cake, filled with six layers of chocolate buttercream! This edible version of the infamous time machine has been taken to the extreme with a "galaxy" cake board and special-effect lighting! Chocolate, neon, lights – all very high tech and exciting, but the most exciting part of this cake: a free tutorial.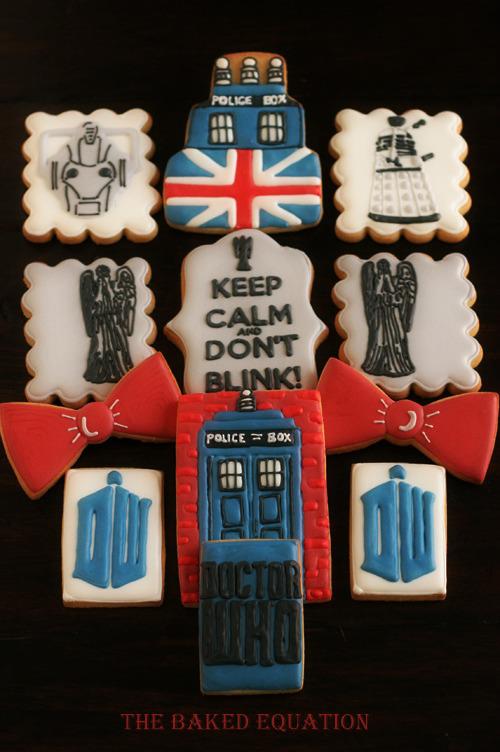 Photo via The Baked Equation
"Keep calm and don't blink" cookies:
These clever royal icing cookies cover all the best Doctor Who stuff: a TARDIS, British flag, a few popular villains (the Daleks, Weeping Angels and Cybermen), and even a red bow tie, an ingenious interpretation for the Doctor himself. Only thing missing is a glass of milk! Keep calm and don't blink (because if you do, we'll steal one of your cookies!)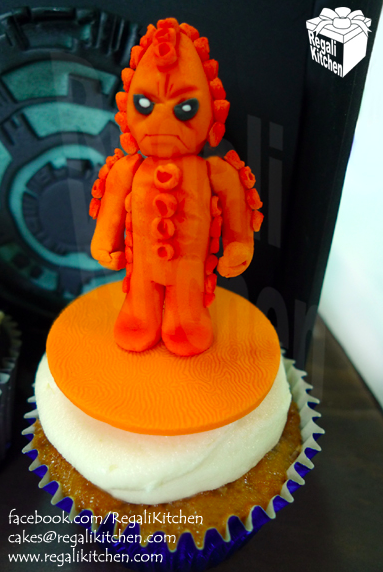 Photo via Regali Kitchen
Zygon cake:
Rumor has it the Zygons will be making an appearance in "The Day of the Doctor," but hopefully only on your TV screen or cupcakes. Here, the terrifying has been turned into something just plain adorable. This Zygon's grumpy demeanor makes him look like he wants to bite somebody's head off, which ironically, is exactly what somebody is going to do to him (and the cupcake beneath him).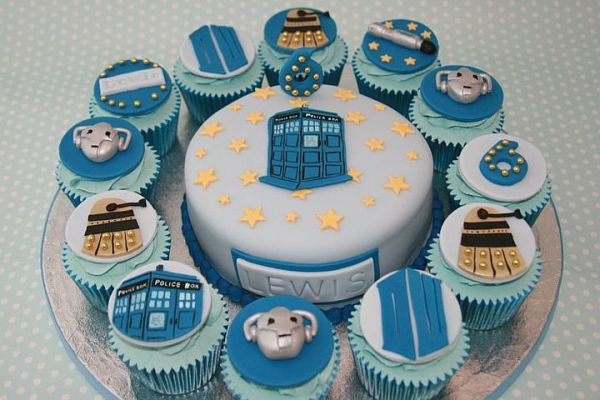 Photo via Clever Little Cupcake
Doctor Who mini cake and cupcake set:
Doctor Who connoisseurs who can't make up their minds can just have a bit of everything with this Doctor Who themed cake and matching cupcake set. This set features a hand-cut custom 2-D TARDIS in and a few doctor-prescribed essentials, like Daleks, Cybermen and even the Doctor's mysteriously powerful sonic screw driver. This cake-and-cupcake combo is a great design option for anyone who wants to make a big bang, but isn't up for 3-D modeling.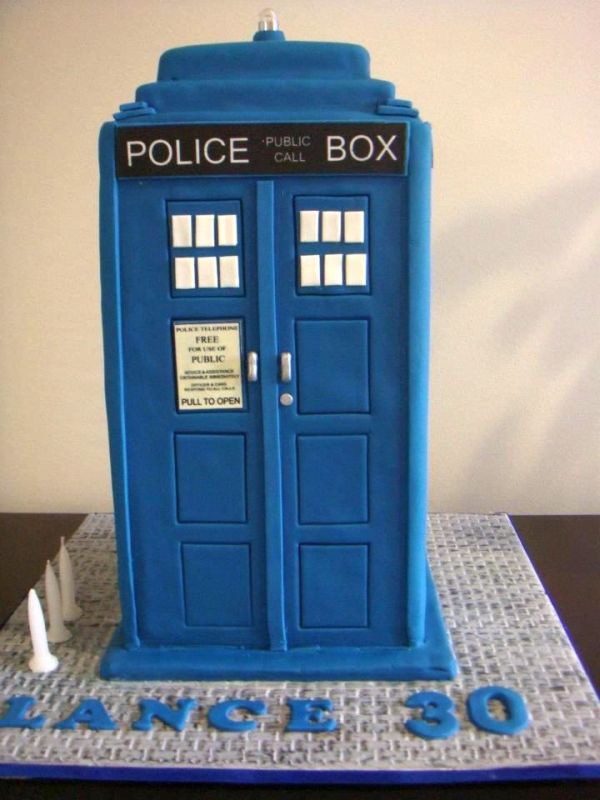 Photo via Martha Makes Cakes
Another awesome TARDIS cake:
This super clean TARDIS cake has a masculine feel with its no nonsense decor and "brick" cake board. Add the working light and you get maximum man-appeal. The brick was made using a fondant impression mat and then highlighted with petal dust and thinned food color. This chocolate mud cake is filled and finished with dark chocolate ganache and stands more than a foot tall!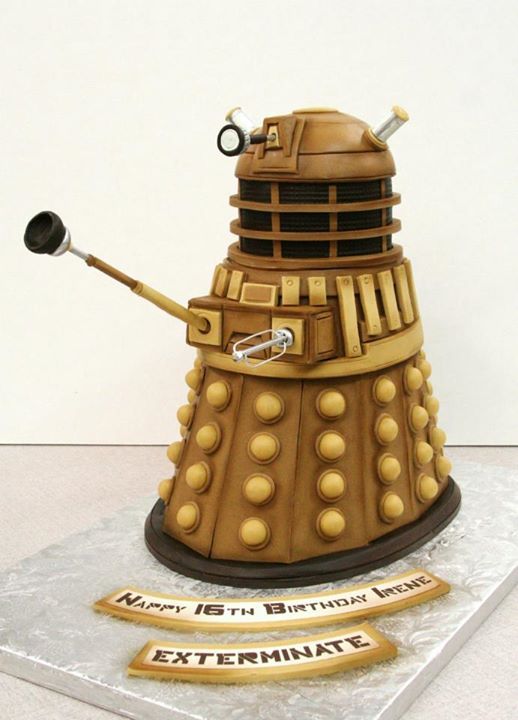 Photo via Mike's Amazing Cakes
Dalek cake:
This fantastically precise recreation of the Doctor's most nefarious enemy comes from Mike's Amazing Cakes, and "amazing" is an understatement. We've always wondered why Daleks have a buttercream beater for an arm, but on a cake, it just makes perfect sense. I hope Irene and her party guests made it out alive! EXTERMINATE! EX-TERMMM-IN-ATE!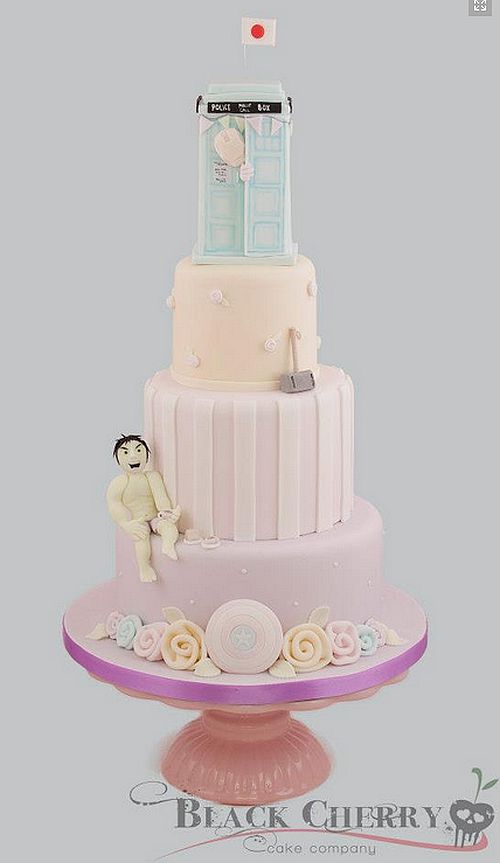 Photo via Black Cherry Cake Company
Doctor Who wedding cake:
It's fun to see a full palette color twist on something so famously regarded as "only" having a certain look. The TARDIS is primary blue, right? Not when this cake is in town. The Doctor's spacecraft has been softened up a bit and given a touch of femininity by being presented "wedding cake style" in pastel shades of pink, yellow and mint. The ribbon roses further soften the appearance of this cake and give it a more traditional wedding look, while the other fondant details keep it completely unique and whimsical.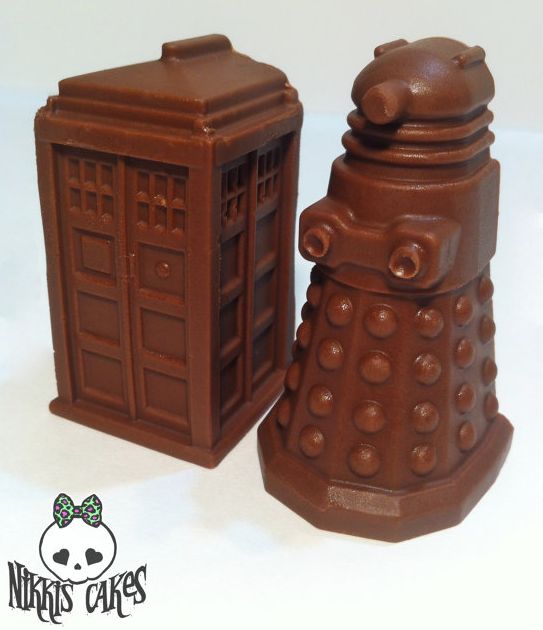 Photo via Nikki's Cakes
Custom chocolate TARDIS and Dalek set:
At just 2" high, these little custom chocolates could be used in a variety of ways by the sci-fi dessert-seeker: party favors for a Doctor Who viewing party, cupcake toppers, wedding cake toppers, or even just an imaginative addition to a mixed dessert or candy table. These specialty chocolates can be left hollow, filled with cremes and caramels, or made solid for the most ardent Doctor Who chocolate lover.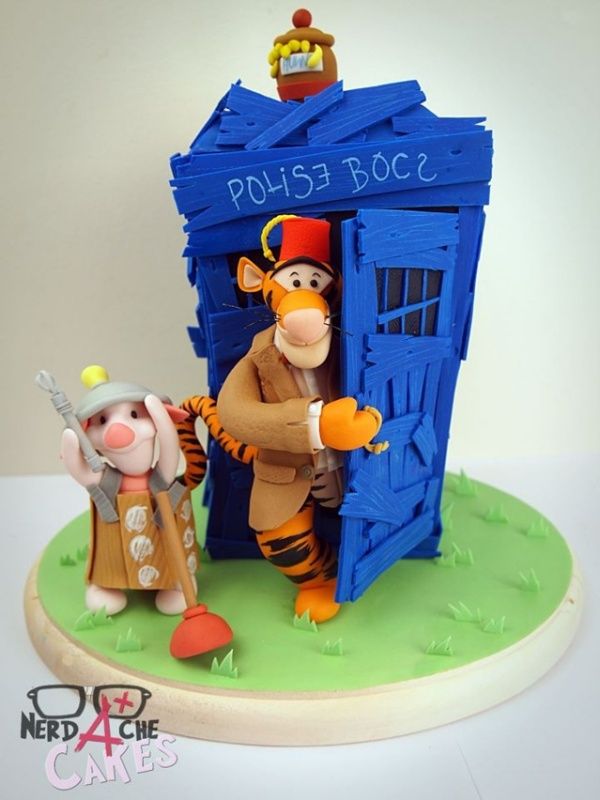 Photo via Nerdache Cakes
Winnie the Pooh meets Doctor Who:
I suspect Ant of Nerdache Cakes might have actually been inside a TARDIS, as her cakes are not of this world. Case in point: this Pooh-themed Doctor Who cake where Piglet is wielding a plunger and a whisk in his completely successful attempt at being the most adorable Dalek you could fathom. If ever a cake was going to short circuit a TARDIS control panel, here it is. CUTE. OVERLOAD.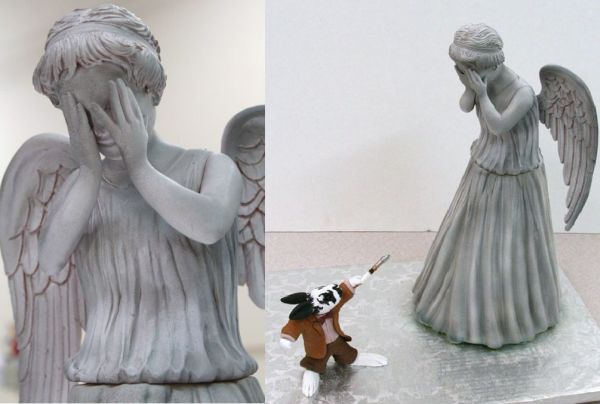 Photo via Mike's Amazing Cakes
Weeping Angel cake:
Mike made this Weeping Angel cake for his daughter's birthday and re-created her own pet rabbit in fondant, dressed as the battling doctor, complete with sonic screwdriver. Does this cake scare you? As our good friend would say, "Keep calm and whatever you do, DON'T BLINK."
Modeling characters in fondant, especially well known characters, is a "practice makes perfect" technique. If you're interested in honing your modeling skills (or just starting out), you might want to try Cake Topper Techniques: Figure Modeling with Anne Heap.

More advanced decorators might want to check out Advanced Cake Sculpting: Bobbleheads with Mike McCarey. You'll be winning your modeling battles in no time!
Doctor Who has been saving us and other civilizations across the universe since 1963 and he's faced hundreds of adversaries; which vintage enemy would you most like to see re-created in sugar?