Need a few stocking stuffers and running out of time or cash to shop for them? Here is a list of ideas for things that can be made for everyone in the family. The best part is these are uber-easy projects that can be made in a jiffy – most under an hours' worth of time. And, here's where keeping those leftover scraps of fabric pays off, as most of these DIY stocking stuffers require just little bits to make. 
1. Microwaveable neck warmer
Talk about warm and cozy! These are great for relieving tension or loosing tight muscles. To make one, take a piece of tightly woven fabric cut into an 18" by 10" rectangle (think fat quarter). Fold it in half lengthwise. Stitch all around the three sides leaving a small 3" opening on one of the short ends. Fill the hole with about 4 cups of rice, or just enough to lightly fill the pouch. Seal the opening. To use, place in a microwave for a few minutes, or just enough time to warm it up.
Infinity scarf pattern via Bluprint member Tie Dye Diva
2. Infinity scarf
These are so popular nowadays and they truly are one of the easiest fashion projects to make. Bluprint member Tie Dye Diva has a great infinity scarf pattern (shown above) available. You might also enjoy our step-by-step tutorial on how to sew an infinity scarf.
3. Fleece neck gaiters
Made using the same technique as sewing an infinity scarf but with different dimensions. Once cut they can be sewn in a matter of minutes, so they make great DIY stocking stuffers for anyone and everyone. Just make sure the long part of the rectangle runs along the stretchy grain of the fleece so it is easy to slip on and off. For a child size gaiter cut a rectangle that is 20" x 16", and for an adult 22" x 18". Use 1/4" seam allowances.
Zippered pouch pattern via Bluprint member Precious Patterns

4. Zippered pouch
Great for traveling, these take a bit more time but are quite simple to make. Bluprint has many patterns available for pouches and bags in lots of different sizes to a wide variety of purposes, so explore the Bluprint Pattern Shop today to find the perfect pattern for your next project!
Upcycled Slipper pattern via Bluprint member youmakeitsimple.com

5. Slippers
Slippers are another warm and cozy gift. I'm making the upcycled slippers pictured above. You might also enjoy our free tutorial for how to sew slippers.
Cafe Apron pattern via Bluprint member babs 'n' jas designs

6. Aprons
For the cook in the family who, like sewers, never have too many aprons, these make great DIY stocking stuffers. Instantly download the Cafe Apron pattern pictured above.
FREE Sleep Mask pattern via Bluprint member

7. Sleep mask
A sleep mask is one of the best ways to ensure a deep healthy night's sleep. Check out out our simple (and free!) step-by-step tutorial for how to sew a sleep mask.
8. Jewelry/earbud pouch
Just a 10" by 4" piece of fabric and a few minutes to spare are all you need to make a small pouch to wrap a small piece of jewelry or to hold a pair of earbuds. 

9. Eyeglasses pouch
Made in the same manner as the jewelry pouch just a bit bigger. Get creative and use a piece leather or suede to make it extra special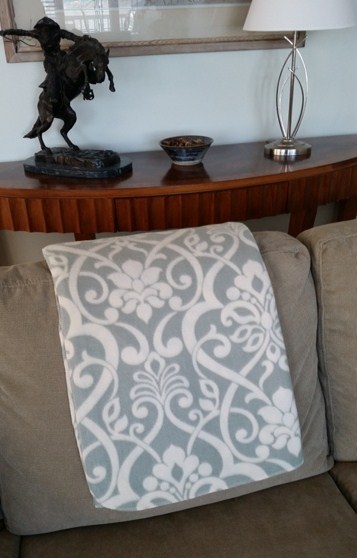 10. Fleece throw
This one requires a bit more fabric, like 1 1/3 yards. The good news is most fleece is discounted this time of year so you can buy it cheap. Simply trim and round off the corners of the rectangle piece of fleece and serge the edges. Voila, warm and comfy throw!
For step-by-step instructions, see our post on how to sew a fleece blanket.
11. Scissor cozy
Keeps those expensive dressmaker shears every serious sewer has well protected. Take a square pot holder, twist it into a cone. Hand stitch it closed, add an embellishment or two and you're done!

12. Pin dish
If you have fellow sewers on your list, you know we can never have enough pincushions. Here is a DIY pincushion that is super easy to make.
Take a small dish and simply glue small magnets to the bottom to magnetize it. It works as good as those ugly ones hanging on the notions wall in the fabric stores. Look for holiday themed, vintage or dishes with clever or cute images or sayings to make them extra special.
You might also enjoy our roundup of 13 FREE pincushion patterns if you're itching to stitch something up instead.
13. Smartphone/tablet stand
A handy accessory great for any member of the family, we love this ingenious FREE tablet stand pattern from Bluprint member Gaila Designs.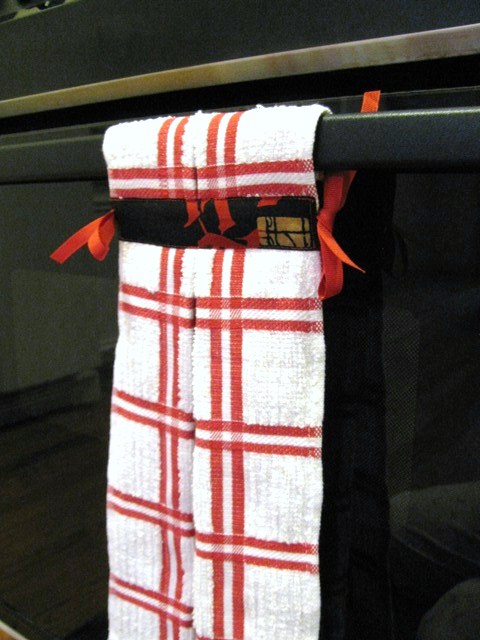 14. Decorated kitchen towels
Every serious cook needs a towel nearby. See our post on how to make a hanging kitchen towel for complete instructions.
15. Boot cuffs
These are especially nice when Santa is also sure to deliver a new pair of boots. For easy-to-make cuffs cut off the sleeves from an old sweater. Cut out a 10" length between the sleeve cuff and shoulder. Serge the bottom edge and then finish the top with some lace trim.
Free Online Sewing Machine Class
Make your sewing, quilting & embroidery faster & more fun, when you get the most out of your machine!Enroll FREE Now »