When your pattern calls for more stitch markers than you own or you need a marker while you're on the go, don't rush out to buy a whole case of them. Instead, use these handy stitch marker alternatives!
Our Bluprint Knitting Club shared these hacks as we worked up the Tealeaf Sweater Knit-Along. With lots of lace repeats to keep track of, these makeshift markers made a big difference. 
1. Hair ties
Slip a few small hair elastics in for a stitch marker, like Mary did during the lace section of her sweater. Perfect for those of us who love knitting on the go and always have a hair tie around our wrists.
2. Pop tabs
If you collect pop tabs, these could come in major handy for big projects! On the go, simply pop off the tab on a can of soda and slide it on your needles. Just don't force it — this one only works for smaller needle sizes.
3. Yarn
Put those little bits of scrap yarn to use as stitch markers! Tie little loops with a simple knot for truly last-minute markers.
4. A yarn chain
If you need a lot of markers across a row, it's even more efficient to make a whole chain of yarn stitch markers. Our yarn merchandiser Lindsey tried this for her sweater, and we all think she's a genius.
Tie a series of knots in one long strand of yarn (a good rule of thumb is for the scrap yarn to be twice as long as the work). This way, you'll never lose any of the markers!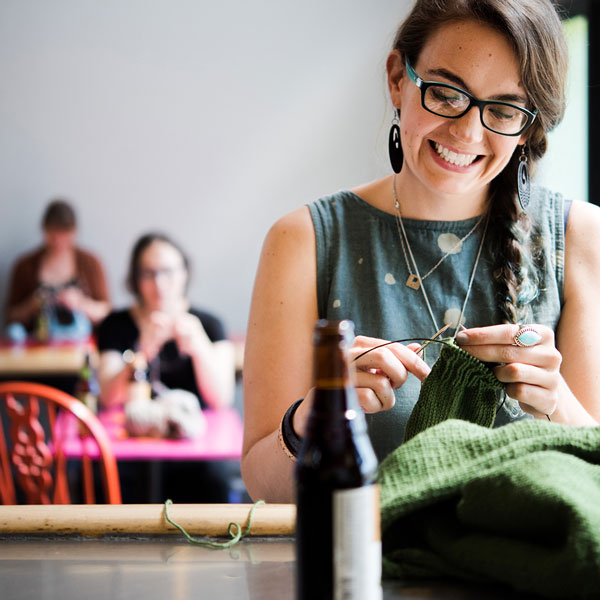 Let's #SweaterTogether
Find out what our Tealeaf Sweater Knit-Along is all about. We hope you can join us!Check It Out