From drip cakes to buttercream-covered beauties, trendy custom sprinkle blends are landing on desserts all over the internet! These unique and modern blends can be purchased from many online boutique retailers, but they can be a little pricey.
Making your own custom sprinkle blend is an easy and inexpensive way to customize baked creations to match your event colors or party theme.
All images via Erin Bakes
How to make your own sprinkle blend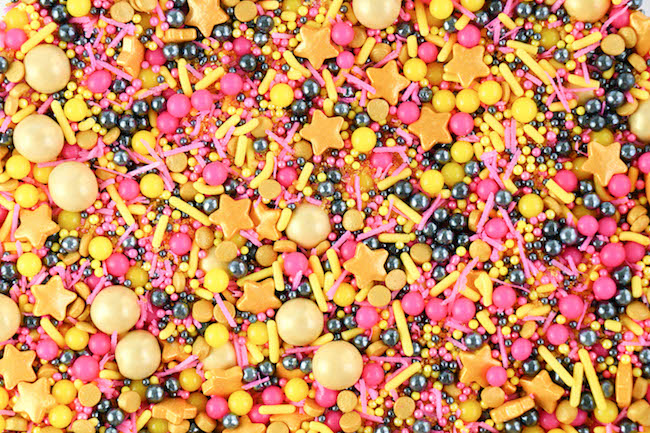 1. Pick your palette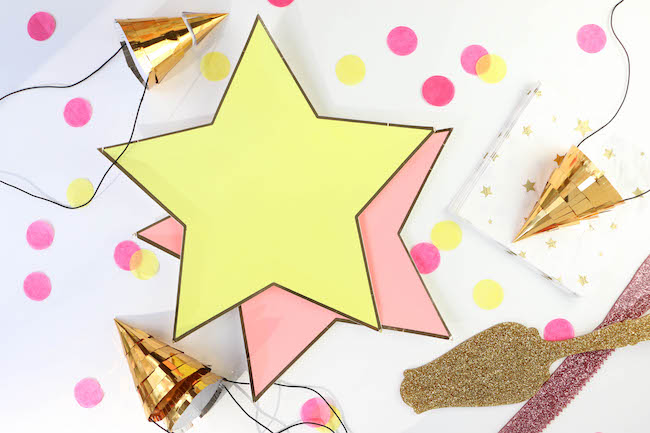 Whether you're mixing up a sprinkle party for a custom birthday cake or a pastel-hued blend to celebrate a new bundle of joy, plot out your color palette first to avoid sprinkle blend chaos.
Stay monochromatic and play with texture, combine a tasteful mix of few complementary colors or go all-out and create a rainbow sprinkle blend complete with metallics and edible glitter. Knowing your color story before heading to the store will help prevent you from over buying. 
2. Determine how much you need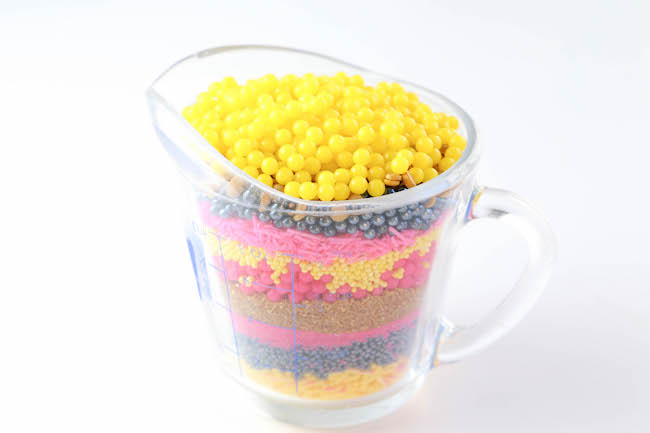 Buying sprinkles in bulk is exciting. So exciting that things can get out of hand quickly if you don't have a plan. Figure out the total quantity you'll need for your project, then divide that number by how many different kinds of sprinkles you'll be using.
For example: If you need 2 cups of sprinkles and are using 6 different kinds of sprinkles in equal amounts, then you'd need a little more than 5 ounces of each kind of sprinkle (32 ounces / 6 = 5.3). This will help you decide if you need to special order 2 pound boxes or just pick up a small bag of each kind at the craft store.
You should include the larger sprinkles you'll be using in your equation, like jimmies, sixlets, nonpareils, candy shapes, etc., but leave out the teeny-tiny additions like edible glitter or sparkles. Those won't add any bulk to the mix and should be added in at the end as a finishing touch. 
3. Know your options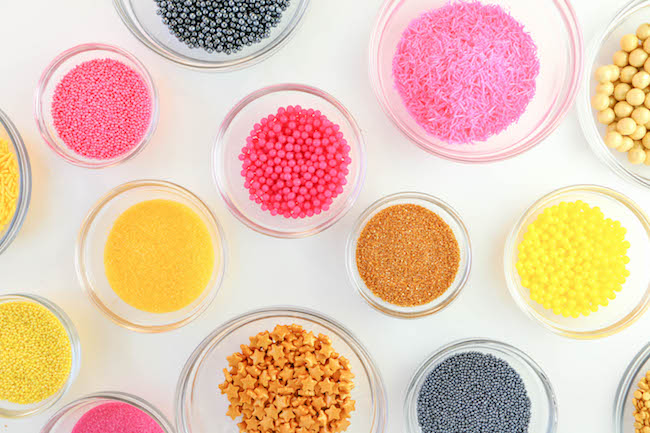 Hit up your local craft store, take a trip to the candy store, or poke around the internet to see what varieties of sprinkles are available in the colors you're using. Use search terms like sprinkles, jimmies, confetti, quins, nonpareils, candy shapes, edible glitter, sanding sugar, sparkling sugar, candy shreds, sixlets, and dragees.
When choosing your sprinkle blend elements aim, for a fun mix of shapes and sizes within each color and don't be afraid to think outside the box! Making a tropical blend? Toss in a box of Runts for some fruity fun! Working with pastels and a hint of black? Add a box of Good-n-Plenty.
4. Do a trial run
To prevent having to overnight an expensive emergency sprinkle blend because your blend flopped, make a tiny sample blend. Mixing up just a tablespoon or two of sprinkles will allow you to see how all of the colors and textures play with each other before you commit.
If equal parts of each aren't doing it for you, it's easier to adjust in a tiny amount than to scramble to find more of what you need. You may find that you like less of the larger shapes, like sixlets and candy shapes, and prefer a blend with a mix of smaller shapes, like jimmies and confetti quins.
5. Measure it out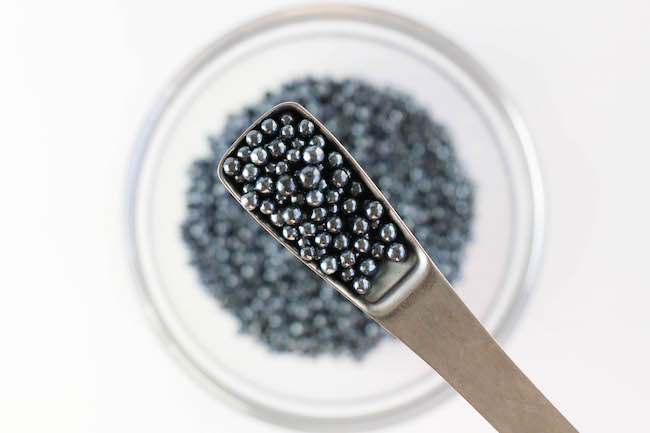 Eyeballing amounts when making your final blend could lead to disaster if you aren't careful. Take the extra step to measure each kind of sprinkle out first to ensure you aren't adding too little or too much of a particular kind. This will also keep you from making more than you need. Extra sprinkles are best kept separate so that you can reuse them in future projects.