A shop stool is a great addition to any workshop. Sitting down can extend working sessions by lessening fatigue in the legs. It also can provide a more comfortable working height, especially for detail work. In addition, my shop stool is regularly used to temporarily set things on while I am working. And, of course, shop projects are great opportunities to practice new techniques and improve your abilities while making something useful.
Design ideas
Before I show you how I made my stool, let's go over a few ideas to keep in mind as you build your own.
Use three or four legs
Three legs ensure that the stool is always stable, while four legs provide additional resistance to tipping. Although tipping is often seen as a negative, I sometimes find myself rocking my three-legged stool forwards on the front two feet to lean a bit closer. When I do this, both of my own feet are on the ground or the stretcher of my workbench.
Make it portable
Since a stool is often moved around, it makes sense to keep it relatively lightweight and provide an easy way to carry the stool with one hand. This may take the form of a slot cut into the centre of the seat, or a leg diameter that is easy to grab. David Holcomb took another approach and used casters to make his stool mobile.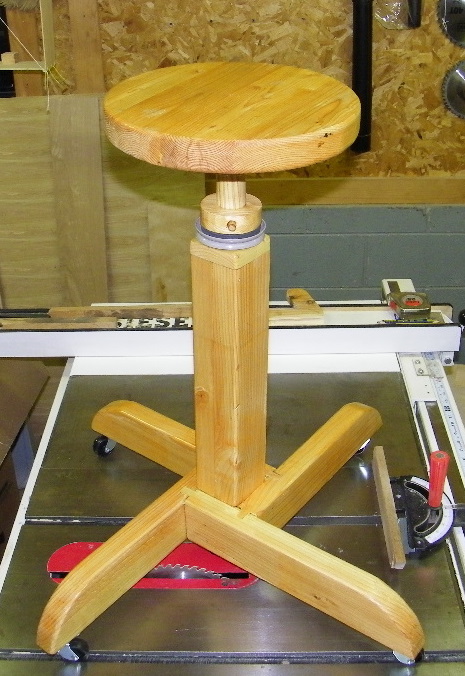 Photo via David Holcomb
Allow the height to be adjustable
There are a number of ways that this can be achieved, including using a large screw as Jamie Hubbard did, or with a sliding design, like Rusty Burwell.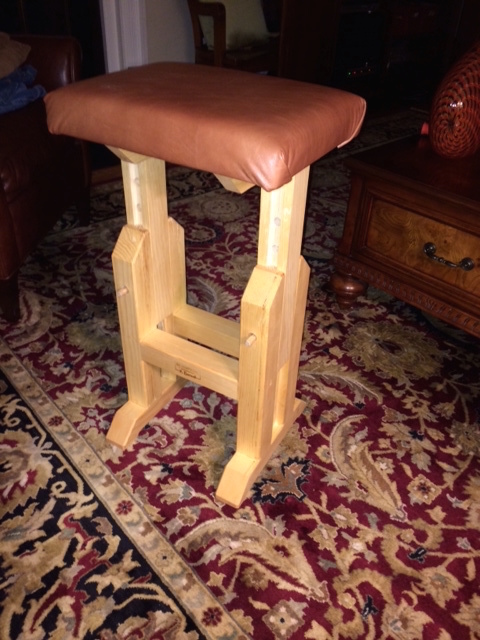 Photo via Rusty Burwell
Give the stool multiple functions
My stool doubles as a small table to place things on a regular basis. Derek Olson drilled holes in the legs of his stool for bench dogs to support long material.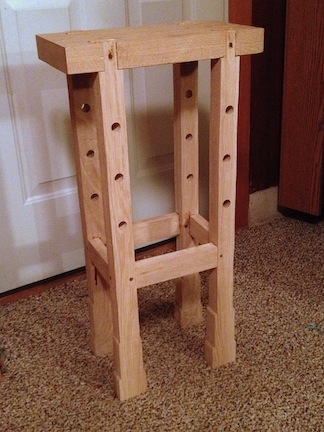 Photo via Derek Olson
Brian Eve took a more creative approach and positioned the rungs of his stool at a level that, when inverted, matched other work surface heights in his shop.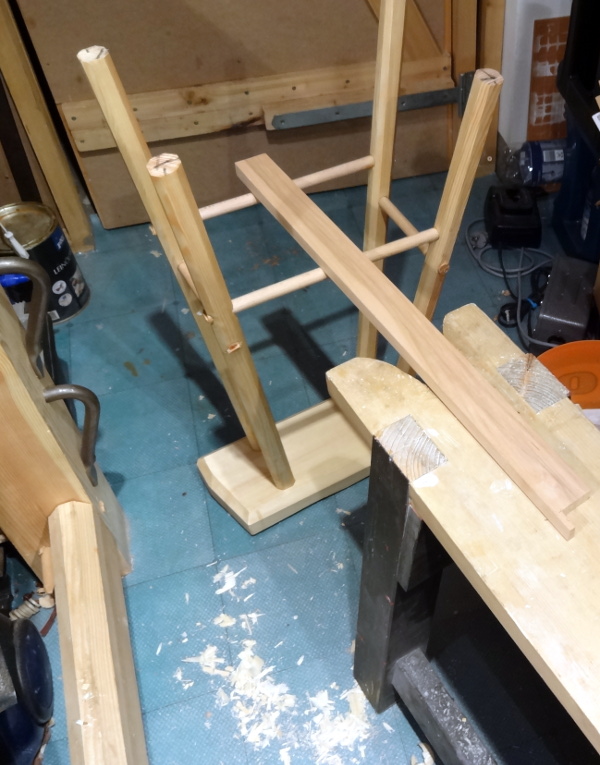 Photo via Brian Eve
Trevor Green incorporated a small vise into his stool.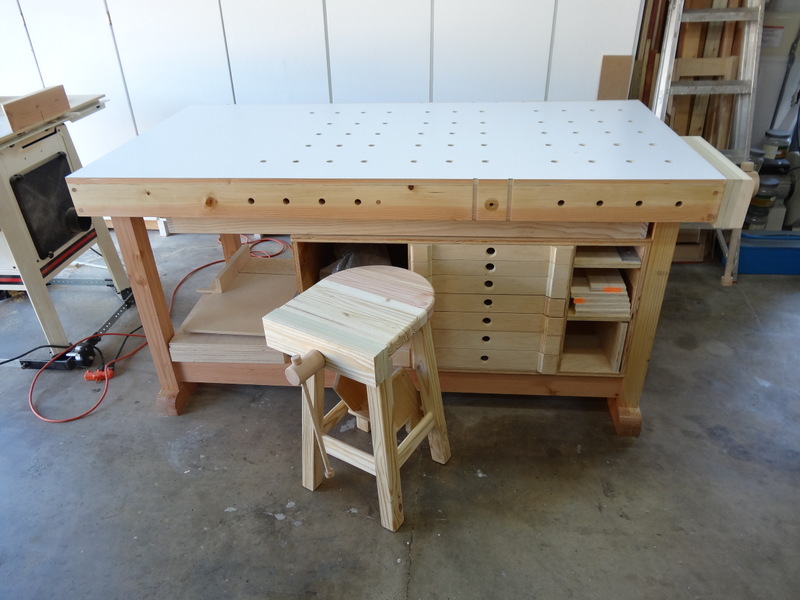 Photo via Trevor Green
Build a comfy seat
Besides upholstering the seat, comfort can also be achieved by scooping out a wooden seat as I did, or designing a specially contoured seat like Jeremy Wright.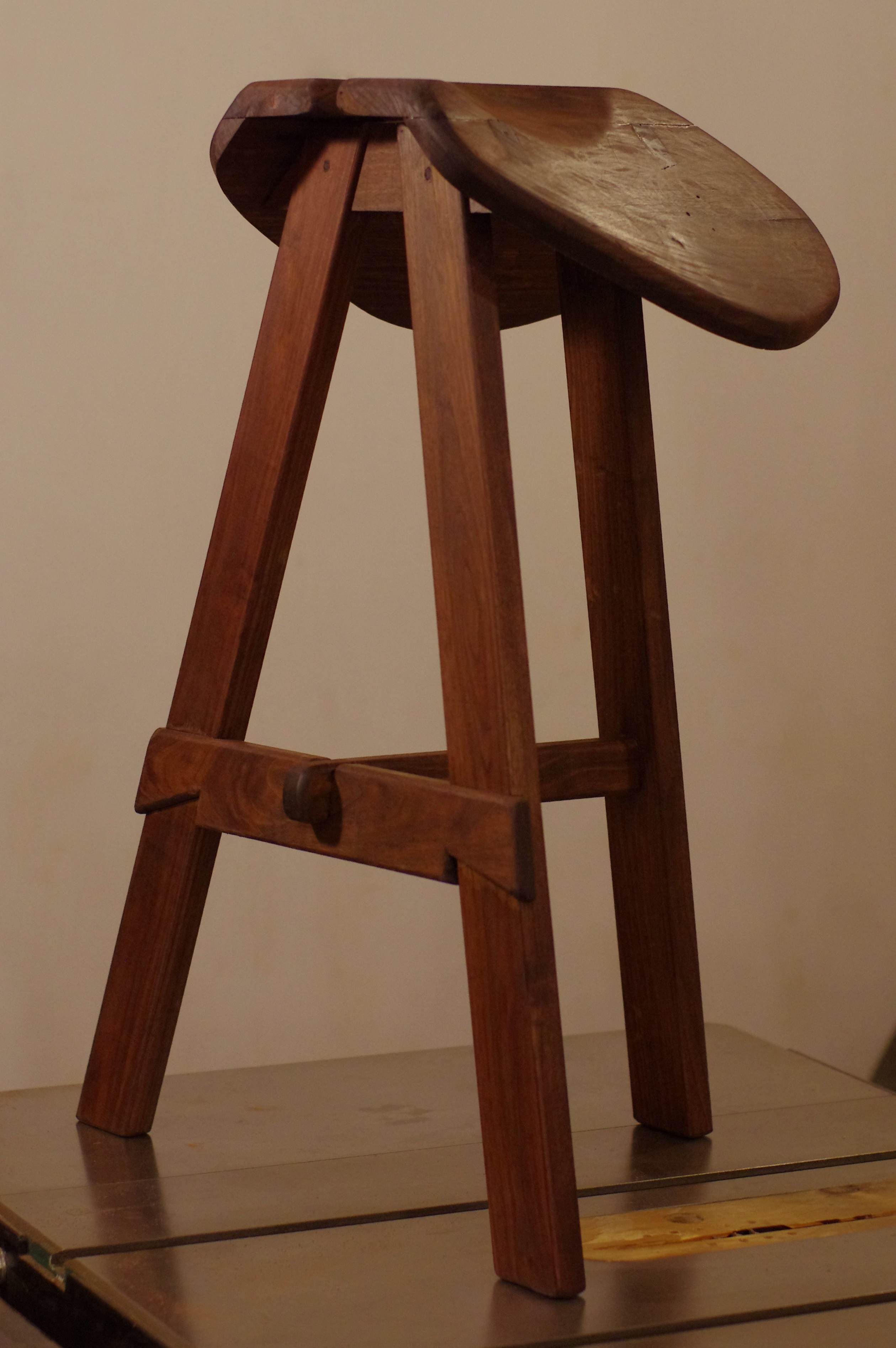 Photo via Jeremy Wright
If you're hungry for more design ideas, check out these two resources: Shop Stool Build-Off Entries: 43 Shop Stools and my Pinterest board of stool ideas.
Online Woodworking Class
Build three quick, easy projects you can use at home, in the workshop or as gifts.Enroll Now »
Making my stool
I built my stool one year ago when I hosted the Shop Stool Build-Off (#SSBO), an event in which I invited woodworkers from around the globe to join me from their own shops to build shop stools. My design featured three legs for stability and weight savings (three legs weight less than four), strong, interlocking joinery and a scooped seat for comfort.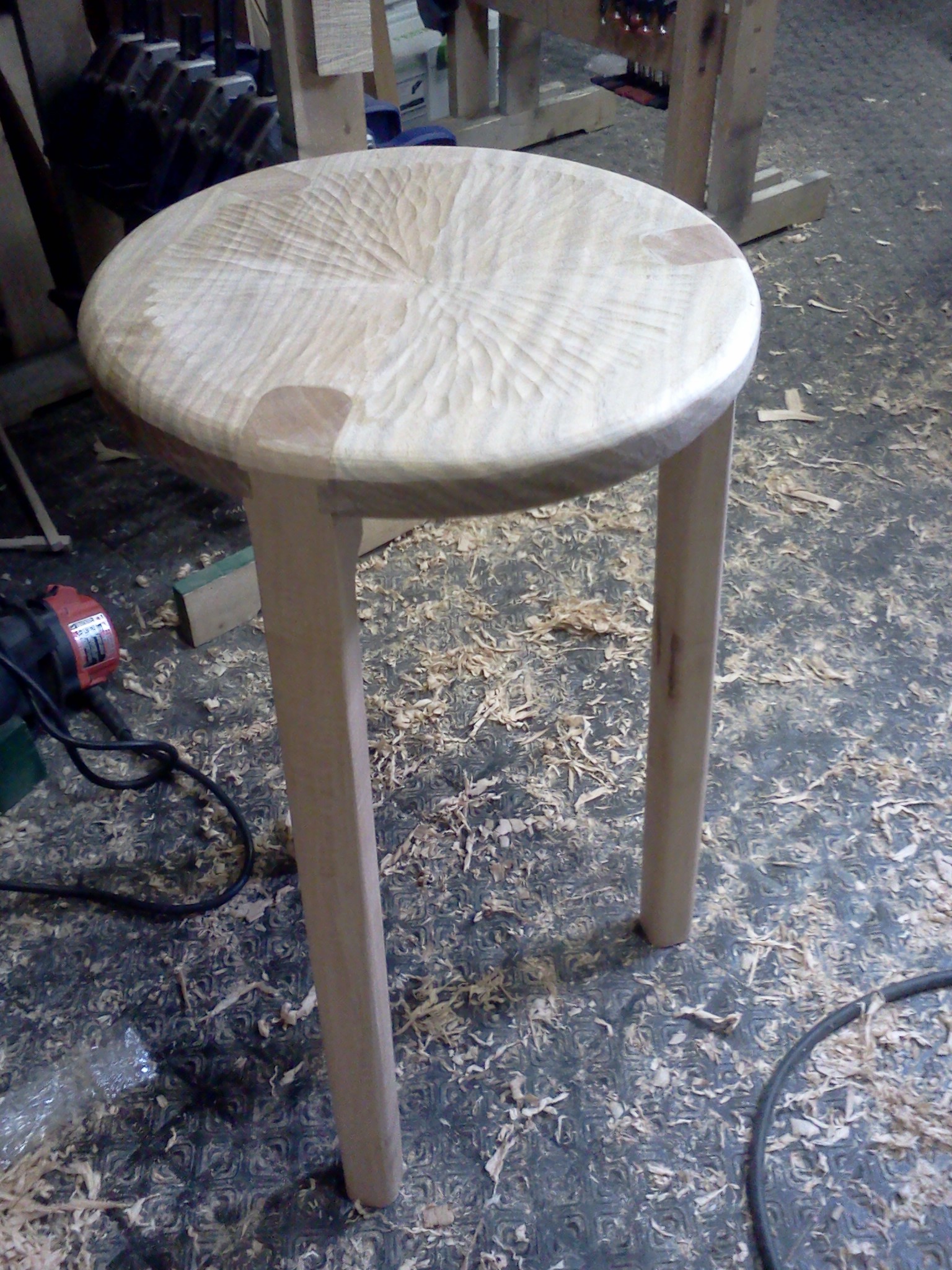 Step 1.
I started with the seat. Since I didn't have a single board that was wide enough, I glued together two narrower, 1-1/4″ thick pieces of butternut to form my 13″ wide seat board. I chose butternut because it is strong enough, yet has a soft, mild-grained wood that is easy to carve.
Step 2.
Using a compass, I drew a circle representing the diameter of the seat, then reset the compass legs and walked it around the circle in three steps to evenly space the legs. From these marks, I drew lines to the centre, then used a square to draw lines tangent to the circle.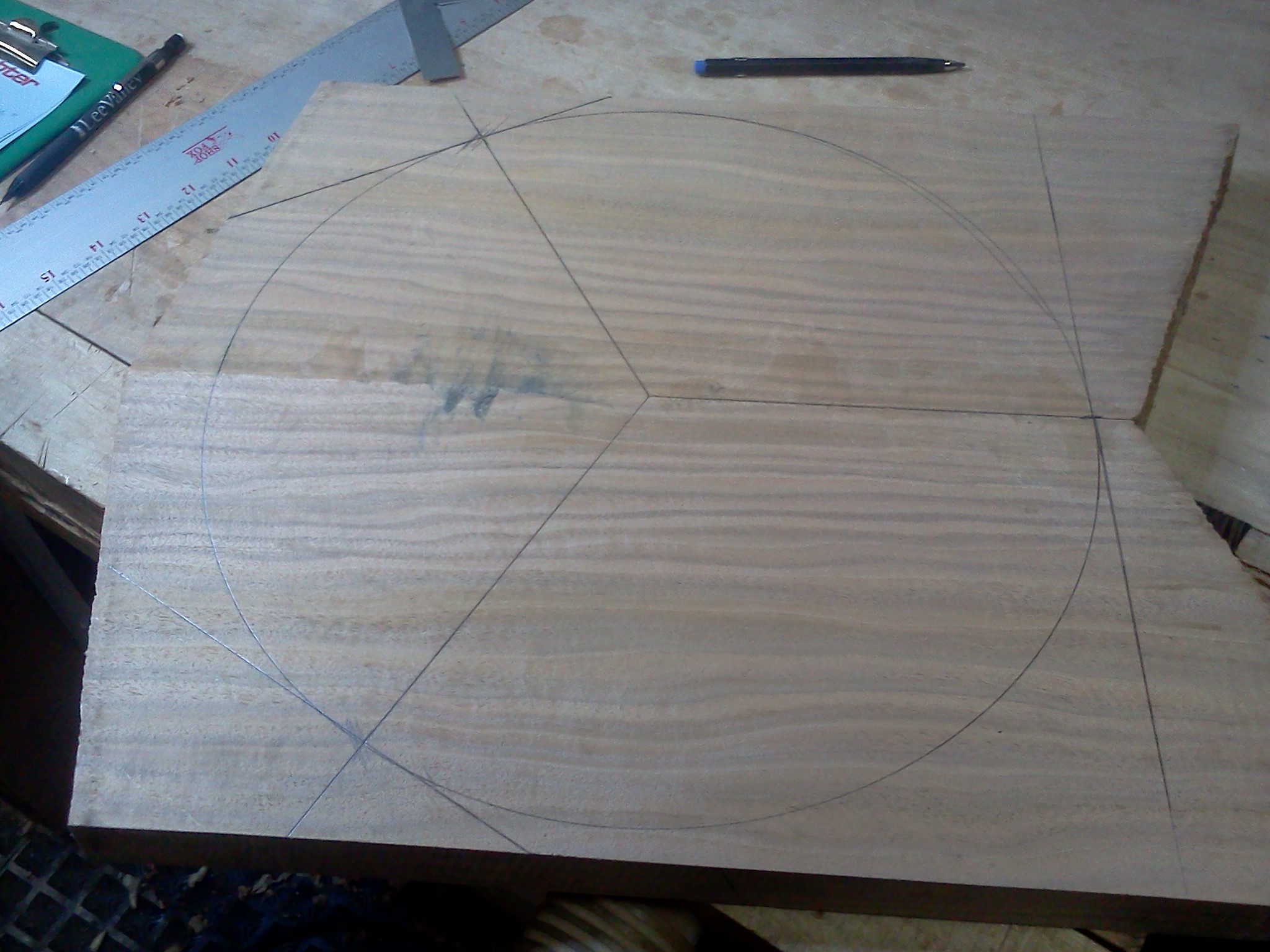 Step 3.
I used my table saw to cut along the tangent lines. A circular saw with a straight edge guiding it would have also been a good choice. These straight cuts made cutting notches for the legs much simpler and more accurate.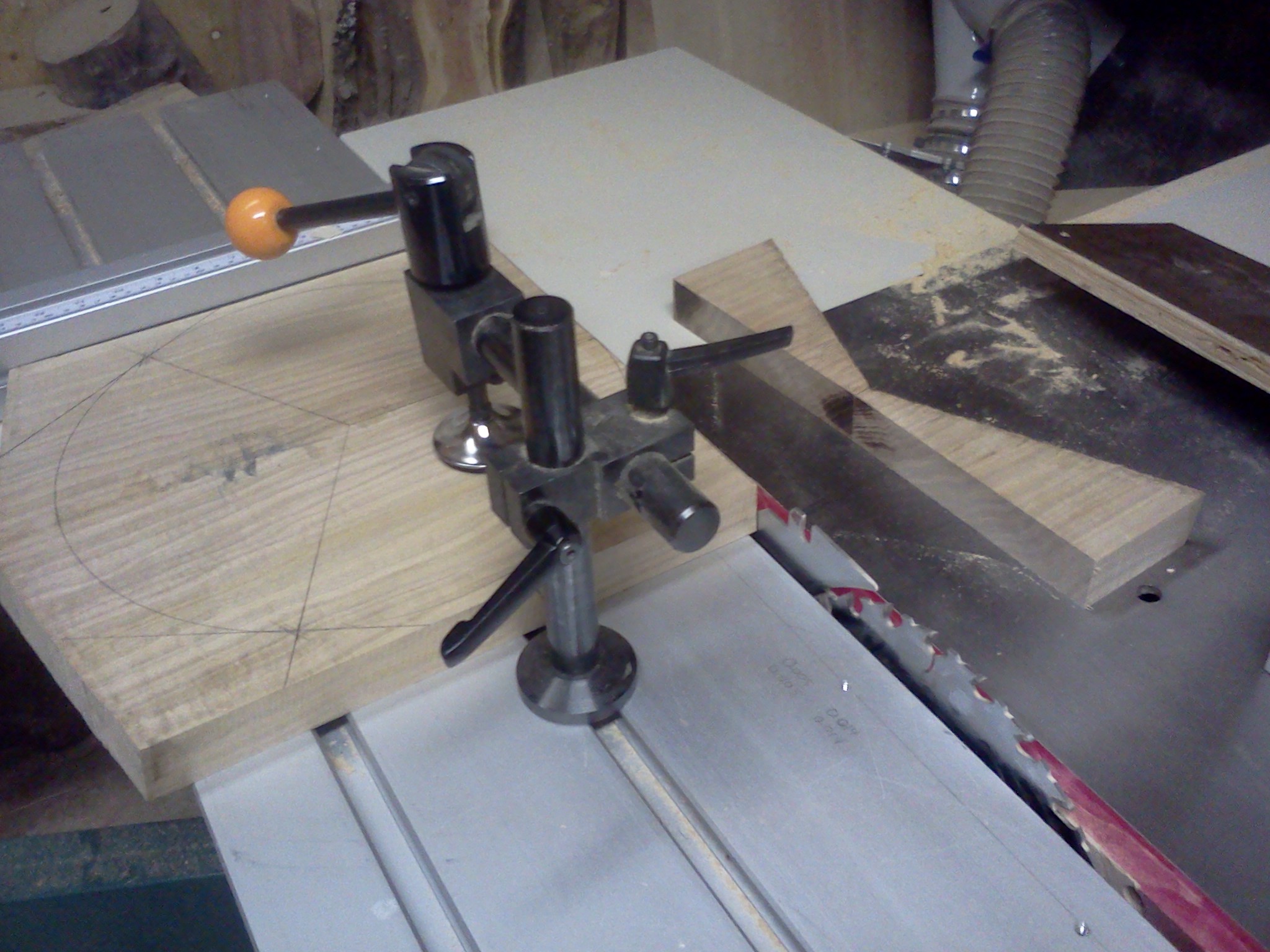 Step 4.
I stood the seat blank on edge and clamped it to the crosscut fence of my table saw to cut the notches for the legs. Alternatively, a jigsaw or bandsaw used with care could have been used.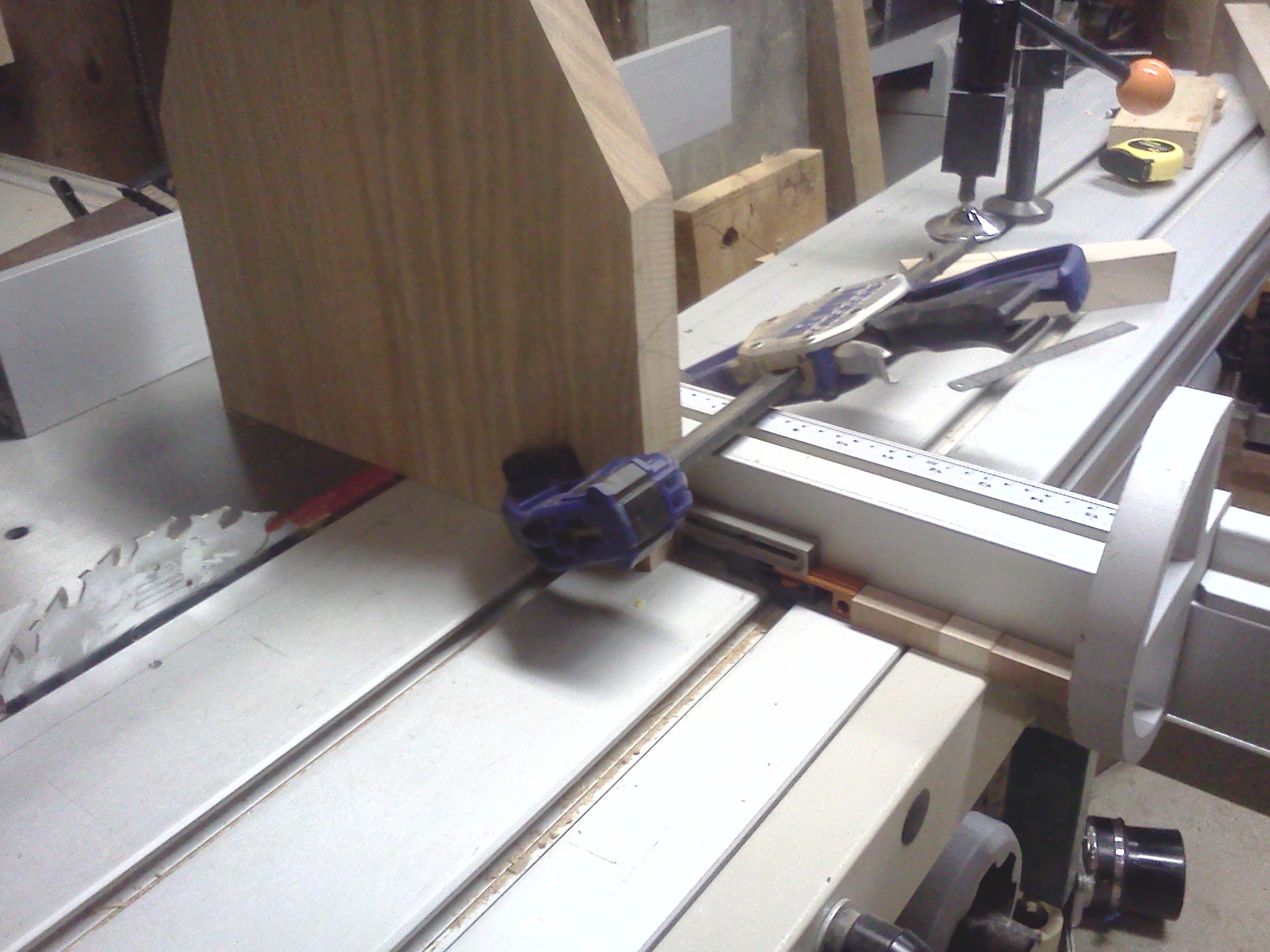 Step 5.
Next, I selected some straight-grained maple for the three legs. Maple is a hard, tough wood that can be readily worked to a smooth surface. I cut and surfaced the legs to size, then worked on the joinery. I selected a dado-and rabbet joint because it provides a very strong mechanical joint with lots of glue surface, and looks nice when completed as well.
This is one of the more complicated joints to execute, and the process is requires an entire post of its own. Rather than shift the focus from shop stools to joinery, I'm going to provide you with some pictures of the shaped components ready to be assembled. I used a router to round over the inside edges of the legs and mill dadoes on the inside three faces.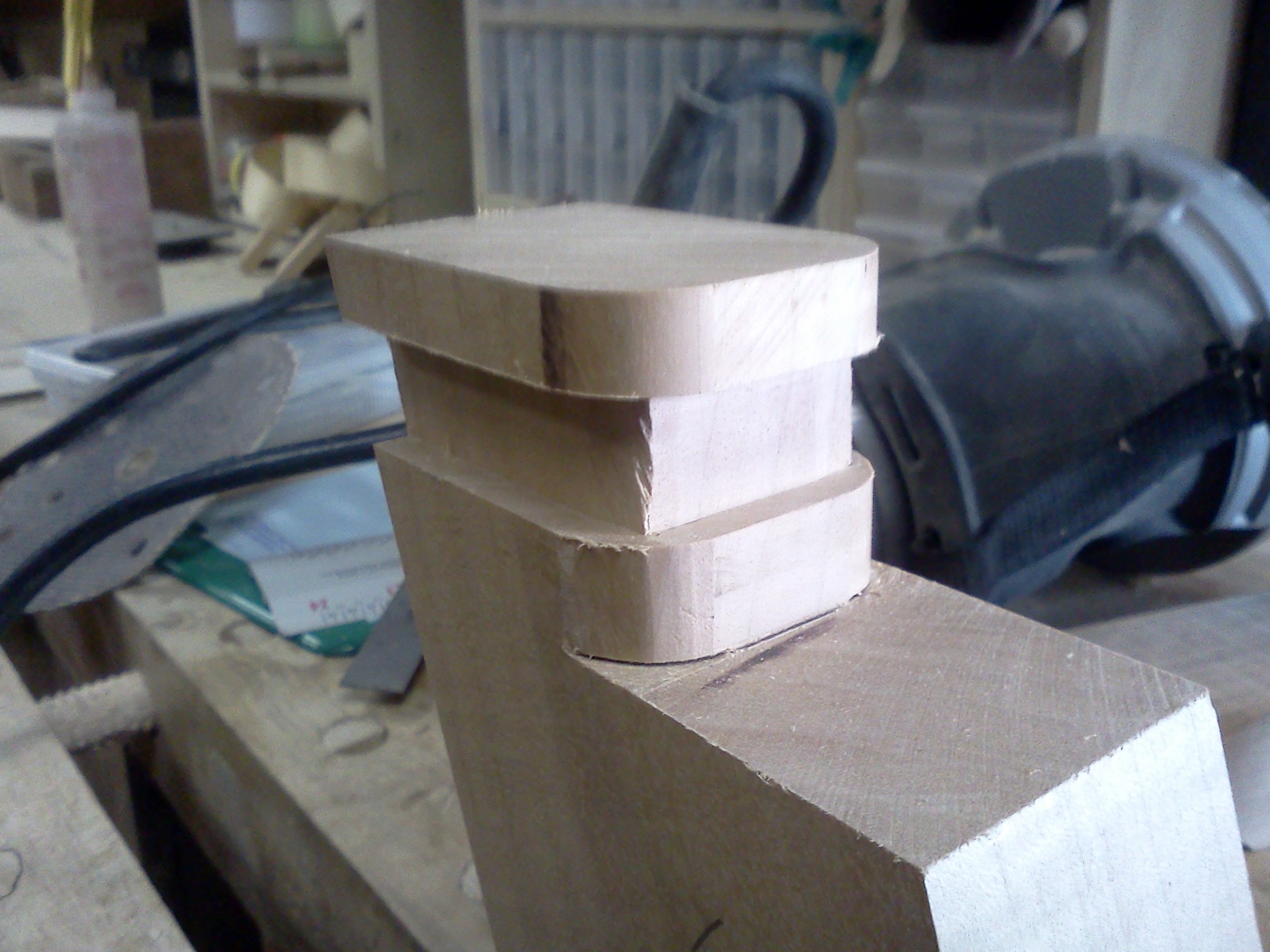 Step 6.
The seat received rabbets in the top and bottom surfaces around the notches.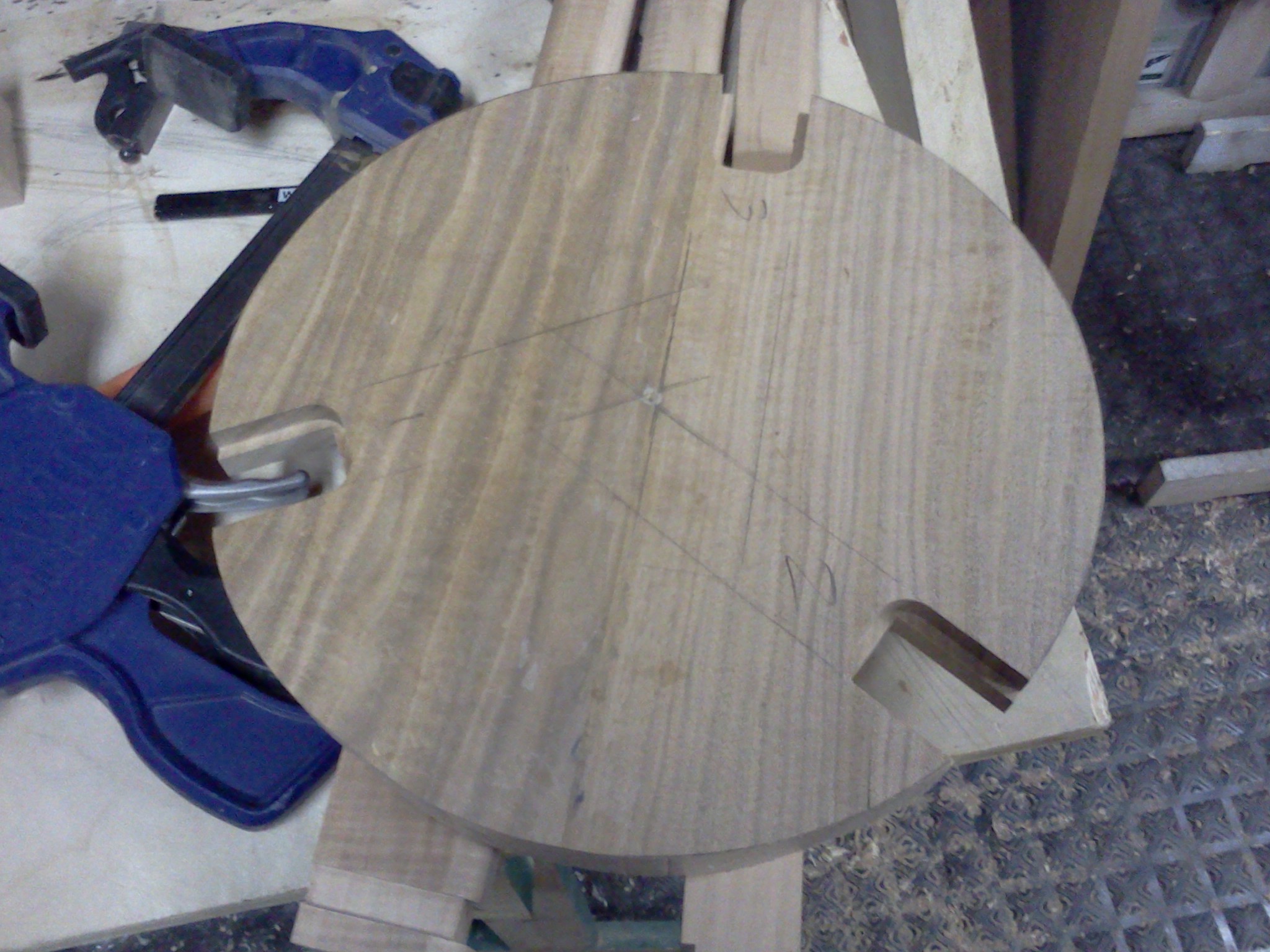 Step 7.
After a little bit of fine-tuning, I was able to glue in the legs. I used a web clamp to hold them in place while the glue dried.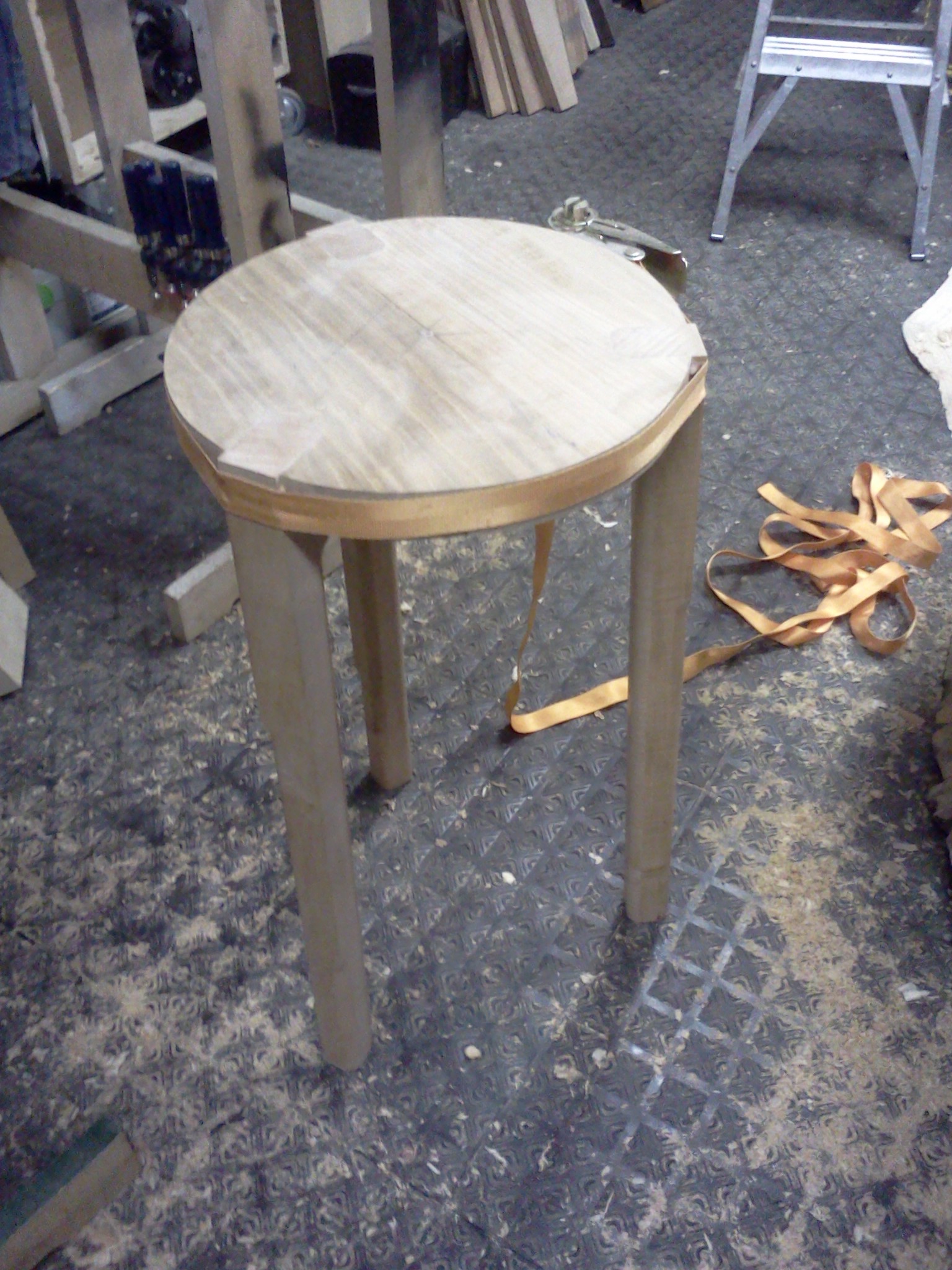 Step 7.
After the glue had dried, I shaped the legs to flow into the seat. This was my first opportunity to see what the joint looked like.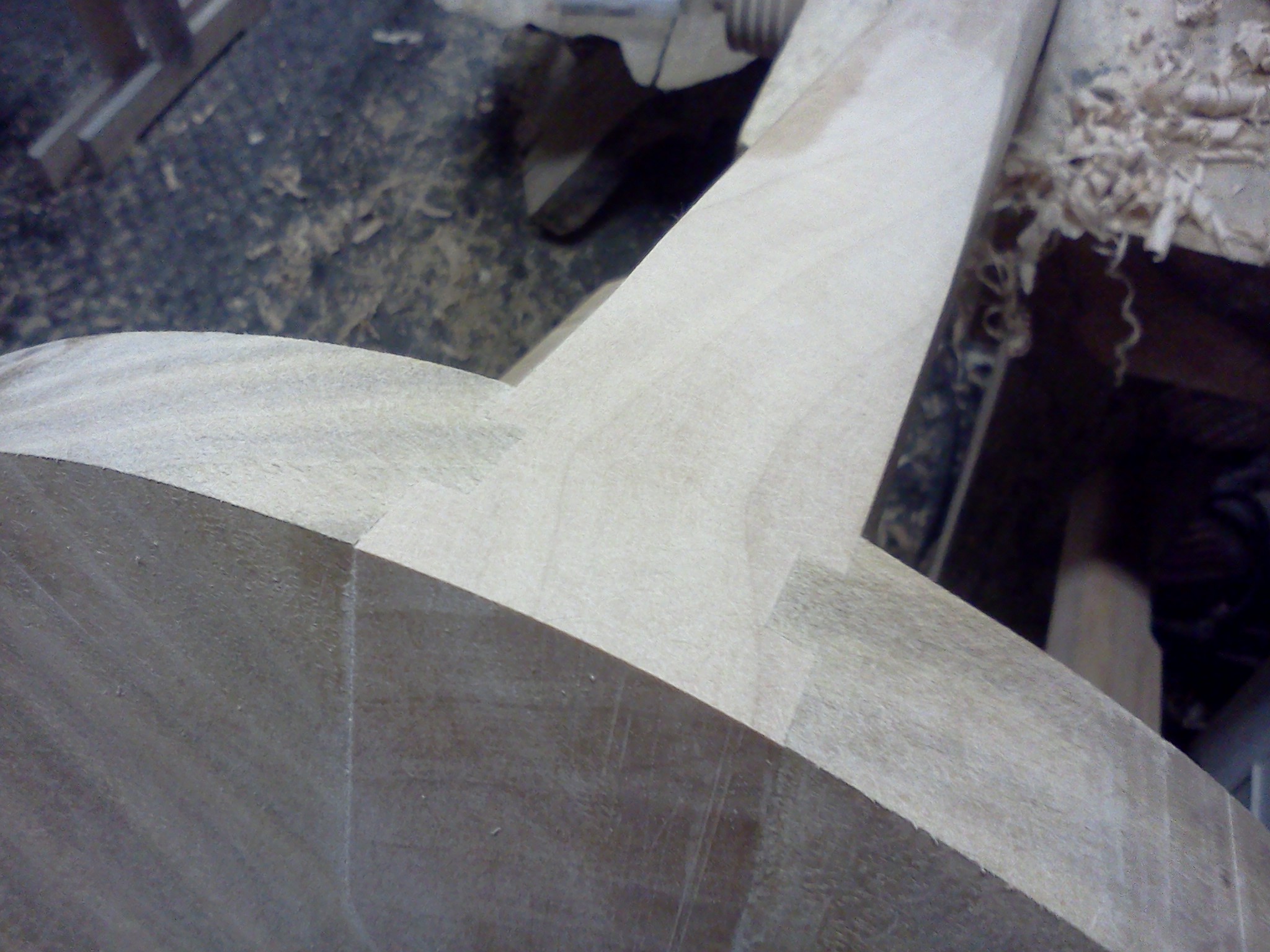 Step 8.
After shaping the legs, I scooped out the seat. Starting about an inch from the center, I used a #7 gouge to take cuts to make a series of cuts towards the middle, working my way around the stool.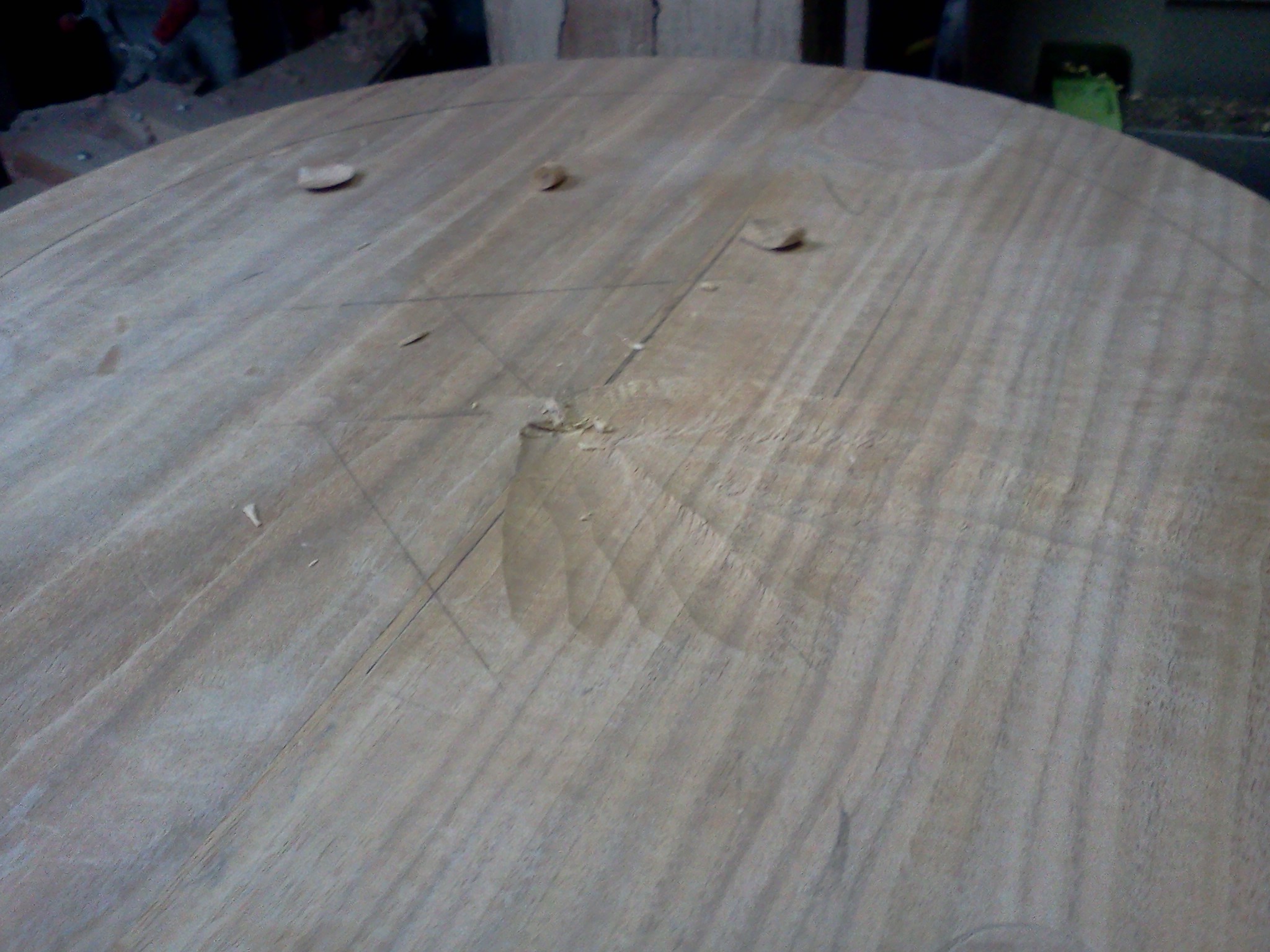 As I progressed, I worked my way toward the outside of the stool until I had something that looked like the photo below.
The carving produces a concave seat which was more comfortable than a flat seat, while adding an interesting appearance and texture at the same time. Some final shaping of the outside of the seat was all that was required.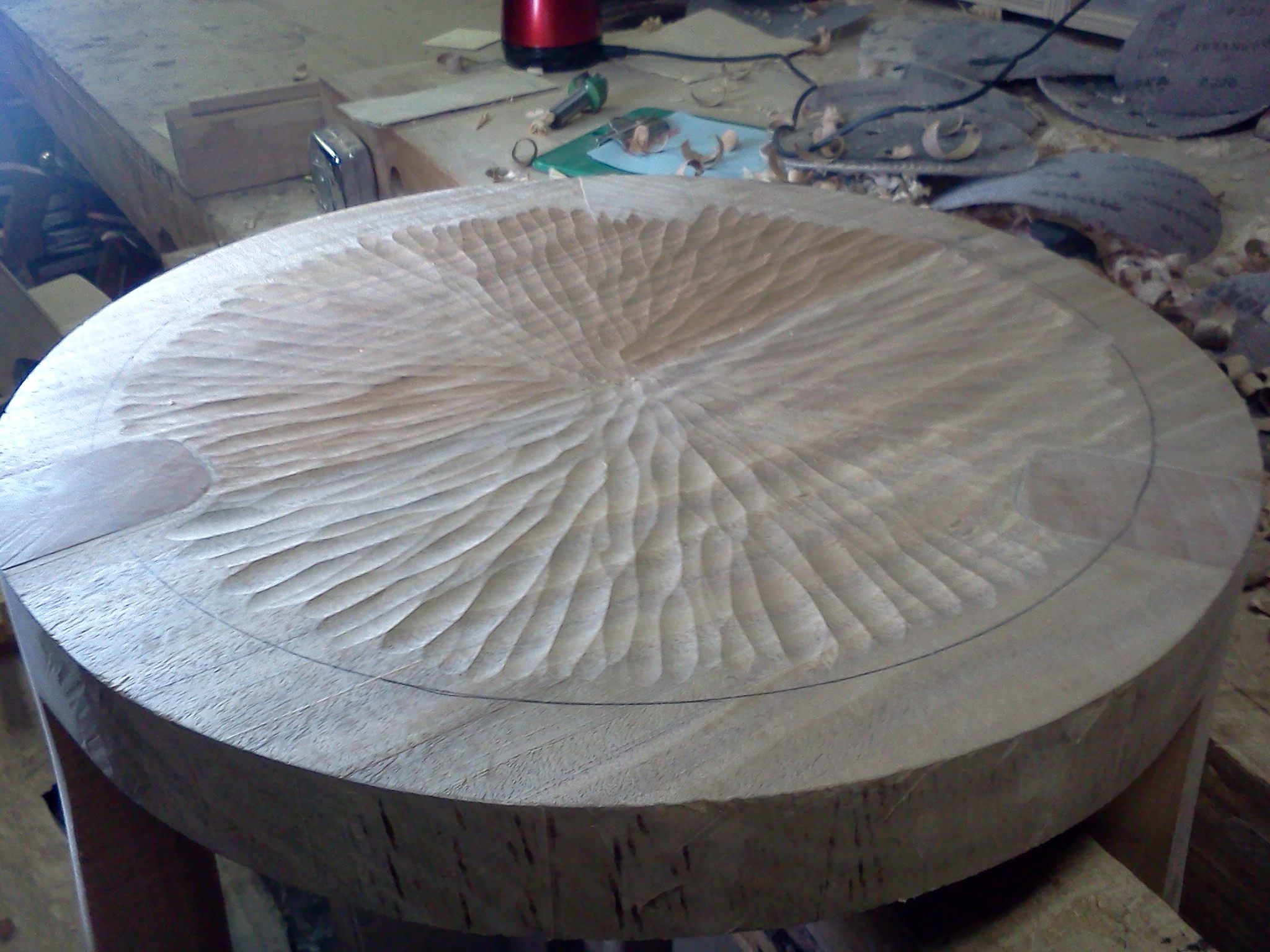 I use my stool nearly every day I'm in the shop. It's perfect for sitting at the bench doing detail work such as carving, or layout. It's also ideal for a session at the drill press boring 388 holes for a cribbage board. On busy days, I might take a couple minutes to sit down, have a glass of water and catch my breath while planning my next move. Of course, my very next move is always obvious — get up and get back to work!
What Members Have to Say About Bluprint's Online Classes
I have taken a lot of online classes. As an educator, I have trained to become an online teacher. Bluprint has the best instructors, layout, lesson plans and videos of what is currently available on the internet now … Way to go Bluprint!
— Bluprint member guidance4u