Skip the overprice store-bought flowers this Valentine's Day and make a DIY bouquet instead! We make it easy with this step-by-step DIY bouquet tutorial!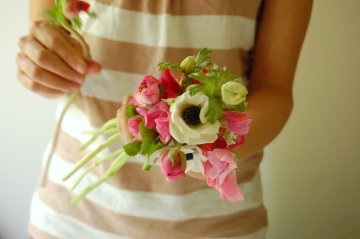 How to make a DIY bouquet
During February, many springtime varieties of flowers are in production in greenhouses and are readily available. So, there's absolutely no reason to just stick with roses. Think about using hyacinth, tulip, paperwhite, mimosa or violets in your bouquet.
However, if you are fond of the rose, consider using an old-fashioned garden rose variety instead of the over-produced red hybrid teas that won't offer fragrance, and most likely will not even open up! Ask your florist or market for Yves Piaget, a beautiful French rose with immense fragrance!
The French are fond of lush, dense bouquets, which work quite well if you'd like to wrap up your bouquet and transport it! Also called a hand-tied, It makes just the perfect Valentine's Day bouquet.
Here's how to make your own!
Step 1:
Strip all the leaves off the stem except the top 6″ – 8″.
Step 2:
Pick a focal flower (rose, ranunculus, peony), a filler flower (hyacinth, waxflower), a secondary flower (larkspur, lilac), and lots of greenery (I like scented geranium).
Step 3:
Now, you are going to be working with the same hand for each task. Be consistent. If you are right handed, you'll want to hold the bouquet in your left hand, and grab flowers with your right.
Make a small bouquet in your left hand with a focal flower, a filler and some greens. Once you have the bouquet, turn in to the left and add more flowers, adding in the secondary flowers and any other elements.
Step 4:
Repeat Step 3, until you have a lush, round bouquet. You must remember to always turn it the same way. It works best to keep some of the greens on the outside of the bouquet like a little collar to help hold up any wobbly stems. At this point, the stems should spiral.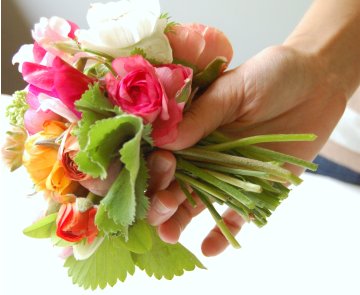 Step 5:
Now, wrap your bouquet in parchment paper or cellophane. with tissue between two pieces for color. Tie a bow around it and present with a card in a box full of colorful tissue paper!
The lovely thing about this bouquet is that it can easily be transported. Once, it's home with the owner, they can just cut the ribbon on the packaging, clip the stems and they have a pre-arranged bouquet.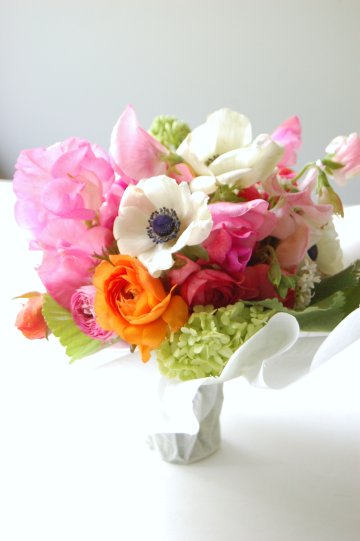 Keep for yourself or gift to a friend or loved one! Happy Valentine's Day!

You might also enjoy our post on conditioning cut flowers.

<!–
Special Savings on Popular Gardening Classes
Learn from the best instructors. Get up to 33% off classes you can watch anytime, anywhere, forever.Enroll Now to Save »

–>