Making cookies for a dinosaur-themed birthday party? Or maybe you're whipping up a special batch of cookies for a dino-lover. Rather than stress over elaborate cookie designs, make a simple but sweet cookie that still has plenty of wow-factor.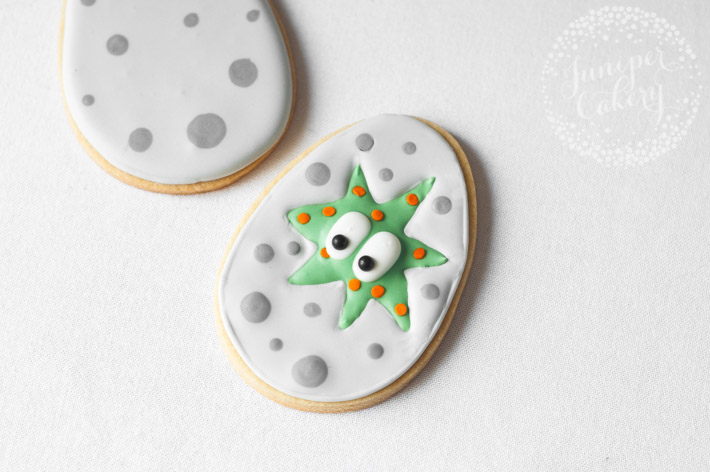 Learn to make fun and easy dinosaur cookies
Materials needed:
Baked and cooled egg-shaped sugar cookies
Light gray royal icing (in both flooding and piping consistency)
Darker gray royal icing (flooding consistency, in a piping bag with a small round tip)
Green royal icing (flooding consistency)
White royal icing (piping consistency)
Black sugar pearls
Rainbow confetti sprinkles
This link might come in handy if you're new to cookie decorating:
The unhatched dinosaur egg cookie

Step 1:
Lay the cooled, egg-shaped cookie on a flat, level surface. It sounds so obvious, but it's easy to forget the simplest of tasks. Decorating on a level surface means your royal icing will flood and dry perfectly — not slide off the cookie.
Step 2:
Outline your cookie with pale gray royal icing. The right consistency for outlining is similar to toothpaste. If it's too runny, it will drip off the cookie; if it's too stiff, it will be hard to pipe a smooth, even line.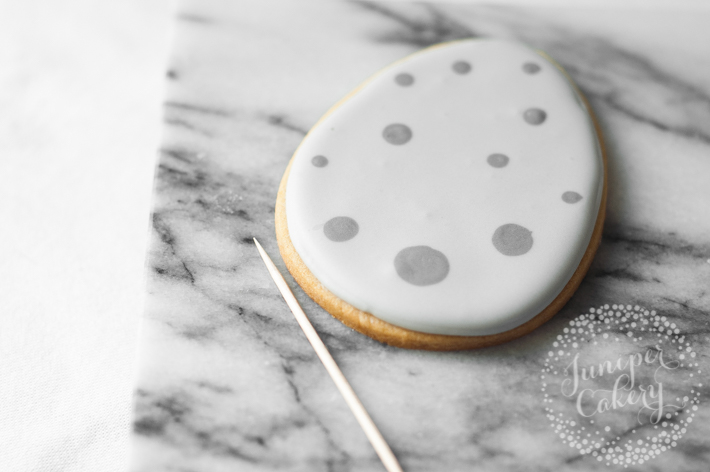 Step 3:
Once you've piped the outline, it's time to flood the area with more of the pale gray royal icing. Flooding consistency is similar to runny honey. You can also scoop a little out of your mixture with a spoon and drop it back in. Count how many seconds it takes to incorporate back into the rest of the royal icing — around 10 seconds is what we aim for.
Here's a great post on how to flood sugar cookies if you need a few more tips or a step-by-step guide to cookie perfection!
Step 4:
While your flood work is still wet, use the dark gray icing to pipe circles of various sizes in onto the flooded cookie. This is where the cool "wet on wet" effect happens! If both the light and dark gray icings have the same flooding consistency, you'll see the darker gray settle into the light gray, creating a seamless look.
How to decorate a hatching dinosaur egg cookie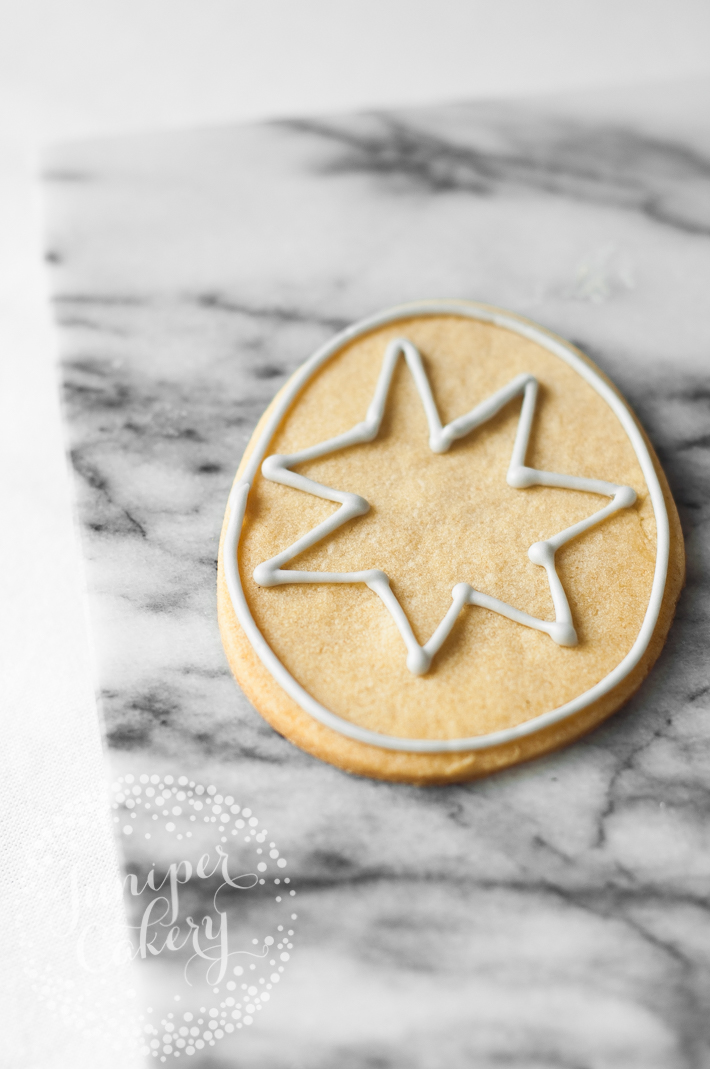 Step 1:
The beginning process for the hatching egg is similar to the unhatched egg, just with a few extra steps thrown in. This time, you need to outline your cookie and then outline a large cracked hole in the middle of the egg. 
Step 2:
Flood the sugar cookie with matching light gray royal icing in flooding consistency. Don't flood inside of the crack in the center. This is where a cute baby dinosaur is going to peek out from!
Step 3:
Add in the darker gray spots around the egg, as described in the first tutorial.
Step 4:
Now flood the inside of the cracked hole with green royal icing. While it's still wet, use rainbow confetti sprinkles to create a polka dot print for your dinosaur's skin.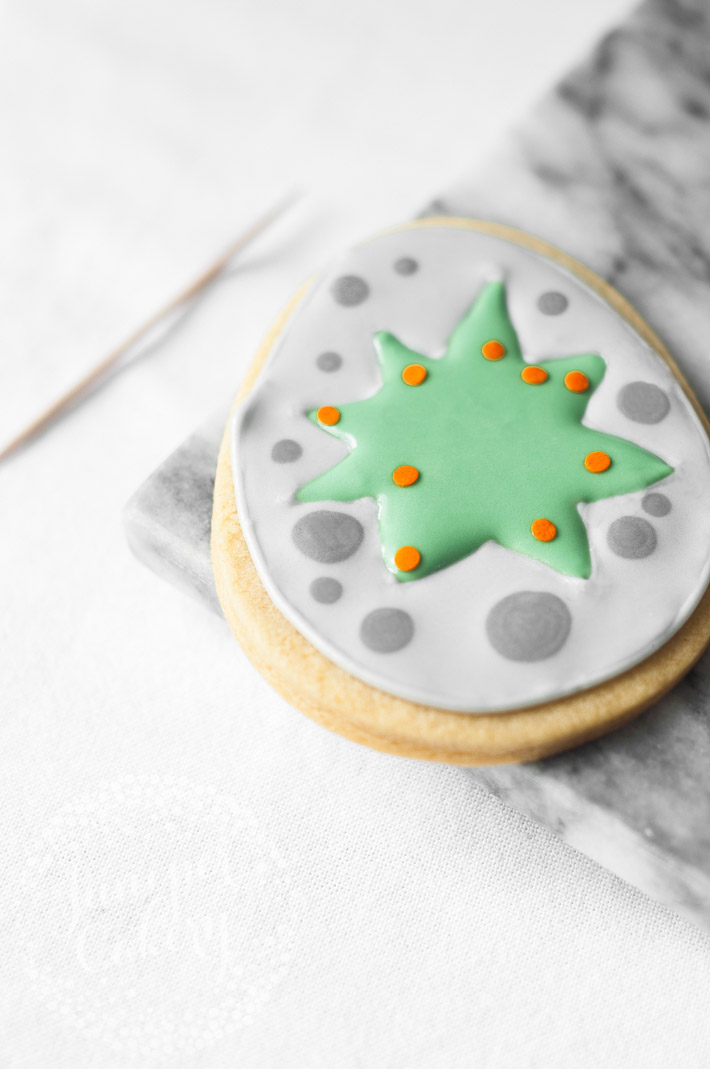 Step 5:
With piping/outlining-consistency white royal icing, carefully pipe two large ovals in middle of your green dinosaur. Before the icing sets add two black edible sugar pearls. You should now have an adorable, wide-eyed dinosaur staring right back at you!
To customize these cookies further, you can easily change colors, use different sprinkles, pipe cool shapes all over your eggs or even add fun party messages. That's what makes these easy to decorate cookies perfect for any playful get-together.