Dinosaurs have long been an extremely popular theme for enthusiasts who are fascinated by the prehistoric ages when these creatures ruled the world, predominantly during the Jurassic period. Despite their extinction millions of years ago, both kids and adults remain fascinated with these animals, increasing the demand for dinosaur-themed parties, decorated cakes and cupcake designs.
Bring dinosaurs back to life with this collection of dinosaur cakes and cupcake designs for  your paleontologist, young and old!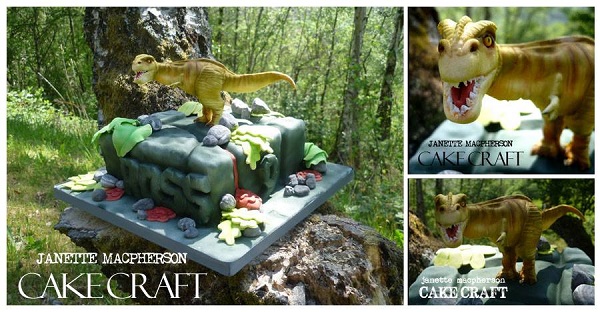 Photo via Janette MacPherson Cake Craft
Tyrannosaurus Rex cake
The Tyrannosaurus Rex, or the T-Rex, was one of the largest and most fearsome dinosaurs of its time and Janette MacPherson Cake Craft did an unbelievable job of re-creating this massive creature in cake form! The incredible T-Rex figure was flawlessly hand-modeled out of fondant, while color and texture were achieved through airbrushing. The dinosaur stands above a massive cake made to resemble stones and personalized with the birthday boy's name, also made of stone letters.
[box type="shadow"]Learn more about utilizing color to achieve layers and texture on your cakes in the course The Art of Airbrushing with Lisa Berczel.[/box]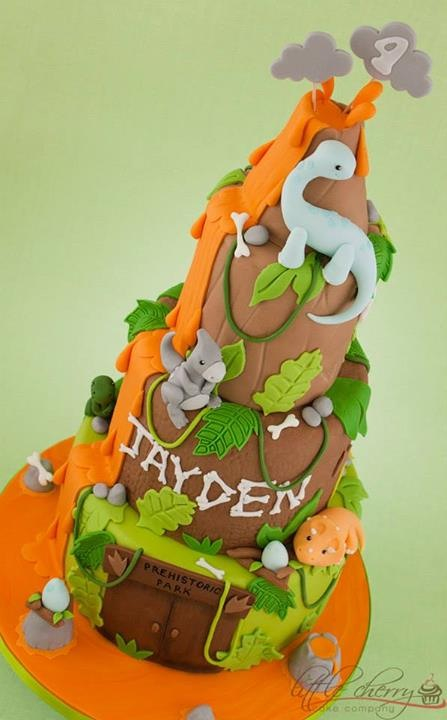 Photo via Little Cherry Cake Company
Prehistoric Park dinosaur cake
For a more playful look, the Little Cherry Cake Company constructed this amazing three-tiered cake, depicting a prehistoric scene. Each layer is covered in fondant of different colors with a variety of textures achieved with impression mats. Adorable dinosaur figures are modeled and strategically placed around each tier, while an erupting volcano tops the cake, spilling lava down the layers. The beautiful creation was personalized with the birthday boy's name spelled out in dinosaur bones and his age represented on the smoke clouds.
[box type="shadow"]Practice your figure modeling skills to be able to create similar dinosaur figures in Sharon Wee's Cake Topper Techniques: Fondant Animals.[/box]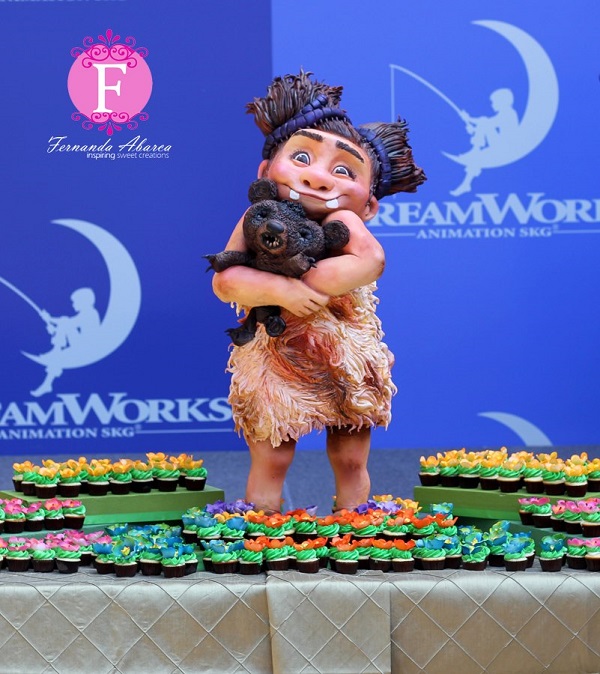 Photo via Fernanda Abarca Cakes
The Croods Sandy cake
In celebration of the release of the animated movie The Croods about a prehistoric family, Fernanda Abarca Cakes created this absolutely incredible and awe-inspiring cake of one of the film's characters, Sandy, clutching a stuffed bear! The ravishing 3-foot-tall cake was accentuated with a combination of Rice Krispies marshmallow treats, fondant and modeling chocolate. Simply jaw-dropping!
[box type="shadow"]For more insight and instructions to sculpt, construct and decorate a three-dimensional free-standing cake like this, try the course Advanced Cake Sculpting with Mike McCarey.[/box]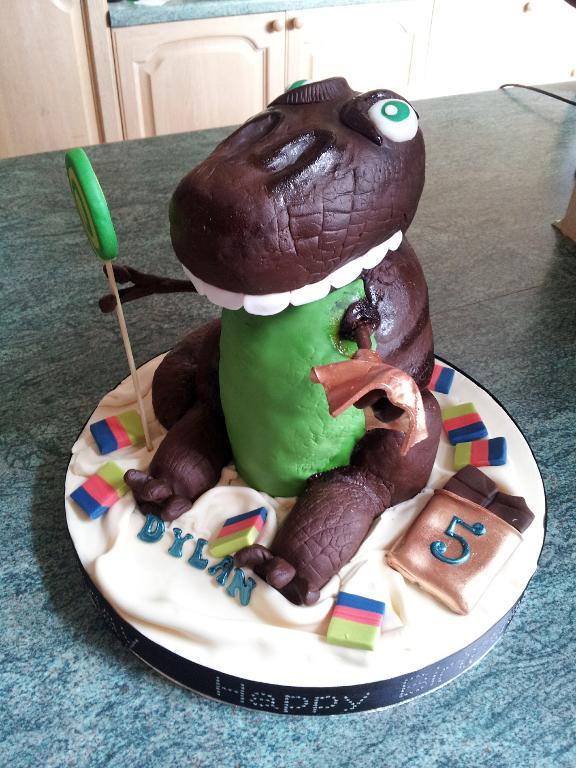 First Dinosaur via Bluprint member MikeCakeMaker
3-D carved dinosaur cake
After taking the course Cake-osaurus Rex with Catherine Ruehle, Bluprint member and cake artist MikeCakeMaker created this charming dinosaur cake. Once learning  how to carve and construct a cake in the form of a dinosaur, Rice Krispies marshmallow treats and fondant were utilized to decorate and adorn the three-dimensional creature.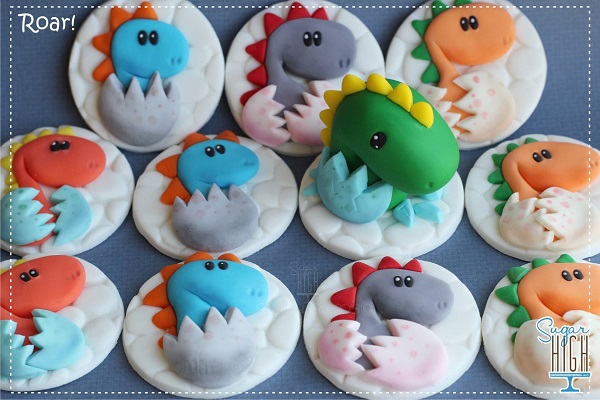 Photo via Sugar High, Inc.
Hatching dinosaurs cupcake toppers
Sugar High, Inc. also took a super adorable and playful approach to the dinosaur theme with these captivating fondant creatures hatching from their eggs. The use of impression mats to add a pattern to the bottom topper adds texture, while the dinosaur heads popping out of cracking eggs gives additional dimension to the designs. One centerpiece topper includes a three-dimensional dinosaur that, when placed upon a cupcake, looks like it is about to leap out!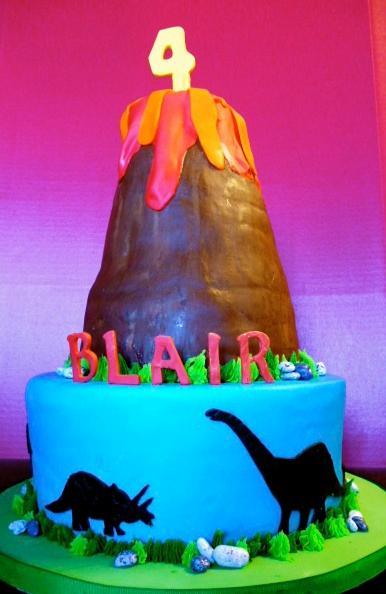 Volcano Dinosaur Cake via Bluprint member Beki G
Dinosaur volcano cake
Bluprint member Beki G created this beautiful dinosaur volcano cake in celebration of a 4th birthday. The first layer portrays a prehistoric scene with dinosaur silhouettes cut from modeling chocolate, which the cake artist advises is easier to cut and avoid snagging. The super tall volcano sits atop the round cake with flowing lava and a fondant number topper to reflect the guest of honor's age.
[box type="shadow"]Practice working with modeling chocolate to utilize in cake decorating and sculpting in Lauren Kitchens's course Modeling Chocolate Magic.[/box]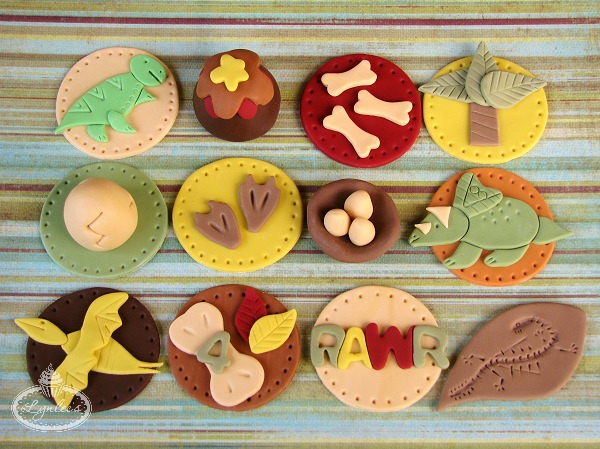 Photo via Lynlee's Petite Cakes
Prehistoric dinosaur cupcake toppers
To accent cupcakes for a dinosaur-themed party by Whimsically Detailed, Lynlee's Petite Cakes created these richly-colored fondant toppers. Reflecting several dinosaur species, eggs, fossils and bones, each topper was custom cut and/or modeled out of fondant with a variety of tools and cutters. Indentations with knife tools and modeling sticks add extra texture and interest to the toppers. See the rest of the RAWR dinosaur party details and get more inspiration for throwing a prehistoric bash.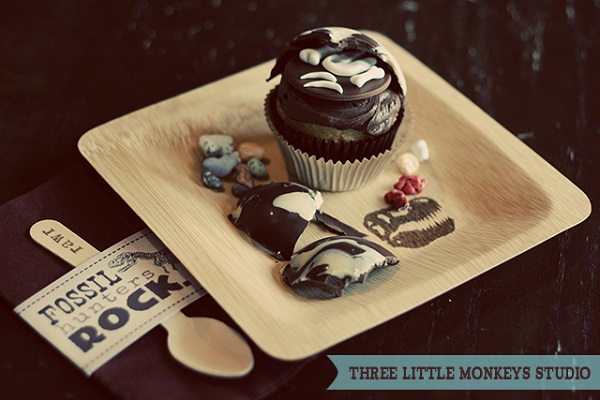 Photo via Three Little Monkeys Studio
Fossilized dino egg cupcakes
For a fossil hunter party, Three Little Monkeys Studio served these incredibly created and adorable fossilized dino egg cupcakes! Each cupcake was topped with captivating fondant toppers by Edible Details depicting dinosaur bones, which were then hidden underneath a marbled chocolate dome made in a silicone mold. What a fun surprise for the little paleontologists! Uncover additional inspiration of this Fossil Hunter Bash for your dinosaur party.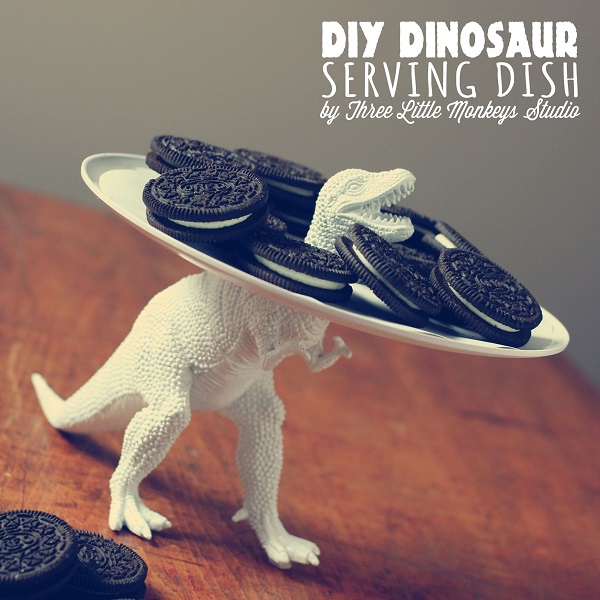 Photo via Three Little Monkeys Studio
DIY dinosaur serving dish
In addition to the fossilized dino eggs above, Three Little Monkeys created this ingenious DIY dinosaur serving dish as a display tray for party treats! Follow the dinosaur serving dish tutorial with the use of a toy, spray paint and glue to attach to a melamine plate at a minimal cost to wow your guests.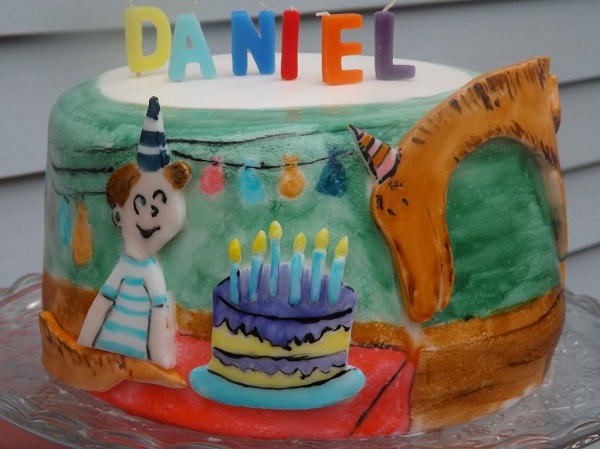 Danny and the Dino cake via Bluprint member Joana
Danny and the Dinosaur cake
Bluprint member and cake artist Joana created this Danny and the Dinosaur cake as a project for the FREE Bluprint mini-class The Hand-Painted Cake with Erin Schaefgen. The round cake was covered in fondant and additional silhouette fondant cutouts of the birthday boy, dinosaur and cake were added to add dimension to the perimeter of the cake. The remaining decorations were carefully hand-painted to create a work of art!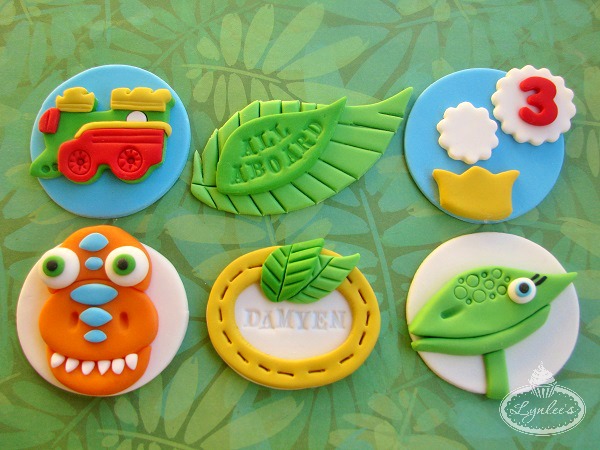 Photo via Lynlee's Petite Cakes
Dinosaur Train cupcake toppers
To reflect characters and elements of the popular animated show The Dinosaur Train, Lynlee's Petite Cakes created these fondant toppers to adorn cupcakes. The faces were hand-molded from fondant, while other elements are cut out from cutters and embellished with additional decorations and impressions with a variety of tools.
Photo via Janette MacPherson Cake Craft
T-Rex christening/birthday cake
As a contrast to the incredibly vivid and realistic Tyrannosaurus Rex cake, Janette MacPherson Cake Craft also created this precious and tame cake for a little boy's christening celebration. The dinosaur represents the baby's older brother, who simultaneously was celebrating his dinosaur-themed birthday! These figures are beautifully modeled with the sweetest of expressions on their faces.
[box type="shadow"]Practice modeling people to re-create an adorable baby such as this with Anne Heap's course Cake Topper Techniques: Figure Modeling for baby showers, christenings and more![/box]
What techniques will you use to make your dinosaur-themed creation ROAR?!