Wedding receptions can be anywhere. For example, some of the more interesting venues I've experienced have been rodeo grounds, a lake in the Rocky Mountains and a tent in a back yard. While they are all very fun and show the uniqueness of the couple, sometimes they can be very difficult when it comes to photography. Often times, not every room can be beautifully lit or even decorated completely.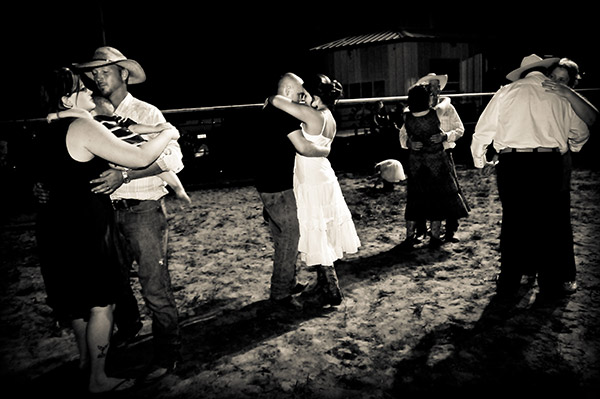 Here are four tips for success when handling difficult lighting situations during a reception.
1. Be sure to zoom in.
I always try to photograph many different angles during an entire wedding day. But, it seems the close up photos of the small intimate moments end up being the strongest. Sometimes you can't stand in the back with a 200mm lens. So use the old fashioned zoom– your feet– to get close enough. Instead of using a 200mm lens use a 50mm or even a 35mm. You can zoom in a little bit without being in the couple's personal space but you won't have to worry about guests with cell phones getting in your way. If you feel you are a little too close, just get the photo and get out of the way. Once you have a few photos you are really proud of, move on to the next angle.
2. Use lights.
When I photographed a wedding reception on rodeo grounds it was dark and so was the available light. Also, there were two areas where people were dancing, eating, playing games, and just talking. Basically, there was no way to light the whole place, so I used an on-camera flash with a diffuser and moved around. Sometimes you can set up off-camera lights, but in other cases it just isn't convenient. The most important thing is capturing the moment so be flexible and go with what works.
3. Black and white is your friend.
Even flat, bland lit rooms can all be a bit more dramatic if you turn the photo black and white. I'm not sure why, but once you take out the poor light and add some contrast, most photos can look better. When you walk into a room the light always looks white because our eyes automatically correct it in our brain, but the camera isn't that smart. The auto-white balance features have become better but they aren't as perfect as our eyes. If you think a photo isn't very good in color as you are editing, switch it to black and white and see if that helps.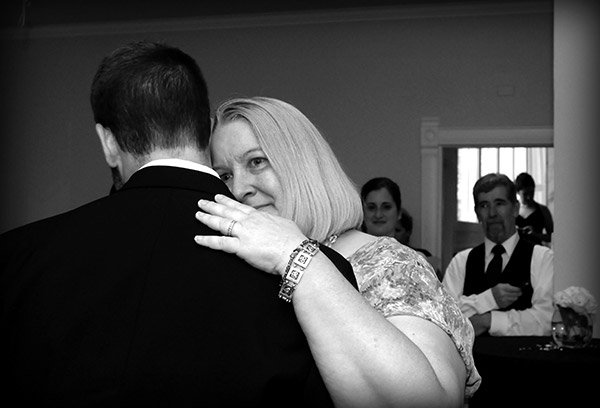 4. Use Photoshop to edit your photographs.
During editing you can change all sorts of things. This is weird to me since I used to be a photojournalist, and in that situation taking things out of a photo is always a big no-no. But in wedding photography it's a must! If there is something distracting in a photo like power cords, exit signs, light sockets– anything that may draw attention away from the subjects– rubber stamp it out. Rubber stamp is a tool in Photoshop that allows you to remove parts of the photos by cloning parts of the photo over the distracting part. Though don't go overboard with the editing unless you are going to charge extra for a lot of post work. Editing can take up a lot of time, so just make sure it's worth it. Usually, I do a first edit then perfect the specific photos a couple chooses to print later.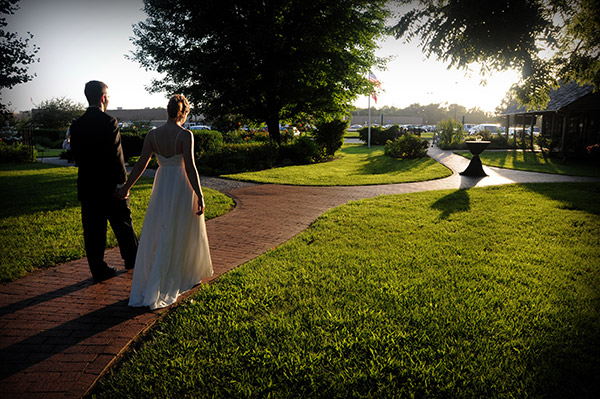 Receptions are a lot of fun and give you an opportunity to photograph all the guests in addition to the couple, which is why they are important. These are the photos that remind the special couple of how much fun all their guests had. Even the darkest tomb of a reception can be lit so that the photos are worth cherishing. This is your moment to shine as a photographer since the rest of the guests probably only have cell phones or point and shoot cameras that can't capture the same action you can.
How do you deal with difficult lighting during a reception?