Make yourself a food truck hero, not to mention well-versed in Mexican food and cooking, by learning the different types of tacos.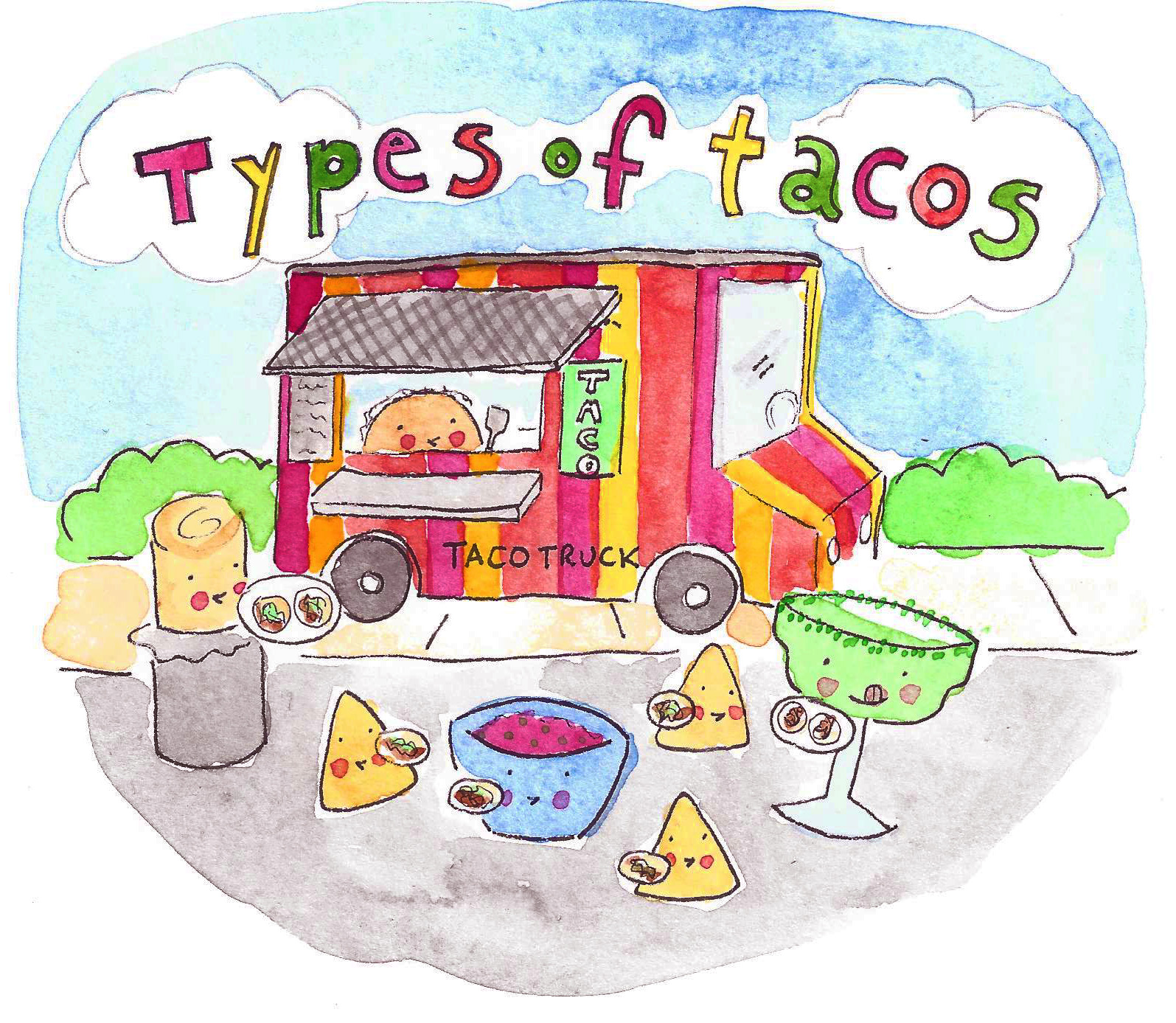 Illustrations via CakeSpy
Become a Mexican street food connoisseur with this guide to the different types of tacos
Like pizza, tacos are a crowd-pleasing food that have attained a level of international superstardom. There are so many different kinds of tacos that it can make your head spin. However, once you introduce yourself to a few key types, you'll realize that it's really a small world of tacos. After all, it's the variations that are endless.
Here, we'll discuss some of the different types of Mexican tacos, as well as explaining popular variations.
Learn the secrets of creating delicious, authentic tacos with the Craftsy class Mexican Street Food: Tacos and Salsas. Chef Deborah Schneider will guide you through vital techniques, such as dry roasting and charring, to create flavorful ingredients. Then, you'll combine a melange of fruits, vegetables and spices to create a diverse array of salsas. Wrapped up with a tutorial on making homemade tortillas, this course will bring the vibrant flavors of Mexico to your own kitchen.
Types of traditional soft tacos
This is arguably the most "authentic" type of taco, and the kind you'll typically see at food trucks. Typically, this type of taco is small, with two white corn tortillas measuring from 3 to 5 inches across stacked together and topped with any number of meats, vegetables and flavorings.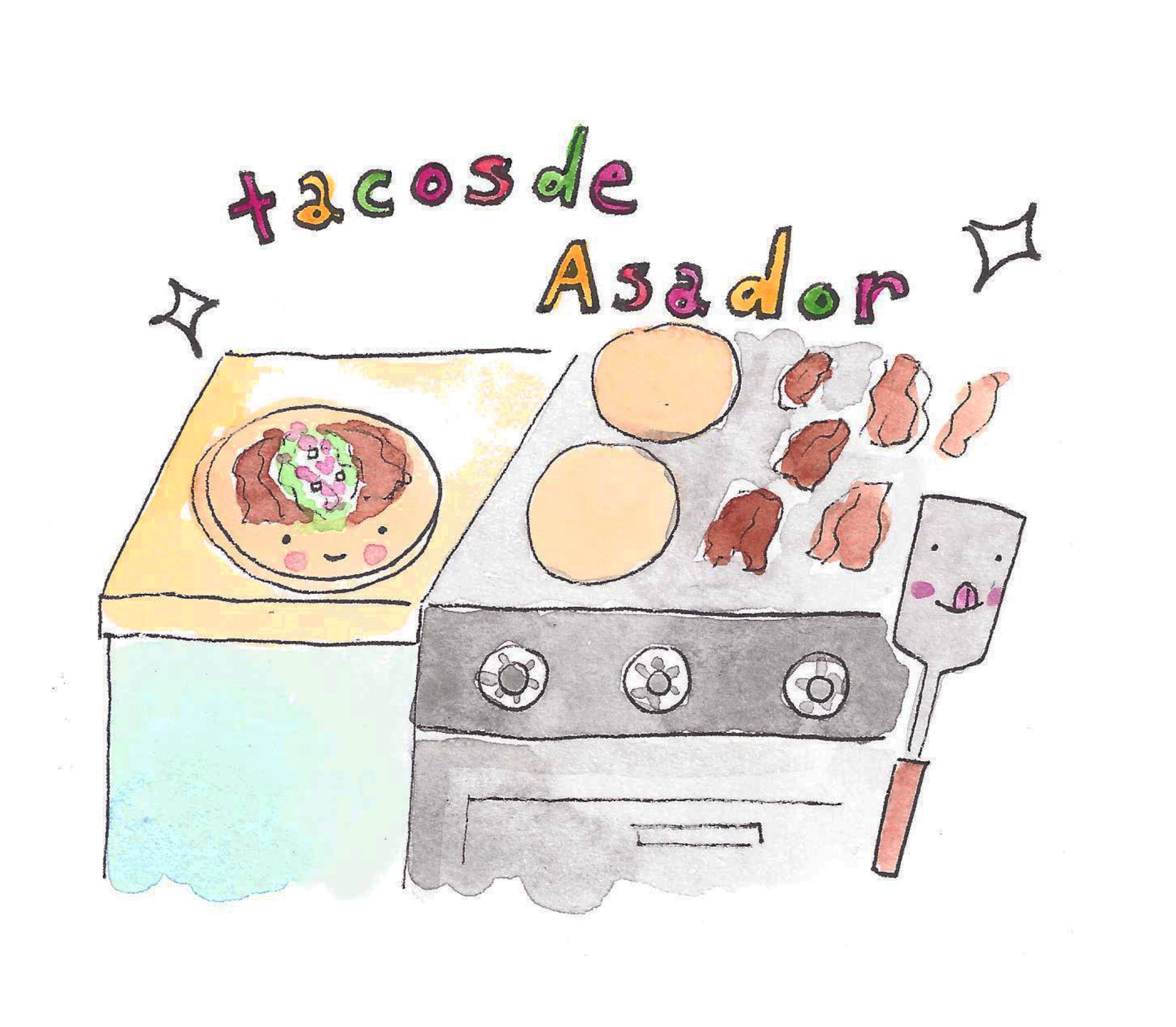 Tacos de asador
Tacos de asador, also known as "spit" or "grill" tacos, these are composed of various types of meat which are grilled before being placed on two stacked tortillas and then garnished with some or all of the following: salsa, guacamole, onions and cilantro. The famous carne asada taco is an example of this type. A version that involves the two tortillas stacked, sandwich style, over and under the fillings, is sometimes called a mulita.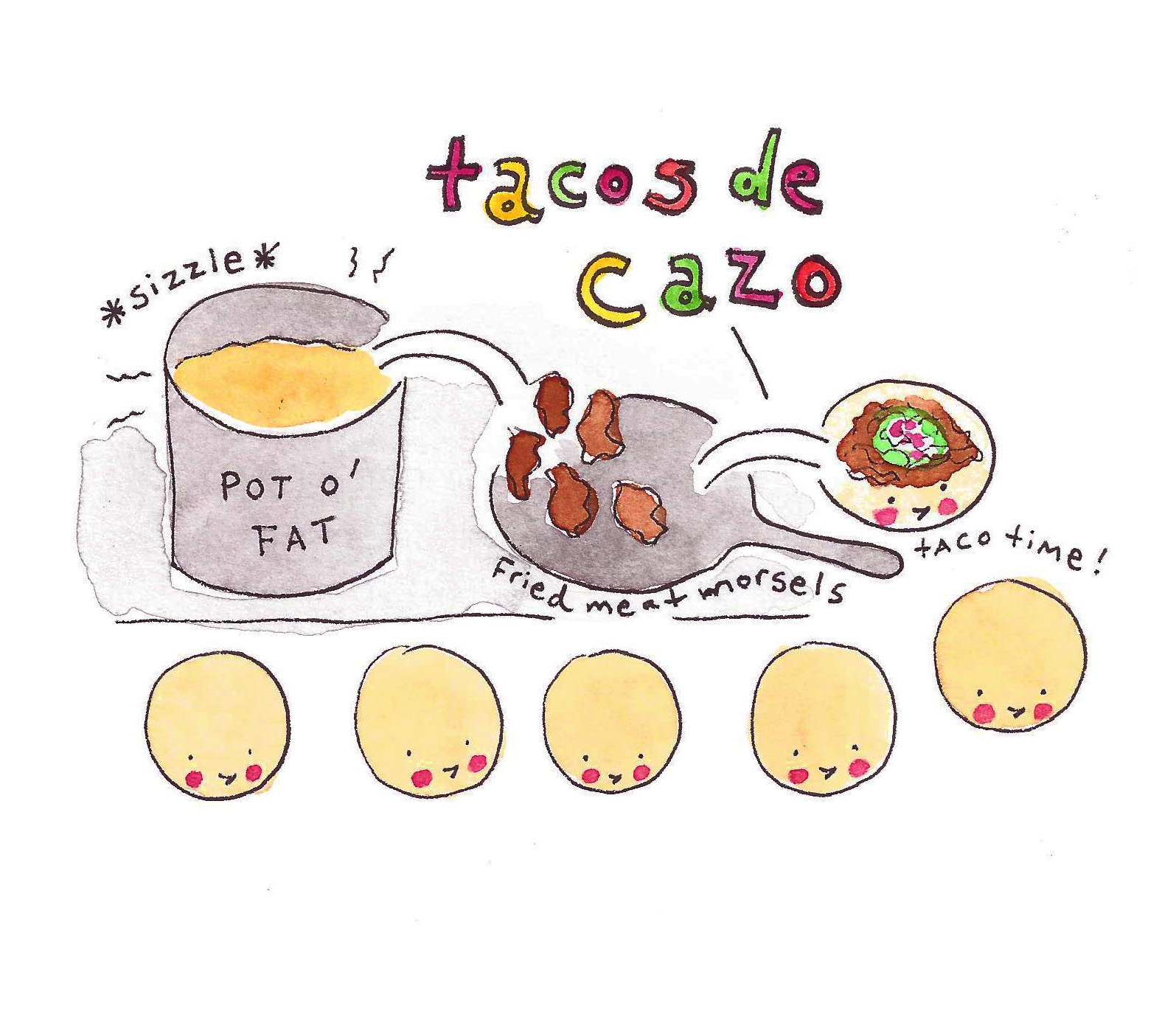 Tacos de cazo
Meats and fillings are first fried, traditionally in lard (today, oil is also used) and then crisped over high heat in a large, shallow pan called a comal. This process yields meat which is extremely tender, which makes them perfect for eating out of hand. Cuts of meat can range from beef tips to pig's esophagus to tripe. Carnitas are a famous type of tacos de cazo.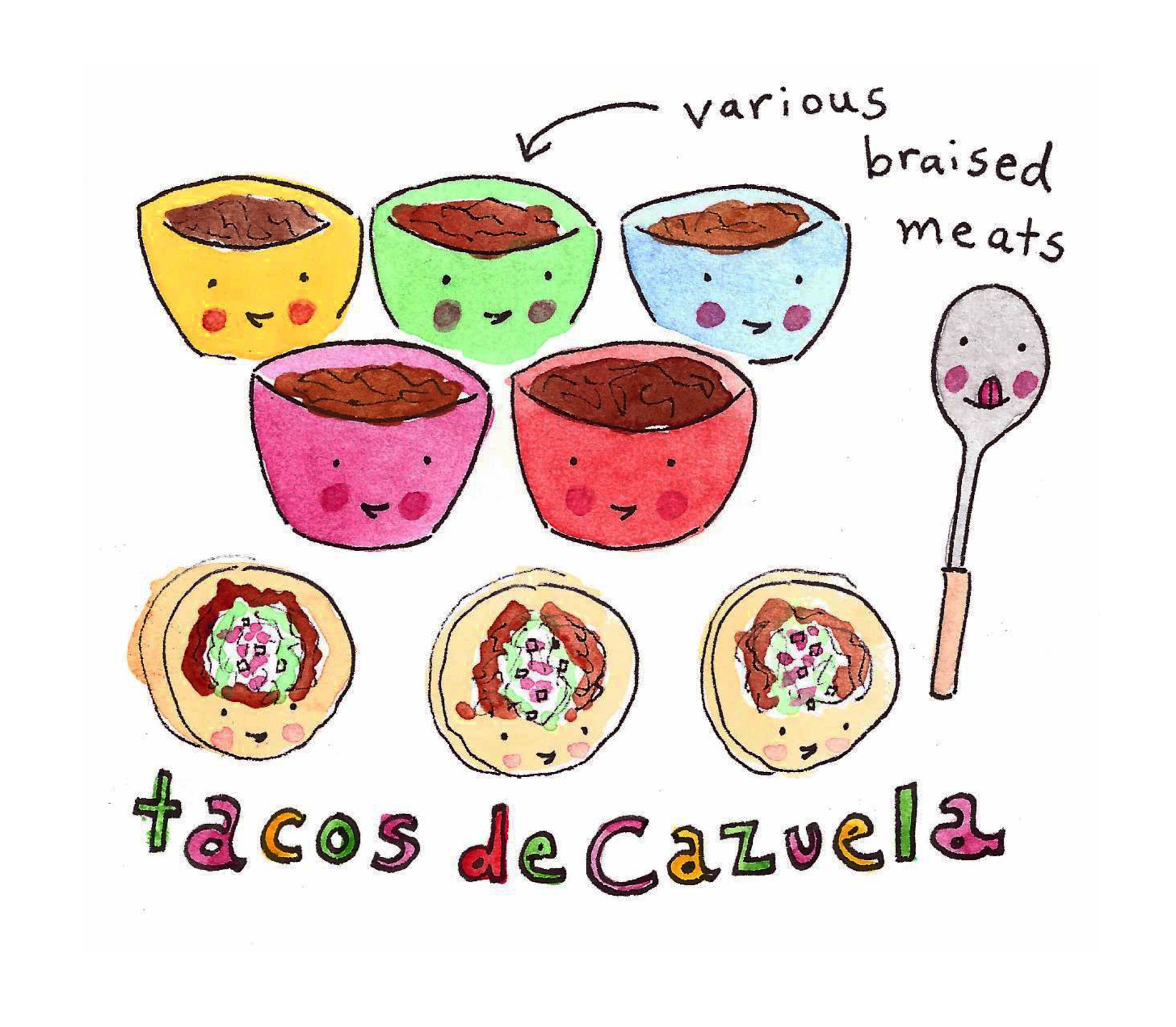 Tacos de cazuela
Braised or slow-cooked meats are the key component to tacos de cazuela. The cuts often include portions of the animal's head, including meat from the cheek, lips and brains. The meat is shredded and incorporated with the juices from the slow cooking before being stacked on tortillas, garnished, and served.
But wait, there's more!
These are just a few of the key types of soft tacos. Soft tacos also include, but are not limited to:
Tacos sudados: 

"Sweaty" tacos are made by placing the tacos in a cloth covered basket to capture the steam and soften them.

Tacos al pastor:

 "Shepherd"-style tacos are made with thin pork overlapped on a large skewer, seasoned with adobo seasoning and cooked on a rotisserie

Tacos de pescado

and

tacos de camarones:

Fish and shrimp tacos, respectively, are So-Cal specialties that have become beloved around the world. 
These days, traditional methods have welcomed international ingredients making for a delicious fusion of flavors. Korean barbecue, seasoned pork belly, duck confit, and even tuna tartare have all been spied on tacos in recent years.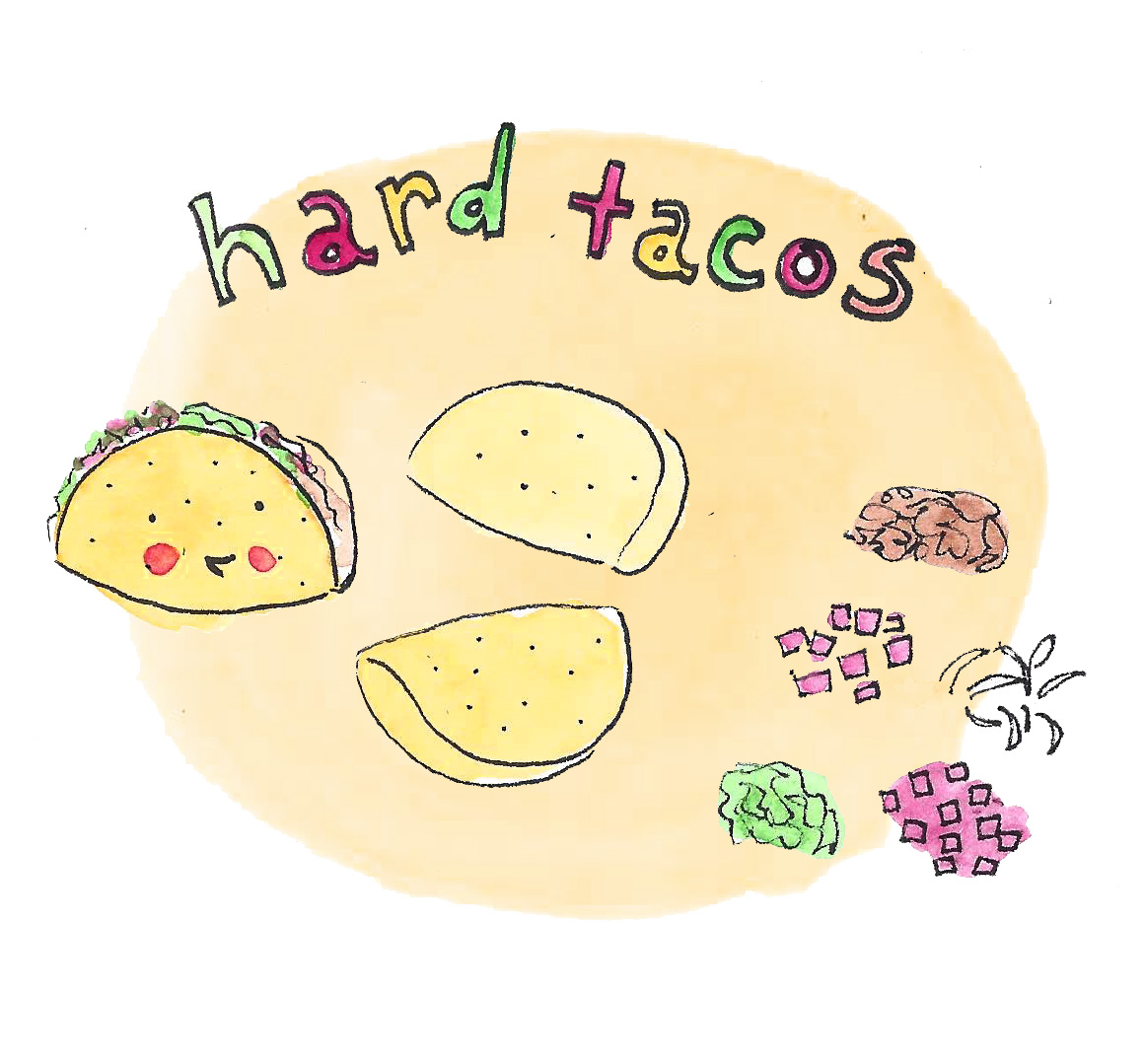 American-style hard tacos
If you grew up in the United States, chances are you grew up eating this kind of taco, involving a hard corn taco shell with a texture something like a tortilla chip. Fillings, usually seasoned meat, shredded lettuce, cheese, tomato and salsa, are then stacked inside. The taco shell slightly softens after being filled so that ideally it doesn't crackle and spill out all the fillings after you take a bite.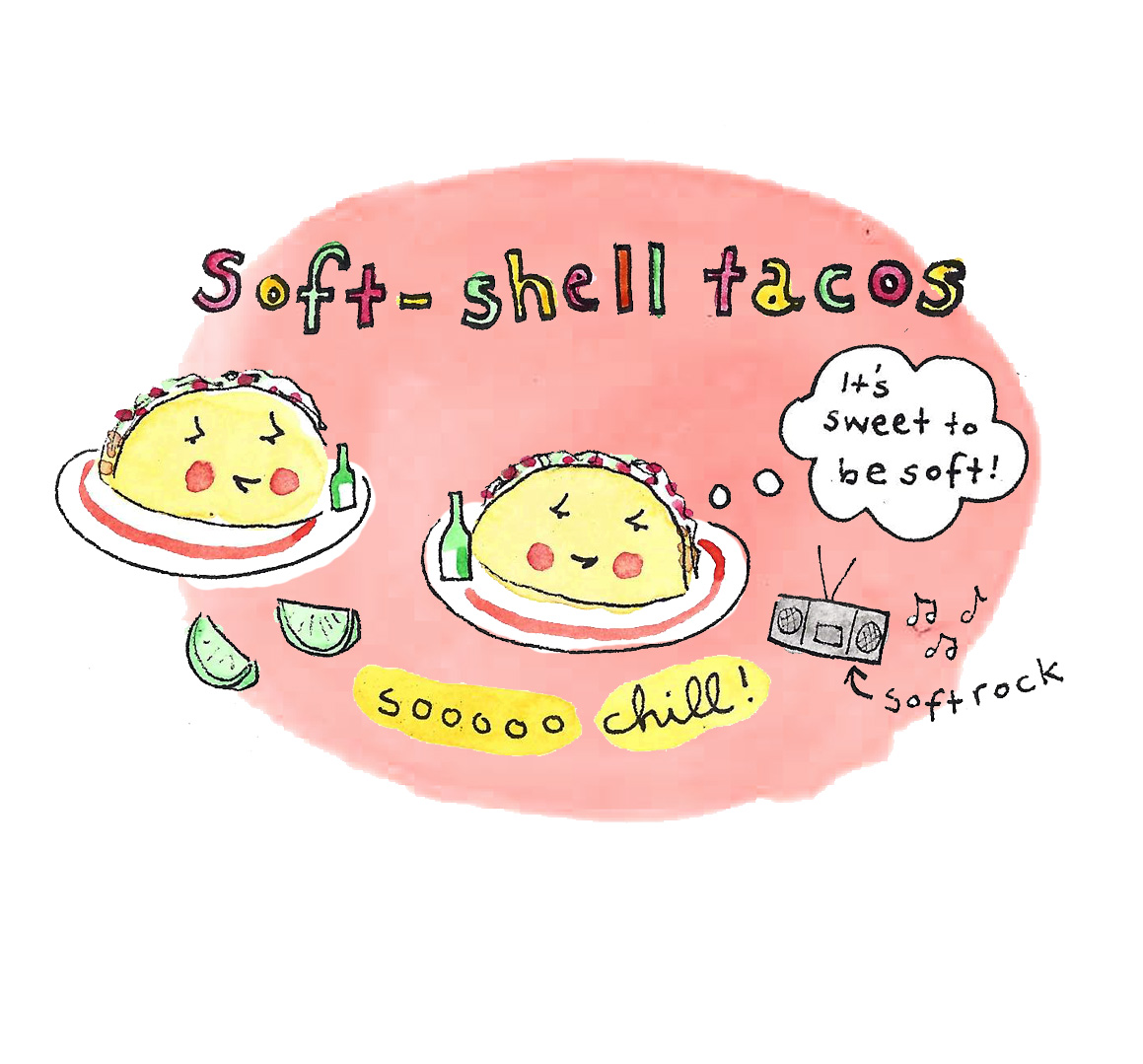 Soft shell tacos
How is a soft-shell taco different from a soft taco? Typically, a soft-shell taco is more like a hard taco shell, but steamed or cooked to a slightly softer consistency. This variation can include both corn and flour tortillas.
Learn how to make your own soft-shell taco shells here.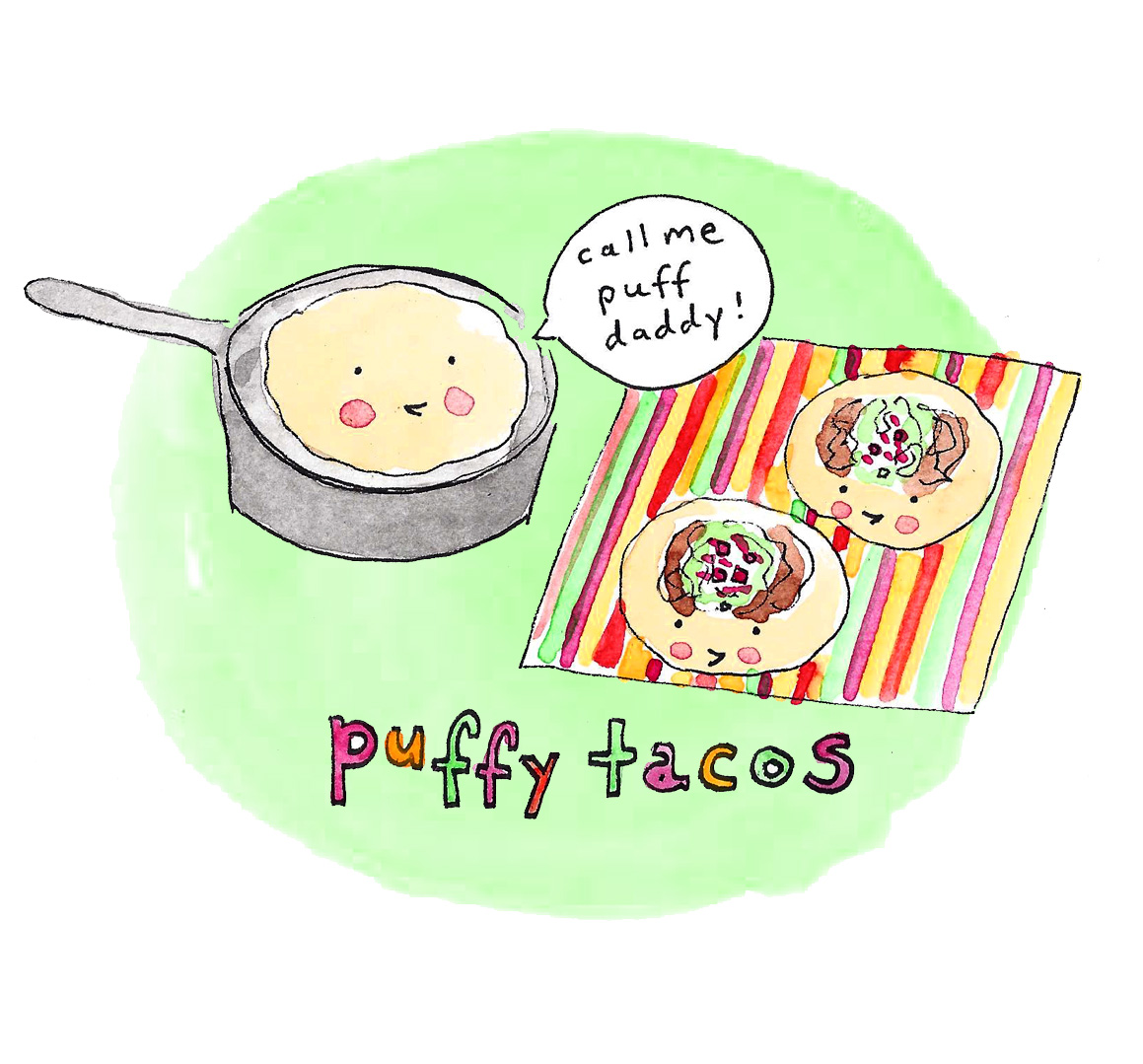 Puffy tacos
Puffy tacos are created by frying the tortilla in fat instead of simply cooking on the griddle, making for a soft and slightly greasy (in a good way) canvas for your toppings. It is differentiated from a "crispy" taco in that the tortilla is uncooked before frying.
Related to puffy tacos are Navajo tacos, which are made using fried bread instead of a tortilla. In the southwestern United States, a similar type of taco is created using sopaipilla, a soft "pillow" of fried bread, that can either be topped with taco fixings or split and stuffed with them.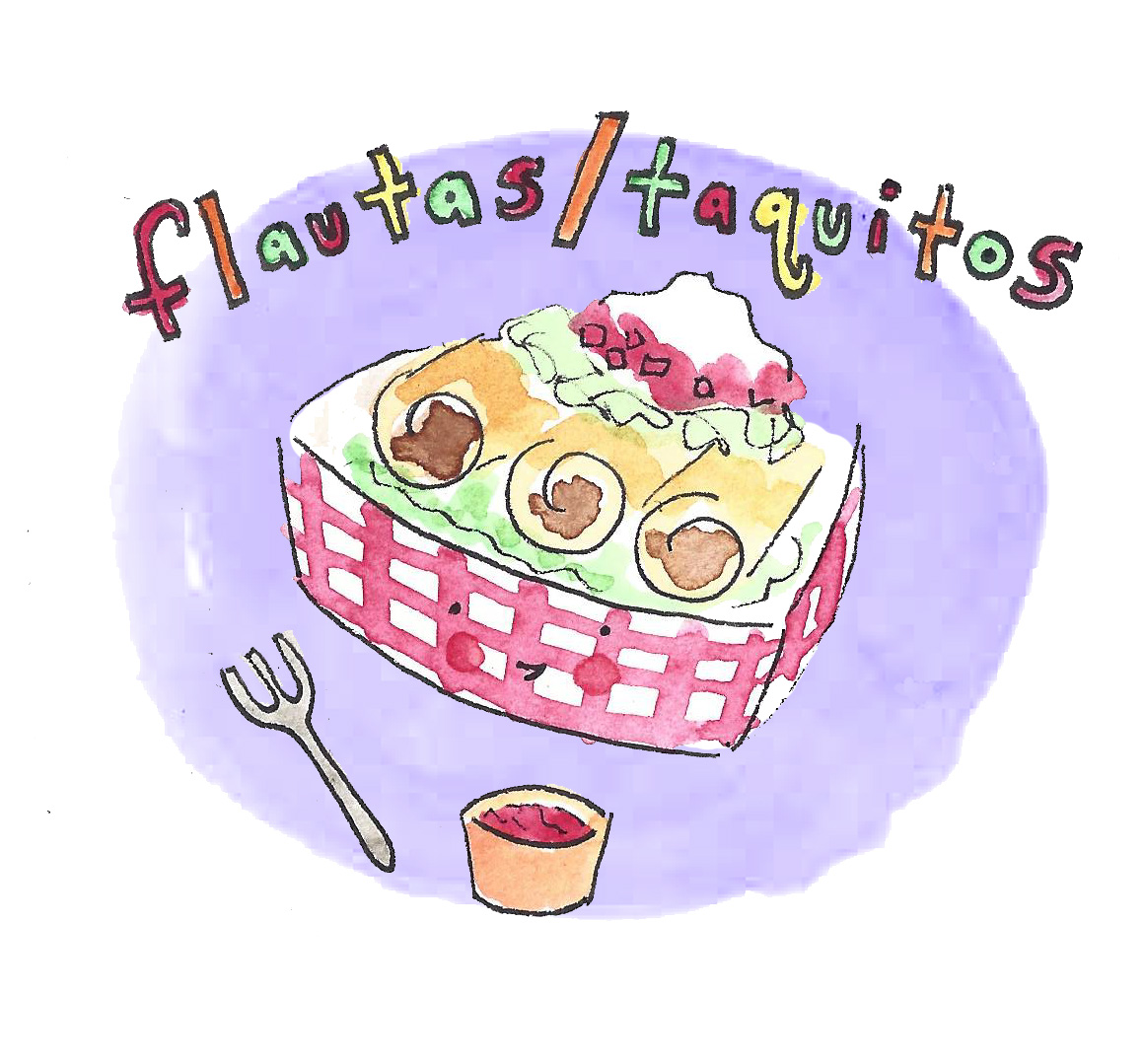 Flautas & taquitos
Flautas, taquitos, tacos dorados. These are just a few of the names used to describe these long, cigar-shaped specialties. They're made by placing a thin layer of fillings on top of a tortilla, rolling it into a cylinder and then deep-frying until crispy.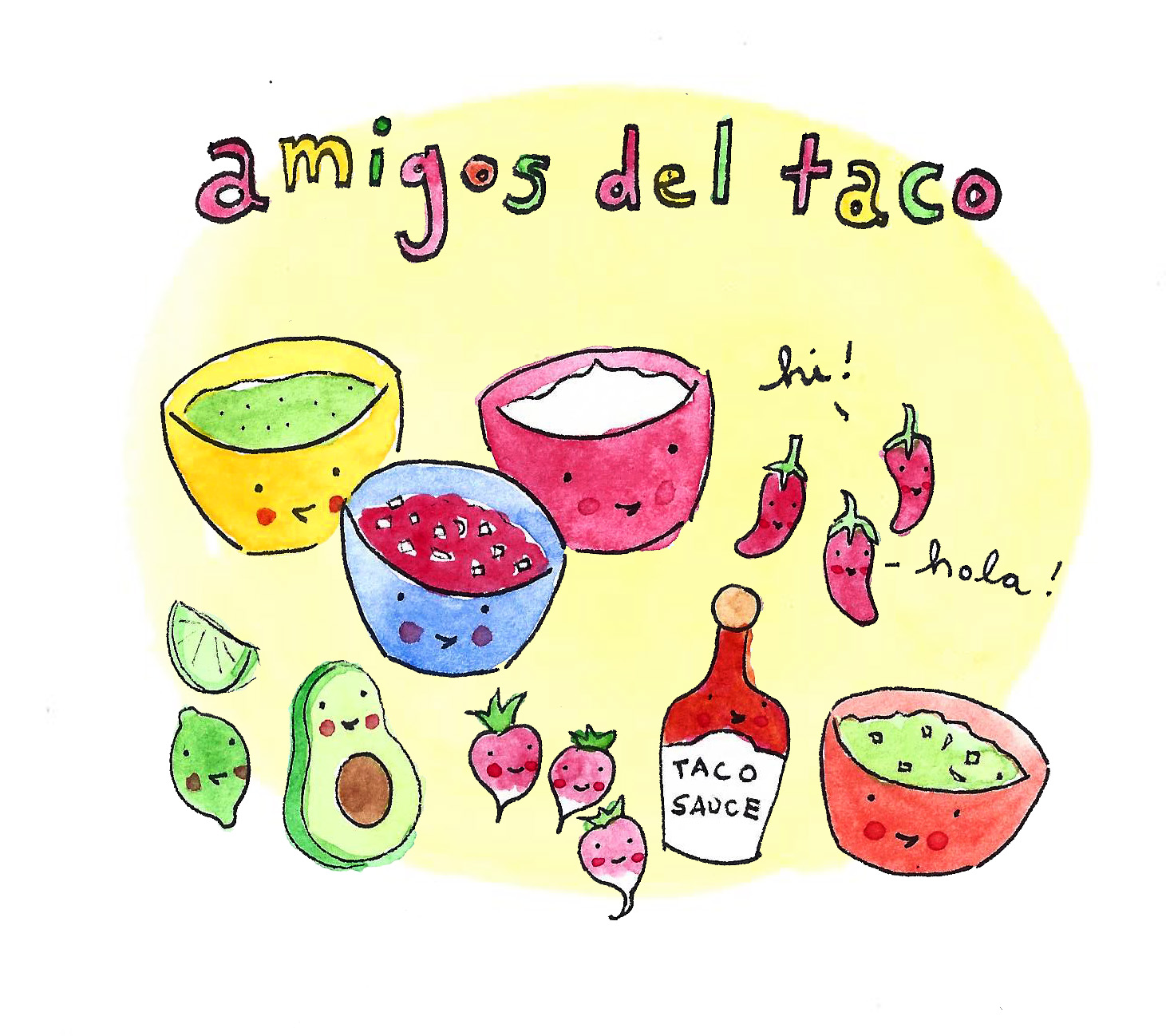 Friends of the taco: the ultimate toppings
Tacos are social creatures, and they have plenty of friends. Part of the fun of visiting a taco truck is piling on the condiments of your choice. If you frequent taco trucks or Mexican restaurants, you're probably familiar with them: salsas of all types and colors, taco sauce, pico de gallo, pickles including radish slices or even carrots, lime slices, avocado slices and guacamole, chiles, sour cream and, of course, plenty of cilantro.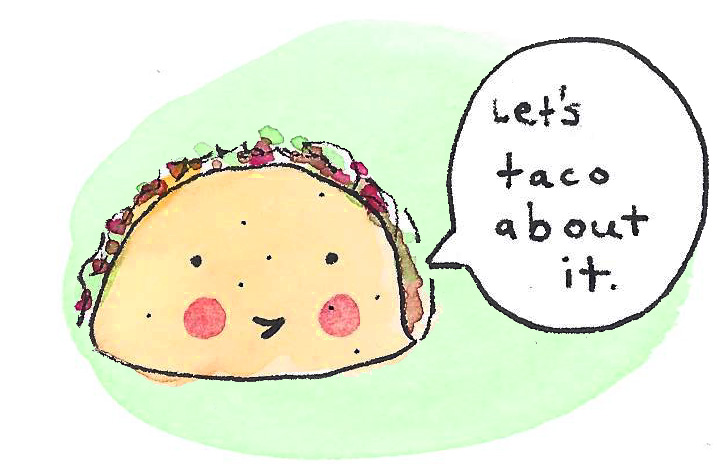 What's your favorite type of taco? Let's taco about it!