I'm not one to boast, but I do think I make the best chocolate chip cookies around. But here's the thing if you were to ask 20 people what their favorite recipe for chocolate chip cookies is, I can most certainly guarantee that you will get as many different answers.
I'm here to help navigate the different types of chocolate chip cookies (plus share my favorite recipe) — so can learn how to create your own ultimate chocolate chip cookie at home!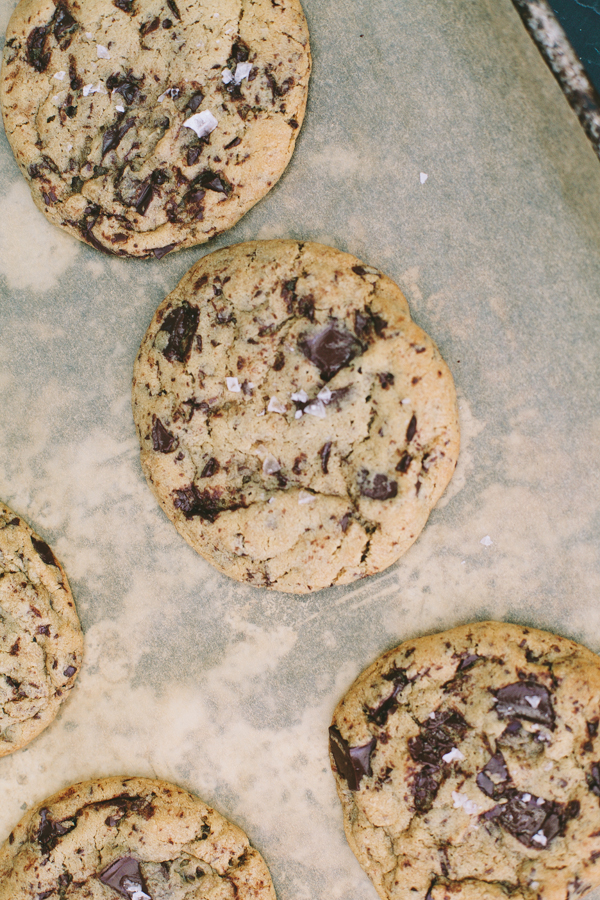 Each individual uses their own descriptors when discussing what qualities constitute their favorite chocolate chip cookie; puffy, cake-y, gooey, crispy, thin, thick, a lot of chocolate, a little chocolate, no chocolate (yes, I've actually heard that before). So what I think is the best — crispy exterior, deep flavor, gooey and chewy in the center, bittersweet chocolate pooled in between the dough and little flakes of sea salt resting on top — may not be what you are after.
The thing is that chocolate chip cookies are made up of very basic ingredients — each playing a crucial role in determining the final flavor and texture.
Chocolate chip cookie science 101
Below is a list of classic cookie ingredients and how they affect the final cookie. So say you found a recipe that is nearly perfect but you prefer it to be a little more crisp and dark. Then maybe you want to try replacing some or all of the flour with a high protein flour like bread flour or maybe adding some (or more) baking soda.
Ingredients + how they affect the finished cookie:
High protein flour: Make cookies darker in color and flatter.
Low protein flour: Makes cookies pale, soft, and puffy.
Butter: Makes cookies spread
Shortening: Makes cookies that do not spread as much.
Corn syrup: Browns.
Brown sugar and honey: Makes cookies that soften as they sit, richer flavor
Baking soda: Browns.
Eggs: Puffier and more cake-like.
Useful tips:
Colder dough holds it's shape better. If you want a cookie to retain shape chill the dough then bake at a slightly higher temperature. Conversely, if you want the cookies to spread use warm dough in a cooler oven.
Use parchment on the cookie sheets to prevent sticking.
Let the cookies cool on the tray for 2-3 minutes then remove to a cooling rack.
Wrap dough in parchment logs. Seal in saran wrap or store in fridge. From there dough can be sliced and baked.
In his article, "The Quest for the Perfect Chocolate Chip Cookie," published in the NY Times David Leite talks about the importance of salt in sweets:
"Salt, in the dough and sprinkled on top, adds dimension that can lift even a plebian cookie…Five years ago, sea salt as a must-have ingredient and garnish for sweets wouldn't have registered on the radar of many home bakers, but now it has become almost commonplace…"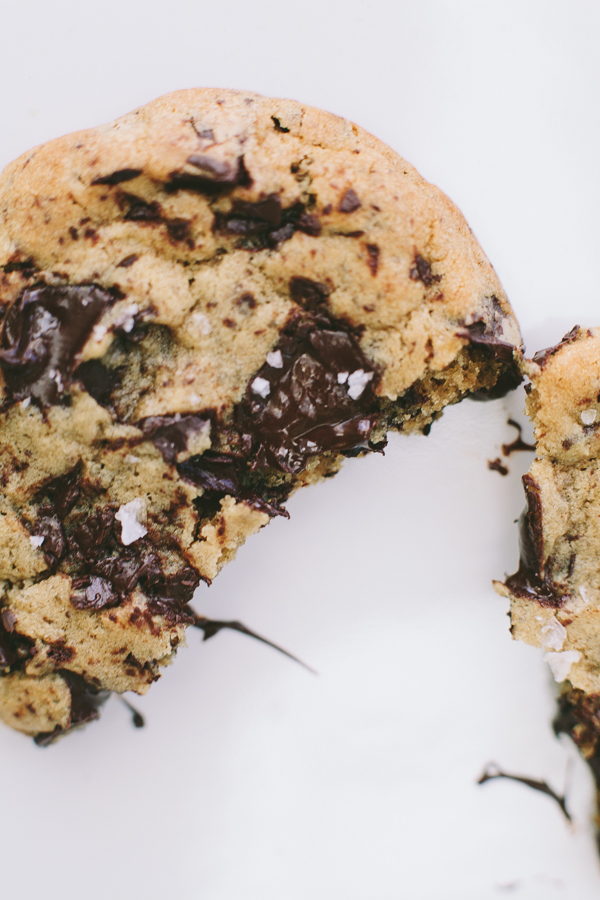 The recipe for the "perfect" chocolate chip cookie
So while I still stand by my claim that these really are the perfect chocolate chip cookie I understand that what is perfect to me may not be the same as my qualifications for perfection.
Here I used three types of sugar with only a little bit of that coming from white sugar because I wanted a rich, toffee-like flavor. The third sugar is turbinado sugar or sugar in the raw, which gives the cookie some texture that I love.
Now that you know the science of cookie baking you can use this recipe as a starting point and tweak it until it becomes your perfect cookie.
Ingredients
2 sticks butter, room temperature
1/4 cup white sugar
1/4 cup Turbinado sugar
1 3/4 cup light brown sugar, packed
2  eggs
2 tsp vanilla
3 1/2 cups All Purpose flour
1 1/2 tsp Baking soda
1 tsp kosher salt
1 lb. chocolate (use the best quality chocolate you can afford. With a serrated knife cut chocolate chunks roughly 1/2 inch)
Directions
Cream the butter and the sugars until light, about 5 minutes on medium speed. Scrape down the side of the bowl. Continue mixing while adding the eggs one at time. Make sure each egg is incorporated before adding the next. Add the vanilla. Scrape down the bowl with a spatula. Combine the flour, soda and salt in another bowl. With a whisk, stir to combine. With the machine on low, slowly add the flour. Mix until just combined, taking care not to over mix. With a spatula fold in the chocolate.
Bake at 360 F for 12 minutes. They should be lightly golden on the outside but still look gooey on the inside.