Bold quilts turn our heads and make our eyes light up with wonder. In contrast to quilts made with the popular low volume fabrics, bright and brave quilts use color contrast and unique elements to make quilt designs that really stand out.
Whether you are quilting with solids or prints, you can learn to pair fabrics in a way that makes patchwork pop!
Get inspired with these bright and bold quilts, and perhaps you'll even get a vision for your next quilting project.
Amy of 13 Spools shares her Fire & Ice quilt, a paper-pieced quilt pattern that uses warm and cool colors to create a bold quilt design. The contrasting colors and the use of symmetry make this quilt pattern really pop, with a subtle gradient effect in both the reds and the blues. Amy's tip is to spend plenty of time choosing your fabric colors so you get a nice spread of solids.
Sara of Knotty Gnome Crafts shares a bold quilt she made with the help of her quilting bee. The Rolling Diamonds quilt uses bright, concentrated colors as well as some lighter shades of fabric. Still, the overall effect is a finished quilt that takes a pretty block and amps up the volume with high-contrast colors. When looking at quilts, which colors typically stand out the most to you, and why?
What if you're working with neutral colors like grays? It's still possible to design bold quilts with neutrals, as you can see in the Poppstrong quilt by Melanie of melintheattic. Using a wide area of negative space and two strong focal points (a rainbow stripe and the cityscape), this confident quilt makes a beautiful statement; Melanie designed it to inspire someone undergoing cancer treatments.
Surprisingly, you don't need a huge array of fabric colors to make bold quilts. Terri of the quilted fox designed her Blue Wrenches quilt using two basic colors: blue and white. The classic Churn Dash quilt block is given a wonky treatment for a whimsical effect. How many shades of blue can you count?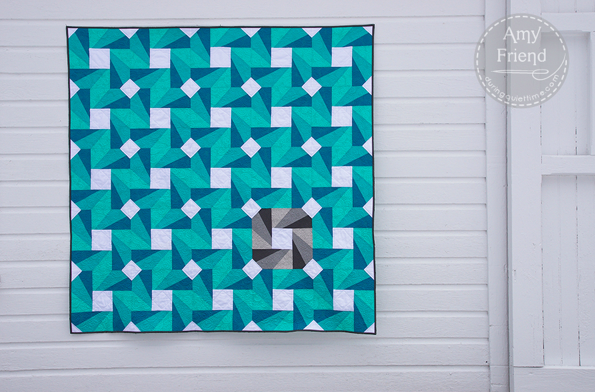 Amy at During Quiet Time made the paper-pieced Spinning Wheel quilt to be included in American Quilter magazine. This quilt uses a simple color scheme, blues and teals, to show bold contrast and movement. When studying quilts you like, think about how the colors work together and how you choose fabrics for your own quilting projects.
Black-and-white fabric prints provide just the right vigor to give Maureen Cracknell's Stitched Typography quilt a lively design. With just a few pops of teal in the center of her improv Log Cabin blocks (and again on the binding), this bold quilt design shows just how successful light and dark can work together in a quilt. Keep an eye out for fabrics with a lot of contrast when designing bold quilts.
Debbie of Esch House Quilts designed her Think Positive quilt with just two contrasting colors in mind. Although she considered adding a berry-colored binding, she ultimately decided that this quilt made the boldest statement when she stuck with her key colors of dark grey and white. Sometimes a bold quilt design has more to do with the fabrics left out than the ones you decide to throw in at the last moment — so, remember to keep an editorial eye.
Do bold quilt designs speak to you? We'd love to hear how you go about choosing fabrics to make beautiful, bold quilts!