I had the privilege to attend International Quilt Market in Houston, and couldn't resist featuring several fabrics designers I had the chance to chat with while walking around the show floor.
Each of them told me the same, amazing fact: They had received samples of their fabrics one or two weeks prior to the show. If you really think about this, that gives each of them barely enough time to create the quilts, handmade home decor and clothing featured in their booth spaces! And their work was brilliant, nonetheless.
Here are some my favorite fabric collections from the 2013 International Quilt Market:
Andover Fabrics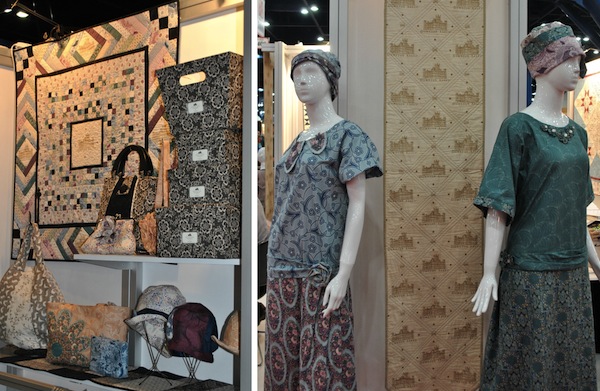 Downton Abbey
Quilt shop owners crowded to the Downton Abbey Schoolhouse session to learn more about the new collection for Andover Fabrics. Inspired by the popular television series, this licensed fabric collection features muted colors and sophisticated prints.
Art Gallery Fabrics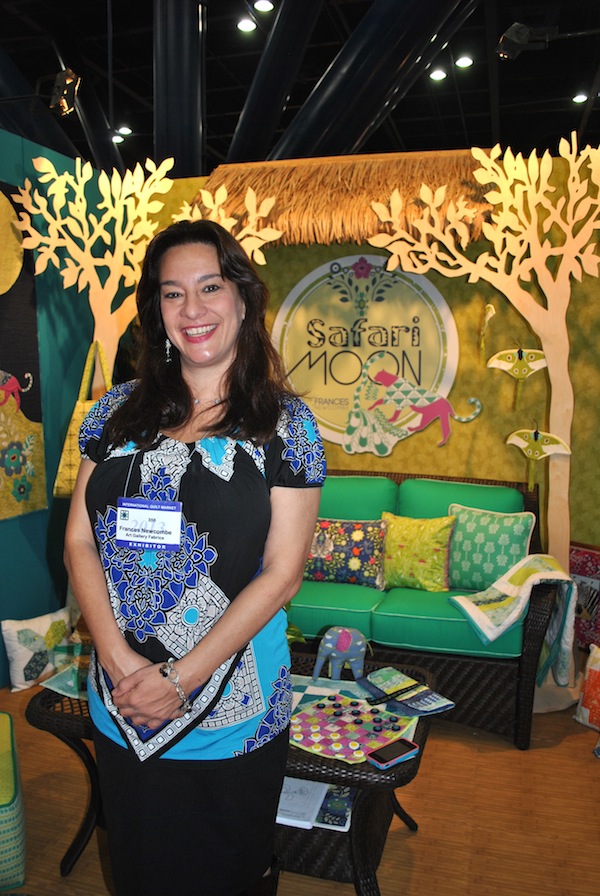 Frances Newcombe: Safari Moon
Safari Moon by Art Gallery Fabrics designer Frances Newcombe is filled with happy jewel tones and influenced by the beauty of African wildlife. The fabric line will release in December 2013.
Here are two stunning quilts displayed in the Safari Moon booth, showing off the fabrics in both a pieced design and an appliquéd quilt. Frances is excited to join Art Gallery Fabrics, with this being her first collection with the group.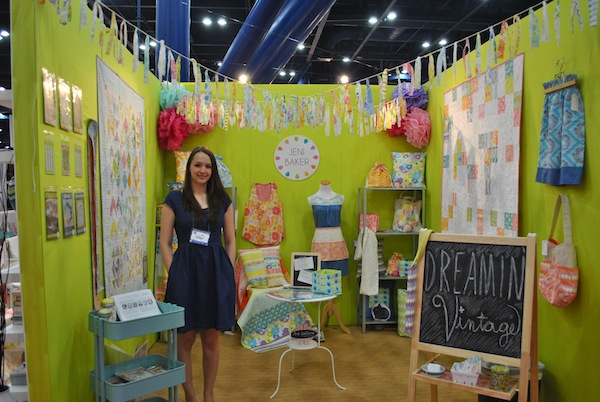 Jeni Baker: Dream in Vintage
Jeni Baker debuted her third collection for Art Gallery Fabrics, called Dream in Vintage. The designs are inspired by vintage sheets.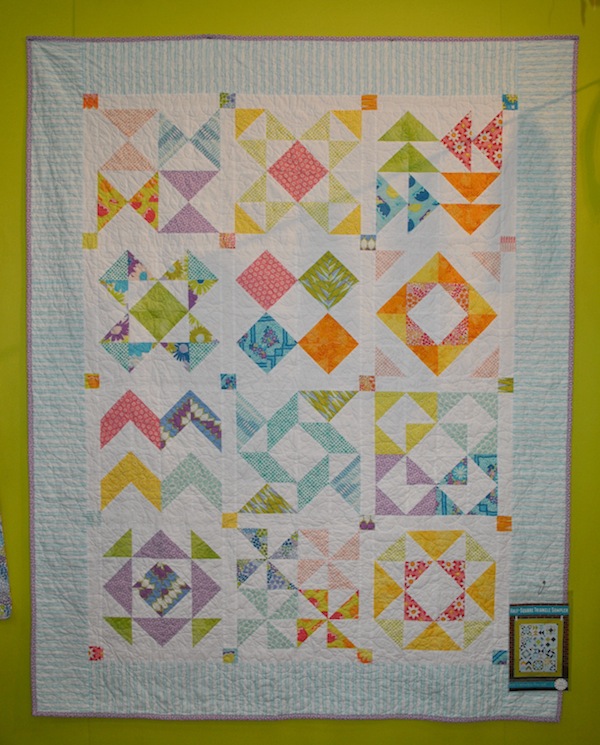 Here is the new fabric line displayed in Jeni's popular Half-Square Triangle Sampler pattern.
Angela Walters: Drift
Bluprint instructor and Art Gallery Fabrics designer Angela Walters showed off projects featuring her new collection Drift. Many of the items in her booth were cleverly re-purposed (such as a girl's dress swapped out with a new skirt), conveying a beachy theme.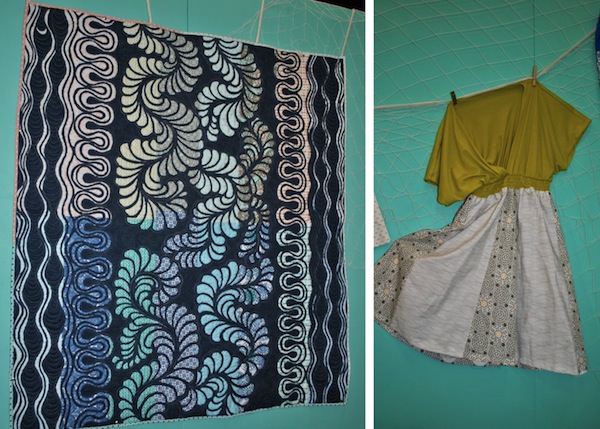 What you may not realize is that in addition to making the projects for her booth in just over a week's time (her fabric samples arrived just before Quilt Market), Angela also quilted several projects for other designers exhibiting at the show! Angela also announced that she's been busy working on her third book, which will release next May: The Free-Motion Quilting Workbook.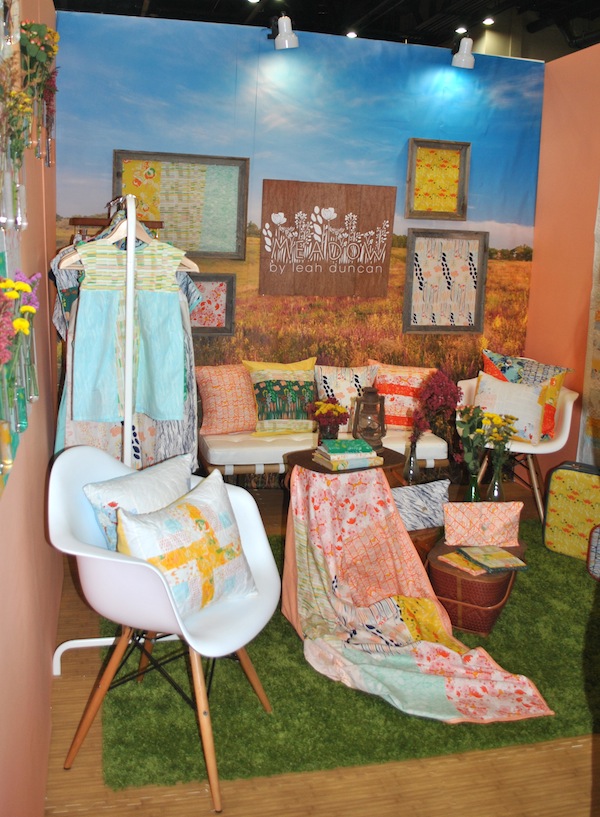 Leah Duncan: Meadow
Designer Leah Duncan showed off her new collection for Art Gallery Fabrics, called Meadow. The floral-inspired fabric line features colors similar to her previous line Tule: spring peaches, yellows and blues, including a bold navy.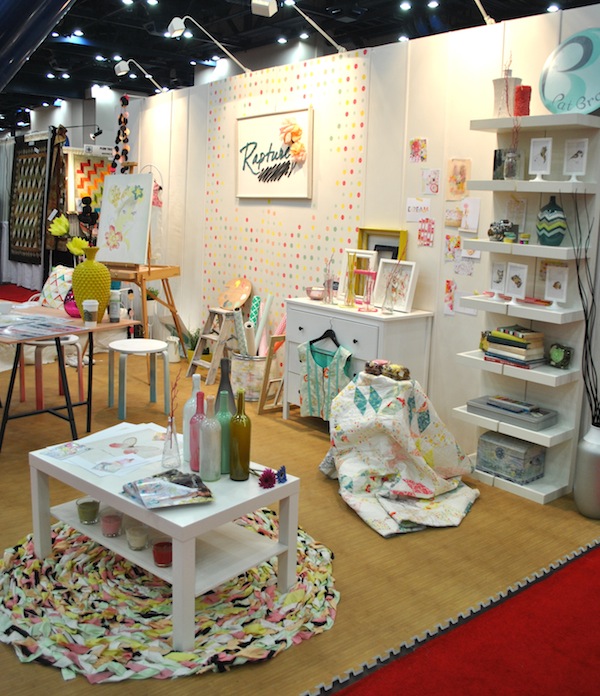 Pat Bravo: Rapture
Due out in November, Pat Bravo's newest collection for Art Gallery is called Rapture. I had the privilege of hearing Pat speak about the topic of fabric design at the Sewing Summit conference this fall, and she mentioned how important it is as a fabric designer to "bring it" every time, and not rely on your successes with a previous fabric collection. With her newest collection, available in two colorways, it's apparent that Pat has done just that.
 In the Beginning

Photo via Handmade by Alissa
Alissa Haight Carlton: Modern Solids
With her modern design aesthetic, it only seems natural that Alissa Haight Carlton would release a line of Modern Solids through In the Beginning Fabrics.
Kokka Fabrics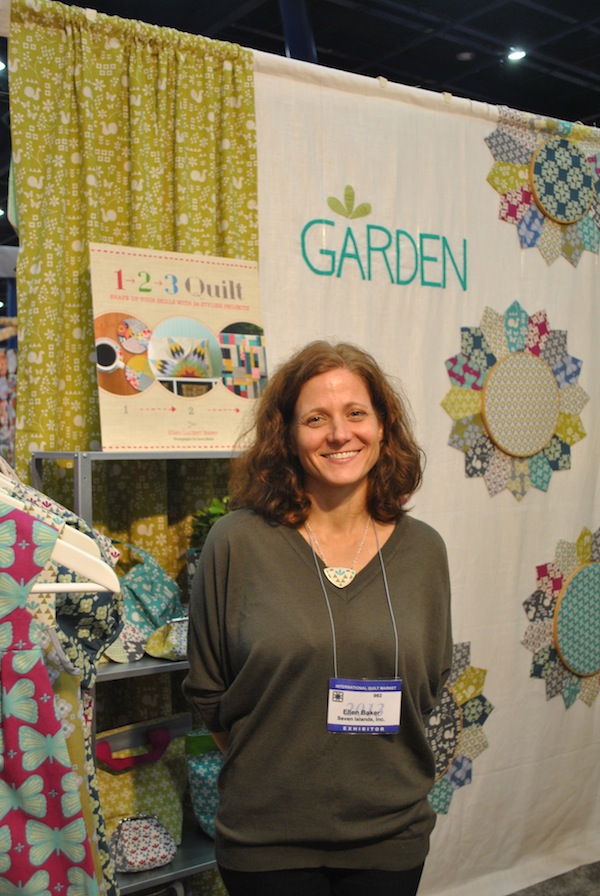 Ellen Luckett Baker: Garden
Designer and author Ellen Luckett Baker was at Quilt Market to share her new fabric line for Kokka, which is called Garden. The wall of Dresden flowers with embroidery hoops displayed her coordinating prints perfectly. She shares more projects featuring the collection at her blog, The Long Thread.
Michael Miller Fabrics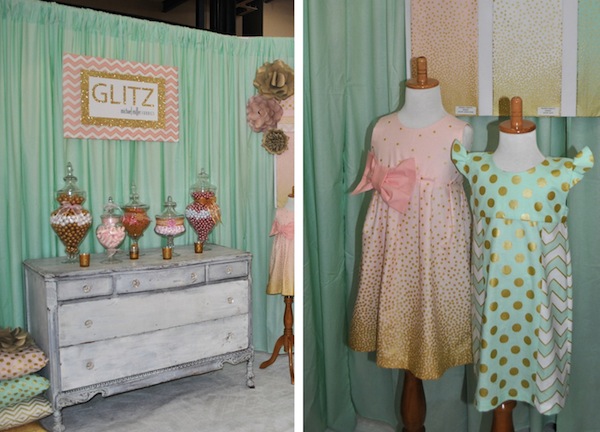 Glitz
Glitz from Michael Miller was released in October. This was one booth I could just sit and look at all day, with its serene colors and pops of shiny gold fabric.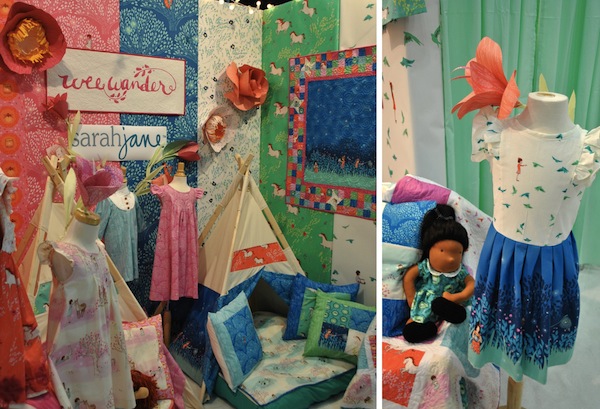 Sarah Jane: Wee Wander
With jewel tones and whimsical prints, Sarah Jane introduced her Wee Wander collection at fall Quilt Market. The fabrics will release in January 2014.
Moda Fabrics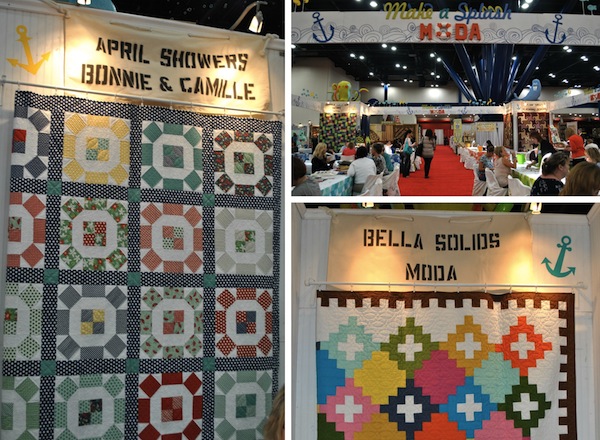 Bonnie and Camille: April Showers
Bonnie and Camille will release the new April Showers line for Moda Fabrics. The nautical-themed Moda Quilt Market booth displayed a bubble machine and featured several new designer collections as well as the popular Bella Solids.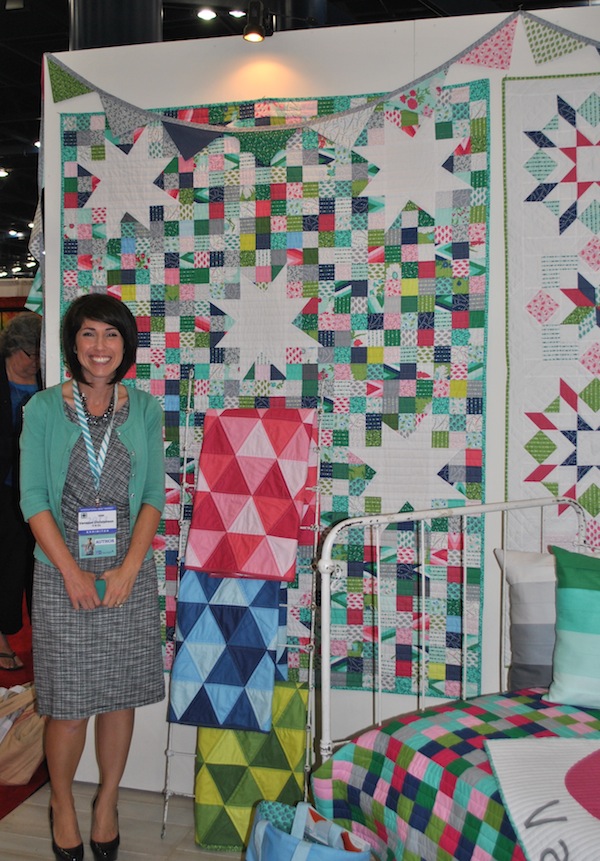 Vanessa Christenson: Color Me Happy
Vanessa Christenson will release her newest collection with Moda Fabrics. Color Me Happy features prints and coordinating solids. These actually pair perfectly with her line of thread for Aurifil.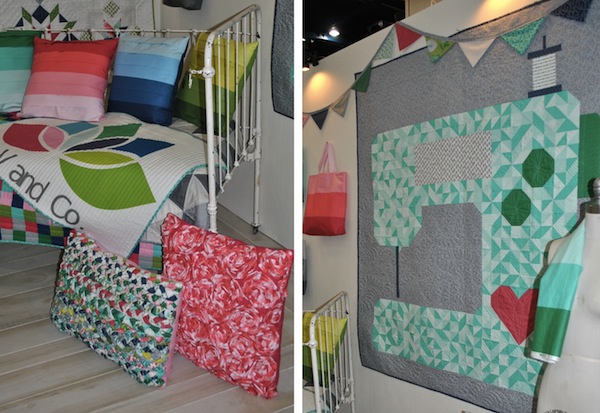 As with each of her previous fabric lines, Vanessa has released coordinating quilt and sewing patterns under her brand V&Co. These include her Handmade, Lucky Stars, Flower Box and To the Point quilt patterns.
RJR Fabrics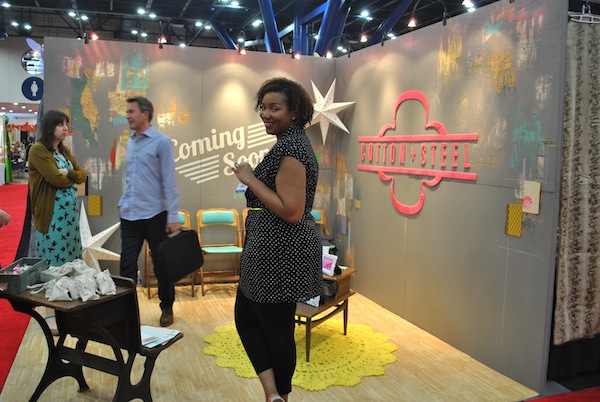 Cotton + Steel
Just before Quilt Market kicked off, five fabric designers announced that they were joining forces to promote their new fabric company, Cotton + Steel, in partnership with RJR Fabrics. The five founding designers are Melody Miller, Kim Kight, Sarah Watts, Rashida Coleman-Hale and Alexia Abegg. At Quilt Market, the quintet released a short video documentary detailing their journey and describing their hopes and dreams for the new company.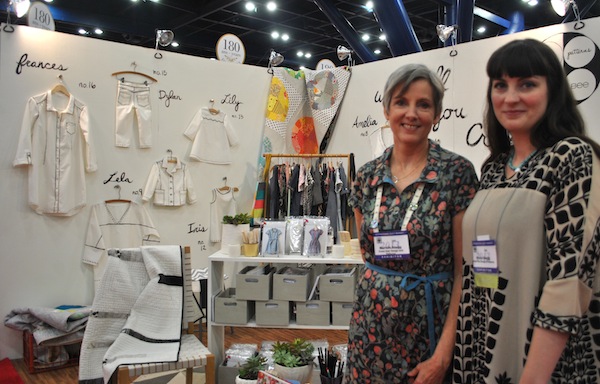 I also got to talk with Michelle (left) and Alexia Abegg (right), who were just across the aisle promoting their company, Green Bee Patterns. They are excited to release several new patterns this Market, which are displayed across the walls in an eye-catching, minimalist display.
Robert Kaufman Fabrics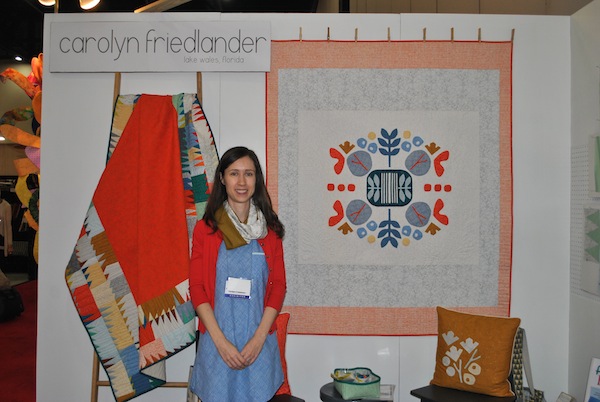 Carolyn Friedlander: Botanics
Following up on her popular fabric line Architextures is fabric designer Carolyn Friedlander. Her new line Botanics will release soon with Robert Kaufman Fabrics.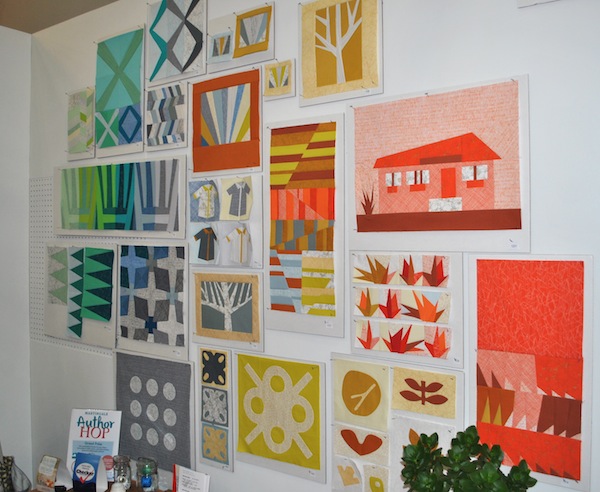 Carolyn's background in architecture shines through in her interesting quilt block designs, which are each like mini works of art.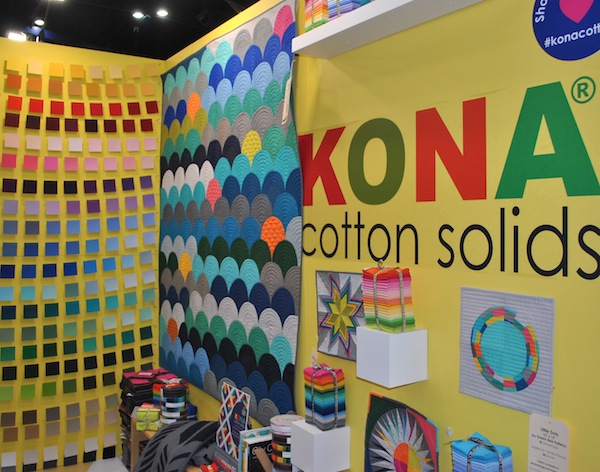 Robert Kaufman: Kona Cotton Solids
Kona Cotton released new colors for its cotton solids collection (pictured). The beautiful quilt in this booth was pieced by Latifah Saafir and quilted by Angela Walters.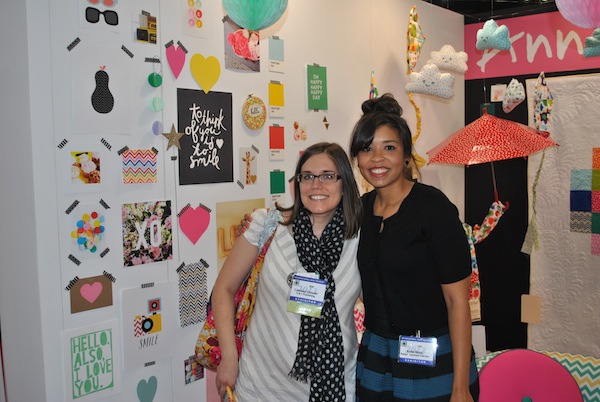 Ann Kelle: Super Kids and Remix Slicker
Kelle Boyd (pictured right) is the designer behind Ann Kelle Designs. I got the chance to meet her, and even though I'm looking at the wrong camera, you can still see an adorable umbrella sewn from her new Remix Slicker fabric for Robert Kaufman.
The child's tent featured in the booth is sewn from her Super Kids fabric, which pair well with her beloved Remix fabrics.
Riley Blake Designs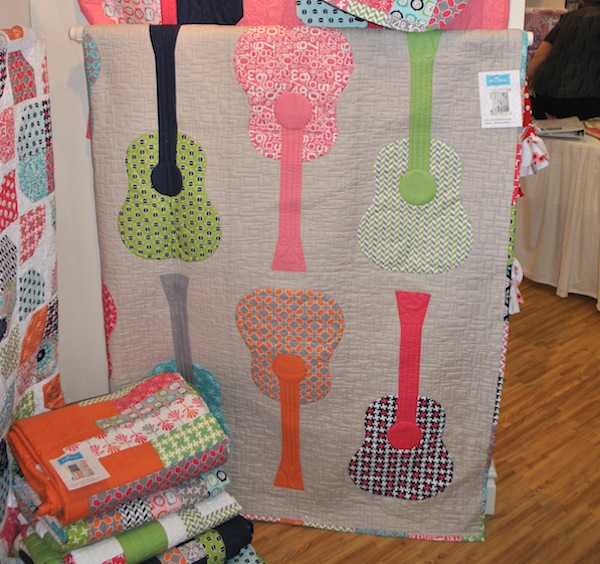 Bee in My Bonnet: Gracie Girl
Here's a quick peek a fabric line that's coming soon from Riley Blake Designs: Gracie Girl by Kassidy and Lori Holt of Bee in my Bonnet. Riley Blake shared lines from several other designers via their Instagram feed.
Rowan and FreeSpirit Fabrics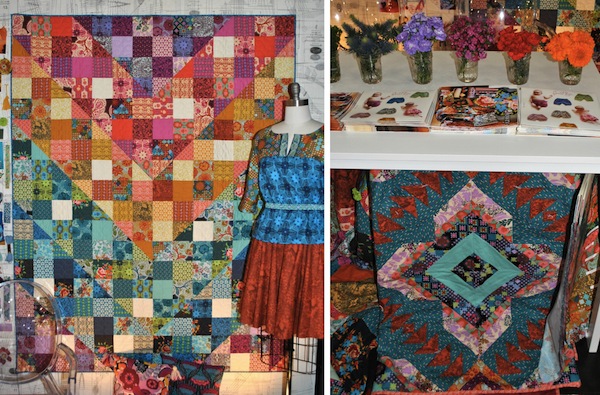 Anna Maria Horner: Dowry
Several designers are releasing new lines this season with FreeSpirit Fabrics including Anna Maria Horner (pictured) and her new line Dowry. Others include Joel Dewberry, Nel Whatmore, Tina Givens, Valori Wells, David Walker, Jennifer Paganelli and Heather Bailey. I've captured photos of several booths in my Quilt Market Flickr set.


Photo via Don't Call Me Betsy
Denyse Schmidt
Denyse Schmidt also debuted a collection of solid fabrics for FreeSpirit at Fall Quilt Market. This Sparkling Diamonds quilt was designed by Elizabeth Dackson using the new fabrics.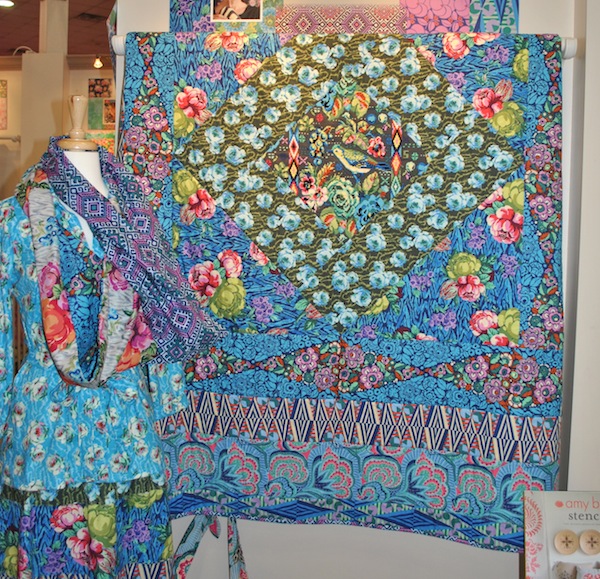 Amy Butler: Hapi
Amy Butler debuted her new line Hapi for Rowan (pictured above). Victoria & Albert Museum featured prints from the new collection Vintage Florals.
Windham Fabrics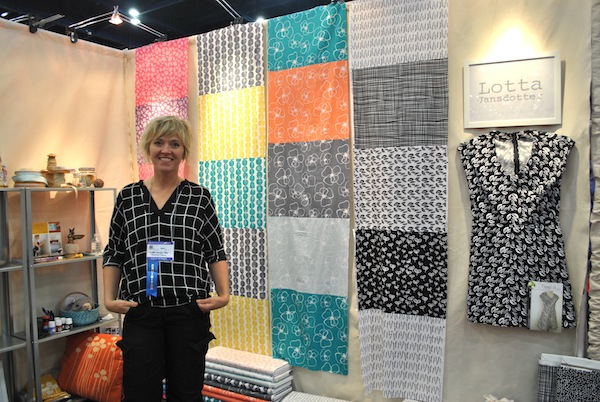 Lotta Jansdotter: Mormor & Sylvia
Textile and surface designer Lotta Jansdotter debuted her fourth fabric for Windham Fabrics collection at Houston Quilt Market. Mormor, a colorful collection in her signature style of monochromatic, colorful prints is complemented by Sylvia, a line of all black-and-white prints.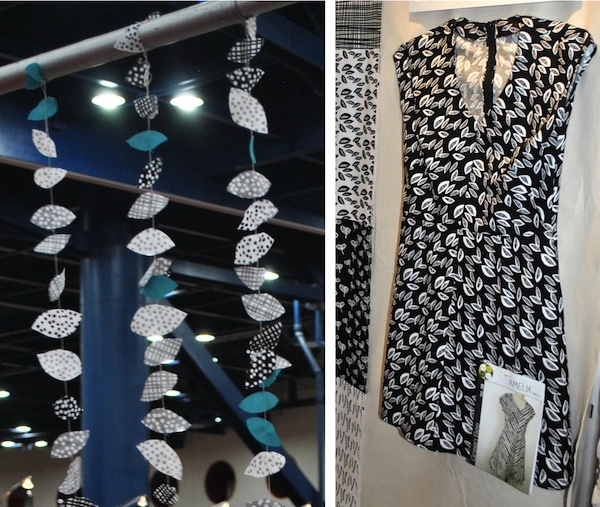 Lotta decorated the booth with strings of fabric leaves in her neutral prints from Sylvia, and an Amelia Dress made from one of the larger-scale prints.
Wow, that's a lot of new fabric, and I didn't even get to feature a fraction of the booths and fabric companies represented. Lesson learned: Next Quilt Market, I'll add an extra day to my trip! Luckily, fellow Bluprint blogger Sherri McConnell also attended Quilt Market. Come back to the Bluprint blog tomorrow to see her favorite designer fabrics from the show!
Did you see any new fabric lines from Quilt Market that really caught your eye?