If you have been knitting sweaters for a while, you have probably been interested in designing your own at some point. There are plenty of gorgeous sweater patterns out there, but have you ever imagined the perfect sweater in your mind but couldn't find the pattern for it?
I find myself doing this when I shop in stores, too. "If that sweater just had a Peter Pan collar instead of a boatneck. And if the sleeves were longer. Then I'd wear it." If you find yourself in this situation often, it's time to start thinking about designing your own sweater.
Designing a sweater can be a bit overwhelming at first, especially if you've never tried it before.
Here are a few things to consider when sketching and planning your design: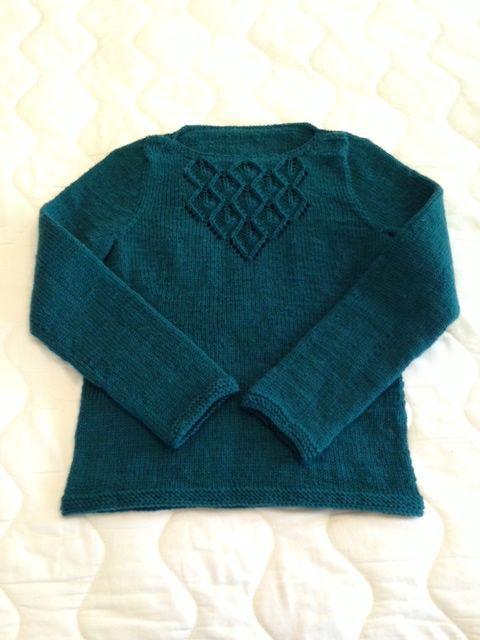 Artemisia sweater knit by Craftsy member juliacwoo1069319
1. Style
What style of sweater are you drawn to? This will help you make a lot of decisions about the elements of your sweater. Do you like the lovely cables and twists of Aran sweaters? Are you gaga over the yokes of traditional Icelandic sweaters? Perhaps Fair Isle is your thing.
Take elements from each of your favorites and think about how they might fit together to create your perfect sweater. And don't forget: cardigans are sweaters, too!
2. Sleeves
Sleeves are a key element in sweater design. There are several styles of sleeves to choose from. Decide how you want your sleeves to fit (loosely or a bit tighter?) and how you want the sleeve to connect to the shoulder.
If you're not familiar with different types of sleeves, leave a comment!
3. Collars
Something as simple as a collar can change the whole look of your sweater. Try a cowl neck for something loose and cozy. Or go trendy with a little Peter Pan collar. A shawl collar, seen above. Take a look at some of your favorite fashion designers or knitting magazines and see what type of collars you're drawn to.
4. Ease
Do you want a tighter-fitting sweater that shows off your curves? Or do you want a sweater with a lot of ease so you can be comfortable and warm at the same time? Think about where you want to wear the sweater and what type of fit would be appropriate for that occasion. You probably don't want to go to work wearing a loose sweater that looks more like something you'd lounge around in while watching TV — and vice versa!
5. Measurements
Designing is the easy part when you consider that you'll eventually have to figure out what measurements this lovely sweater of yours will have. A cheater's way of designing a perfectly-sized sweater is to take measurements from one of the sweaters already in your closet. Choose the one you wear the most — you might even pull some design inspiration from it.
If you love designing but hate calculating sizes, it's Faina Goberstein to the rescue with her class Sizing Knitwear Patterns. You'll conquer your sweater-fitting fears with instructions for calculating a range of sizes and even setting up a spreadsheet to do the calculations for you!
You can also check out Handknit Garment Design with Shirley Paden for how-tos, like calculating ease, shaping armholes and shoulders, and more.