Have you ever found yourself wanting to start a new knitting project, but not being able to find a pattern that is quite what you want? Well, instead of settling for something that's close, why not make up your own pattern? Some projects are perfect for allowing a knitter to express his or her own creative vision. A shawl is just such a project. The basic construction of shawls doesn't much change, so all you have to do is decide what design elements you want to include on your shawl. Designing your own shawl allows you to choose the exact yarn you want, and the exact size of shawl you want, with everything done according to your chosen specifications.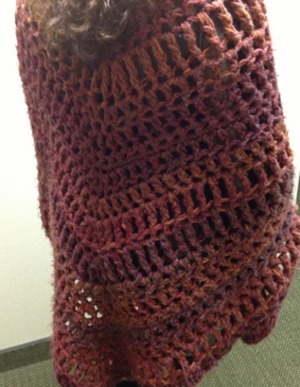 Do you want a light, wispy, lacy shawl? Or a big, thick shawl for hunkering down on the couch on a cold night? When you take charge of the design, you get precisely the shawl you'd prefer.
There are really only a few basic shapes for shawls: rectangular, semi-circle, heart-shaped, triangle. The first step, then, is to decide what shape you want your shawl to be. For any shawl shape, you can find numerous patterns to give you an idea of the basics for constructing the shawl. You don't need to reinvent the wheel when it comes to construction.
Where you get to play around, then, is when it comes to determining what your finished fabric will look like. Shawls can be a great vehicle for a beautiful lace pattern as they're such a wide expanse of fabric. Because of this, you can mix and match different lace patterns as you like. For example you could knit a seashell lace section followed by a block of a wave lace, and finished with another seashell section. When you're in charge of how many stitches you start with, you can translate any design element into your project by making sure your stitch count will work with the required multiples. If your design element repeat is 10 stitches long over 6 rows, you can calculate either how wide and long you want a rectangular scarf to be or how many stitches you should begin a triangle shawl with.
You can also play with edging. There are dozens of types of ruffles or fluted edges you can add to the bottom of your shawl. When I made a shawl for my sister, I added a bell ruffle to the bottom edge, giving the shawl a more completed look. Though I will confess, a bell ruffle adds a lot of stitches to an already long edge, so binding off did take a long time. But it was worth it.
Don't forget, there's a top edge, as well. On a triangular or semi-circle shawl, you can add a collar at the section of the top edge that will go around your neck. Or consider pockets for a cold-weather shawl. Or add a floret detail to mimic a broach. The design possibilities are limited only by your imagination. What would your designed-just-for-you shawl look like?