Denim has such an interesting history in fashion, an crocheter can even stamp their own mark on it. Of course, you can crochet with denim in the same way that you crochet with T-shirt yarn and other fabric — but that's not the only way to use denim crochet.
Read on for three more creative denim crochet ideas!
1. Add crochet to your denim garments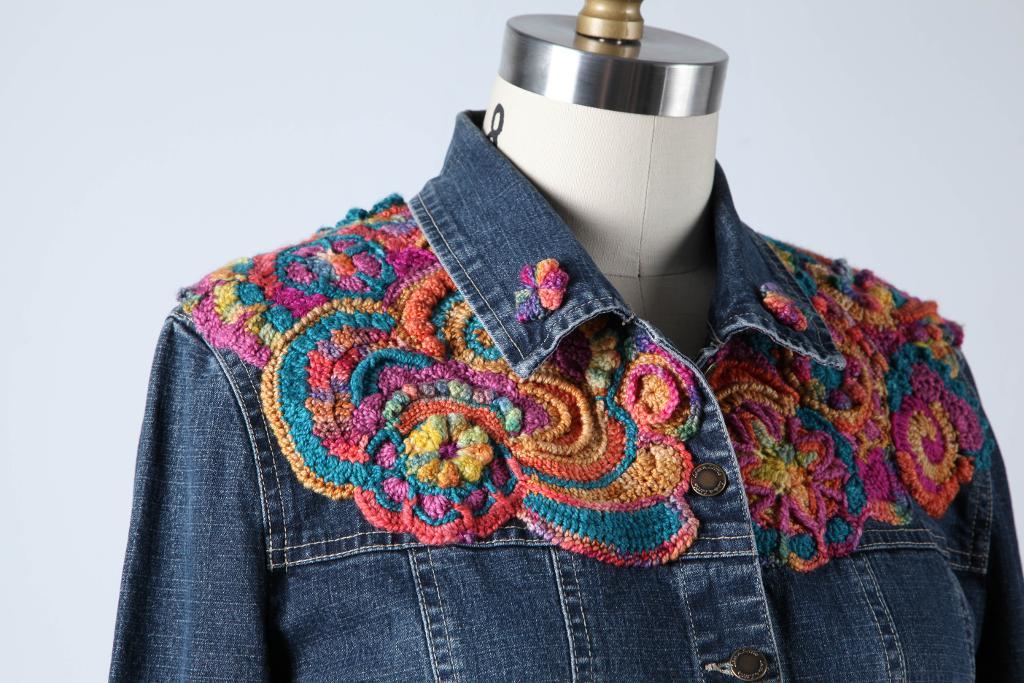 Image via Craftsy instructor Myra Wood
While embroidering on denim is common, few people think about giving new life to their denim by adding crochet. It's a great way to use your craft skills and upcycle your wardrobe at no or low cost.
Here are a few easy ways to embellish denim garments:
Freeform crochet is a terrific option for adding color, texture and design to your clothing, as seen in the embellished denim shirt above, by instructor Myra Wood.
You can also use crochet appliqué patterns to decorate your jeans with simple, stylish motifs — think flowers, hearts and animals.
Granny squares and other crochet squares are great for patching tears in your jeans or creating faux patchwork even when old jeans aren't torn.
2. Crochet denim purses
If you have a pair of jeans that are beyond patching, you can still upcycle the material by combining it with crochet to make a brand new accessory. Crochet denim purses like these are the most popular option. Here are four denim crochet purse patterns to try: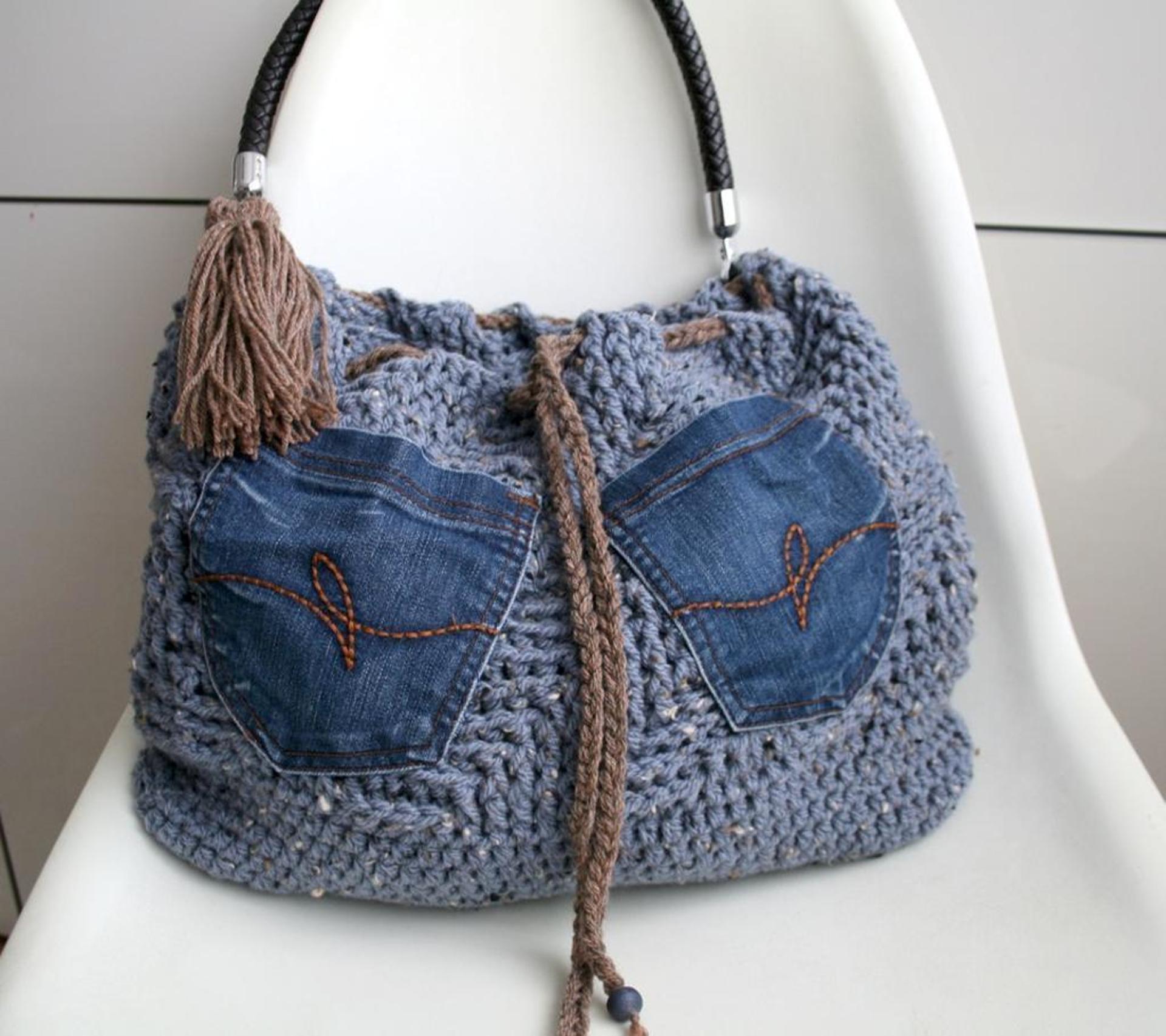 Photo via Craftsy member Luz Patterns
Denim Upcycled Bag
This large crochet purse uses super bulky yarn in indigo to match the denim. Two pockets from a pair of jeans accent the purse, offering that upcycled denim detail while also providing more pocket space for the purse. A leather handle for easy carrying and tassels give the bag a boho look.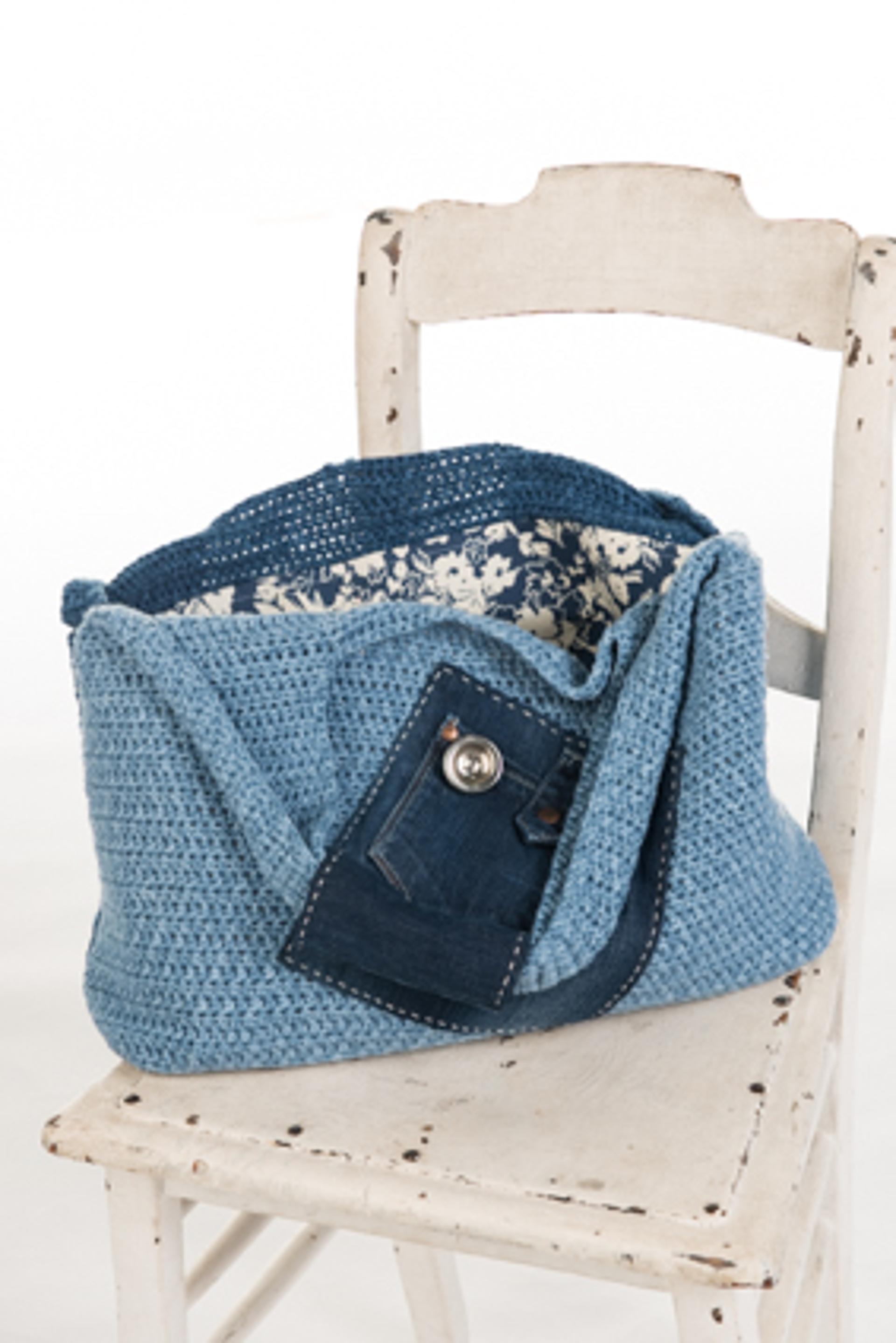 Photo via Craftsy member Vicarno
Denim Shoulder Bag
The pockets from jeans are always a great addition to crochet purses, which is why you'll see them in lots of denim purse patterns. This particular pattern uses the pocket in a really smart way, using the jeans' button as the closure. The design on this fabric-lined purse also incorporates more of the jeans in the straps, reinforcing them with some extra strength and adding a fun detail.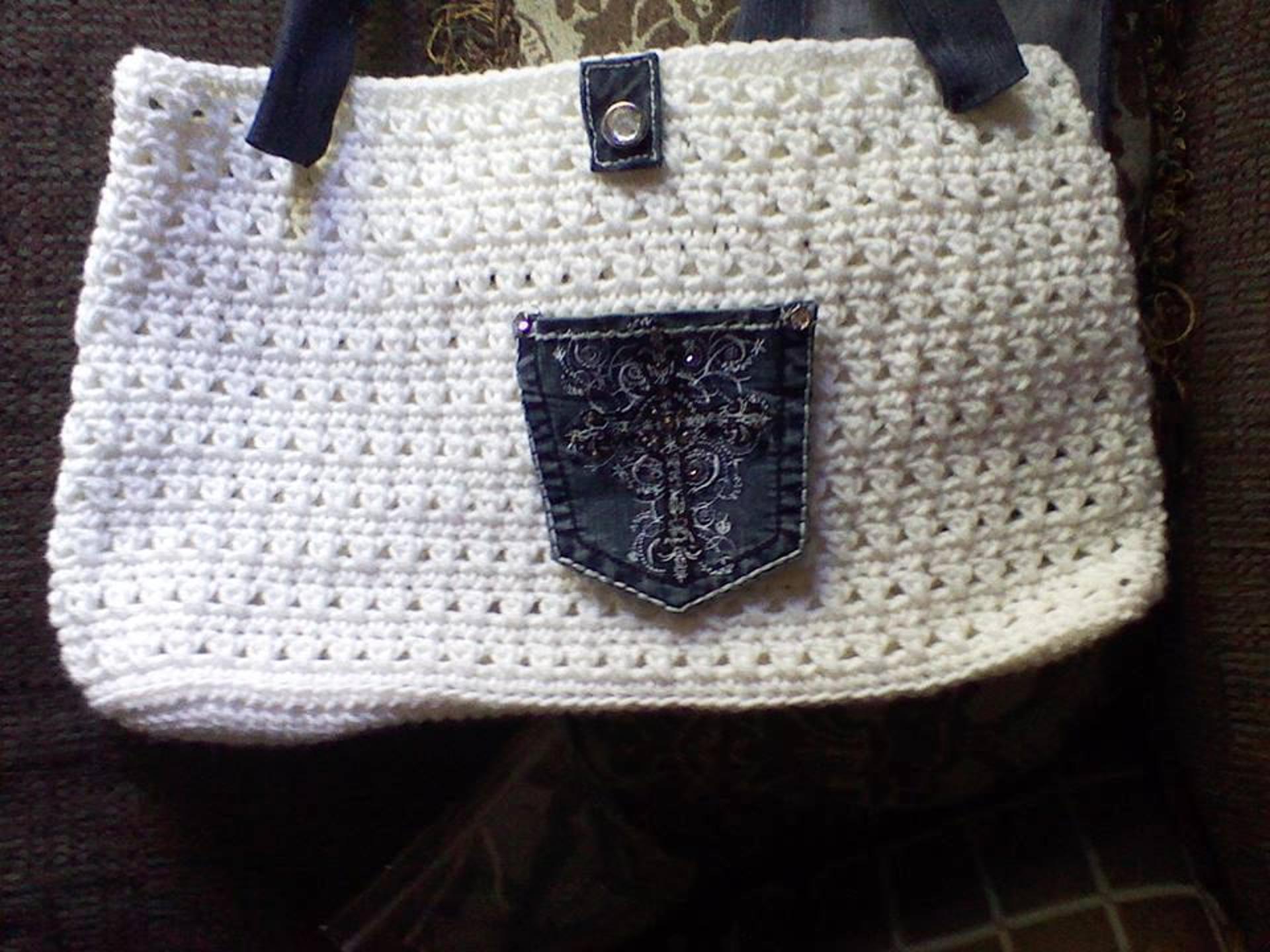 Photo via Craftsy member Crochets by Amanda
Crochet Denim Purse
A crochet denim purse doesn't have to use denim-colored yarn. As we can see here, white is a great choice for highlighting the topstitching on the jeans. And pockets aren't your only option either: This purse pattern uses denim for the straps and closure. The crochet designer made this denim purse in honor of Denim Day, which raises awareness about sexual violence.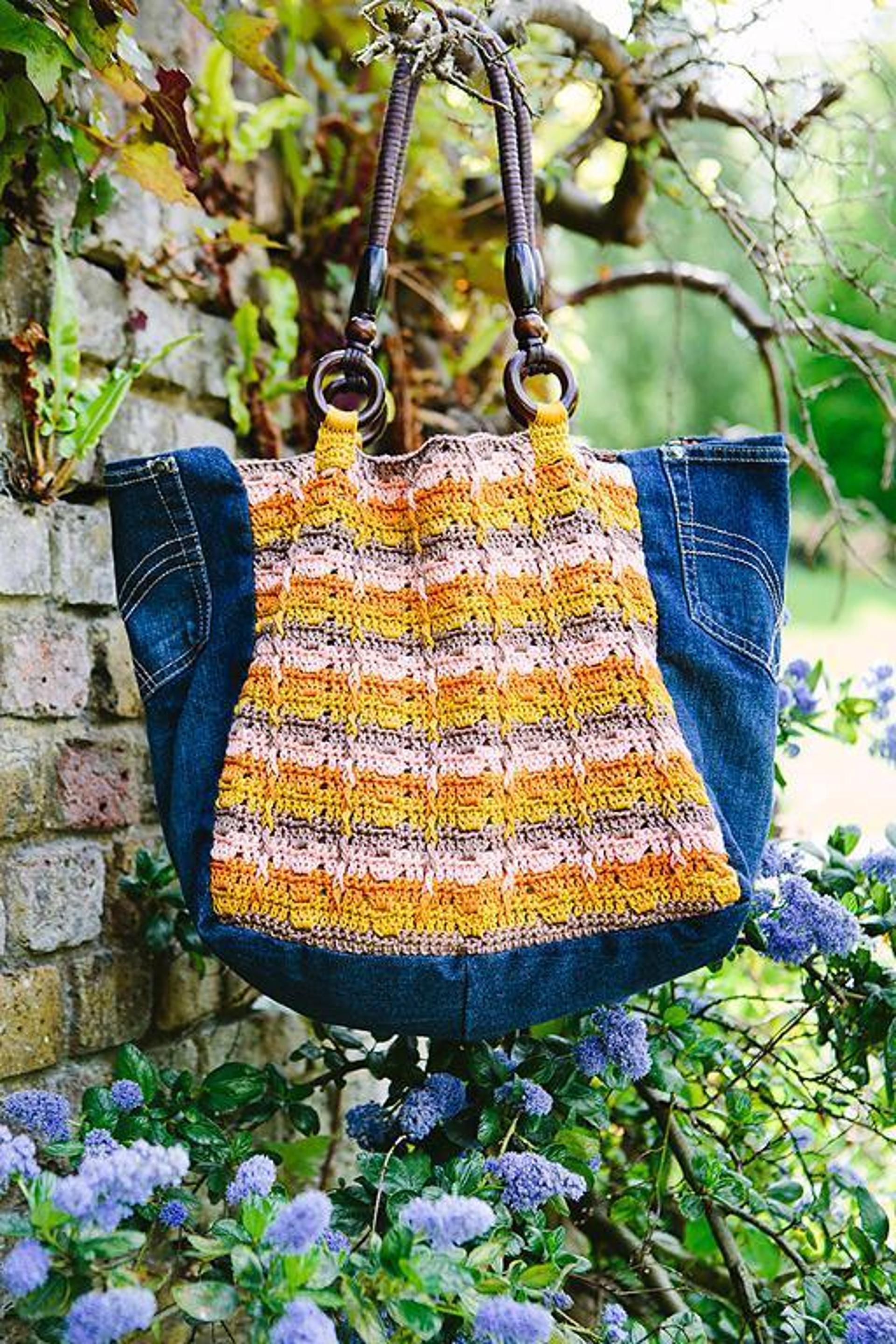 Photo via Craftsy member Luz Patterns
Upcycled Denim and Crochet Tote
Whereas the other denim purse patterns in this roundup were made primarily from crochet, this one is made mostly from upcycled jeans. The crochet is added as an extra beautiful detail, bringing both color and texture to the design. This is a really durable tote bag with a leather handle.
3. Crocheted baby jeans
You can easily create faux denim just by select a yarn dyed to look like denim. This is an especially popular choice for children's clothing, giving them that denim style with a softer touch for their sensitive skin. Here are five denim yarn crochet patterns for kids: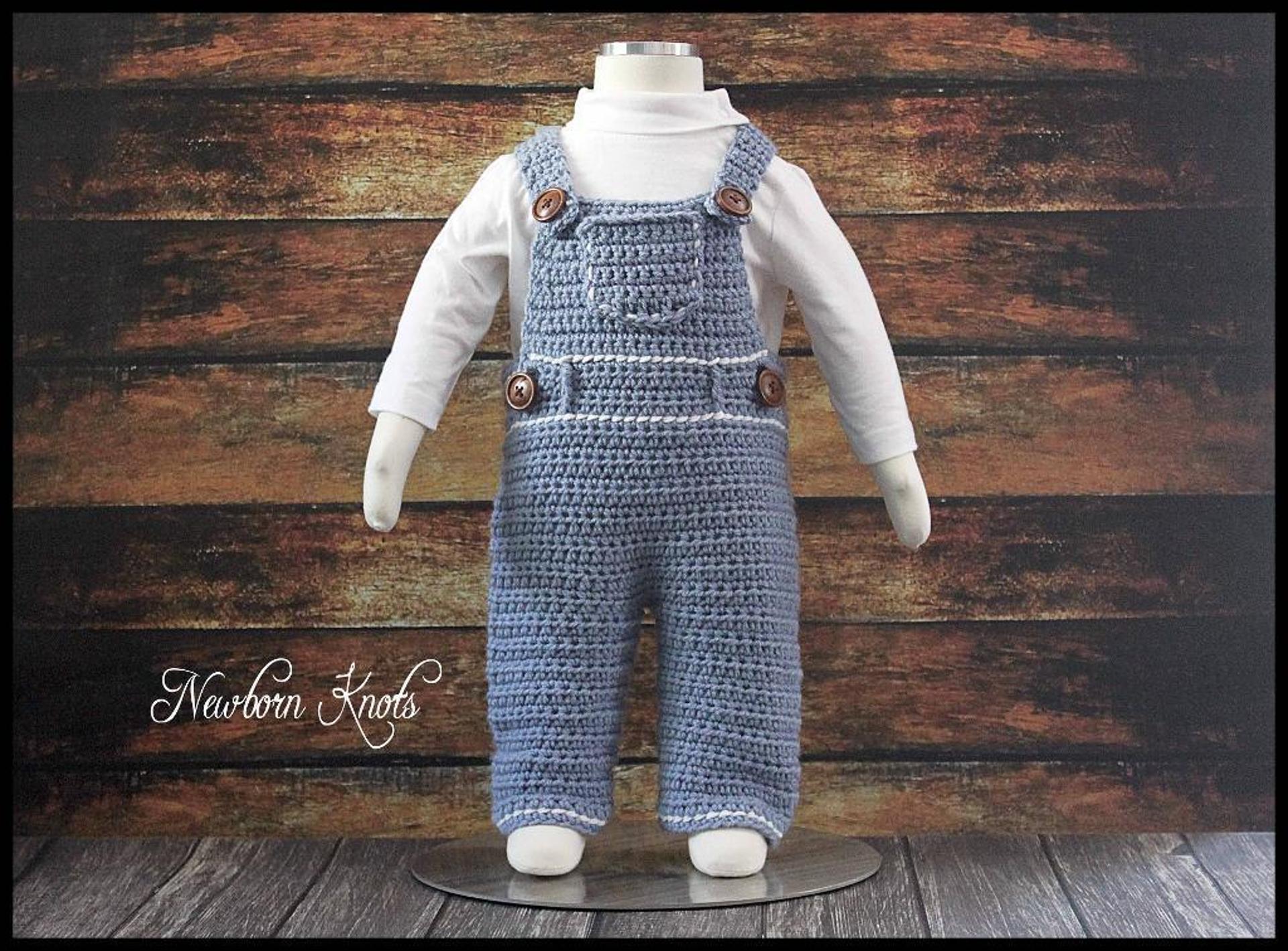 Photo via Craftsy member Newborn Knots
Denim-Style Baby Overalls
What's cuter than a baby in denim overalls? This terrific crochet pattern uses a light denim yarn to achieve the basic design. It's accented with white stitching to exaggerate the "jeans" style. The buttons repurposed from jeans give it the finishing touch that makes this the perfect denim crochet pattern for babies.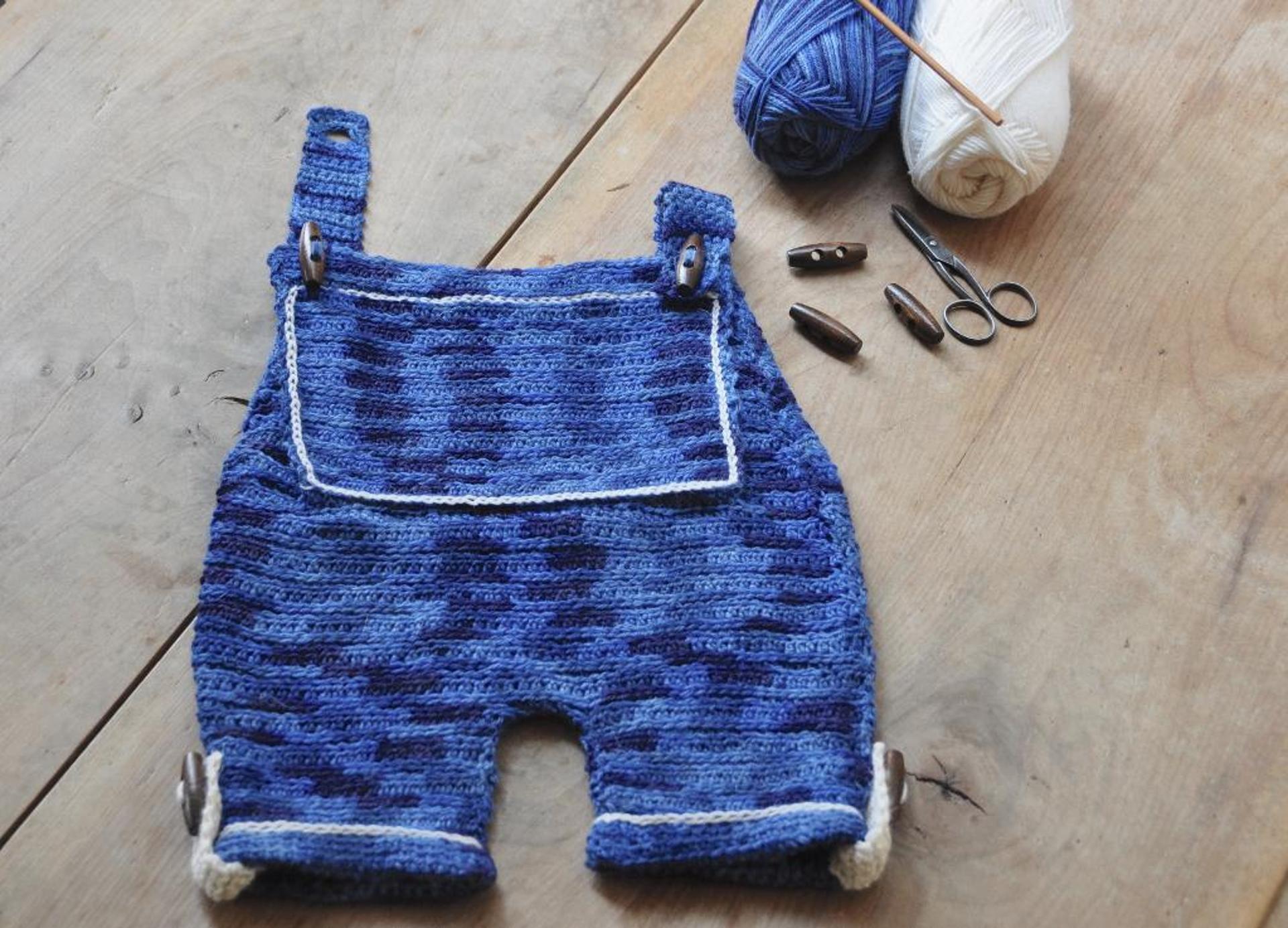 Photo via Craftsy member Han Jan Crafts
Patchwork Denim Dungarees
These overalls, also called dungarees, use dark denim yarn accented with white stitching. The little white snaps on the side are a cute touch for this little design.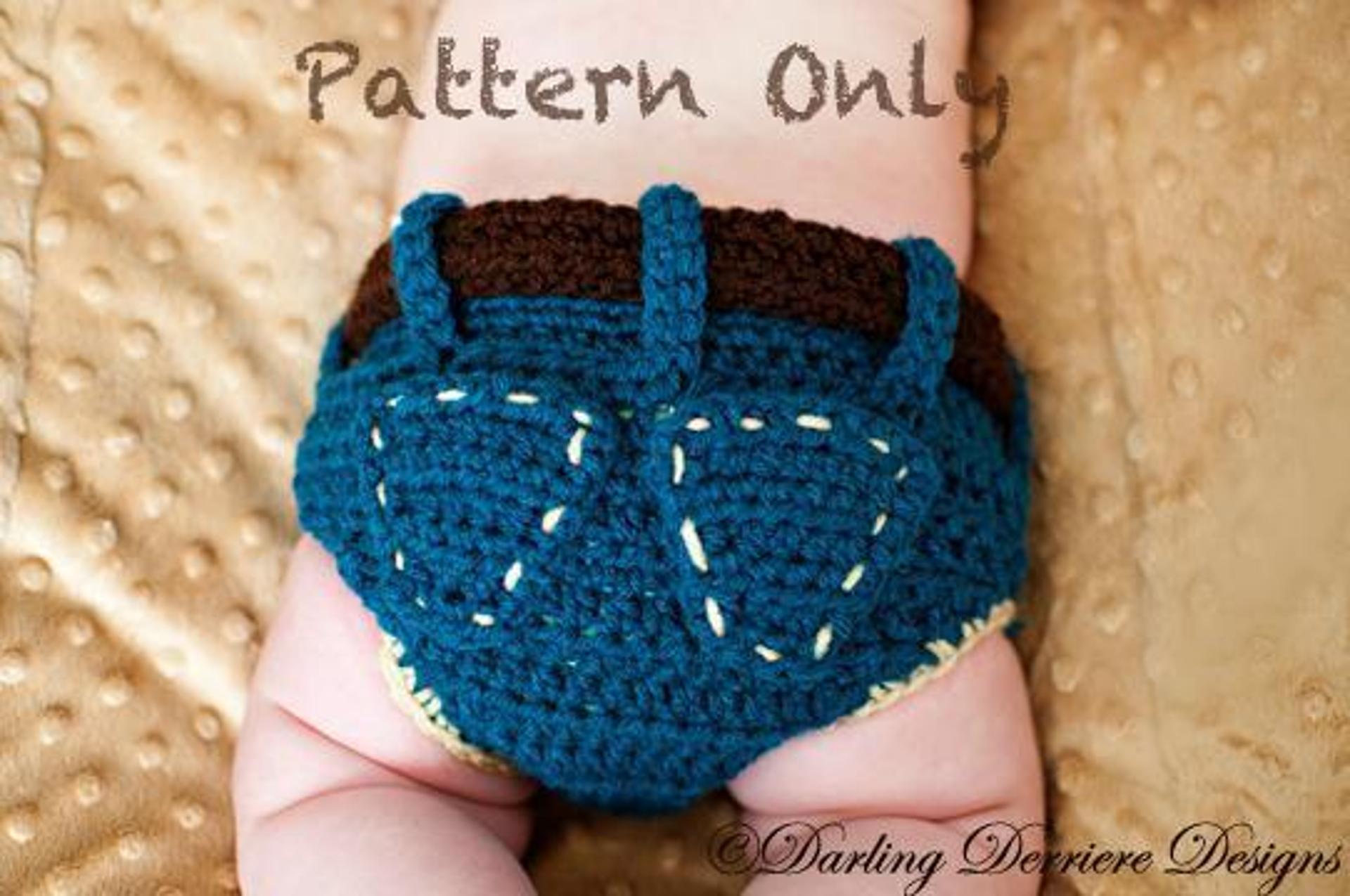 Photo via Craftsy member Darling Derrier Designs
Denim Diaper Cover
Jean shorts are a summer wardrobe staple for people of all ages. Give baby his or her first pair with this unisex crochet pattern for a denim diaper cover. The dark denim yarn has pockets on the bag with white jean stitching. It even includes belt loops and a crocheted belt — so cute!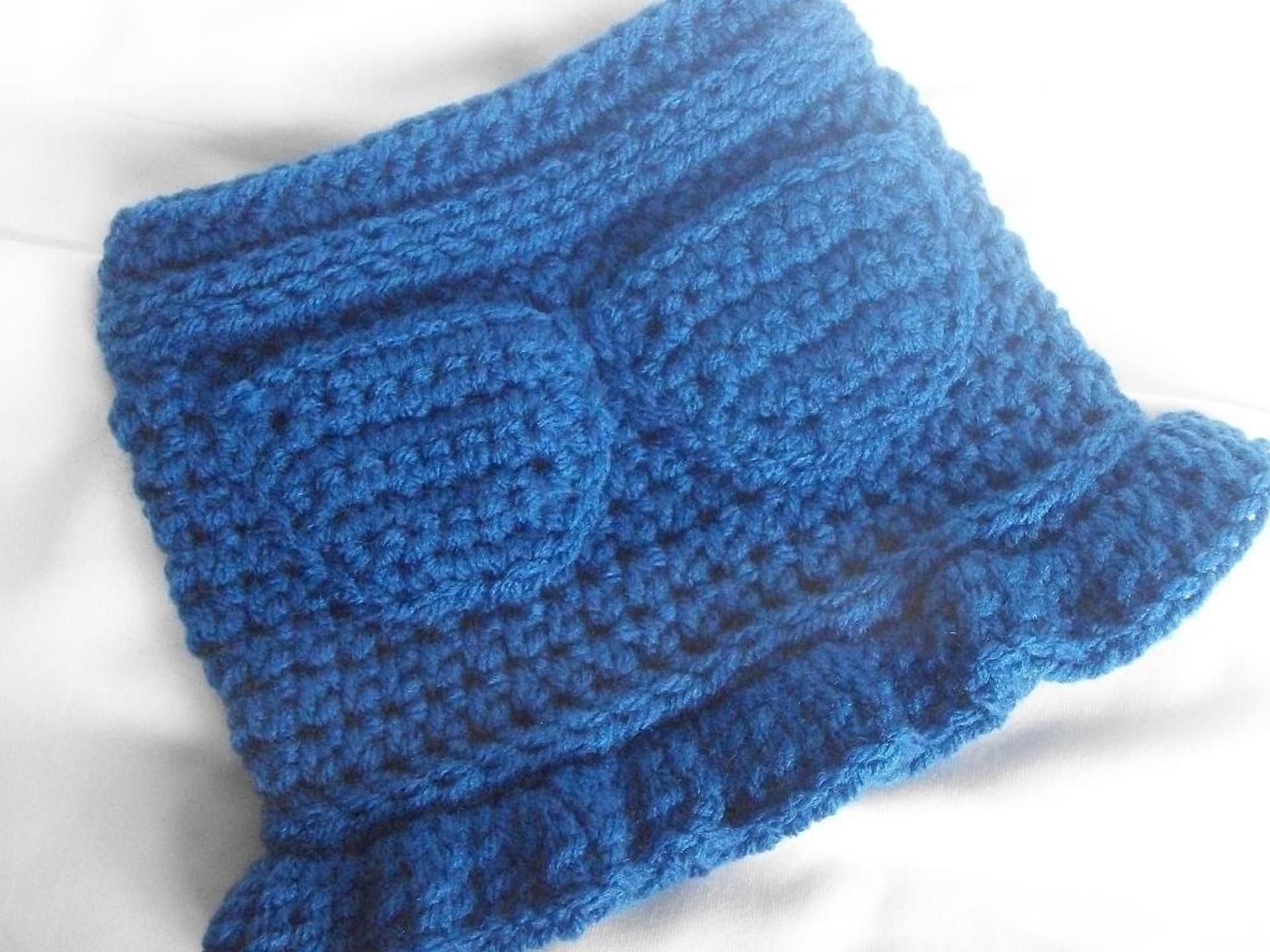 Photo via Craftsy member SewMuchLove Patterns
Faux Denim Ruffle Skirt
Denim skirts are another option for all ages, including the littlest of babies. This one doesn't need the white stitching to showcase the "jeans" style, although you could certainly add it if you prefer. The little ruffle on the bottom is adorable and the two pockets on the back are a cute feature as well.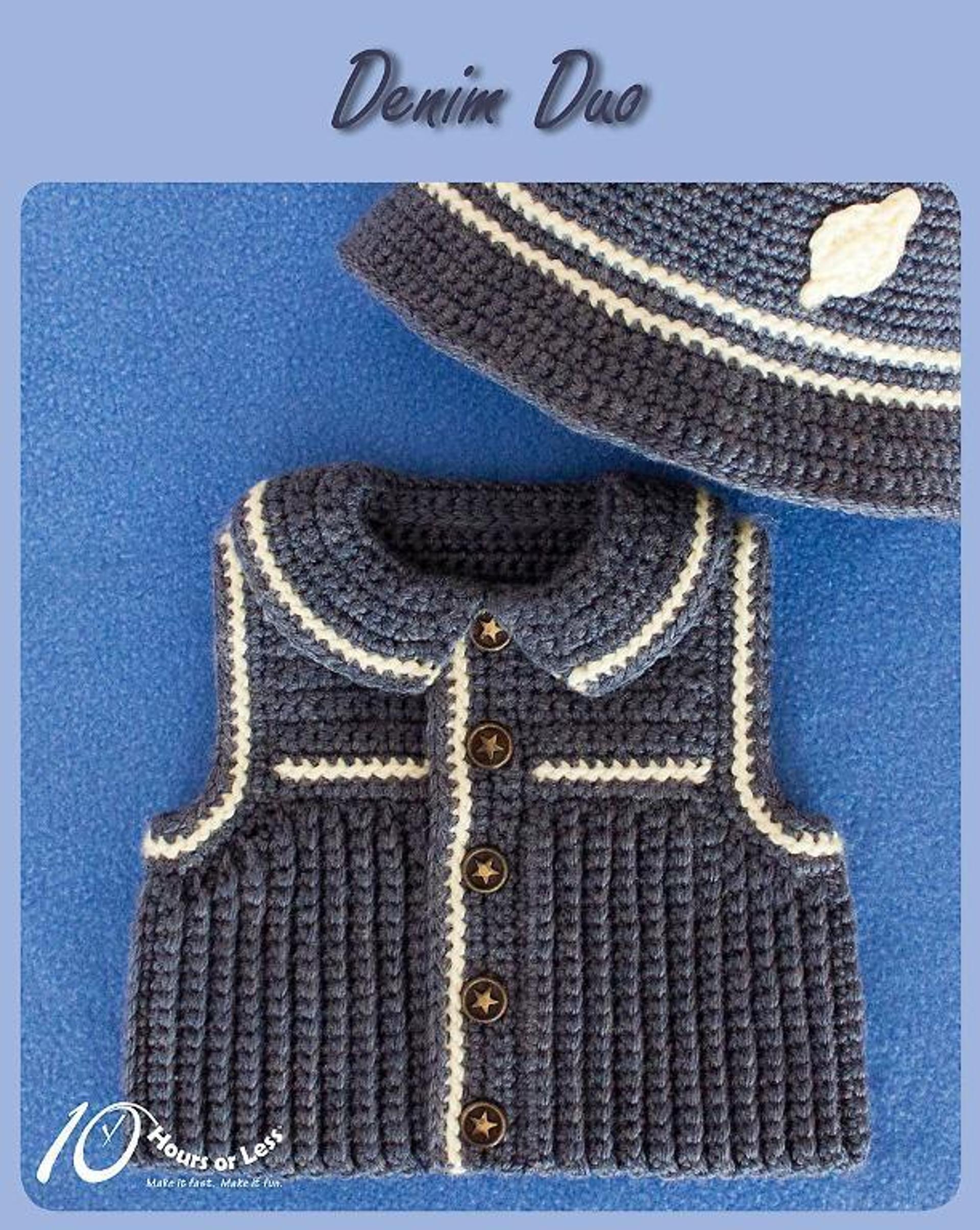 Photo via Craftsy member 10 Hours or Less
Denim Duo Baby Vest and Hat
How precious is this crochet vest designed to look like it is made in denim? It's a button-up vest and choosing the right buttons will really give you the effect of jeans. The tight stitching is worked mostly in single crochet and trimmed with white. The vest pattern comes with a matching hat pattern.