From baby showers to backyard barbecues, these beautifully decorated flower cookies are sure to please. Best of all they are easy enough for a beginner to make, in just four easy steps.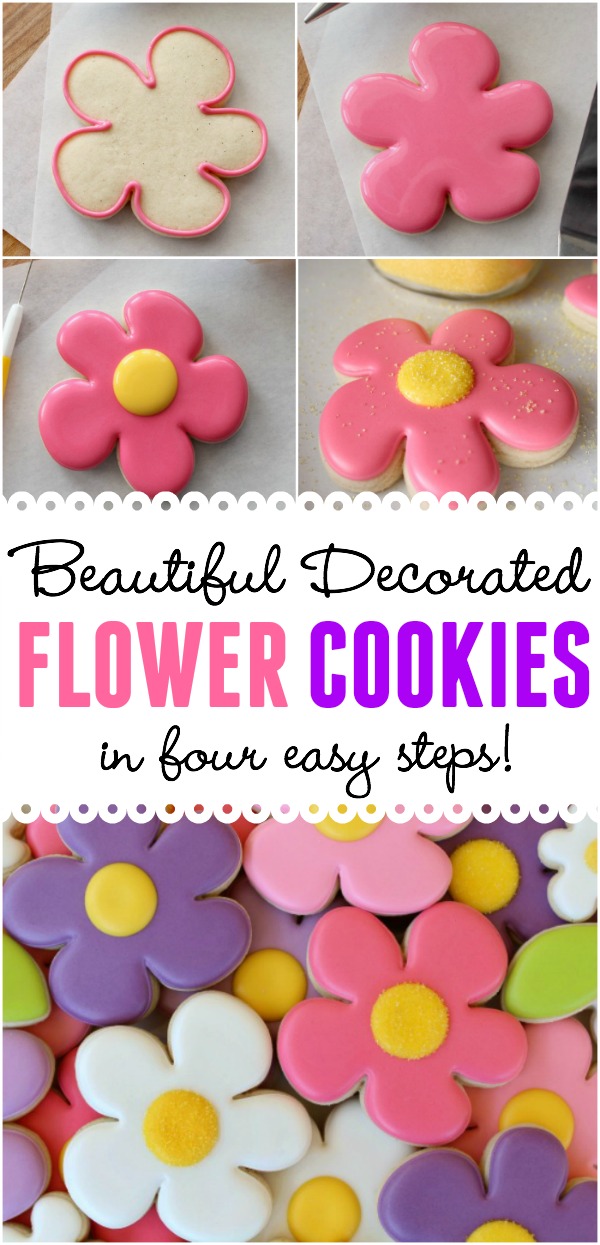 Decorated flower cookies tutorial
You will need:
Flower-shaped cut out cookies
Pink piping- and flood-consistency royal icing
Yellow flood-consistency royal icing
Yellow or clear sanding sugar
Disposable decorating bags
Icing bottles
Couplers
#2 decorating tips
Step 1:
Use a #2 pastry tip to outline the cookie with pink piping-consistency icing.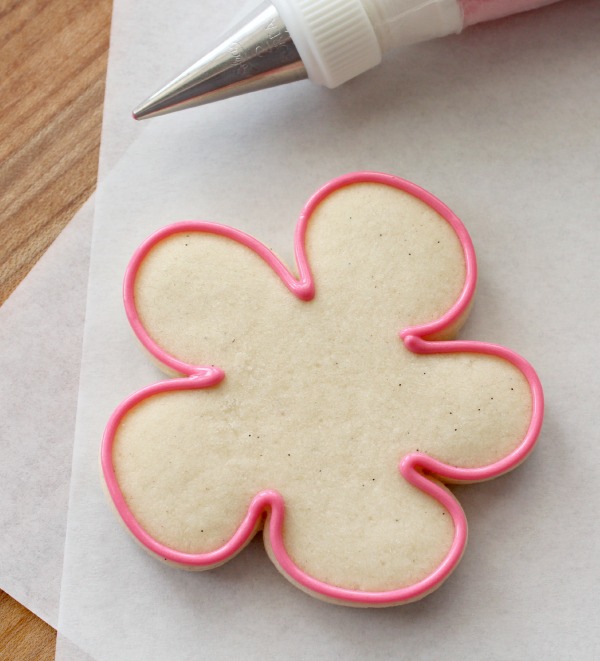 Step 2:
Fill an icing bottle with pink flood-consistency icing. Fill the outline and gently guide the icing into place with an offset spatula. Try to push it slightly over the edge of the outline to make it "invisible."
Step 3:
Sometimes air bubbles can form in royal icing. If necessary, use a tool like a toothpick or scribe tool (pictured) to quickly remove any pesky bubbles.
At this point let the cookie dry before moving on to the next step.  This can take anywhere from 4 to 24 hours, depending where you live.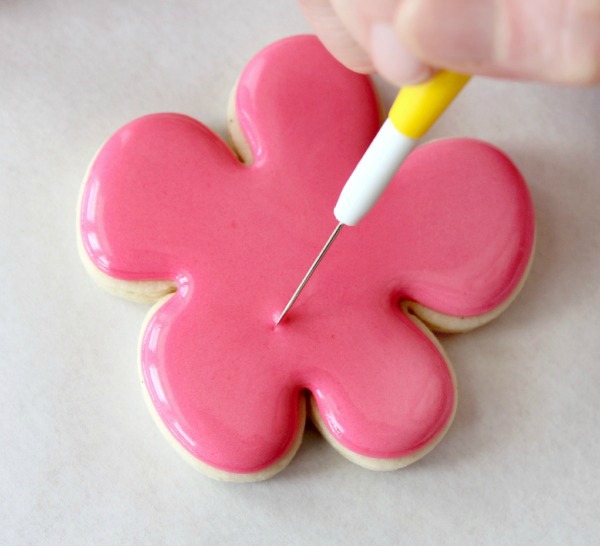 Step 4:
When the cookie is dry, use yellow flood icing to create a large round dot in the center of the cookie. For the best results, start in the middle and work outward, using the tip to swirl the icing as you squeeze. This will remove any air air bubbles that might appear and make it easier to make a perfectly round center.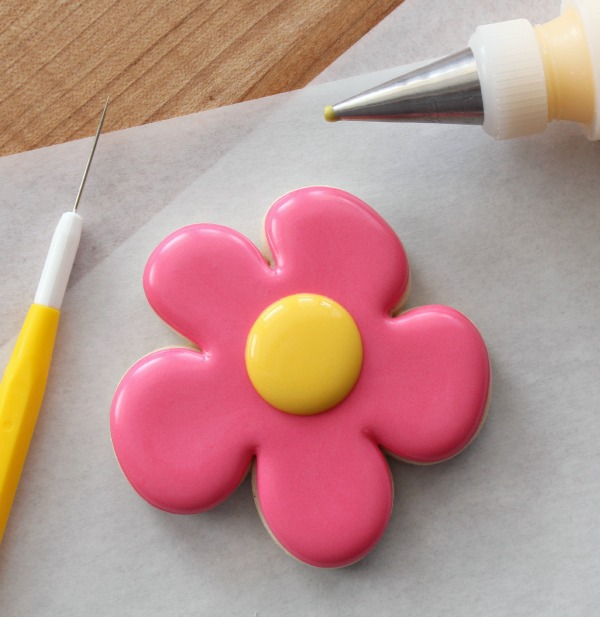 Step 5: 
Let the icing set for few minutes then lightly sprinkle with sanding sugar. When it comes to sanding sugar, timing is very important. If you add it too soon, it sinks into the wet icing and isn't very visible. If you wait too long, it won't stick well at all. Timing is very important, and practice makes perfect!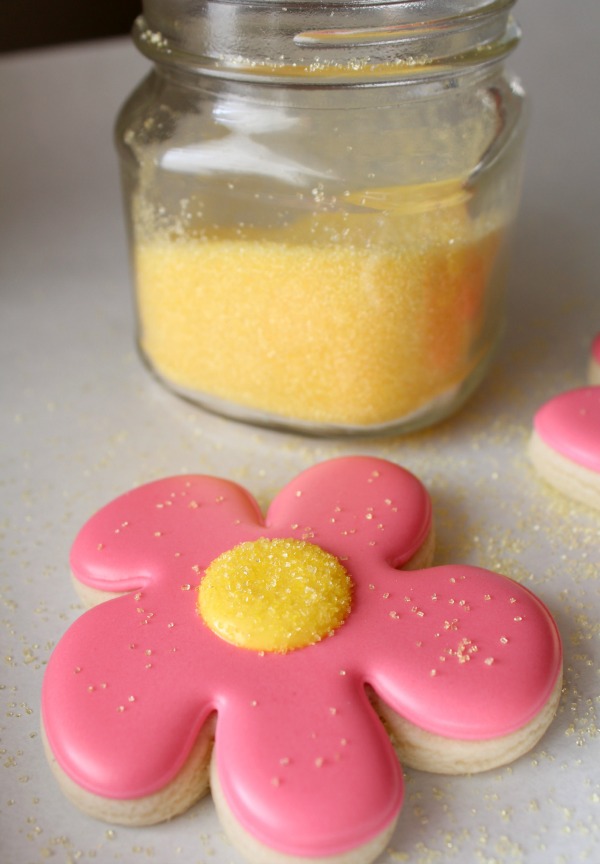 Step 6: 
Mix different colors and sizes of cookies and serve on a platter to really make them "pop", or package them individually in cellophane bags with coordinating ribbon.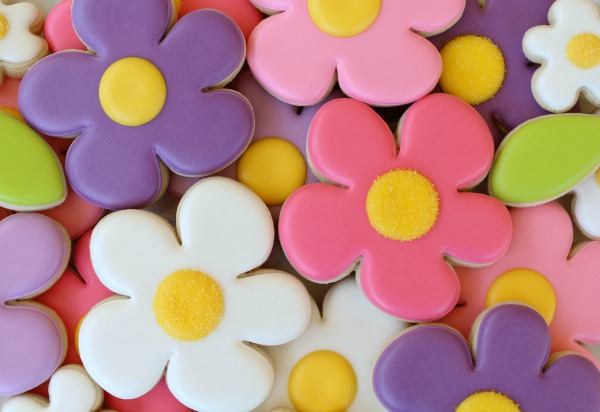 Top tips for making these decorated flower cookies:
Use an oscillating fan or food dehydrator to dry decorated cookies. Not only will give the icing a nice sheen, it speeds up the drying process, therefore reducing decorating time, and prevents common problems like color bleed.
If you have leftover icing save time and money by using it to pre-make royal icing flower centers. You can find instructions and a printable template here.
Not all flower cutters are created equal. try different versions for a completely different look. You can get the one I used here.