Tiers of white fondant cake, cascades of pale sugar flowers, the bride glowing in ivory satin and lace. Yes, that is the dream of many beautiful brides. But nowadays with wedding cakes, the world is truly your black, red, fuchsia, neon green… oyster! If you can dream the color and design and concept, there's an incredible cake designer that can build it: whether it's your talented second cousin-in-law's brother or the highly coveted, priciest top cake designer in town. Here are some alternative choices to the classic white on white wedding cake – dark in color but never lacking in artful style, destined to create a mood and set a scene.
Modern Black Tiers with Single Gum Paste Peony


Photo via Erica O'Brien
Modern, sleek and sophisticated! This cake features three tiers of black fondant covered cake, stacked neatly, and tied together with a simple dark ribbon. Plus, a single peony bloom provides striking contrast. Love the white leaves and stem, too!
Gunmetal Grey with Black Flowers Wedding Cake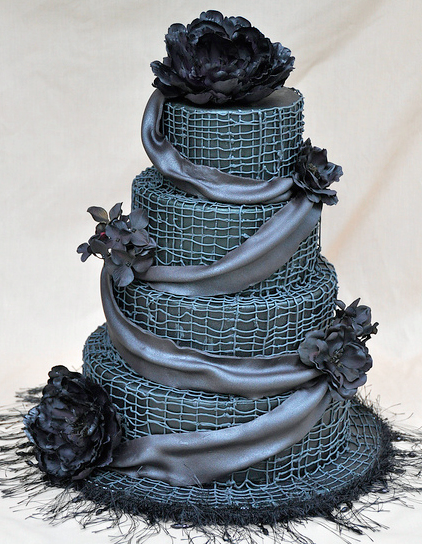 Photo via Sweet Elegance Cakes
Dark silvery grey fondant tiers, fondant swags, gum paste flowers and piping work brings this cake front and center! It has a dark flamenco feel to it, doesn't it? Maybe it's the netted shawl look of the piping and those big beautiful black peonies- you can imagine one in a dancer's hair.
Woodland Meringue Mushrooms and Dark Chocolate Fondant Bark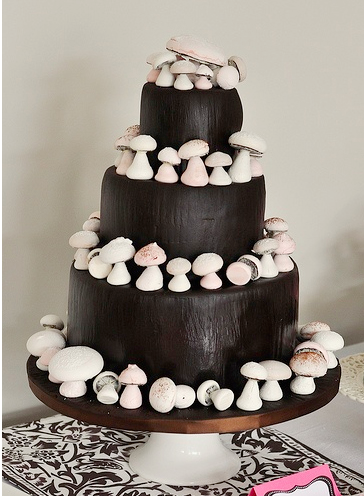 Photo via Sweetapolita
What an adorable, playful, not-taking-itself-too-seriously three tiered woodland-themed dark beauty from Sweetapolita! Textured bark treatment on chocolate fondant gives this a subtle woodsy feel, but there's no mistaking those white-capped mushrooms.
Black Square Fondant Tiered Cake with Fireworks!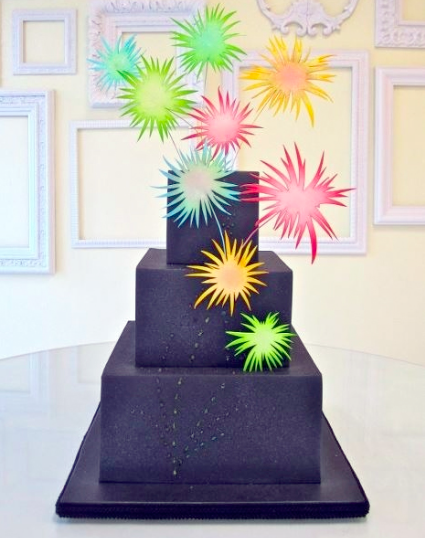 Photo via Pinterest
This is an amazing cake – three black square tiers with some incredible cake topper fireworks! Love the contrast of the black and the colorful starbursts.
Black Tiered Cake with Purple and Blue Muted Flowers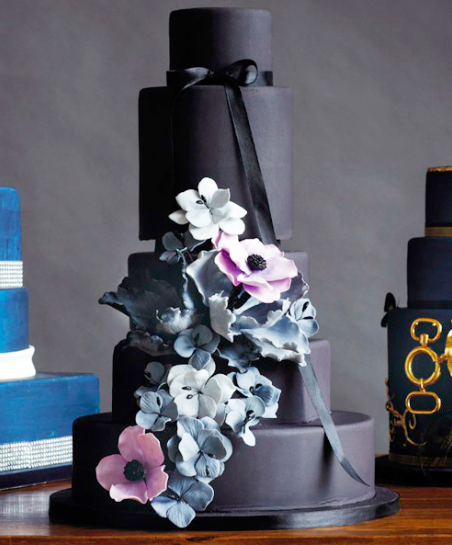 Photo via Pinterest
The different heights and shapes of this black tiered cake give it visual interest, as does that cascade of muted, pearl dusted sugar blooms! The black ribbon tied around the top tier with one edge hanging down to the bottom is pretty great, too; all part of what makes this cake beautifully unique, modern and chic.
Haute Couture Ruffle and Rose Contrast Cake


Photo via Maggie Austin Cakes
This black and white contrast cake is made by the master of the delicate ruffle cake herself, Maggie Austin! This cake could easily translate into a couture gown, with the pale cream roses as a impossibly fine fastener. Maggie has a class offering this ruffle technique right here on Craftsy: Fondant Frills! Over one thousand students and counting are learning her unique and beautiful ruffle style.
So how about you: are you a traditionalist in your wedding and party style, or would you venture out and go for a darker theme like black, grey, or even navy?
You might also enjoy peacock cakes and how to make fondant swags. Come back to the Craftsy blog tomorrow to get ideas for fabulous first birthday cakes.