The idea of cutting fabric makes most embroiderers nervous. We dread the thought and try to avoid it at all costs, but to cut fabric on purpose? That is exactly what you do when you create cutwork embroidery designs.
We've already explored exactly what cutwork machine embroidery is as well how cutwork lace embroidery is completely different. Now it's time to explore some beautiful cutwork embroidery designs!
So, let's explore the creative and beautiful designs that are cutwork embroidery!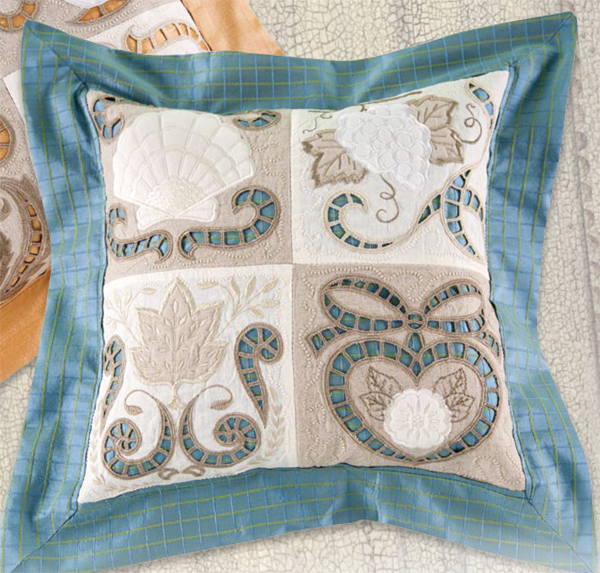 Classic Cutwork Block design via Anita Goodesign
Not yet confident in your cutwork embroidery skills to start a project. No fear! The Craftsy class Machine Embroidered Cutwork will teach you all you need to know in order to create one of these intricate, elegant designs!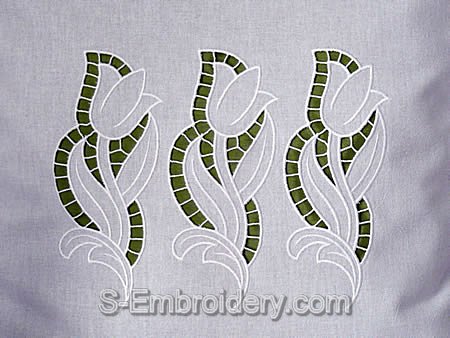 Photo via S-Embroidery
Medalion cutwork
Simple, yet elegant, the tulip cutwork really stands out when it is backed with a solid, contrasting color, like in the pillow above.
Medallion cutwork is typically centered in the middle of fabric, as in a table cover or accent pillow. If the design is continuously connected, it can also be used as a stand-alone doily or accent, as the outer edges are also encased in satin stitches.
Get the Tulip Cutwork Lace Embroidery design.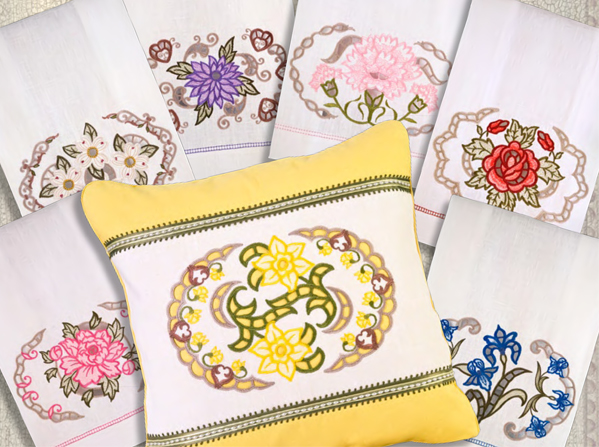 Photo via Anita Goodesign
Adding colored thread to cutwork embroidery designs creates contrast, further emphasizing the stitching and windows. Of course, you could stitch the designs in one color if you're aiming for more of a traditional, heirloom look.
Get the Floral Cutwork designs.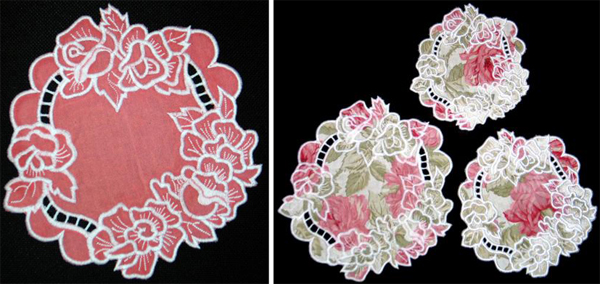 Photos via Advanced Embroidery
Solid colored fabrics are most often used for medallion cutwork. Although the contrasting fabric and thread is nice in this Cutwork Lace Rose Wreath Doily, the same design using a printed fabric is really quite lovely. The outside edges are also finished cutwork, so the design could be stitched as a medallion in a larger piece of fabric.
Get the Cutwork Lace Rose Wreath design.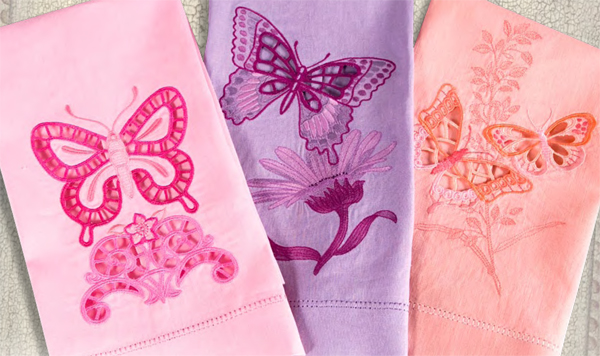 Photo via Anita Goodesign
As an alternative to whitework, slight tonal changes in embroidery thread creates a stunning effect when cutwork embroidery is stitched on pastel fabrics. Background embroidery adds dimension by using variegated threads as well as several shades of the same color.
Get the Butterfly Cutwork designs.
Cutwork edging
Like appliqué, raw cutwork edges are encased by satin stitching, whether they are embroidered in the center of fabric or as a freestanding piece. This is also how those lovely cutwork edges are created!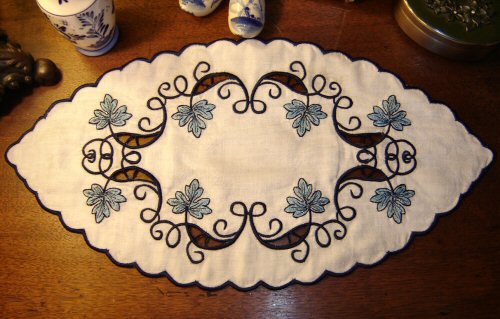 Photo via Sadia Sews
The Something Blue dresser scarf by Sadia Sews adds a modern twist to Sadia's Persian heritage. Cutwork is complemented by embroidery and scalloped cutwork edging: More than 20 designs can be mixed and matched for a variety of patterns and edge finishes.
Get the Something Blue designs.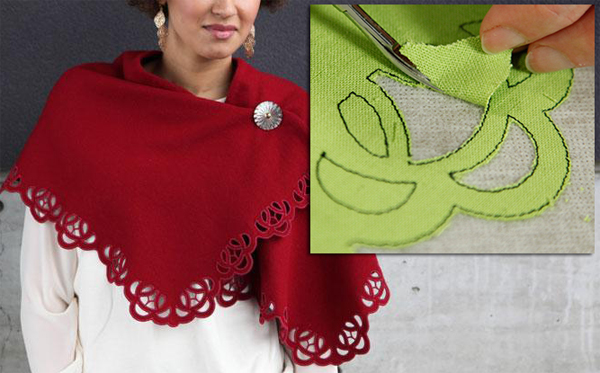 Photo via Craftsy instructor Evy Hawkins
Cutwork edging makes all of the difference in this wrap. Craftsy instructor Evy Hawkins shows just how easy it is to make in her Machine Embroidered Cutwork class.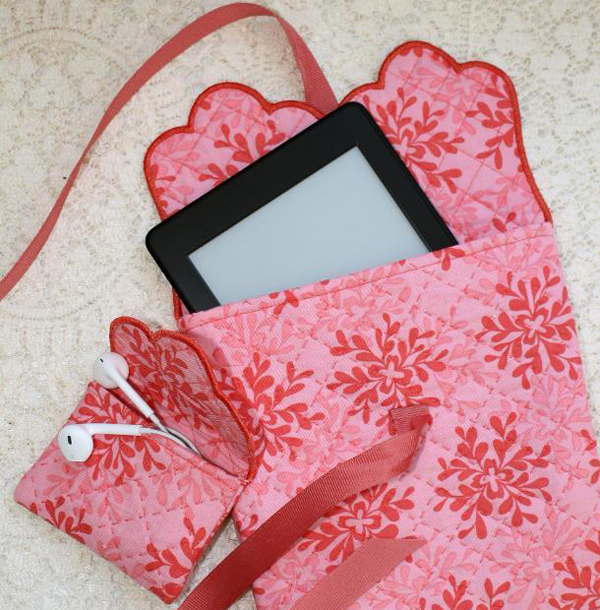 The flaps of these lovely bags, another Machine Embroidered Cutwork class project, are edged in cutwork style. They could not be created any other way with such ease and precision.
Unique cutwork presentations
Simplistic beauty produces a commanding presence.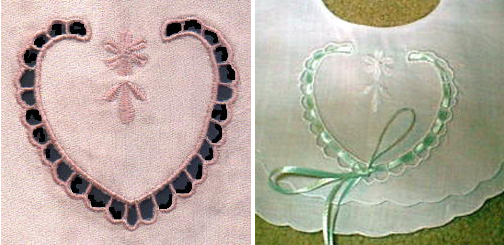 Photos via Sadia Sews
The open windows and richlieu bars make this cutwork heart design the perfect framework through which to weave and tie a ribbon.
.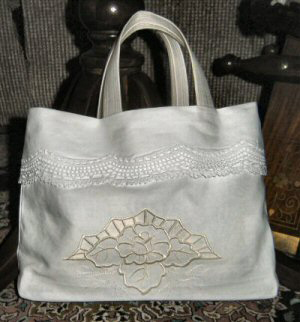 Photo via Sadia Sews
Take a tea towel, add cutwork, and create a stunning whitework tote bag!
 How do you use cutwork embroidery designs?